1. "The Star-Ledger announces large-scale buyout offer": News from Matt Seitz's old haunt, via Alan Sepinwall, who offers a brief reaction.
["The owners of The Star-Ledger announced today they will sell the newspaper if they cannot win union concessions and persuade a large number of non-union, full-time workers to take buyouts in the next two months. The owners set a deadline of Oct. 1 for getting 200 of the paper's 756 non-union full-time employees to take a buyout and for achieving the union concessions. The paper's total workforce is 1,412. The offer comes at a time when the newspaper industry is reeling from plunging advertising revenues linked to a troubled economy and the growth of online media. The news was announced to grim-faced employees by Publisher George E. Arwady at the paper's headquarters in Newark this morning. He characterized the paper as being "on life support" and urged employees to consider the offer for the good of fellow employees. "Despite the best efforts of all of us, The Star-Ledger is losing a battle to survive," Arwady said, noting the paper has suffered heavy losses the past two years. "If the Ledger is to have a future, it must make further changes in how it operates.""]
***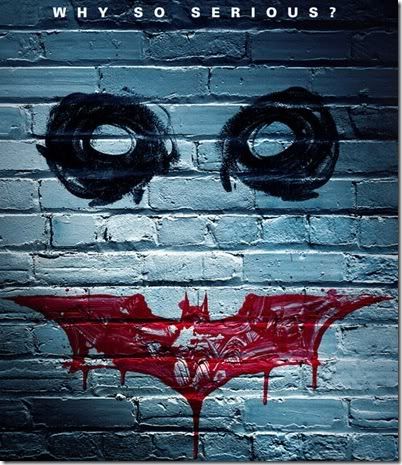 2. "Hell Hath No Fury Like a Fanboy Scorned (or: Why exactly must Keith Uhlich die?)": Filmbrain joins the Dark Knight fray, my name invoked. Related: Ian Pugh's latest post at the Film Freak Central blog.
["Why so serious indeed? If ever a tagline was perfectly suited to a film (and the critical/audience adoration of it) it would have to be this three word gem created by a marketing superhero for Christopher Nolan's The Dark Knight, the film that currently sits at #1 on the IMDB Top 250 films of all time, and has been proven to cure cancer, put an end to all wars, and solve erectile dysfunction. As with most long-underwear films (why must superheroes wear tights?), it's not uncommon for the legion of fanboys (and girls) to take it as a personal affront when confronted with a dissenting opinion. However, if you consider the emotional and financial investment given to comic books, figurines and other items related to the mythology, it's not terribly surprising that anyone daring to criticize the celluloid representation of their idol is treated like a heretic. Yet with The Dark Knight, the seething anger and raging bile that's been ejaculated on dozens (if not hundreds) of pages of comments all over the Interweb far exceeds the typical zealotry. Nolan's film is stirring up reactions and emotions that I've heretofore never encountered, and I've spent the past few days trying to figure out why."]
***



3. "And Busby Berkeley would sh*t, I know...": The latest installment of "Best Pictures From the Outside In," hosted at Nick's Flick Picks, examining Cavalcade and Chicago.
["The contrast in my first two viewings of Chicago still summarizes what I admire about it and what I don't. On opening day, in the huge and gaudy/splendid Clearview Ziegfeld in New York City, with a sold-out crowd squeezed in among all the red velvet walls and sitting before the huge screen, Chicago was spectacular entertainment. Energetic, sleek-looking, designed for 100% entertainment in the moment. And I agree that Renée aced the daydreaminess but also the brittleness and smallness of Roxie. A great audience surrogate, selling the conceit of Roxie's "mind's eye" with no problem—partially through her own newness to the genre but also through some really smart acting, especially in her book scenes. Two months later, in a smaller, gummier theater, with my partner, who totally cares about musical execution and coherent physical performance in a way that I don't, Chicago looked slipshod and a little desperate."]
***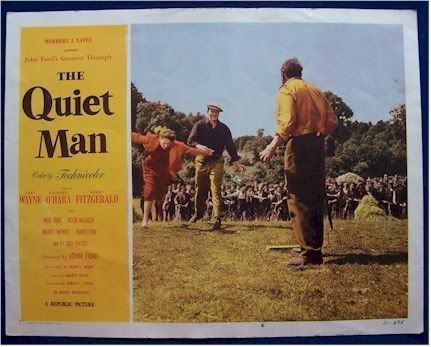 4. "What...Fisticuffs?": Maul of America responds to Dennis Lim's history of the fight scene.
["Dennis Lim's "Let's Step Outside" tries to give an overview of the evolution of cinematic fight scenes. He does a decent job of explaining one of my major pet peeves—mainly attempts to take a more "realistic" approach to staging cinematic donnybrooks that end up being SO over-choreographed that they lose all credibility and so over-editted that they're hard to follow. The Bourne series is the worst offender in my opinion. The tone of most, if not all, of the major Bourne battles is self-congratulatory (as in, look how cool we are). In the interests of full disclosure, I don't buy Matt Damon as a tough guy anymore than I think he's the "sexiest man alive." My main issue with Lim's piece is that he leaves out some of the most notable cinematic fight scenes. Including, John Wayne's battle at the end of The Quiet Man, and ALL of the James Bond movies. Whatever Happened to Great Fight Scenes?, by Glenn Erickson (hat tip: Drake), does a better job and includes more details. Yet, his list isn't exactly what I would have chosen either. Well, if you want something done right... So, here's a rundown of my favorite fight scenes."]
***



5. "Thousands laid off in California": The Governator brings out the big guns.
["Governor Arnold Schwarzenegger of California has moved to end a budget crisis by sacking 22,000 state workers and ordering pay cuts for 200,000. The most populous state in the US faces a budget deficit of more than $15bn (£7.6bn), and legislators are struggling to agree a spending plan. The cuts, which will save $100m a month, are designed to put pressure on politicians to end the budget crisis. But a leading official in the state challenged the decision to cut pay. California has one of the largest economies in the world and it has no way to pay contractors for many of the services it provides. Some 30 American states face budget deficits caused by rising costs and falling revenues in a slumping economy but California's is by far the largest."]
***



Quote of the Day: Anton Chekhov
"We shall find peace. We shall hear the angels, we shall see the sky sparkling with diamonds."
***


Image of the Day (click to enlarge): NASA confirms water on Mars.
***


Clip of the Day: A currently controversial attack ad by Camp McCain on Camp Obama. With a CBS News report on the ad.
_____________________________________________________
"Links for the Day": Each morning, the House editors post a series of weblinks that we think will spark discussion. Comments encouraged. Suggestions for links are also welcome. Please send to keithuhlich@gmail.com.