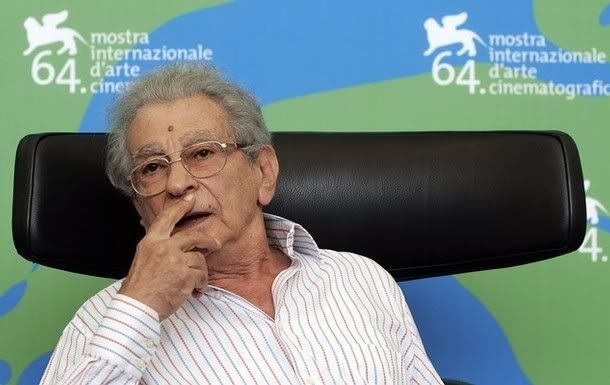 1. "Youssef Chahine, 1926 - 2008": R.I.P. from GreenCine.
["Youssef Chahine, one of Egypt's most lauded movie directors whose films over nearly five decades often went on Fellini-esque flights of fancy and tackled social ills and Islamic fundamentalism, died Sunday in Cairo. He was 82 years old. His death comes about four weeks after he fell into a coma following a brain hemorrhage...."]
***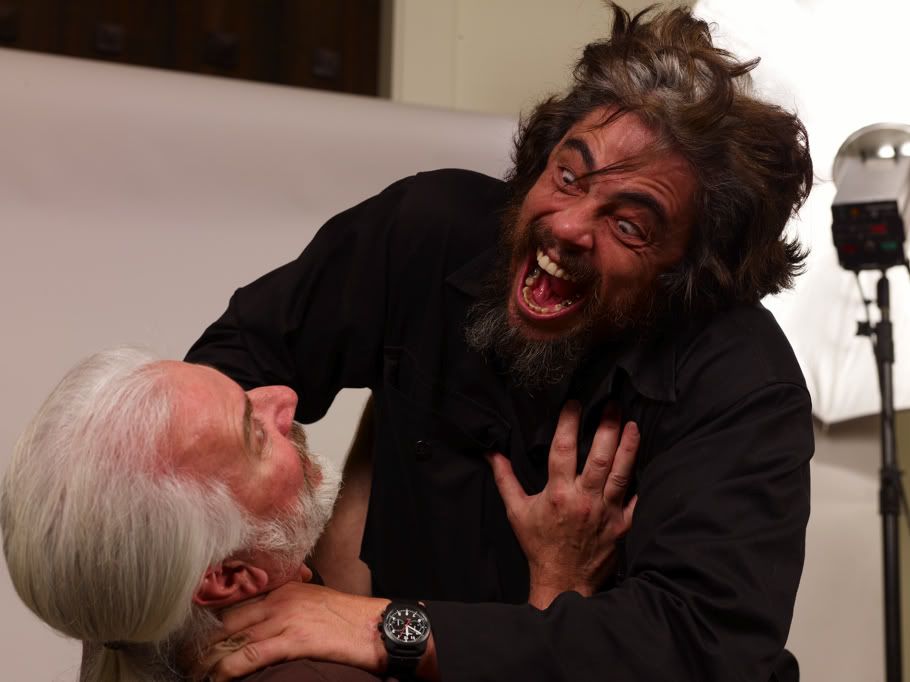 2. "CGI Wolf Man? An Upset Rick Baker Shows His Teeth": From the MTV Movies Blog.
["Sitting down with legendary make-up whiz Rick Baker is a joy on multiple levels; one of them is simply because he's refreshingly honest enough to raise a bit of a ruckus when he thinks he's getting screwed. "When my parents died, that made it clear in my mind that there's definitely an end, and it's not that far away," explained the 57-year-old, who finished his work on "The Wolf Man" with Benicio del Toro two weeks ago, and spoke to us at Comic-Con about the film. "I don't want to be doing movies I don't want to be doing: I only take films I want to take...it has to be something I really want to do." As such, Baker took on the flick for the thrill of returning the hairy anti-hero to his Lon Chaney roots—and to revisit his own masterstrokes on such films as "An American Werewolf in London." Baker revealed to us that the Benicio-to-Wolf transformation seems likely to be created with computer-generated graphics, however, and the film's producers are robbing him of an honor he feels he has earned."]
***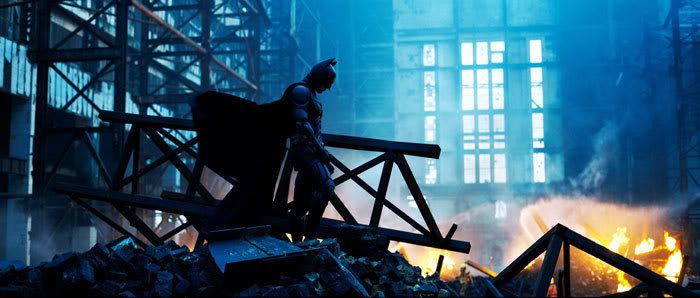 3. "We burned the forest down": The first part of Ryland Walker Knight and Jennifer Stewart's e-mail back-and-forth about The Dark Knight. From Vinyl is Heavy.
["However, all too often chaos is more a talking point than an element of the action. That's probably my biggest problem with the movie: Nolan doesn't really know how to shoot action scenes. Or, more pointedly, he doesn't shoot fight scenes well. For all the kinetic activity, those handheld close ups make these encounters less about movement than about fractured collisions that can't find a visual resolution in space. Which is a silly, hifalutin way to say, it's too often cluttered and fussy, if oddly dynamic. I'm puzzled by his close-in action mise-en-scene, and (I worry) not in a good way. That said, the film is edited pretty well and the timing on the wide shots inside action sequences is pretty spectacular. That mack truck flipping has a real weight—which is aided by the sound design. Again, it's hard to compare him to Michael Mann, or even Paul Greengrass, but those guys are more interested in space as an arena full of possibilities and energy (something I dig); Nolan's idea of space is more pragmatic, logical, showing an interest in the where but not the how. For instance: I dig that the climactic high rise site is open and under construction, open to plain sight, as it gets at the illusion of spectacle (and how we make or account for appearance in this Gotham) once more. And I dig how the sonar plays into that, too, but all the encounters within that structure are pretty straight forward, a series of scenes of Batman deploying pawns in the way of the final showdown."]
***



4. "Causing Trouble With the Odienator": Catching up with Odie a few days after the fact, but the man and his prose, truly, are timeless.
["Time to embrace my inner troublemaker. You have 5 seconds to leave this blog if you are easily offended. Five...four...three...two... I stared at my calendar this morning until the numbers blurred. Nowhere did I see an indication that this was "Remind Everybody Obama's A Black Guy" week. But it damn sure felt like it. The last few days have brought news items that play as if Obama were doing skits on Chappelle's Show. Except Dave would be funnier."]
***



5. "4 giant panda cubs born within 14 hours": The seventh sign!
["Four giant panda cubs were born within 14 hours at a breeding center in southwest China, a mini baby boom for the rare animals, a state news agency reported Sunday. The births began Saturday at the Chengdu Panda Breeding Research Center when 9-year-old Qiyuan, or Magic Luck, gave birth to female twins at 5:24 p.m. and 6:16 p.m., Xinhua News Agency reported, citing center expert Yang Feifei. Eight-year-old Chenggong, or Success, gave birth to a cub at 7:51 p.m., followed by 8-year-old Zhuzhu, or Pearl, who delivered at 6:55 a.m. Sunday, Yang said."]
***



Quote of the Day: Jerome K. Jerome
"The shy man does have some slight revenge upon society for the torture it inflicts upon him. He is able, to a certain extent, to communicate his misery. He frightens other people as much as they frighten him. He acts like a damper upon the whole room, and the most jovial spirits become, in his presence, depressed and nervous."
***


Image of the Day (click to enlarge): Hard times for Young Indiana Jones.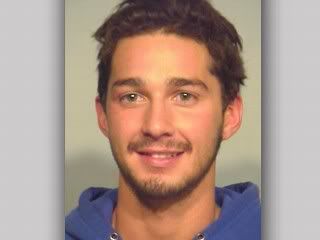 ***


Clip of the Day: Some Destro clips for my good pal Mr. Kipp.
_____________________________________________________
"Links for the Day": Each morning, the House editors post a series of weblinks that we think will spark discussion. Comments encouraged. Suggestions for links are also welcome. Please send to keithuhlich@gmail.com.