1. More Synecdoche: one pro (Michael Joshua Rowin at The L Magazine), one con (Fernando F. Croce at Slant).
["Unfolding like a movie-length version of the delirious scene in Adaptation when Charlie Kaufman (the character) furiously writes himself into his own movie writing himself into his own movie, Synecdoche makes that film look like Beverly Hills Chihuahua as it throws the viewer into a paranoid Chinese box narrative without hesitation or respite. Kaufman's aesthetic is just as uncompromising, with drab, bleak interiors echoing a gallows humor far from the effervescence of Human Nature or Eternal Sunshine of the Spotless Mind. But what's truly remarkable is how Caden's (and Kaufman's) solipsism, instead of blocking empathy, opens into exponentially greater areas of emotional understanding, from the desperate impulse to stave off death to embarrassing psychosexual minutiae (impotence, feminization), all encompassed by Cadenville, towering and collapsing as the grand metaphor of the inherently ungraspable work of art that is existence."]
***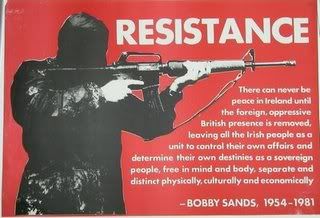 2. "A visual essay on Steve McQueen's Hunger": By Gabe Klinger for Cine-File.
["Possibly the most arresting film about prisoners since A Man Escaped (1956), Hunger invokes so many different types of images that it's hard to define director Steve McQueen's achievement in words. There's barely any dialogue in the film—one crucial several-minutes-long scene excepted—and as such it seems appropriate to express feelings about it using images. Here goes:"]
***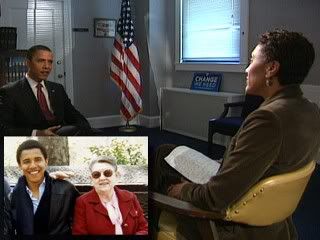 3. "Exclusive: Obama Explains Why His Campaign Will Wait for 'Toot'": By Mark Mooney for ABC News.
["Barack Obama is home in Hawaii with his ailing grandmother today rather than on the campaign trail because he fears she won't make it to Election Day. Obama, who polls show as the front-runner in the election to become the leader of the free world, is likely doing chores right now for the woman he affectionately calls Toot. "I want to give her a kiss and a hug," the Democratic presidential candidate told Robin Roberts in an exclusive interview for "Good Morning America" before heading for Hawaii to see his 85-year-old grandmother, Madelyn Dunham, the woman who largely raised him."]
***



4. "Et tu, Oliver?": Pat Graham takes issue with Ollie Stone's "sympathies."
["A lot of ink's been spilled over Oliver Stone's allegedly "sympathetic" portrayal of the current White House incumbent, though I'm wondering if sympathy has anything to do with what's actually going down in W. Since desperation seems more the point: "How can I turn this presidential horse's ass into a viable dramatic character, with issues people can relate to and connect with in a straightforward, empathic way. Because there's no interiority to speak of, just an ambulatory version of Oakland, California, so where's the emotional hook? Decisions, decisions—sweetheart, get me rewrite!" Not about history then, or personal biography or fidelity to fact, but how to make a vacancy seem substantial. A dramatic problem, in other words, not a political one, and for Stone the solution's as simple as it is, in the final analysis, devastating: make that vacancy transparent, like a modern version of Candide."]
***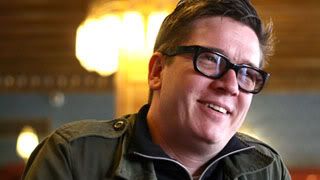 5. "How to Make a Swedish Vampire Movie": Kristen McCracken interviews director Tomas Alfredson for Tribeca Film.
["Let the Right One In won the 2008 Tribeca Film Festival Founders' Award for Best Narrative Feature. Based on a very popular Swedish novel by John Ajvide Lindqvist (who also wrote the screenplay), this haunting and sensual film is an exploration of adolescent bullies, dysfunctional families, very smart cats, and—as we've rarely seen them before—vampires. Audiences who missed the sold-out festival screenings have another chance to see the much-debated film this Halloween season. As Swedish director Tomas Alfredson prepared for the theatrical run, TF sat down with him to discuss vampirism, Swedes vs. Americans, and what truly scares him."]
***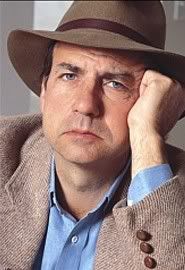 Quote of the Day: Calvin Trillin
"The most remarkable thing about my mother is that for thirty years she served the family nothing but leftovers. The original meal has never been found."
***


Image of the Day (click to enlarge): Newest Watchmen poster. (Hattip: Ali Arikan)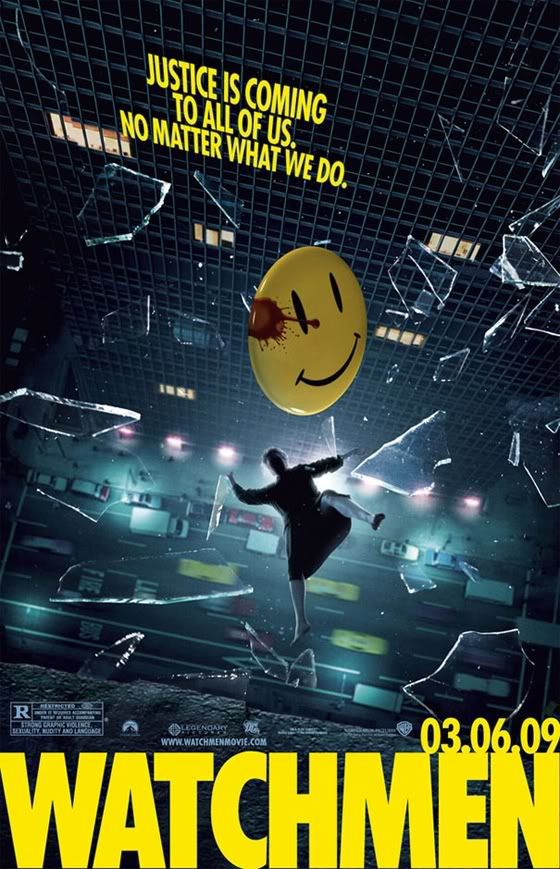 ***


Clip of the Day: Damn you Jim Emerson!
_____________________________________________________
"Links for the Day": Each morning, the House editors post a series of weblinks that we think will spark discussion. Comments encouraged. Suggestions for links are also welcome. Please send to keithuhlich@gmail.com.