By Jason Bellamy and Ed Howard
[Editor's Note: The Conversations is a monthly feature in which Jason Bellamy and Ed Howard discuss a wide range of cinematic subjects: critical analyses of films, filmmaker overviews, and more. Readers should expect to encounter spoilers. This conversation is the first half of a two-part discussion of Quentin Tarantino. This part discusses his career up to Death Proof, while Part 2 is an in-depth discussion of his latest feature, Inglourious Basterds.]
Jason Bellamy: Ed, I am daunted. Let's get that out of the way. This is the last subject I ever expected us to cover—Quentin Tarantino. What a thoroughly thankless assignment! It's not that there isn't anything to say about the oeuvre of this 46-year-old filmmaker. Hardly. Since 1992, when his Reservoir Dogs became an indie sensation, Tarantino has inspired as much chatter as one encounters in his tongue-powered films. Diehard film fans from both sides of the aisle have dissected his influence and influences. They've celebrated his distinctive style or ridiculed it. They've called him the greatest filmmaker of his generation or a plagiarist, and sometimes both at the same time. They have suggested he is a heroic preservationist of film history, a filmmaking Indiana Jones, or they have suggested he is film history's archenemy, a Nazi-esque figure using others' masterpieces as kindling for his bonfires. I could go on. Tarantino's films may be original, brilliant, witty, exhilarating, hilarious, childish, nauseating, offensive, brazen, pathetically derivative, or some combination of the above, but they are always something. Everyone, it seems, is somehow affected by Tarantino. Everyone, it seems, has a take on Tarantino.
Against this wall of noise, what are two more opinions worth? Ed, we've never gone into one of these discussions with the attitude of creating the preeminent analysis of the subject in question (neither of us is that arrogant), but in this case I'm not sure we can even hope to produce the most illuminating two-person debate of Tarantino to appear at this blog. As longtime readers of The House Next Door already know, Matt Zoller Seitz and Keith Uhlich set the bar extremely high with the transcription of their live QT debate in April 2007 that they called My Tarantino Problem, and Yours. It was that piece, incidentally, that made me leap at the chance to bring our conversations series here to the House. I've read it start to finish at least a half-dozen times, and it never ceases to engage me. And thus it's that piece that made me think that Tarantino wasn't a topic worth our time. Save for bringing to the table QT's seventh—depending on how you count—major directorial effort, Inglourious Basterds, which as of beginning this discussion we haven't seen, what more is there to say?
Yet, at the urging of our editor, here we are. I'm excited as usual, but, yes, I am daunted. I'd like to think that our conversation can tread lightly on some of those oh-so-familiar Tarantino battlegrounds in an attempt to find some mostly unexplored terrain, but, as simple as that sounds, I am doubtful. I am reminded that at the heart of every Tarantino discussion is a debate over Tarantino's depth, or lack thereof. And so I wonder: What if in trying to look beyond the surface of Tarantino's controversial reputation we find that there's nothing more there? Could it be that the most compelling element of Tarantino's filmmaking has become our inability to collectively define it?
Ed Howard: Yes, here we are, faced with the unenviable task of finding a (relatively) fresh perspective on a filmmaker about whom seemingly everything has already been said. Tarantino has been alternately hyped up and beaten down ever since Reservoir Dogs made its Sundance premiere—over seventeen years ago now, believe it or not. Like you say, everyone has something to say about Tarantino, and usually they say it pretty forcefully; I don't think I've ever stumbled across someone who has a neutral opinion of the guy.
If, as you suggest, we downplay some of the typical topics of conversation revolving around Tarantino—whether he's a plagiarist or simply paying tribute to his idols, his treatment of violence, his attitude towards women, etc.—the question then is, what's left? Hopefully, the real substance of his films, as well as the little things that may get ignored when everyone's busy talking about the big topics. Rewatching his films for this conversation, one thing that struck me was that, even though I've seen every Tarantino film multiple times, and some of them perhaps too many times, there are still scenes in each one that feel fresh, that surprise and engage me even after a half-dozen or a dozen viewings. Like a brief little scene I'd nearly forgotten from Pulp Fiction, where Harvey Keitel's Winston Wolf tosses some flirty banter back and forth with the daughter (Julia Sweeney) of a junkyard owner: charming, funny and suggestive of these characters' lives as they extend beyond the film.
As for the question of Tarantino's depth, of what lies beneath the surface of his films, I'm reminded of a quote from that earlier conversation between Matt and Keith. It's probably appropriate, considering how important that piece has been to us both, that we take their work as a springboard for our own, a starting point for our inquiry into American pop culture's thorniest auteur. At one point in that discussion, Matt says:
"I still don't get a sense of what moves Tarantino and inspires him, of what he stands for. I have never seen him say, in a movie, 'This is what I believe. This is what I prize. This is what matters to me.' He's a public figure, and he affects a 'What you see is what you get' image, but he's very cagey about letting the audience look past The Quentin Tarantino Show and sense, in the movies, his true essence as a human being and as an artist."
These are strong words, and I'd like to kick us off by asking: Do you agree? What does Quentin Tarantino believe, if anything? What worldview does his oeuvre as a whole create or explore?
JB: Well, as Matt said to Keith in 2007, we're jumping into the deep end of the pool here, and that's okay. In truth, I'm not sure I could have picked a better quote from which to begin, because the passage you selected sums up the crux of Matt's "Tarantino Problem," and I wonder if it doesn't have a very simple answer. It goes like this: What if Tarantino's films do show us his true essence as a human being and as an artist? What if "The Quentin Tarantino Show" is all that we see because it's all that's there to see?
Before we move ahead, let me be clear: This is a subtly different question than I was asking you just a moment ago. A moment ago I was talking about Tarantino's films and their overall effect and whether they, as pieces of art, are worthy of all the discussion they have inspired. In this instance, however, I'm talking about Tarantino the man and artist. Naysayers look at Tarantino's films and say, "All I see is a guy who loves movies, who worships Scorsese, Leone, Godard and De Palma, etcetera." Well, perhaps that's all you should see. Almost everyone knows at least one person who is staggeringly one-dimensional. Maybe Tarantino is another one. There are world-class athletes who are slaves to their sports. Chess champions give up their lives for their craft. Businessmen lose themselves to their professions. Why do we expect a filmmaker to be any different?
Tarantino's films suggest he's a man in love with cinema and with himself. Is that particularly interesting? Not on paper, I concede. But let's pause and look at the world in which Tarantino grew up. It was one of relative privilege and safety. It was one in which the average American had greater access to cinema than ever before. It was a world without an apocalyptic war. It was a world without a radical social movement. Tarantino is a filmmaker from Generation X (and seemingly for Generation X). Should we be shocked that a child of Generation X had his worldview formed by the VCR and the multiplex? These days, when so many young people have their worldview shaped by cinematic media, is Tarantino all that different? Most of us go to the movies and learn about life and love and seek engagement with other people. Tarantino, it seems, learned those same lessons and decided to keep his relationships faithful to his love of cinema. Does that sound plausible?
EH: It sounds more than plausible. In fact, let's push the idea a little further. My own reaction to Matt's objection is that it's a mistake to go looking for substance and depth in Tarantino's work independently of his pop cultural and cinephiliac obsessions. What Tarantino has to say is about film, is about pop culture, is about the ways in which people of his generation and later ones interact with the world through the prism of culture. His films are about people who have learned how to act from TV, who have grown up in a culture that surrounds them with images, with narratives, with readymade characters whose behaviors and attitudes they can absorb into their own lives. Certainly that's the way I've always viewed the thugs in Reservoir Dogs. They seem like movie tough guys not (or not just) because Tarantino only knows about movies, but because the movies are where these guys learned how to behave as criminals. After Mr. Blonde (Michael Madsen) and Mr. White (Harvey Keitel) have a standoff, nearly coming to blows, Blonde gives a lopsided grin and asks White if he's a fan of Lee Marvin. He knows, from the way the other man acts, the things he says, the way he carries himself, that White likes Marvin's movies. They both like these movies. In a way, they're the same man because they've adapted their schtick from the same source.
Tarantino's films are a pastiche of film history because that's the way he views the world, but also because that's how his characters view the world. In fact, that's the way a lot of people have viewed the world for the past several decades. What does Tarantino believe? He believes people today are defined by pop culture, that consciously and unconsciously they construct their identities from the fabric of the culture they've been exposed to. He believes that the ephemera of the past are invested with new and possibly deeper meanings by those whose formative years were spent with these transitory things, this cultural junk. So he treats these things with a seriousness that befits the process: he gives us movie tough guys who bleed and cry, a Shaw Brothers samurai epic about a mother's desire for vengeance, a blaxploitation icon resurrected as a struggling airline stewardess.
While on some level it sounds reductive and even insulting to suggest that Tarantino's movies are only about movies, it's actually just descriptive of what interests him. It's often said of Tarantino, not just by Matt, that he knows nothing about life, that all he knows how to talk about is movies. This criticism ignores the fact that for an increasingly large number of people today, to talk about the movies, to talk about pop culture, is to talk about life. In the West, where we're saturated with media practically from birth, people are more and more defined by the culture they consume. If you're of a certain generation, you grew up watching certain cartoons, watching certain movies, listening to the pop music of the time, and these things become touchstones in your life, markers of your identity. You know someone is like you if they talk about the music you know, the movies you know, the TV shows you know. Tarantino's obsessive pop culture riffing isn't just a tic, isn't just a way of showing off his own encyclopedic pop culture knowledge, it's a way of grounding his characters in a society where these things matter, where what you watch and what you listen to in some way defines who you are. If you listen to K-Billy's "Super Sounds of the Seventies," that locates you as a certain kind of guy, maybe a guy of a certain generation or a guy with a certain level of taste; it says something about you. This is Tarantino's big point, his central idea: pop culture matters, damn it, it is not meaningless, it is not empty, it is increasingly a big part of our lives and we should acknowledge that, should engage with it. In this light, Tarantino's films aren't disconnected from reality. They're all about reality, because reality in the 21st Century has increasingly imitated art, rather than the other way around.
JB: That's beautifully said, and we almost agree, but with a significant distinction that cuts right to what I guess is my Tarantino Problem. See, I absolutely agree that for a progressively larger portion of American society, pop culture is life. Or, another way of looking at it: pop culture is consuming what we used to consider plain old culture. They are becoming indistinguishable from one another. It is this pop cultural evolution that created Tarantino, created his cinephiliac worldview, and thus created his films. On that we see eye to eye. But where I disagree with you adamantly is that Tarantino is actively commenting upon this cultural evolution, that Tarantino is curious about anything beyond his own interests. Unless Inglourious Basterds convinces me otherwise, I've yet to see any evidence of that.
I think the charge often lobbed at Tarantino that he is only interested in satisfying his pop culture interests is correct. Is that a "criticism"? I guess it could be, but it doesn't have to be. Yes, many of Tarantino's characters and films have an air of stylized unreality to them that seems sliced from old celluloid and spliced into Tarantino's screenplays. Well, so what? There are no rules here. Tarantino is perfectly entitled to explore his obsessions, whatever they are. He is perfectly entitled to make a World War II movie that, I'm just guessing, owes more to pulp comic books than to history books. All films need not be redeeming or deep. Additionally, all films need not be "deep" in the same way. I do have Tarantino problems. Many, actually. I do not worship at his altar. But I cannot deny that his films have an effect on me, cumulatively, not consistently. To be clear, this isn't mere admiration, a term I'd apply to, say, Peter Jackson's Lord of the Rings trilogy, which impressed me with its construction and scope but seldom moved me (especially after the first picture). Tarantino's films, at least as I'm watching them, get under my skin. There are moments when I roll my eyes and moments when I'm bored and restless, but I cannot deny Tarantino's ability to stimulate.
However, my Tarantino Problem is this: Because Tarantino is so consumed with his own interests it is becoming increasingly difficult to believe in the worlds he creates—and, sadly, this works retroactively, too. That Lee Marvin comment? Alas, that no longer sounds like something Mr. Blonde would say. It sounds like something Tarantino would say. When Tim Roth's undercover cop Freddy Newandyke tries to convince himself that the thieves haven't seen through his Mr. Orange cover and looks into the mirror and says, "You're fucking Baretta," that, too, now sounds like Tarantino. I could go on. I could mention Jules' "Caine in Kung Fu" one-liner in Pulp Fiction, Ordell's Johnny Cochran comments in Jackie Brown, Bill's superhero monologue in Kill Bill: Vol. 2 or all that unconvincing rambling about Vanishing Point in Death Proof. These moments—and certainly there are dozens of others—don't sound like the thoughts and passions of original characters anymore, if they ever did. They don't even sound like the thoughts of characters who have supposedly learned who they are or who they want to be by patterning themselves off of movie characters. No, instead they sound like the thoughts and passions of Quentin Tarantino, who uses these characters to speak straight to the audience to tell us more about him. They sound like his words, his personality, his interests. And I have a problem with that.
EH: Well, I do have my own Tarantino problems (who doesn't?), and I'm sure we'll get into them later, but this isn't one of them. Yes, Tarantino's characters are frequently stand-ins for Tarantino himself, and they talk about things that interest him. So what? The thing about Tarantino's pop culture references is that they have many meanings, many functions within his films—he's not always using them the same way, and he's not always using them in only one way at a time. To stick with Reservoir Dogs for a moment, I don't think the fact that Tarantino likes Lee Marvin and Baretta negates the believability of the characters talking this way.
There are times when Tarantino's pop culture references are just expressions of his own sensibility, like the opening Madonna conversation, which, let's face it, though funny and well-written, is there mainly because Tarantino thought it'd be amusing for hardened tough guys to be talking about "Like a Virgin." But at other times Tarantino's use of pop culture tropes is more sophisticated. Granted, there are moments in Death Proof where I don't really buy the dialogue, but Reservoir Dogs strikes me as being grounded in a very particular, well-defined, coherent world. Maybe not a realistic world—it's very much a part of the Tarantinoverse, a self-contained pop cultural outpost—but certainly a world in which I believe the characters would talk like this, would make these specific references. Tarantino's films are insular and create their own stylized realities, but they're not as entirely self-absorbed as you're suggesting.
Tarantino's tough guys are very consciously movie tough guys, they've been raised on movies, on pop culture, and their whole way of acting is driven by the pop culture they have absorbed throughout their lives. On some level, Reservoir Dogs is, like many of Tarantino's films, all about role-playing, about performance, about identity. It's appropriate that these men are hiding their identities for the sake of the job, because what they're projecting is not their own selves anyway. They've all developed their personae from watching movie gangsters, and their individuality has been stripped away as a result, hidden behind identical black suits and generic names, the details about their lives only occasionally peeking through the veneer.
There's irony in hearing Lawrence Tierney, who once famously played John Dillinger in Max Nosseck's 1945 film about the bank robber, call another man "dead as Dillinger"—but it's not just a cute reference, because these men have been molded by the media image of Dillinger, and by Tierney's sneering, snarling performance as the famous outlaw. Tierney's hulking presence here, looking like the Thing with his rock-like, sculpted visage, is a link to the cinematic touchstones that create guys like this, bad men who have learned what to do and what to say by watching TV and movies. Is Tierney in the film because Tarantino admires his performance in Dillinger and other genre films? Certainly. But he's also there as part of the cinematic lineage of these characters.
JB: In the mid-'90s, I would have agreed with you. Not anymore. Yes, the Tierney line is a delightful allusion. It's a clever bit of writing, a sign of Tarantino's wit and his love of film history, and I cherish that moment. (Well, let's be honest: I cherish any moment with Tierney.) But I no longer look at Mr. White, Mr. Blonde and Mr. Pink and see men who watched gangster movies as kids and decided that's what they wanted to be. (The Baretta line is more believable.) Instead, I feel like I'm getting an extended version of the lecture Tarantino delivers as Mr. Brown to open the film. Now, I grant you that the Tarantinoverse feels about as real-world realistic as it gets in Reservoir Dogs. Of course, it helps that the vast majority of the action unfolds in an empty warehouse. Our biggest glimpse of "reality" is the diner scene at the start, and Tarantino can't get out of there before having Mr. White lecture Mr. Pink with this statistic: "Waitressing is the No. 1 occupation for female non-college-graduates in this country." Now, really, does that sound like Mr. White to you, or does that sound like the screenwriter?
Before I go on, let me note that Tarantino has created characters who avoid acting as a megaphone for the director, most notably Robert Forster's Max Cherry in Jackie Brown (and perhaps Elmore Leonard deserves much of the credit there). Nevertheless, I believe Tarantino's greatest weakness as a filmmaker is his frequent habit of talking at us through his characters, usually at the expense of the characters' credibility. Alas, Tarantino often seems less interested in telling us a story than in lecturing us on his interests. Just like Michael Jackson built himself an amusement park and surrounded himself with toys in a desperate attempt to cling to his childhood, Tarantino seems to want to create hip characters who embody his passions—indeed, who are hip precisely because they embody his passions—in a desperate attempt to confirm his own coolness. The smoking gun to me is this: I can't think of a single moment in Tarantino's filmography when a character exalts an element of pop culture—an actor, a film, a song, whatever—that strikes me as running counter to Tarantino's personal tastes. My gut feeling is that if Mr. Orange thinks Baretta is cool, it's because Tarantino does. I don't think Tarantino has the balls, or maybe even the creativity, to create a character who praises the super-coolness of something Tarantino thinks is lame in order to reveal something about that character. To Tarantino, if his characters were lame, that would mean he was lame. I realize this is a weighty charge based purely on my reading of his films and some gut speculation. That said, can you provide any compelling evidence that I'm wrong?
EH: Not on that question! For me, the "smoking gun," the evidence that Tarantino's compulsive pop cultural namedropping is more than just a really elaborate way of bragging, lies elsewhere. Of course his films are filled primarily with the stuff he likes, so I'm not sure I can find the kind of evidence you're looking for. Tarantino's films are undeniably littered with pop cultural artifacts that he thinks are cool. (Jackie Brown, the only Tarantino film adapted from another source, is a possible exception.)
I do, however, think that Tarantino's use of pop culture is more complicated than the simple exaltation of coolness. This is especially apparent in Reservoir Dogs and Pulp Fiction, two films that (like Fight Club, another film you have serious issues with) simultaneously glorify and critique the macho violence and media-savvy "coolness" of their protagonists. Pulp Fiction, like Fight Club, is often superficially appreciated by young men who think it's cool and badass, who admire the attitude of Jules (Samuel L. Jackson) and Vincent (John Travolta) without realizing that the film contains its own critique of such "cool" presentations of violence. Specifically, Jules' road to redemption begins with the realization that words and actions have meanings beyond their surface, a message that can be applied to Tarantino's oeuvre as a whole as well. Throughout the film, Jules recites a paraphrased verse from Ezekiel before he kills someone, and it's played as "cool," which is exactly what it is for Jules: a tic, an affectation, something to make him sound badass before he killed someone. He never thought about the words. Then in the final diner scene, he tells Pumpkin (Tim Roth) that he has finally thought about what he was actually saying, and has realized that not only is the verse much more than a simple prelude to his murders, it contains an implicit critique of his entire way of life.
In other words, the very thing that makes Jules so cool and appealing is later revealed to contain the seeds of his redemption, the negation of his superficial, violent lifestyle. Similarly, Tarantino's hip gestures and slick surfaces often cycle around in order to critique the slick and the hip. Pulp Fiction is structured as an endless loop, and those who escape the loop do so by rejecting a shallow, surface-level understanding of genre and character. Jules is set up as a blaxpoitation badass, a tough guy, and he redeems himself by rejecting this gloss, by embracing another way of life. That the way of life he embraces, that of David Carradine's Caine from the TV series Kung Fu, is another archetype in itself, is not as important as the fact that Jules has freed himself from the limiting bonds of his natural genre. He's jumped outside the frame into another type of movie, one that takes place beyond Pulp Fiction. So while I see your point—Tarantino's characters are spouting only the pop culture references that Tarantino wants them to spout—I don't buy that Tarantino's nearly as superficial at heart as you contend.
JB: Those are very good points, and I must express that I'm not out to label Tarantino as "superficial." Tarantino largely gets away with speaking at the audience through his characters because, more often than not, he's damn entertaining about it. The superheroes lecture in Kill Bill is clumsily obvious, and I'll never believe the breathless banter about Vanishing Point in Death Proof, but Tarantino has a knack for producing an end that justifies the overt nature of the means. To stick with those previous examples, in Kill Bill the superheroes speech proves to be an eloquent metaphor for how Bill (David Carradine) regards Beatrix Kiddo (Uma Thurman), while all that Vanishing Point chatter serves as a kind of foreplay for Death Proof's exhilarating old-school stunt-spectacular finale.
Yet there remains a problem. Each time Tarantino uses his characters as props for his own lectures, he robs them of their uniqueness. After a while, that redundancy in character creates a redundancy among the movies themselves. In the aftermath of Reservoir Dogs and Pulp Fiction, Tarantino acolytes loved to trash all the QT wannabes (and there were many) who tried to conjure the paradoxical magic of having tough-guy characters engage in passionate conversations about everyday minutiae. (One of the most blatant offenders was Suicide Kings, in which the Denis Leary character has an in-car monologue about his shark-skin boots, as I recall.) But, over the long haul, no one has Xeroxed Tarantino as much as Tarantino. Yes, each director has his/her own style and needn't apologize for staying true to that. I'm not one of those arguing that Tarantino needs to "branch out" and make dramas about the Holocaust. Instead I'm recognizing a point that I think must be addressed: Tarantino has managed to water-down his own genius. The early works that made him famous, Reservoir Dogs and Pulp Fiction, no longer feel so special or unique. That's less because Tarantino has inspired so many imitators than because his wild genre shifts have failed to disguise the fact that the core thrust of his filmmaking remains an effort to define all the things Tarantino finds super-cool.
Hmmm. Maybe I am calling him superficial.
EH: And I'm trying to argue that his seeming superficiality is often just a gloss on something deeper. You see "redundancy" between Tarantino's films where I see thematic and aesthetic consistency. As you say yourself, the most obvious pop culture references in Kill Bill (the Superman monologue that Tarantino adapted from Jules Feiffer's book-length essay The Great Comic Book Heroes) and Death Proof (the Vanishing Point dialogue) turn out to be integral to the films' deeper themes. (And by the way, I don't know why it's so hard to believe that a pair of stuntwomen would be interested in Vanishing Point, and would extol its virtues to their non-gearhead friends; maybe because I know women who love cars and do love that movie. I've always thought the "girls wouldn't talk about Vanishing Point" criticism was kind of sexist.)
For me, the core thrust of Tarantino's filmmaking is not his endless pimping of what he finds cool; that's all decoration, sometimes adding to the films' substance, sometimes simply gliding along the surface. The real core of Tarantino's oeuvre, the thread that runs through much of his work, is about identity, about the way people assume different roles in order to define themselves. What is Kill Bill, after all, if not a process of cycling through roles in order to discover the true self, freed of genre obligations: an assassin, a victim, a vengeful killer, a mother, Black Mamba, the Bride, Arlene Plympton, Beatrix Kiddo, Mommy. This thrust is apparent right there in Tarantino's first film, as well.
For me, the key scene in Reservoir Dogs is the one in which Mr. Orange prepares to tell "the commode story." When he starts telling the story, he's only rehearsing it, pacing around his apartment, working his way around the lines, figuring out how he's going to learn it and make it sound natural. Then we see him practicing it in more detail for a fellow cop, really acting it out, embellishing it; it's polished now. Then we see him telling the story to his fellow crooks, as a way to break the ice, to get them to like and trust him. And then, finally, we see the visualization of the story's climax, acted out as though it was something that really happened. Tarantino allows this chronology to flow smoothly, with no disruptions, as though it was all part of the same sequence—because it is, it's a chronicle of the process by which Freddy the cop puts on a mask, becomes an actor, assumes a genre role. It reinforces the film's theme of men who are always acting, always putting up a front of macho posturing developed from TV and movies.
It's a mask that does them little good, which is another of Tarantino's points. When Nice Guy Eddie (Chris Penn), Joe (Tierney) and Mr. White recreate the three-way shootout from The Good, the Bad and the Ugly at the end of the film, it's utterly pointless. They're three men who like and respect one another, who have known each other for a long time, but they're locked into a position where none of them can just lower their weapons and call it off. The only thing they can do is pull the trigger, knowing the others will do the same and then they'll all be dead. This is the dead end that the image of the movie tough guy inevitably leads to, and those Tarantino characters who cannot escape such cinematic touchstones, who cannot imagine a life beyond their genre stereotypes, inevitably wind up dead: as dead as Dillinger, as dead as Vincent Vega in Pulp Fiction.
JB: Here's where we stumble into one of those tricky areas between intent and realization—an area so tricky that I knowingly contradict myself with regularity. On the one hand, I think the intentions of a filmmaker are irrelevant to the film itself. In other words, if a scene is ambiguous to an audience, then it is, even if the filmmaker "knows" the hidden truth of the scene or intended for its meaning to be straightforward. Likewise, if a scene seems to symbolize something counter to what the director intended, then it does. I am adamantly against going back to a screenplay or, even worse, to the original source material (when it exists) to enlighten the meaning of what plays out on screen. (See: No Country for Old Men and the multiple opinions about where Chigurh is or isn't in that non-confrontation with Sheriff Bell.) On the other hand, though, I also think it's possible to give a director too much credit. Or, as Matt said to Keith, "the movie you're describing is much greater than the movie I saw."
As it applies to Reservoir Dogs, I don't sense at all that Tarantino is out to demonstrate that macho posturing turned into a life of crime is a road to doom. Not at all. Instead, I believe that QT thinks the three-way shootout is cool, and so he wants to do one, and that's that. When I picture Tarantino sitting around talking about his movies, and sometimes it feels like he's doing that as the film is unfolding (Matt said he feels like Kill Bill needed footnotes, but I feel like sometimes Tarantino's films are those footnotes), well, I don't picture him talking about character metamorphoses. If those happen, they are afterthoughts for the most part. Tarantino is driven by action and by his cinematic fetishism. And, again, that's fine. If it works, it works. It if thrills, it thrills. So while I don't disagree with your analysis of the film, I can't agree with it either. I can't say your description matches Tarantino's aims.
This is another example of how slippery Tarantino is to define. So much of my ability to look beyond my Tarantino Problems and enjoy the films for what they are requires me to approach them as if they aren't meant for deeper examination. Because, yes, to really listen to Jules come to terms with that Biblical verse that he's always throwing around in Pulp Fiction is to find greater complexity than Tarantino is usually given credit for. But in doing so, like Fight Club, Tarantino via Jules negates the very spirit with which he sought to entertain us in the first place, and thus seems to disparage his own pop culture sensibilities as well as the audience that falls for them. Ed, I'm not looking to rehash our entire Fight Club debate here. I'm simply suggesting that I'm not sure that it benefits Tarantino to go seeking depth. Instead, as with moments in Kill Bill, perhaps it's best when depth sneaks up on us and surprises us.
EH: If that's the case, I certainly find there are a lot of moments throughout his oeuvre that surprise me with their depth and complexity. Sure, he throws a lot of stuff into his movies just because he thinks it's cool. And, sure, each of his films contains at least a few cringe-worthy moments. (Like that scene in Death Proof where the second group of girls enthuse about getting a mix tape as a birthday present; it's such obvious geeky guy wish fulfillment. Most actual women, I'd imagine, would simply say, "Get me a real present.") But I can't dismiss the deeper currents in his work, either. Anyone who doubts the emotional weight of Tarantino's films should look closely at the entire Mia Wallace (Uma Thurman) chapter in Pulp Fiction, specifically the way the tonal shifts are handled—from the playful, 50s rock movie flirtation between Mia and Vincent, to the sobering horror of the overdose sequence, to the quiet aftermath, in which the visibly shaken Vincent drives an ashen, worn Mia back to her house. Their goodbye is awkward and sad, with a sense of lost possibilities in every word, every gesture. This scene is haunted by the ghost of their earlier flirtation, in the way Mia calmly tells Vincent the joke she refused to tell him earlier, and Vincent gives her a tired smile and then, as she's walking away, blows her a kiss.
For someone who's so often dismissed as an undisciplined egotist and a slick stylist, the emotions in Tarantino's films are quiet and subtle, layered beneath the surface of his pop culture riffing. That's why I insist that it's worth looking for the depth in these films. As you note, it's dangerous to try to guess at intent, and I'll try not to go there. I have no idea, really, whether even Tarantino takes his films as seriously as I do. But when a filmmaker so consistently explores the same ideas, in film after film, I have to assume that it's not accidental, that at least on some level he means for those ideas to be there, that he's not just goofing around. I don't think it's an accident that the subtext of identity and genre archetypes and character transformation runs through Reservoir Dogs, Pulp Fiction, Kill Bill, Jackie Brown and, in different ways, Death Proof as well.
In Pulp Fiction, both Jules and Butch (Bruce Willis) achieve redemption and second chances by rejecting the shallow values of their archetypal characters. The latter initially cares only about himself; he expresses no remorse upon learning he killed another man in a boxing match. He simply runs away. The later scene where Butch returns to save Marcellus Wallace (Ving Rhames) is thus a mirror image of the earlier one: with a man dying behind him, he has the chance to run away or to go back and face up to things, and this time he chooses to go back. By not running, he breaks the cycle of endless flight and hiding that was ahead of him. He rejects his man-on-the-run noir story and turns his tale into something else, a blend of a torture/revenge flick, a Deliverance-style redneck thriller, and a noir romance in which he's able to make his eventual escape without the moral weight of his past dragging him down. Like Jules, he's been redeemed from a very familiar genre plot, freed to make other choices, to do things differently and undo the mistakes of his past. Some characters escape the loop of Pulp Fiction towards a different life, while others choose to relive the same stories over and over again, trapped by genre and by fate, which for Tarantino are the same thing: genre is destiny.
Maybe I'm reading too much into these films, but my instinct tells me I'm not. Tarantino simply cares too deeply about pop culture, about genre films and trashy B-movies, to treat them lightly. For him, these films are worthy of serious attention, so why shouldn't his own treatment of this material be equally serious?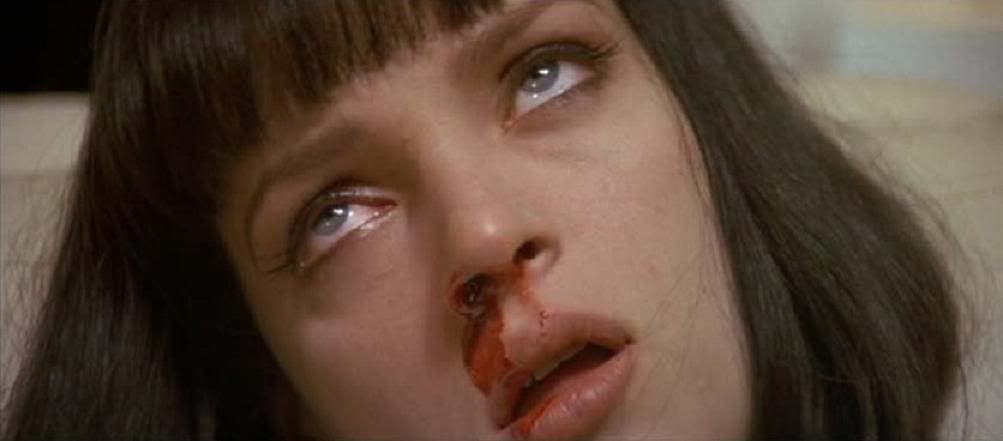 JB: Oh, Tarantino has his moments of seriousness, complexity and depth, no question about it, and the Mia Wallace chapter is one of Tarantino's greatest creations—an almost indescribable blend of B-movie cartoonishness and gritty, affecting drama. Tarantino's best qualities as a screenwriter and director can be found in that overdose sequence, a textbook example of organized chaos if there ever was one, with Vincent (John Travolta), Lance (Eric Stoltz) and Jody (Rosanna Arquette) swirling around the inert body of Uma Thurman's Mia. Given my previous criticisms of Tarantino, you might think I'd consider it a too-cute contrivance to have two guys bickering over the responsibility of delivering an adrenaline shot while a woman is dying at their feet, but that's not the way the scene plays, precisely because Tarantino allows his clever dialogue to complement the action rather than giving it center stage. Simply put: the scene's urgency never diminishes, and all the angst-ridden arguing of Vincent and Lance plays true to these individually rendered characters who are faithfully acting in accordance to their own established motivations, rather than merely serving the mechanics of the suspense piece (or merely establishing QT's sense of humor).
That said, it isn't a matter of doubting that Tarantino can deliver emotional weight or that he does so knowingly, passionately and artfully, when so inclined. (Just typing that sentence my brain was filled with images of Max Cherry's loneliness and Beatrix Kiddo's relentlessness.) But, at the risk of belaboring the point or sounding like a culture snob, the way I've come to cope with those oh-so-many instances when Tarantino uses his films like an open mic for his own sophomoric amusements (and sometimes I swear I can actually hear Tarantino laughing at his own jokes) is to presume that while he is indeed out to move me, he's not really looking to make me think. And, you know, that's okay. Thinking can be overrated. In regard to Tarantino, I still contend that it can be downright problematic.
EH: Honestly, I doubt anyone would argue that Tarantino is an unproblematic filmmaker. Everyone has their own Tarantino problem. Yours is perhaps that Tarantino speaks through his characters too much, and that there's not much depth beneath the surface of his films. In comparison to the pleasure I get from these films, my own Tarantino problems tend to seem like minor quibbles. I already mentioned the unbelievability of the mix tape dialogue in Death Proof, and most of my objections to Tarantino are along those lines. What he does doesn't always work, for sure, and there are stretches in each of his films where I'm left doubting my generally positive impression of him. In Reservoir Dogs, it's the scene where Eddie and Mr. Blonde wrestle and make gay quips at one another ("Did you see that, Daddy? He tried to fuck me!"), which has always seemed to me like a tone-deaf attempt at joking camaraderie written by someone who's never really had a friendship like that. In Pulp Fiction, it's the moment when Vincent accidentally shoots Marvin (Phil LaMarr), which is played for shocking humor in a way that jars very uncomfortably against the generally serious, brutal treatment of violence elsewhere in that film and Reservoir Dogs. So I'm afraid my Tarantino problem is rather banal, and it boils down to his inconsistency, his tendency to undermine and contradict his best impulses.
In some ways this is the same thing you're objecting to. For me, however, Tarantino's inconsistency never overwhelms my engagement with the things I admire in his work. Obviously I don't agree with you about the cognitive pleasures of these films, either: Tarantino makes me think, whether or not he's actually "looking to make me think." But then, I wonder if that's such a good criteria for a film at all. Shouldn't we be thinking about every film we see? I've never been an advocate for turning one's brain off in order to enjoy a movie. If thinking about a film ruins it, it's probably pretty lousy to begin with. If, on the other hand, thinking about a film yields insights about, say, identity and genre—or, as Keith argues, without quite convincing me, about fire and brimstone spirituality—then that's a film worth seeing, and worth thinking about. In Tarantino's case, I initially saw these films the way most people probably do, on a very superficial level, as real badass entertainments. But the more I watch them and dig into their depths, they only seem richer and more complicated.
JB: In a way we seem to be suggesting that Tarantino is similar to Michael Mann, in that his movies can be enjoyed for their simple surface pleasures or for what's underneath, and that it need not be both. Being totally honest, I'm with you on the importance of being able to think about the films I see, which is precisely why I get so frustrated by some of the self-negating contradictions of a movie like Fight Club. (Note: I realize some people think there are no self-negating contradictions in Fight Club, but that's the way I see it.) Indeed, that question bothers me: If I have to shut off part of my brain to appreciate Tarantino, is that a black mark on his films? How do I appreciate the metaphorical depth of the Superman story in Kill Bill, which by the end illuminates Beatrix Kiddo in a lovely way, when what I really believe is that the monologue is there to draw attention to Tarantino's cleverness as much as to inform us about the relationship between Bill and Beatrix? Shouldn't my thoughts be drawn to the art and not the artist?
On that note, now would be the time, I suppose, to mention Tarantino's acting appearances, which scream "Look at me!" Those moments, as much as any, seem like pathetic attempts by Tarantino to pronounce himself a member of the cool communities he so determinedly creates, a chance to join the clique he was left out of in high school. In that regard, as further evidence of just how important it is to Tarantino to establish his Baretta-like street cred, it's a relevant topic for discussion. Then again, in the interest of not wasting time on the obvious, perhaps we can just regard Tarantino's acting as a grievously insufferable impulse and leave it at that.
EH: I'm happy leaving Tarantino's acting pretty much alone, because, frankly, what Matt called "his unfortunate tendency to act" is an embarrassment for anyone attempting to make a serious case for the guy as a major talent. If there's anything that proves Tarantino sometimes gives in to very adolescent whims in his filmmaking, it's his continuing desire to prove himself as an actor. It's tolerable in Reservoir Dogs, where he blends in with the general swirling conversation of the opening scene. It's much more distracting in Pulp Fiction and Death Proof, where his cameos are so unrelentingly grating that they never fail to take me out of the film; thankfully the latter is very brief. I think Tarantino even intends for his characters to be somewhat annoying—certainly we're not supposed to like either of these rather abrasive guys—but I wind up disliking not the character but Tarantino himself.
I will say that Tarantino's best acting moment (and this is strictly a relative proposition, mind you) comes in a film that's otherwise his most minor work. I'm talking about The Man From Hollywood, his contribution to the 1995 multi-director anthology Four Rooms. It's an extremely uneven anthology, frontloaded with two shockingly bad shorts by Allison Anders and Alexandre Rockwell, followed by Robert Rodriguez's The Misbehavors, a hilarious mutant combination of his gritty B-movies and his kiddie comedies. Then there's Tarantino's short, which closes the film; it's basically a lengthy set-up for a rather simple punchline, accomplished mainly with showy long takes. And it features a performance by Tarantino himself at its core, which should be disastrous but somehow isn't. Instead, it comes across as the one moment in Tarantino's oeuvre when he's really opening up as himself, when he's most intimate with his audience, really embracing his status as the video store clerk handing out recommendations. Usually he does this indirectly, by referencing other films, but here he's practically engaging in a conversation with the audience.
He does this with a long take where the camera takes on the perspective of Tim Roth's bellhop character, holding a close-up on Tarantino as he expounds upon the importance of Jerry Lewis as a comic. Sure, Tarantino's still as annoying as he almost always is, whether he's acting or giving an interview, but at the same time I'm won over by his obvious passion, by his earnest plea for a comic legend to be taken seriously in his home country before his death. This is, I think, one of Tarantino's most admirable attributes: his connection to the past and his awareness of forgotten talents. I appreciate that in this shot, Tarantino is breaking the fourth wall to make his case directly to the audience. Tarantino, for all his pop culture savvy and self-consciousness, actually breaks the fourth wall only rarely, which gives the moments where it happens a special significance: his films are generally self-contained. In fact, the only two Tarantino characters I can think of offhand who break the fourth wall are Tarantino himself here, and in Death Proof, Kurt Russell's Stuntman Mike, who looks up at the camera and smiles right before getting into his car to kill Rose McGowan's character. Make of that what you will.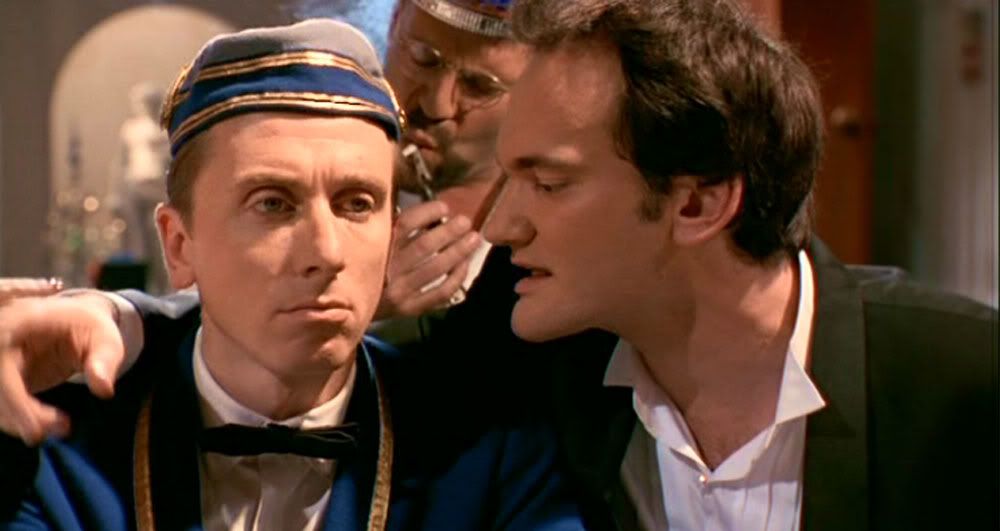 JB: It's certainly no coincidence that Tarantino's two "best" performances, in Reservoir Dogs and Four Rooms, involve delivering monologues on pop culture; that's his comfort zone, and his films are never more straightforward and honest in their intentions. Put another way, Tarantino plays Tarantino pretty darn well. To me, that's always been part of the irony: as desperate as Tarantino is to prove himself as something cooler than he appears, to transform himself into some modern day Fonzie-meets-Goodfellas badass, when he's just himself he's actually pretty hip. Obnoxious, sure. But, you know, cool. I'll even go so far as to suggest that there are only a handful of "real" actors who could have been as convincingly deranged yet charming as Tarantino is in Four Rooms when his Chester delivers one of my favorite passages in Tarantino's entire filmography: "Nobody wants Norman to lose his finger. We just want to chop it off."
But, believe it or not, there's another reason that Four Rooms is worth discussing for a moment, and it's this: Four Rooms is actually a better realization of the B-movie "grindhouse" experience than Grindhouse, the Rodriguez/Tarantino B-movie-by-design double-feature, at least in my experience. Here's what I mean:
Of all the Tarantino movies I've seen—and I've caught each of them in the theater save for Reservoir Dogs—none of them, not one, has sparked the kind of audience reaction that Rodriguez and Tarantino tag-teamed to achieve over the final acts of Four Rooms. Read that again. That's not a misprint, and I'm not exaggerating, though I should note that I saw Four Rooms at a 10 pm showing on a Friday night in a college town that was no doubt full of hormonal dudes with hard-ons for Reservoir Dogs and Pulp Fiction who just couldn't wait to jerk off (perhaps literally) to the latest Tarantino offering. As you noted, the first two Four Rooms chapters are mostly painful, and so, long before Rockwell's The Wrong Man had played itself out, my audience was getting restless. People were bored, fidgety, chatty and, to read their minds for a second, wondering what the fuck they were doing wasting a Friday night on this shit. Then the Rodriguez chapter kicked in and went extreme and, preying on the pent up energy created by the opening acts, cured the audience's blue balls, if you will. (This is a classy description, eh?) People were screaming with laughter, shouting at the screen, really gulping it down—and this was a spontaneous and organic response, not an answer delivered in an attempt to satisfy a formula. Of all the movies I've ever seen, only once have I been part of an audience that was more raucous. Seriously. And then came Tarantino's The Man From Hollywood. And suddenly everything came to a halt.
Tarantino's chapter follows Rodriguez's madcap action with talk, talk, talk. At first glance, this was suicide, and the audience started to revolt. But in the end, of course, it was genius. This was Tarantino's now familiar rope-a-dope routine. This is what Keith would call a Tarantino longueur, one of "the very quiet moments, the 'boring' moments that lull you into complacency before the punchline." And it worked. Oh, how it worked. Tarantino let the audience come down from its orgasm of laughter and, slowly but surely, almost without us noticing, got everyone revved up again until finally Roth's bellhop punctuates the whole thing with a swift swing of a cleaver that made the audience erupt, ejaculating (why not?) every last bit of energy.
Now, granted, this film experience I'm describing was unusual. It took the right setting, and some of it was dumb luck—the perfect group of people packed into the same theater. I've seen Four Rooms twice since on DVD and that "grindhouse experience," if you will, just isn't there. The QT effect doesn't translate to DVD the way that it does with Tarantino's other films. Nevertheless, I still admire the craft of it and the confidence it displays: Tarantino knows that he can break a plot's momentum whenever he wants to and resuscitate that energy at the snap of his fingers, often with greater cumulative effect than if he would have just ridden the initial wave. (I'm thinking now of the way he cuts away from Beatrix in that coffin in Kill Bill.) He's a masterful storyteller who truly embodies the spirit Matt and Keith ascribed to him with one of their chapter headings: "We'll get there eventually." Somehow or another, doubt him though we will, Tarantino always delivers in the end.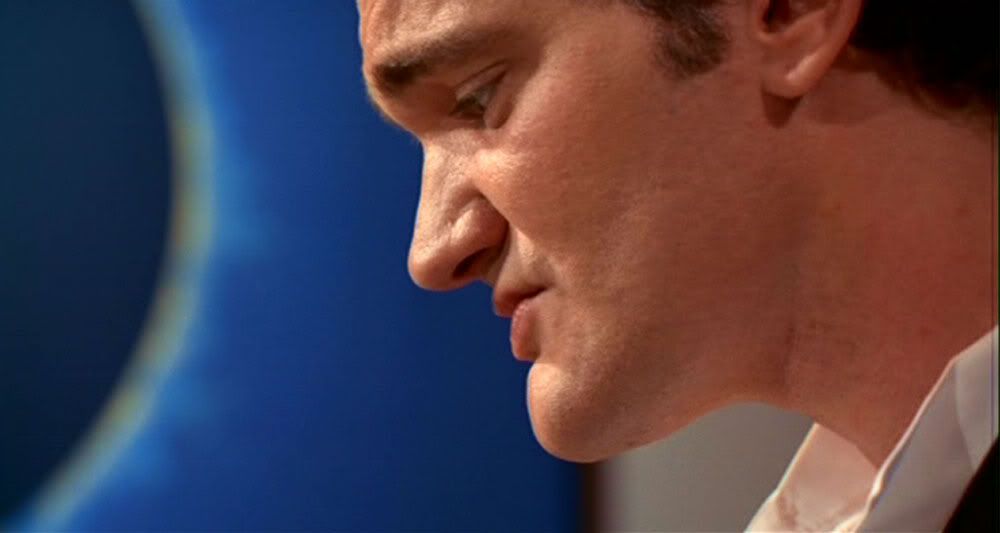 EH: That sounds like an amazing theatrical experience, and what's funny about it is how much it relies on the general shittiness of everything that precedes Rodriguez's short; The Misbehavors is funny as hell no matter what, but it's especially a breath of fresh air after suffering through the first hour of the anthology.
Anyway, all this talk of longueurs makes me think it's time to shift the conversation to Jackie Brown, Tarantino's most languid and uneventful (in the best sense) film. As we've mentioned, this is the only Tarantino film adapted from a pre-existing source, Elmore Leonard's pulp novel Rum Punch, and though Tarantino definitely makes it his own, it's still distinct from his other work.
One difference relates to the argument I've been making about Tarantino's characters and their relationship to genre. In some ways, Jackie Brown is the exception to the rule as far as Tarantino's engagement with genre: here, to be redeemed, his characters don't have to overcome their genre roots but embrace them. The film is about Pam Grier and Robert Forster playing ordinary, working-class people who manage to find redemption to the extent that they are able to embrace their cinematic pasts, to become the tough, badass archetypes they played in so many other movies in their time. Grier's Jackie Brown is a struggling airline stewardess who gets a second chance in life by becoming a double-dealing crook, playing all sides against one another in a masterful—and masterfully complicated—plot where the audience is as completely in the dark as Samuel Jackson's gun dealer Ordell and Michael Keaton's ATF agent Ray. Forster's Max Cherry, on the other hand, is a straight-arrow bail bondsman who's tempted into Jackie's scheme by his attraction for her, though he never quite commits himself entirely to embracing his genre role.
But what really characterizes the film is its even, sleepy pacing. It's defined by its longueurs, by the quiet moments in which nothing much happens and we get closer to these characters. The film jumps around in time more subtly than in Tarantino's earlier work, but his time slips are more purposeful than ever. At one point, when Max is watching the first trial run of the money drop, Tarantino briefly steps back to the night before, to a phone call between Max and Jackie, in which they discuss his potential role in her scheme. It's an effective way of explaining his presence at the drop in terms of the narrative, but more importantly it establishes his emotional reasons for being there. When the two of them are talking on the phone, their voices are relaxed, their posture comfortable, and Tarantino cuts between tight close-ups; it's an intimate phone call, connecting these two characters in ways that go far beyond the surface. They're both mature, aging and very conscious of it, but when they talk on the phone it's staged like two teen lovers chatting late at night in their rooms, after their parents are asleep. There's something warm, and maybe a little illicit, in this long-distance intimacy, that goes a long way towards explaining what these two feel for one another. This is the kind of quiet but emotionally intense moment that Tarantino especially excels at in this film.
JB: Indeed, "quiet but emotionally intense" says it very well. Jackie Brown is the film I have the hardest time categorizing because in so many ways it feels like Tarantino's richest and—I apologize in advance for using this word—most "mature" picture, and yet all that so-called maturity has a tendency to render awkward some of QT's typical flourishes. Case in point: Samuel L. Jackson's Ordell is everything that Tarantino loves—smart, jive-talking, colorful, cool and a little bit nasty—but the more I watch this film, the more Ordell's patter seems unnecessary and even fraudulent. Over repeated viewings Ordell's rants, particularly his conversation with (or should I say at) Chris Tucker's Beaumont Livingston, have gone from feeling poetic to languorous to, well, just unnecessary. And yet I say this recognizing the rope-a-dope effect, and I say this admitting that it all fits together in the end, and I say this knowing that I'm being overly critical.
So why bring it up? Only to illustrate that this is the Tarantino film that isn't defined by what is said but by how things are said. I want to be careful that I don't sound like I'm slamming Tarantino's other pictures here, because those films have wordless heft, too. But Jackie Brown? Well, fuck, just look at Forster's face! His skin looks lived-in, which might sound like a cheap compliment, but think about it: how many other actors can you say that about anymore? Words are incidental here. I honestly can't remember a single line of dialogue between Jackie and Max. What I do remember is his posture when she walks out of jail, the romantic sultriness of the red-tinged bar where they share their first drink, the elegance of Jackie in her bathrobe and that wonderful shot before their kiss when Jackie and Max look at one another with longing and loss. Beyond that relationship, I always get a kick out of Bridget Fonda's orange skin and mischievous white-toothed smile as Melanie and Robert De Niro's earnestly content expression as Louis, rocking steadily in a big reclining chair while Simone (Hattie Winston) performs songs by The Supremes. And I love the moment when Ordell sits in the van with Louis, locked in an unfocused but thoughtful gaze while he tries to piece together what's happened to his money. These are images that pop out, not one-liners. In that respect, this would seem to be the film in which Tarantino works outside of his comfort zone (heck, when Max goes to the movies, he only wants to see whatever is playing next), but Jackie Brown is made with a hand as confident as the one that chopped off Norman's finger in Four Rooms.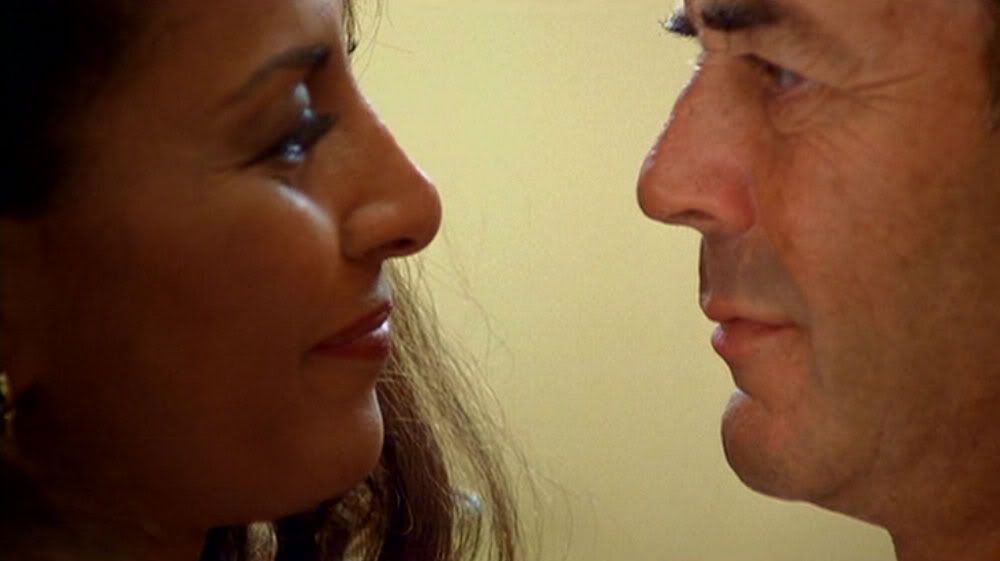 EH: You're right that this is the Tarantino film where the appeal is mostly visual. Not that his other films don't have striking images as well, but when people talk about Reservoir Dogs and Pulp Fiction they're going to be quoting dialogue rather than gushing about the images. Maybe the fact that Tarantino was using someone else's words for once freed him up to tell his story more visually than usual. Maybe the especially laidback pacing just lent itself especially well to meditative images. Whatever the reason, this film is as moody and purely beautiful as a Michael Mann film. In addition to the moments you mention, I think of that image of Jackie emerging from jail, a dark silhouette against the slick, reflective backdrop of the pavement: there's something so poetic about that shot, and about the way that Forster's Max seems to fall in love with her right then and there, without even having seen her face. It's a romantic image, in the same way as Mia dancing with Vincent is romantic, or Jungle Julia (Sydney Poitier) smiling as she sends a text message to her boyfriend in Death Proof, or Patricia Arquette's Alabama handing Christian Slater's Clarence the "you're so cool" note in the Tarantino-written True Romance. For all his macho bravado, there are times when Tarantino displays a real romantic sensibility, and one of the reasons I like Jackie Brown so much is that this sensibility is really given room to breathe here.
Another reason, as you point out, is the faces. Seldom have faces so completely defined character as in this film, where Tarantino's job might as well have been finished in the casting phase: put Robert Forster and Pam Grier in these roles and what more do you really have to do? Grier's iconic face, so unique and startling, mature now but no less striking, no less beautiful in her own idiosyncratic way, is expressive and rubbery, giving Jackie real character. As Winston Wolf says in Pulp Fiction, "just because you are a character, doesn't mean you have character." It's safe to say that these characters also have character. You can see it in Grier's face, in her crooked, hooked nose, so often accentuated in sculpted profile shots where her face seems carved out of the background. Her mouth twists and turns, jutting off to the side at an oblique angle to her nose, turning the lower half of her face into a contorted zigzag, a sneer of pure attitude. It's funny, in the least macho Tarantino film, she turns out to be his ultimate badass hero, at least until the Bride sliced her way onto the screen; think of that shot where Jackie turns on Ordell, resting her gun arm on her bare knee, her face knotted into a skeptical g