By Jason Bellamy and Ed Howard
[Editor's Note: The Conversations is a monthly feature in which Jason Bellamy and Ed Howard discuss a wide range of cinematic subjects: critical analyses of films, filmmaker overviews, and more. Readers should expect to encounter spoilers.]
Ed Howard: During the course of our conversation about David Fincher earlier this year, I posited Fincher as one of the few modern American directors who fit the classical model for the Hollywood auteur: someone who makes intensely personal and idiosyncratic films, in a variety of styles and forms, within the Hollywood studio system. I'd suggest that Michael Mann is another of these rare directors, bringing personal style to the Hollywood film at a time when American directors are increasingly either independent auteurs or blockbuster craftsmen for the big studios (or, in the case of fence-sitters like Gus Van Sant and Steven Soderbergh, shuffling back and forth between the two extremes). Mann's body of work exists entirely within recognizable generic forms: the crime film (Thief, Heat, Public Enemies), the thriller (Manhunter, Collateral, Miami Vice), the horror film (The Keep), the epic Western (The Last of the Mohicans), the biopic (Ali), the "based on a true story" social drama (The Insider).
His films, almost without exception, tell straightforward, direct stories, the kinds of stories that writing gurus love because they can be summed up in a single sentence. And yet these stories are seldom the main point with Mann. He can be a conventional storyteller if he needs to be, but his default mode—and, I think, his preferred mode—is to place the emphasis on mood, on atmosphere, rather than on narrative. He's more interested in the accumulation of small details than he is in how they fit together into the big picture. He's more interested in archetypes and how they feed into his signature themes than he is in crafting fully realized characters in their own right.
He also loves playing with light, color, focus, composition, with the elements of form. He's a stylist working in a context where style is generally a secondary concern. How many big-budget action/crime films spend as much time on setting mood as Heat? How many heist pictures would rhapsodize over the spray of sparks from a welding torch, as Mann does in Thief? If most modern genre films consider style second (if at all), for Mann, in contrast, there are times when style seems to be his only concern.
Jason Bellamy: I think that's true. Then again, I wonder if style constitutes the ends of Mann's concerns or if instead his style obsession is merely the means by which he reaches his desired ends. Of greater importance to Mann, I believe, is mood. His films are notoriously macho, frequently erupting in high-caliber violence and chronicling the lives of men who, accurately or not, feel the weight of the world on their shoulders. And yet while it's true that Mann's films fit within recognizable generic forms and feature plots that can be summed up in a tagline, it's even more accurate to say that mood and atmosphere are what Mann's films are really "about"—at least when they are successful—and those themes tend to be more elusive and complex. The audience that "doesn't get" Mann is the audience that doesn't connect beyond the basic mechanics of the plot. (To borrow a line from White Men Can't Jump, the detached Mann audience listens to his films but can't hear them.) Meanwhile, the audience that connects sometimes treats a Mann film like a religious experience, finding heft in almost every word, gesture or composition. There's no right or wrong here. In fact, what's interesting about Mann's films is the way they can entertain both the devoutly connected and the only peripherally interested. The former revels in the tantric foreplay—the moody action between orgasms of physical action. The latter fidgets impatiently for most of the picture but concludes, "At least there's fucking!"—gunfights, usually, instead of actual intercourse.
That said, there are times when Mann becomes so focused on the elements of style that will achieve his desired mood that he gets trapped in his own toolbox—times when the ultimate effect of his technique is to draw attention to the technique itself. Then again, maybe we, the audience, have become so accustomed to Mann's bag of tricks that we've stopped giving his illusions a chance to succeed on their own. When a filmmaker is bold enough to establish a distinctive style, those trademarks have a habit of taking center stage. Fans call them signature techniques and detractors call them tiresome habits. Both audiences run the risk of looking at a film so microscopically that the big picture is lost.
We're here now to discuss Mann's nine signature feature films, from 1981's Thief to this year's Public Enemies. (Reader note: Prior to Manhunter, Mann made The Keep in 1983, but due to persistent rumors that Paramount took the picture away from Mann in the editing room, not to mention the film's unavailability on DVD, we're not considering that effort part of his signature series. Readers with thoughts about The Keep are encouraged to share them in the comments section.) So let's start with some discussion of Mann's most recent film. Let me ask you this: Among Mann's work, is Public Enemies a memorable or otherwise notable "big picture"?
EH: Well, I don't know if it's a "big" picture, but it's definitely a good one (and a relatively substantial one in comparison to its predecessor Miami Vice, which we'll get into later). I think the two Mann audiences you describe above provide an apt summation of the different approaches to his work. The obvious reason that such a personal stylist has been able to thrive in Hollywood for so long is that his work appeals to those who don't give a damn about style but just love the action sequences (and there's no denying that Mann knows how to craft especially exciting action). In his best work, though, the action doesn't obscure the fact that these films are working on multiple levels at once, that there's more going on than just a great thriller plot. With Public Enemies, certainly, I walked out of the theater thinking I'd had a "religious experience," that I'd seen something really impressive; I was quite deeply moved. So it says something that Mann got me so emotionally invested in the story of a notorious robber and killer. Without resorting to much of the usual "oh he had a hard life" clichés, the film makes the bank robber John Dillinger (Johnny Depp) a sympathetic figure. At the same time, I was troubled by the way Mann mythologizes Dillinger as such a tragic, romantic hero. The film is all about the distinctly American mythology of the gangster, the romanticization of these outlaw figures.
Moreover, Mann's film is very specifically about the last of the romantic outlaws, the last of the great popular criminals before crime retreated behind a façade of respectability and corporate structure, as represented in the film by Frank Nitti (Bill Camp). It's kind of the same thing Mann did in Heat: He places these bad guys at the center of his film as his hero characters, and he sets them off against characters who are even worse, who can play the unambiguous villains. In Heat, he took some of the moral imperative off of Robert De Niro's noble crook Neil by including the character of Waingro (Kevin Gage), a totally psychopathic serial killer. In Public Enemies, Nitti and the lunatic Baby Face Nelson (Stephen Graham) serve much the same function, making Depp's Dillinger seem, in contrast, like a Robin Hood-style people's outlaw. Dillinger, not FBI man Melvin Purvis (Christian Bale), is the hero of the film. The real evil here is the first blossoming of organized crime, retreating from the front pages into the back rooms, and the increasing power of J. Edgar Hoover's (Billy Crudup) FBI, which at times works weirdly hand-in-hand with the crime syndicates against Dillinger's gang.
This is all interesting stuff, there's no doubt about it, and I also can't discount my reaction to the film's sumptuous style and emotional arcs. It's an affecting, nostalgic elegy for a lost era. But it's an elegy also for a particular kind of criminal, and Mann really feeds into this idea of the romantic gangster that's run through so much of the American cinema's history. The Hays Code is long gone, but Mann is still following the template of so many '40s gangster films, building up the criminal before the inevitable tragic denouement, a reminder that crime doesn't pay. The film implies that Dillinger is a superior type of criminal because he's an iconoclast, striking out on his own, rather than embracing the new economic/political model for crime. That's a strikingly American idea, American in the sense of Wild West individualism. Mann has never flinched away from the darker side of his characters (both this film and Heat include sequences in which the bank robbers use hostages as shields against gunfire) but he is simultaneously fascinated by the criminal, exalting him as an icon. There's a scene where Dillinger bursts into the place where his prospective new girlfriend Billie (Marion Cotillard) works, punches out a customer and then demands that she come with him. We're supposed to think, I gather, that Dillinger is a badass, and also that this is a romantic gesture from him; we're supposed to believe, on scant evidence, that his relationship with Billie is more than just bullying and buying her fur coats.
Obviously, I have conflicted feelings about Public Enemies. It's a fairly rich and complex film, and in some ways I'm not doing it justice by focusing on Mann's glorification of the gangster archetype. There's a lot going on here, and some of it also runs counter to the tendencies I've been talking about. So what do you think, is Public Enemies a religious experience, an ode to the outlaw criminal, a little of both, or something else altogether?
JB: I needn't hesitate to say that Public Enemies isn't a religious experience (at least, not for me) or to agree with you that it is an ode to the outlaw (that the outlaw is a criminal is largely incidental, I think, despite Mann's romanticism for the gangster). But beyond that I find the movie difficult to nail down. It's one of the best pictures of the year thus far, certainly, but that's saying almost nothing. Perhaps a better task would be to rate it among Mann's filmography, and in that regard I can place it no higher than fourth. (Of course, that would put it in the upper echelon of Mann films, which is nothing to sneeze at.) I bring this up because one of the things I have been wrestling with in recent weeks is the issue of whether Public Enemies suffers or benefits from Mann's previous body of work. I'm sure most Mann fans would be quick to agree with me that Public Enemies is no Heat, for example, but then most movies aren't; Heat is in rarefied air. On the other hand, while Heat makes it easy to take Public Enemies for granted, Heat's complexity and heft also encourage the Mann-aware audience to recognize a deeper sensibility in Public Enemies than I'm really sure is there to be found.
On that note: Regardless of how masterful (or not) this movie is, its greatest mistake is that it saves its best and richest for last. The final 35-or-so minutes, beginning with the reunion of Dillinger and Billie after her clever escape from FBI surveillance, are tremendous—highlighted by that awesome Biograph sequence that is likely to rival any 10 minutes in American cinema this year. The trouble is, well over 100 minutes go by before we sit down with Dillinger at the Biograph and watch him watching Manhattan Melodrama, which for me is the key to finally unlocking a character who until then is harder to crack than a bank vault. Likewise, Billie's most vulnerable moments are toward the end of the picture, and perhaps the same can be said of Purvis, too.
The first time I watched Public Enemies, its opening acts were engrossing, interesting and propulsive, as Mann's movies almost always are. Nevertheless, it had a sort of icy chill about it—and not in a good Neil "I sell metals" McCauley kind of way. I could sit here and list a dozen examples of why Public Enemies is quintessential Mann, from its romanticism of outlaws to its explosive action set pieces, but the biggest surprise for me, and I suppose the biggest disappointment, is how much of this movie is moodless, at least in Mann terms. Or am I wrong?
EH: Like you, I'd place the film somewhere in the middle of the pack as far as Mann goes, and it's definitely hard to pin down exactly what it's doing, so you're not wrong there. On the other hand, I'm not sure I agree that the film is moodless, just that its mood is one of slightly distanced contemplation. Its palette tends towards grays and browns, washed-out colors, not quite the sepia of nostalgic photos but definitely a cool, aloof visual aesthetic.
I also agree that the strongest moments are concentrated towards the end. The film has an accumulative effect: It's slowly building towards what we all know is coming, assuming we know the bare minimum about the real Dillinger. It has to end, more or less, with the scene at the Biograph and the hail of bullets, so there's no suspense in that respect. But there are all these little moments along the way, indications that death is approaching—the film is shrouded in death—so that by the end the aura of approaching doom is nearly overwhelming. The early scenes might seem comparatively underwhelming, perhaps, because Mann is just putting the pieces in place, establishing his themes and setting everything up for the inevitability of the finale. It's a film about impending death, and it's structured to steamroll relentlessly towards Dillinger's final breath, picking up momentum as it gets closer and closer to that moment.
It also becomes apparent in the brilliant Biograph scene why casting Marion Cotillard as Billie was such a good idea. She does a fine job throughout the film infusing some depth and warmth into an underwritten character, but ironically it's that scene of Dillinger watching Manhattan Melodrama, a scene in which Billie doesn't even appear, where the true potency of their relationship is finally conveyed. The moment Myrna Loy appears on the screen in the last movie Dillinger ever saw, the similarities between Cotillard and Loy become apparent. This resemblance, emphasized by Mann's montage of Loy shots from the 1934 Woody Van Dyke film, recasts the meaning of Dillinger's moviegoing habits. It wasn't just that he enjoyed going to see gangster pictures to see tough guys on screen. He saw himself up there, and his own doomed romance as well; there's a poignancy and sadness to the montage of Dillinger looking at Loy, pining for his own girl who got sent to prison because of him. It's like he's really looking at Billie, thinking about his own life and where it's taken him, what it's done to the woman he loves. It's amazing how much these shots convey, largely just through editing and juxtaposition. It's at that moment—and during the earlier scene of Billie being violently interrogated and defiantly standing by her man—that Dillinger and Billie really come alive. You're right: Seeing Dillinger watch a movie, we get to connect to him in a way we never really did throughout the rest of the film, where he's kept at arm's length, an archetypal criminal outlaw, a figure of myth.
JB: Yeah, see, I think attributing Dillinger's remoteness over the first half of the picture to some kind of myth- or mystery-making is giving Mann too much credit. I agree that there is something devastating about feeling close to Dillinger precisely at the moment we know he's about to be taken away from us, but that doesn't mean he needs to be such a blank slate early on. Over the first half of the film I think Mann relies too much on Dillinger's name and Depp's celebrity and fails to truly develop the character, to give us a reason to care. I think that half-measure, as much as anything, contributes to the feeling that Public Enemies is mostly moodless. Depp's Dillinger doesn't have the desperation of James Caan's Frank in Thief, or the bottled intensity and loneliness of De Niro's Neil in Heat, or the anguish of Russell Crowe's Jeffrey Wigand in The Insider, or the vulnerability of Jamie Foxx's Max in Collateral. Instead, he's something of a paper doll, clad in the real Dillinger's notoriousness and the real Depp's celebrity swagger.
It doesn't help, by the way, that many of Depp's lines are nearly inaudible, the fault of some astonishingly sloppy sound editing. The first time I saw Public Enemies, I figured it was the fault of the theater, but then I saw it again across town and the problems were the same. There are a few instances in which Depp's lines are somehow quieter than the lines of the person sitting right next to him, and in the first conversation between Dillinger and Alvin Karpis (Giovanni Ribisi) the dubbing is crude to say the least. These blunders don't ruin Public Enemies, of course, but they are obstacles that make it difficult to fall under the movie's spell. Not to mention that it's rather shocking that a director who flip-flops between film and digital in order to achieve his desired visual aesthetic would be so careless about the audio. But I digress.
Perhaps the best way to understand Public Enemies is to look back at the Mann films that came before it. So let's begin at Mann's first feature film, 1981's Thief. That picture, about a meticulous thief looking to pull one last big job so that he can leave the criminal world in favor of a new life with the woman he loves, debuts themes and devices that Mann has reused and refined many times since. So my question to you is this: Eight movies later, looking backward, does Thief strike you as a bold early breakthrough, an experimental first draft, or something else altogether?
EH: There's no doubt, it's a remarkable debut, the emergence of a new talent almost fully formed. Mann had worked for several years previously in television, and before that he'd made some short films and documentaries on his own, so for his first true feature, he seems entirely in control, entirely sure of what he wants to say and how to say it. There are rough spots here and there—a few odd editing choices, occasional unclear visual storytelling—but on the whole it's a polished, self-assured film for a first-time director. And it's also a thematically rich film, the film that in many ways establishes the territory that Mann would return to again and again. James Caan's Frank is Neil McCauley, he is John Dillinger. He's the typical Mann lead who would reappear in picture after picture: A man totally dedicated to his work, proud of being the best at what he does, but also desperate for something beyond the work, something special of his own. Mann's heroes and anti-heroes are almost always consumed by the desire for a family, for normality and stability, and at the same time they know that it's not really for them, that they could never balance the life they lead with the life they want.
Mann virtually quotes from this film in Heat, both narratively (the crooks in both films escape the cops by placing a bug on a bus bound out of town) and especially thematically. Frank, like Neil in Heat, has the idea, learned in prison, that a man shouldn't have any attachments in his life, that he shouldn't care about anything. But he can't help desperately yearning for a family. He carries around a collage postcard to remind himself of everything he wants, all the elements that when put together will represent his life. He seems to think of life as something you build, piece by piece, getting the ingredients together the way he prepares for a job: Methodical, mechanical, detail-oriented. He wants a wife, so he simply lays out the score for Jessie (Tuesday Weld), a damaged woman who agrees to throw in with him. He wants a son and she can't have one, and his prison record prevents them from adopting, so instead he outright buys a baby through his syndicate boss Leo (the wonderfully creepy, lizard-like Robert Prosky). He buys a house, too, out in the suburbs with, as his partner Barry (Jim Belushi) describes it, "pink trees." Frank is creating a model life for himself, a façade of suburban respectability, as though he can transform himself overnight into a normal guy.
The film is visually sumptuous, of course, and in that respect too it's a bold debut, a heist movie where the emphasis is on slow-burning tension rather than action. It's driven by the sinister motorik pulse of Tangerine Dream's score, and the lush painterly quality of the images complements this atmospheric music. Mann places the emphasis on process: The safecracking jobs in this film are every bit as elaborate and carefully staged as the famous heist in Jules Dassin's Rififi. Thief opens with a lengthy depiction of a robbery job, with Mann cutting around to each participant, showing his role in the plan. It's all carefully calibrated, each piece fitting together, each person doing his specialized job at exactly the right moment. Mann shoots closeups of the wires in the alarm box, and of the drill as it slices through the safe's exterior, revealing the lock mechanism within. Later, he spends even more time with the film's central robbery, the archetypal crime film "one last job" that Frank plans along with his new syndicate benefactors. The gang cuts through a safe with a tremendous blowtorch rig, and Mann lingers lovingly over the sparks flying up from the super-heated metal as it slices into the door. He captures the white-hot tip of the torch, the yellow glow of the melting metal, the white fog that drifts around the room from the fire extinguisher. It becomes sensual and stylized, not just a depiction of a practical process but a celebration of heat and light and energy in this enclosed space. This is what Mann's films, at their best, are all about: Transcending the ordinary genre conventions of what they're showing to get at something deeper underneath, maybe the "religious experience" you mentioned, or maybe just the human vulnerability of his tough guy protagonists.
JB: I agree. Though Mann's detractors sometimes suggest that his obsessions with machinery and procedurals reveal some kind of testosterone overload, I think such disparagement overlooks how often a man's profession is the backbone of his identity—especially for single men. Granted, this picture takes that to the nth degree; I mean, it's called Thief, for crying out loud. But all those long sequences of Frank at work reveal who he is and what he stands for. Thieves in the movies who claim to be the best at what they do are a dime a dozen. Frank stands out, as does the gang from Heat, because he proves it. He walks the walk. His methods, save the improvised blowtorch device, aren't cutting-edge. Instead, Frank gets more out of a saw, crowbar and drill than the next guy. It's not the tools that are good; he's good. Thus, to watch Frank is to know who he is, not just professionally but personally. (And at this point I must pause to point out that while Dillinger's multiple prison breaks establish his cunning in the early goings of Public Enemies, I didn't get the same window into Dillinger's soul watching him work that I do watching Frank's thievery in Thief or Neil's in Heat, or even watching Jamie Foxx's Max cleaning his cab in Collateral.)
Thief is definitely an explosive beginning for Mann, and that's fitting because this film initiates Mann's tradition of explosive openings. Mann is almost unrivaled in his ability to bring us into the action in the opening fifteen minutes. To be clear, that doesn't mean we can always immediately forecast the nature of the plot (the first thematic crisis point often doesn't reveal itself until much later), but, as if working from Neil's stopwatch, within fifteen minutes we are hooked. To go back to the foreplay example, Mann is expert at putting us "in the mood." In the case of Public Enemies, it's watching Dillinger break his buddies out of jail. Here it's watching Frank break into a safe.
The opening minutes of Thief are also noteworthy because they suggest to me that they had a significant impact on another director we've discussed previously, David Fincher. Most particularly, there's the shot in which Mann's camera enters a hole that Frank has drilled in a safe—a camera gimmick that Fincher has riffed on several times, most notably in Panic Room when the camera goes inside the lock of a door and through the handle of a coffee pot. On top of that, Thief's slow vertical pan showing the moonlight illuminating the empty fire escapes of several buildings and then settling on the rain-soaked road below recalls the tableaux of Se7en and, for that matter, Madonna's "Express Yourself" video. Not to mention that after the movie-opening heist we watch Frank relax by sitting on a dock and sharing a view of an almost surreal sunrise that now recalls a similar shot of a sunset from The Curious Case of Benjamin Button. But, again, I digress.
Maybe the most interesting thing for me about Thief looking backward is that Frank is Mann's most emotionally overt and sensitive criminal quasi-loner, thanks in large part to that great coffee shop scene with Jessie (which is more forthcoming, if less magical, than the legendary coffee shop scene in Heat) and the child adoption subplot, and yet it's Frank who most deliberately, consciously and definitively gives up on his idyllic vision of typical domestic happiness. Frank's hand is forced, of course, by Leo (and, yes, Prosky is terrific!), but when he breaks off his relationship with Jessie he knows exactly what he's doing. Heat's Neil, on the other hand, thinks he can get vengeance on Waingro and "go away" with Eady right up to the point that he's running for his life, and Public Enemies' Dillinger never actually gives up on reuniting with Billie until his life is taken from him. In hindsight, if you know Mann's work, Frank's abrupt abandonment of Jessie is inevitable, but at the time it must have seemed shocking and even more tragic than it plays today to folks like me who encountered Mann's films out of order.
EH: Interesting that these comparisons to Fincher keep coming up. Both directors are definitely interested in process, though arguably Fincher uses a focus on process as a way of exploring his signature themes, while for Mann the procedures and routines of work are windows into the souls of his characters. At the same time, I think you're right that Frank is the most naked and vulnerable of Mann's heroes, with the possible exceptions of Max in Collateral and Jeffrey Wigand in The Insider. Mann's characters sometimes tend towards archetypes rather than fully developed people, which can make them difficult to get close to. Frank lays bare his soul in a way that Mann's other characters seldom do, and this makes him one of the most self-aware of Mann's heroes as well. If Neil and his opposite number Vincent (Al Pacino) in Heat seem to yearn unconsciously for the connections and stability of family life, Frank is acutely conscious of what he lacks, and he tries to get it by following the plan he's laid out for himself. Of course, as the most self-conscious Mann hero, he's also the one who, once he has what he thought he wanted, realizes that he has to destroy it, and does so with the same methodical skill he applies to his safecracking operations.
Also, in the spirit of digression, one of the least remarked-upon aspects of Thief is doubtless how quirky and strange the film can be in isolated moments. The film's overall sense of escalating dread and its moody, low-key visual atmosphere tend to be the takeaways, especially since the last shot is that dark, distanced image of Frank being swallowed up into the night on a suburban street, leaving a handful of bodies strewn around behind him. But the film is packed with odd little moments of humor and eccentric details that waft around the fringes of the narrative. Some of these are perhaps unintentionally funny or disorienting, like the unforgettably cheesy beachside interlude with a hairy, shirtless James Caan, or the way the final shootout includes that puzzling cutaway to a random woman who's never seen before or after that point. Other moments are more intentionally amusing, like the metal shop owner who muses about his white-coated new assistant: "What's he gonna do, discover penicillin?" Or that odd sunrise scene you mention, with a fisherman praising the glory of "the sky king." Or Frank's escalating outrage and hilariously inappropriate racial remarks at the adoption agency. Or, surely the funniest scene, the subtle non-verbal bargaining going on between a crooked lawyer and an even more crooked judge to get Frank's mentor Okla (Willie Nelson) released from prison.
These kinds of diversions aren't really what we think of when we think of a Michael Mann film, but they're all part of the texture of his debut. When people talk about Mann, they tend to give the impression that the films are tough and violent, testosterone-driven, grim and relentless. Scenes like this, so easily forgotten and yet so important in infusing his films with vitality and life, prove that there's more to Mann as a director than a machismo-obsessed crime/action stylist.
JB: Exactly. I mean, there's no arguing that he's obsessed with machismo and that his films are dominated by meditations on maleness, but Mann isn't limited to that. When Mann does make time for female characters (perhaps begrudgingly), it's amazing how affecting those scenes can be. Many of those moments we'll get to later, but in Thief that aforementioned diner sequence is terrific not just because of how much it reveals about Frank but for what it reveals about Jessie. Tuesday Weld is outstanding in those ten minutes, conveying years worth of heartbreak and loneliness with a believability that reminds me of some of Julianne Moore's best work. Frank is right: Jessie is "hiding out" in plain sight; she's playing not to lose. Those aren't just words; we see that in Weld's portrayal. Her performance is crucial because it's the key to our ability to believe that Jessie would dive into this otherwise ill-advised relationship with a criminal she barely knows. Frank gives Jessie the opportunity to reengage with life. From that perspective, it would be reckless not to follow him. It's a complex sequence.
Yet despite the director's deft touch when he deigns to let a female fill the screen, it's almost impossible to imagine Mann helming a female-dominated movie, unless the ladies in question were covered in prison tattoos. That's why it's all too appropriate that Mann went on to direct Manhunter, which features a villain (Tom Noonan's Francis Dollarhyde) whose animosity stems from his failure to connect with women. My impression is that Manhunter gets more chatter these days than Thief, if for no other reason than its introduction of Thomas Harris' Hannibal Lecter character, who here is called Hannibal Lecktor. (Mann fanboys, and those still bitter over the Oscar dominance of The Silence of the Lambs, love to argue that Brian Cox's performance here is superior to Anthony Hopkins' subsequent award-winning one.) But for me, time has been far kinder to Thief than to Manhunter. True, the former dates itself with Caan's hairy-chested strutting and James Belushi's belly-jiggling running in the beach scene, but Manhunter plays like a billboard for the 1980s Miami Vice (TV) aesthetic, which in terms of both style and mood has proved anything but timeless.
EH: It's true that, seen today, Manhunter has more than its share of cringe-inducing moments and silly stylistic flourishes, many of them stemming more from the simple passage of time than from any intrinsic fault of the film. The synth-heavy score, featuring music by Michael Rubini and New Wave guitar/keyboard duo The Reds, treads some of the same ground as Tangerine Dream's moody score for Thief, but there are also a number of awful '80s-ish pop songs to date the film. Many of the upbeat pop tunes packed into the film sit uneasily against the dark mood of the material; the music often seems more appropriate for a Rocky sequel than this tense, immersive police procedural. Similarly, the sex scene between the serial killer Dollarhyde and his blind lover Reba (Joan Allen) is laughably cheesy and overblown, as are many of the other moments between this unlikely pair. What the hell was up with Dollarhyde taking Reba to feel up a tiger, anyway?
More damagingly, Mann's stylization seems almost arbitrary at times, distracting from rather than contributing to the overall mood. If style and substance are inextricably intertwined in Thief, here Mann's style is often reduced to a set of tics layered over the story. The periodic use of stuttery jump cuts is especially distracting, and seemingly unmotivated. These jump cuts turn the poorly staged final fight scene into a muddle of disconnected shots and unclear action. If there's one thing we can usually count on in a Mann film, it's compelling action, so this flubbed finale is particularly disappointing. Mann builds up to this climax with the great sequence of Reba stumbling around Dollarhyde's home while the killer stalks her, blasting Iron Butterfly's prog epic "In-a-Gadda-Da-Vida," which is actually used very well to lend an air of sinister theatricality to the scene. That all this build-up dissipates into such a lackluster fight scene indicates that Mann was still several years away from the masterful, large-scale battle scenes of The Last of the Mohicans and Heat.
Still, the film is interesting and compelling in other ways, and it ties in nicely with the development of Mann's themes and characteristic heroes. Like Thief, this is at heart a film about family and the desire for family. Serial killer profiler Will Graham (William Petersen) is a family man, and his wife Molly (Kim Greist) and fair-haired son Kevin (David Seaman) appear in the opening scenes as a vision of happiness and contentment. Graham is a man who has forgotten his dark past and settled into a peaceful, idyllic existence by the seashore with his family. This idyll is disrupted when Graham learns of the serial killer nicknamed the Tooth Fairy, who is killing entire families. Graham is reluctant to return to his old job, but he does so primarily because he is disturbed by the killer's destruction of happy families. The killer traces his prey through home movies, records of mundane happiness around the home, and Graham, following the killer without realizing it at first, grows acquainted with the victims through the same means.
As we've discussed, Mann's characters thirst for a home life, for normality, for the pleasures of a pretty wife, children, a nice house: Comfort, security, safety, sexual fulfillment. Graham, unlike other Mann heroes, has these things, and wants to protect them. That's why the worst thing the killer can do is target his family, and the worst thing that Hannibal Lecktor can do is give Dollarhyde Graham's home address, essentially an invitation to tear apart that happy, attractive family. In this case, however, the family remains intact, and the film is framed by images of Graham's seaside home. The film ends with an idealized shot of the family trio framed against the ocean, as the words "A Michael Mann Film" appear on the screen; it's as though he's claiming this family photo, this theme, for himself.
JB: At the least, Mann might be claiming that seaside view for himself. The dude loves his water shots, and in particular those shots from water's edge that look out over a seemingly infinite ocean. The themes for Mann's water shots vary somewhat, but this type of shot construction in particular tends to suggest promise and freedom in the view ahead and messiness and conflict behind. In Manhunter, Will leaves the peace and tranquility of his beachfront property to pursue the Tooth Fairy by attempting to enter his thoughts, so the return to the beach symbolizes that once again Will has liberated himself from the mind of a monster, and that he's going as far away from the madness as possible. Heat, of course, uses a similar tableau in regard to De Niro's Neil, who has an empty house looking out over the Pacific Ocean, suggesting not only Neil's desire to "go away" from his life of crime, but also the vast uncertainty of that future. In The Insider, Jeffrey Wigand looks out over water while deciding whether or not to break his confidentiality agreement. In Collateral, Max keeps a postcard picture of an island on the backside of his visor as a way to find tranquility. And, of course, Miami Vice has water, water everywhere.
As for the stylization of the conclusion, it only takes watching the fourth part of Matt Zoller Seitz's excellent series of video commentaries on Mann to see that the compositions and cuts are in no way arbitrary. Then again, thoughtful filmmaking isn't the same thing as effective filmmaking, and so while Matt's analysis enhanced my appreciation of Mann's technique, it doesn't necessarily alter my response to the film itself. Manhunter is so tied to the overly dramatic style of '80s MTV videos that I struggle to take it seriously. (There are at least three scenes in which Will, sitting alone, gets all worked up and begins shouting into the nothingness, cursing at the Tooth Fairy, and each of them is awkward.) It's fitting, really, that the synthesizer was the iconic musical instrument of the era, because even the visuals of '80s music videos are somehow inorganic—a fusion of borrowed ideas and themes—and Mann's film emulates them. Or maybe more accurately, those videos emulate Mann's small-screen Miami Vice, and he completes the circle. In any case, Manhunter is a film that strikes me as from the '80s, of the '80s and, here's the kicker, for the '80s. For whatever reason, it doesn't translate.
Having made that argument, though, which is subjective to begin with, allow me to discredit it. I'm entirely aware that much of what I'm rejecting in Manhunter has nothing to do with Mann or the "What were they thinking!?" filmmaking conventions of the era. (Our current decade seems doomed to be remembered for its excessive and frequently pointless use of shakycam; fads rarely age with dignity.) Instead what I'm objecting to is the '80s itself, pure and simple. I mean, is it really fair to hold Mann responsible because the film-closing song "Heartbeat" by Red 7 hasn't aged as well as The Graduate's film-opening "The Sound of Silence," or any of the other Simon & Garfunkel tunes that help make Mike Nichols' film a classic more than 40 years later? At least in this case the '80s music is appropriate for its setting; This isn't Jerry Goldsmith's synthesized score for Hoosiers, which was hip in 1986 but seems wildly out of place now for a story set in the 1950s. Effectively there's a degree to which I'm saying that I don't like what the movie is about and therefore I don't like the movie. Manhunter is soaked in the stench of the '80s. So I'm curious what you think: Is time the best judge of success? If so, is it fair or foul to conclude that Manhunter has a relatively short shelf-life mainly because its then-contemporary trends proved to have a short shelf-life?
EH: If you ask me, the possibility that your film won't stand up in ten or twenty years is the price you pay for deciding to include the fads of the time as decorative flourishes. The best films are timeless and, to the extent that they incorporate the styles of the era in which they were made, they do so as part of the film's milieu. It would be silly to criticize a film because the characters are dressed in '80s fashion, for example—'80s French films by directors like Eric Rohmer and Jean-Luc Godard are filled with some now-hilarious couture, but it's there because that's what these people wore at that time, and as a result it's not as distracting as Mann's appropriation of upbeat synth-pop or his flashy MTV aesthetic strategies. It's one thing for a film to reflect its time; that's understandable and even desirable. It's something else to get so caught up in "the now" that in five years your film seems more like a time capsule than a piece of art.
So while I recognize that certain things in Manhunter just haven't aged well, it's still hard not to pin some of the blame on Mann, who often seems susceptible to following hip trends. I like Chris Cornell much better than '80s synth-pop, but I wonder if in a couple of decades the Audioslave tracks in Miami Vice will seem as out-of-place as much of the music in Manhunter—certainly the Jay-Z/Linkin Park mashup is already embarrassing, as is Moby's lame techno remix of a Patti LaBelle song. The point is, music is particularly subject to rapid dating and rapid shifts in style, so when your soundtrack is a collage of hot current tunes, you run the risk of being out of date in a few short years. Tangerine Dream's synth score for Thief is still haunting and oddly beautiful, but the music in Manhunter hasn't held up nearly as well.
There's another sense in which Manhunter doesn't work as well today as it might have upon release, and this too has more to do with forces outside of Mann's control. In the years since this film's release, the popularity of both the serial killer genre and the police procedural has rendered cliché many of the film's narrative tropes. The killer and his pursuer as mirror image reflections of one another? Yawn. The killer who feels like an outcast because of a physical deformity and a lack of love in his childhood? Double yawn. Nowadays you can turn on Law & Order for comparable themes and ideas; doubtless the film seemed fresher back before Anthony Hopkins' much more theatrical, over-the-top version of Hannibal Lecter captured the public imagination. Matt's video essay about this film is typically erudite and insightful, but his intellectual responses to what's happening in a scene can't override my visceral response. He describes that shot of Dollarhyde as the villain breaking through the movie screen, an extension of Mann's voyeurism theme, and he's probably right, but all I can see is an awkward, goofy action movie cliché, poorly staged in stuttery slo-mo. The film is interesting and complex—not to mention memorably creepy ("do you see?")—but it's also kind of clunky and off-kilter.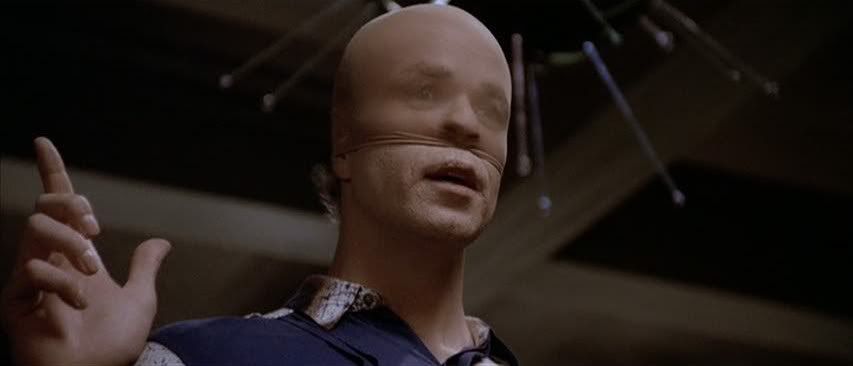 JB: Yeah, that sounds about right. Indeed, the ubiquity of serial killer psychodramas and police procedurals must have dulled any edge Manhunter once had. On the other hand, Zodiac swooped in just a few years ago and, while borrowing from Manhunter ("Hurdy Gurdy Man" instead of "In-a-Gadda-Da-Vida;" forensic examination of Zodiac messages replacing forensic examination of a Tooth Fairy message; etc.), managed to create something that I think will stand the test of time. Perhaps the lesson here is that it's safer to recreate past eras than to try to portray the still evolving present. Perhaps Mann sensed that. And perhaps that's what sent him all the way back to 1757 for the setting of his next film, The Last of the Mohicans.
As extraordinary a thematic leap as that seemed upon the film's release in 1992, I find it even more remarkable in hindsight, now that Heat, Miami Vice and Public Enemies have proved that Mann was hardly over his love affair with the crime drama when he made this historical epic. Yet the most astonishing thing of all is how naturally Mann works within the genre. Sure, there are battles galore in The Last of the Mohicans, but if Mann had an urge to modernize the action in this picture, he resisted it. Mohicans is one of those films that feels vintage—in a good way—before you're even through watching it.
Rather than force his visual aesthetic onto Mohicans, Mann made his mark in the dramatic themes: The loner hero; the object of affection who falls in love quickly and fully and brings salvation to the hero; the need of the hero to finish the fight; the largely tragic (though admittedly not completely tragic) conclusion. Mohicans has a few moments that make me cringe (that terribly goofy exchange about Hawkeye's "reason to stay" at the fort), and it has moments that make me scratch my head (so Hawkeye was raised by Mohicans and got the same English schooling as his Mohican brother, and yet he's the only one with an English accent? Huh?). Nevertheless, I consider this to be Mann's third best picture. I'm a sucker for its epic romanticism and historical trappings. How about you?
EH: I can't say I'm as enamored of this one as you are, but it's an enjoyable film that, as you say, both feels like a Mann film (the tough, impenetrable protagonist with a makeshift family) and doesn't feel like one (the historical setting with its relatively straightforward visual palette). Despite the uncharacteristic setting, Mann does still find a way to incorporate his signature striking images: The nighttime siege on Fort William Henry, with cannons bursting red and orange through drifting gunsmoke, is pure Mann, as abstract and dangerously beautiful as the showers of welding sparks in Thief. Moreover, the action sequences are as viscerally exciting as those in Heat. The fight where Hawkeye (Daniel Day-Lewis) and his family rescue Cora (Madeleine Stowe) and Alice (Jodhi May) from the Huron attack is potent and fierce, as is the later Huron attack on the surrendering, retreating British soldiers. In the hand-to-hand fight sequences, each bullet is felt as it rips through flesh, each tomahawk leaves its mark as it hits. Mann emphasizes the sickly thud of hard objects hitting soft flesh, and the battles are all the more effective for this emphasis on viscera. The film isn't gory, really—other than Magua (Wes Studi) slicing open a man's chest to eat his heart—but it's also not the type of film where all the large-scale battles are chronicled from a remote distance. Mann prefers to get right in there, making us feel the violence rather than just see it.
I must admit, however, that despite the thrilling plot I have a hard time getting into the film on a deeper level. Mann's characters often verge on the iconic, drawing on genre archetypes, but here I'm not sure he actually has much to add to these archetypes once he's stripped them down. He's dealing in some of the oldest Hollywood types and ideas, recycled from countless other Westerns: The "good" noble savage Indian versus the "bad" angry, vengeful Indian; the evil, slimy white men who betray their word; the hero who exists halfway between the white world and the Indian world; the independent woman who falls in love with the outcast instead of the safe, stable man she's supposed to marry. This is admittedly little different from the way Mann resurrects noir icons in his other films, but guys like Frank and Neil have depth and individuality in a way that Hawkeye and the rest of these characters just don't. They're virtually stick figures propelling themselves through the action-packed plot, occasionally pausing long enough for Hawkeye to unleash one of his groaner lines, like the one you cite above or the stilted threat, "someday I think you and I are going to have a serious disagreement." (Ooooh, you tell him, Hawkeye!) Mann apparently cut a lot of these lines out of his director's cut, and with good reason, but ironically without them Hawkeye has even less personality.
The result is that the film feels like somewhat schematic Mann. His usual themes are there, albeit in new trappings, and purely as a narrative the film moves with a relentless, chugging pace; it's great storytelling. Sometimes that's enough. But I can't help thinking that the film is hollow at its core, that it's trying to force its themes and messages on us rather than really making us feel them through the characters and aesthetics. There are passages of bravura filmmaking here, to be sure, but the overall impression is of a solid action epic with generic (if well-acted) characters. So what am I missing?
JB: Um, nothing. Unless maybe you're missing the point, or what I see as the point anyway. Your analysis of the film's strengths and weaknesses is right on the money. However, I think this film works a little differently than the others. It's true, for example, that Hawkeye lacks the depth of Frank and Neil, but it's also true Mann doesn't seem interested in providing him with such complexity. If it were another filmmaker, my conclusion might be that the writer/director didn't care, or didn't notice, or didn't have the necessary skills to get the job done. But we know better. And so without meaning to imply that great filmmakers are flawless, and at the risk of sounding like an apologist, I think Mann is going for something else here.
The Last of the Mohicans isn't a character examination like so many of his other films are (even if they don't look like it at first glance). Instead it's an ode to love and survival. It's a romance, defined by the relationship between Hawkeye and Cora but extending to include what I see as a love letter from Mann to a time and place in which believing in survival and the future was a daily leap of faith. Thus it's fitting that this is something of an opera—grand, passionate, tragic and, especially, musical. Though time hasn't always been kind to his selections (see: Manhunter), Mann uses music as effectively and evocatively as any filmmaker ever has, and in that regard Mohicans might be his masterpiece. It isn't just that the Randy Edelman/Trevor Jones score is magnificent, though it is; it's that their magnificent score is essential. Truly, this film couldn't succeed without its sweeping musical accompaniment.
Think of it this way: If one could turn down the often troublesome dialogue in this film and leave only the score, the sounds of battle (including those chilling Mohawk screams before the second ambush of the British) and the sounds of nature, would we miss anything? Maybe Hawkeye's "I will find you" speech, which is the film's Casablanca moment, but other than that, anything? More importantly, would we miss any of the meaning? Like opera, you don't need to know the words to understand what's being expressed. In that way the prop characters and archetypal narrative, which to some degree must be ascribed to James Fenimore Cooper's 1826 source material, are assets that liberate Mann. Hawkeye, Cora and Magua—you know them just to look at them. There's nothing to explain, and thus the music provides the only words that count. As if to underline the point, Mann mutes the heroes' screams of desperation in two of the film's most gripping sequences: The aforementioned second ambush of the British, in which Hawkeye runs through the chaos to get to Cora, and the final desperate attempt to rescue Alice. The latter includes what for me is one of the most heart-wrenching moments in cinema history as Alice backs away from Magua: With the Edelman/Jones score at its emotional peak, Mann volleys between shots of Alice's soft, gorgeous face, highlighted by beautiful but now hopeless eyes, and Magua's visage of intensity and bloodlust that transforms into an expression of befuddlement and then one of utter indifference.
EH: What you're getting at here is actually one of my favorite things about the film: Its often brilliant dialogue-free storytelling. The sequence you talk about with the attempted rescue of Alice is part of one of the film's most breathtaking stretches, the climax and finale. After the verbal showdown with Magua in front of the Huron leader, the remainder of the film is largely visual, with hardly another word spoken until the final scene. The precision of Mann's editing and filmmaking is stunning, especially during Alice's suicide. She steps to the edge and Mann focuses on her face, as she first looks down for a long time, eyeing the fall ahead of her, thinking carefully, then looks up for a haunting closeup, her eyes filled with defiance and resignation. Mann inserts shots of Magua lowering his knife before he gestures to the girl, brusquely, just a wave of his fingers for her to come back to him; you can see he fully expects her to comply. And then she lets herself drop instead. The way Mann cuts back and forth between the two characters infuses each movement, each facial expression, with incredible import. The moment is stretched out by the editing so that the emotions and thought processes preceding Alice's suicide are fully felt: Without a word, we understand what she's thinking, feel her desperation, know why she's doing it.
Mann follows this sequence with the survivors—Hawkeye, Cora, and Hawkeye's adoptive Mohican father Chingachgook (Russell Means)—performing a kind of funeral ceremony on the edge of a cliff. Mann shoots the trio in profile, their faces nested within one another like Matryoshka dolls, the composition suggesting both that they're united in grief, and that they've now formed a new, if smaller, family structure together. At its best, Mann's filmmaking says so much without words, and the climax to Last of the Mohicans is undoubtedly an example of his best filmmaking. That the film is at other times comparatively impenetrable and generic is perhaps forgivable in light of the film's many admirable sequences.
Of course, there's no need to be so reserved about Mann's next film, Heat, his return to the crime genre that kicked off his career, and arguably the most characteristic Mann film. If someone who was completely unfamiliar with Mann wanted to know what he was all about, this is the film to point them towards, the film that contains the essence of his cinema. It's populated with some of his most memorable characters, two opposing groups of hard, dedicated men, each of them determined to do their jobs well, even if it means they lose everything. On one side, Mann places a gang of gifted crooks, led by Robert De Niro's Neil McCauley, and on the other side are the cops who are trying to catch them, led by Al Pacino's Vincent Hanna. It's typical of Mann that he treats crime and crime-fighting as simply opposing professions; the film is a poetic exploration of the romance of the criminal and the attempt to balance hard work against the desire for family. It's probably Mann's richest, most fertile film, an epic in which every moment counts, every little detail adds to the cumulative effect of the whole.
JB: Heat is a classic. It's Mann's masterpiece. I don't keep lists, but there's no question that it's one of the best American films made in my lifetime. This doesn't mean it's flawless. (The scene in which Vincent intimidates Hank Azaria's Alan Marciano by screaming about the "great ass" of Ashley Judd's Charlene Shiherlis—a rant that might as well be punctuated with a "Whoo-ah!"—is cringe-inducing from start to finish.) But Heat is sumptuous, powerful, visceral and lyrical. Best of all, it's a film that keeps on giving. I must have seen Heat a dozen times by now, and each viewing is a little different, each viewing reveals something more, or speaks to me with different intonations. Earlier in this conversation I suggested that many of Mann's films can entertain on both a surface action level and a deeper emotional level, and Heat provides the textbook example of that. It is oozing with the moods—pathos, gravitas, ecstasy—that Mann is always carefully constructing, and yet all of that can be so easily overlooked by the casual viewer given the intricacy, force and thrills of the movie's crime caper, which is so well done that Heat might have been a classic genre flick even if those deeper emotional levels were removed.
Given how infrequently we see balls-to-the-wall action in anything outside of a prototypical action film, it would be so easy to suggest that Heat's emotional resonance is subtext. But that would be a mistake; it's the other way around. The movie's bank heist turned O.K. Corral shootout in downtown Los Angeles is on the short list of the greatest action sequences ever filmed, and it's one of Heat's two most iconic moments (the other being the coffee shop scene that brought Pacino and De Niro "together" at last), and yet thematically it would be more appropriate to cut that epic action sequence than to take away Neil and Eady's intimate conversation overlooking L.A.'s sea of lights. But all this would be hard to explain to that hypothetical Mann virgin that you mentioned earlier. As Nick James puts it in his BFI Modern Classics examination, Heat is a "slippery behemoth...to define."
EH: You're right about how expansive this film is. It's not just long, it's packed with detail, with subplots and themes and little moments that illuminate the characters and suggest connections between them. As you point out, its expansiveness isn't without flaws, either, some of them related to Pacino, who plays the cop Vincent as one of his characteristic fire-breathing, bombastic tough guys. He's not quite a self-parody yet, but he's just about at the peak of where he could go with this cartoonish style without verging into self-parody. And there are times when he does slip seamlessly over that line, aided by Mann's occasionally pulpish dialogue. But then, that's part of the character, and of the film. If there's one thing Heat is not, it's understated. The film has moments where it approaches the moody meandering of Thief—like that conversation you mention between Neil and Eady, which has always seemed distractingly unreal to me, the actors very distinct from the background—but for the most part its tone is operatic and grand.
At least, the surface of the film is operatic. In fact, Mann is working on multiple levels here. There's so much going on right on the surface of the film, in its big, broadly stated emotions and themes—not to mention its action—that the subtler undercurrents can sometimes slip right by those who get stuck on the surface. A good example is the way Mann develops the parallels between Neil and Vincent, who exist as mirror images of one another, both driven professionals who have sacrificed the stability of a home life for their careers. The two men actually meet face to face only twice in the film, once in the famous coffee shop scene you mention, and again at the end of the film. But I'm more interested in two scenes that precede either of these meetings, scenes in which Mann emphasizes the connection between these men without even placing them in the same space.
The first of these scenes takes place during the failed platinum robbery, when Neil steps outside as a lookout and hears a noise from across the street, where Vincent and his men are hiding. Mann cuts back and forth between the two men in 180-degree reaction shots, as though they were together in the same room, face to face. The shots progressively focus more and more on their eyes, and this sequence creates the illusion that th