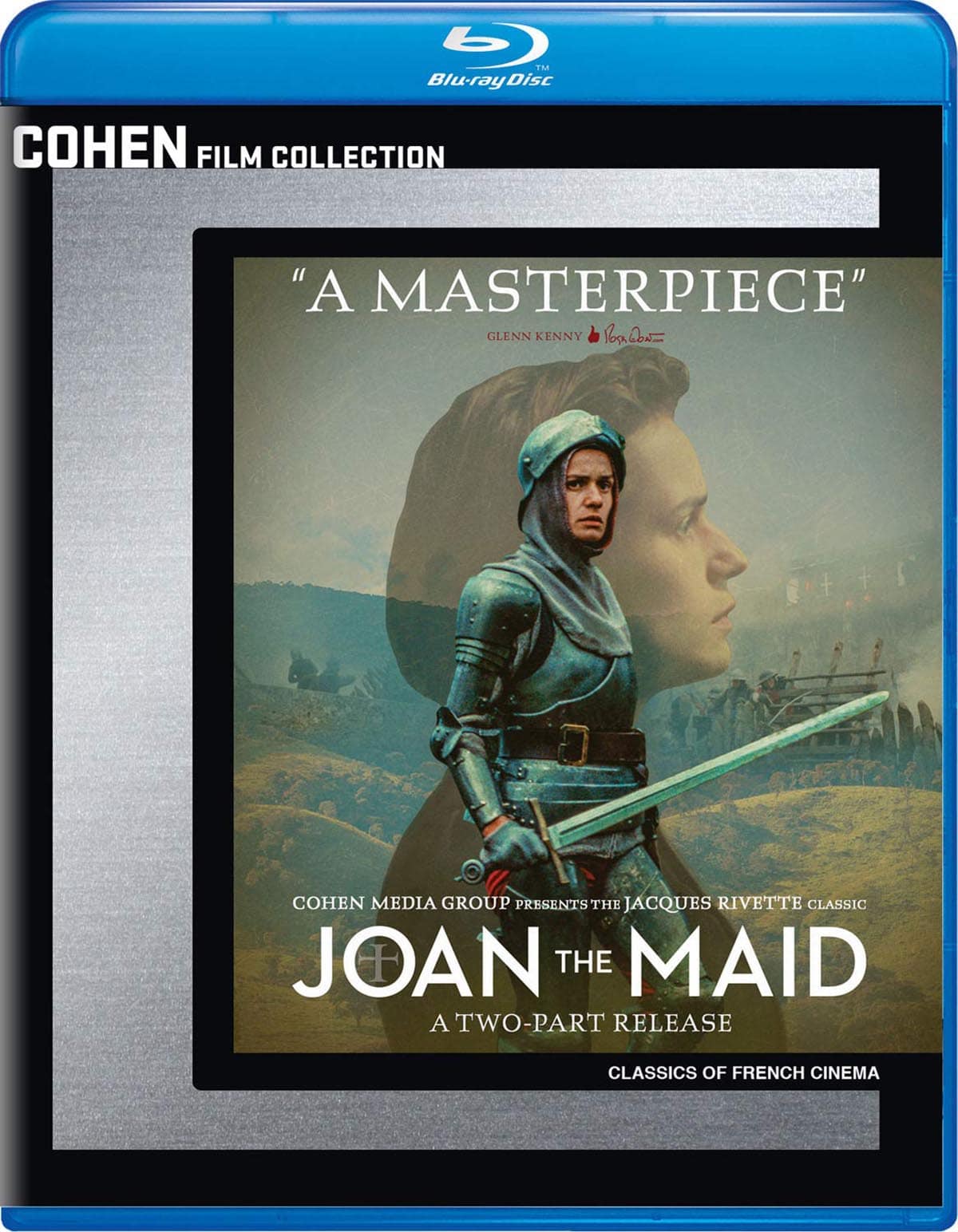 Joan of Arc has endured as an evergreen inspiration to filmmakers since the medium's infancy. Even more so than the Passion of Jesus, the story of the life and death of the Maid of Orléans has tested the screen's capacity to capture religious ardor at its most fervent pitch of expression. Carl Theodor Dreyer's The Passion of Joan of Arc, in no small part due to Renée Jeanne Falconetti's indelible performance in the title role, is regarded as the screen's definitive translation of this tale of sainthood, but such varied directors as Robert Bresson, Roberto Rossellini, Otto Preminger, and Victor Fleming have also made their mark on the subject. And yet, for all the richness of their renditions, coursing throughout the lot of them is an unwavering emphasis on Joan's sainthood, and on the trial by which she was branded a heretic and martyred at the stake.
Enter Jacques Rivette's two-part, six-hour telling of Joan's story, from which the narrative strictures of hagiography are notably absent. From Joan's (Sandrine Bonnaire) journey to meet the deposed Dauphin of France (André Marcon), to her repelling of the Siege of Orléans, and onward to her capture by the British, Rivette charts the events of the warrior-saint's life in steady, unhurried sequence, without the usual alternations of climax and catharsis. One lengthy, incantatory scene follows another, usually comprised of Joan and her ever-expanding entourage in the throes of discourse—ironing out a military tactic, debating a theological point, or merely attending to the practical needs of the day's encampment. Rivette's glacially modulated camera pans and tracking shots set a languorous pace; gone is the rush and the flurry of Joan's deathward march which seems to consume so many other treatments of her life, the sense that all is hurtling ineluctably toward martyrdom. Rather, the film emphasizes Joan's corporeal personhood at every turn. Fascinated by Joan as she might have actually existed in the present tense of her reality, Rivette is in no hurry to give her up to the saints.
Paramount to the film's hypnotic power is the casting of Bonnaire in the central role. The actress demystifies the figure of Joan of Arc through a performance that's at once seized with inflexible purpose and also given at the most remarkable junctures to expressions of warmth and compassion, laughter and tears. If the long-take precision of Rivette's filmmaking—and the meticulous blocking and choreography that accompanies nearly every shot—at first suggests stolid perfectionism, it gradually becomes evident that he and cinematographer William Lubtchansky are following Bonnaire's lead, and that the film's meticulous control is wholly in service of the many-hued vitality of her acting.
Rivette is known for his intense collaborations with actors. If Joan the Maid seems a departure for a filmmaker perennially fixated on the existential entropy of the Parisian zeitgeist (Paris Belongs to Us, Out 1, and Le Pont du Nord among them), whose previous period film was 1966's The Nun, it's his total alignment with Bonnaire's performance which most clearly situates the film within his larger body of work. But there's also a fascination with sequential process for its own sake that follows directly from 1991's La Belle Noiseuse, which tracked the minute gradations by which a work of art is created. In Joan the Maid, Rivette's interest is in the real-time construction of history itself, for which he utilizes multiple camera-facing narrators to enrich his legend-in-the-making with added context and expository addenda.
Perhaps the film's most immediately striking claim to greatness is the joint beauty and austerity of its images, which prioritize an unadorned, open-air clarity. Together, Rivette and Lubtchansky achieve an effect not unlike that of Barry Lyndon, in which the natural pallor of a landscape calmly surveyed instantly stimulates our historical imagination. Interior scenes are no less impressive; the crowning of the Dauphin might be the film's signature sequence, a sustained passage of pure ceremony, immaculately rendered. That a relatively minor film in Rivette's oeuvre should prove to be a major feat of period filmmaking is a testament to the artistry of a filmmaker who never settled for less than the medium's fullest potential.
Image/Sound
The film's new 4K restoration has been justly lauded since the film's recent theatrical exhibition, and Cohen Media has done a stellar job of transferring it to disc. Suiting a film rich in the physical textures that come alive to natural light, the picture is invariably crisp and finely detailed, with no apparent loss in visual information. The DTS-HD audio is likewise seamless, with Jordi Savall's medievalist score expertly balanced against the spoken dialogue which constitutes the lion's share of the soundtrack.
Extras
Aside from a smattering of trailers, the disc boasts no extras—a shame, not only in light of the surfeit of context which might have been provided regarding Rivette's singular approach to the story of the life and death of the Maid of Orléans, but also given how little information is readily available regarding the film's production.
Overall
This release of Jacques Rivette's singular take on the story of Joan of Arc boasts an impeccable transfer of the new 4K restoration.
Score:
Cast:
Sandrine Bonnaire, André Marcon, Jean-Louis Richard, Nathalie Richard, Edith Scob, Hélène de Fougerolles
Director:
Jacques Rivette
Screenwriter:
Pascal Bonitzer, Christine Laurent, Jacques Rivette
Distributor:
Cohen Media Group
Running Time:
336 min
Rating:
NR
Year:
1994
Buy:
Video
If you can, please consider supporting Slant Magazine.
Since 2001, we've brought you uncompromising, candid takes on the world of film, music, television, video games, theater, and more. Independently owned and operated publications like
Slant
have been hit hard in recent years, but we're committed to keeping our content free and accessible—meaning no paywalls or fees.
If you like what we do, please consider subscribing to our
Patreon
or making a
donation
.