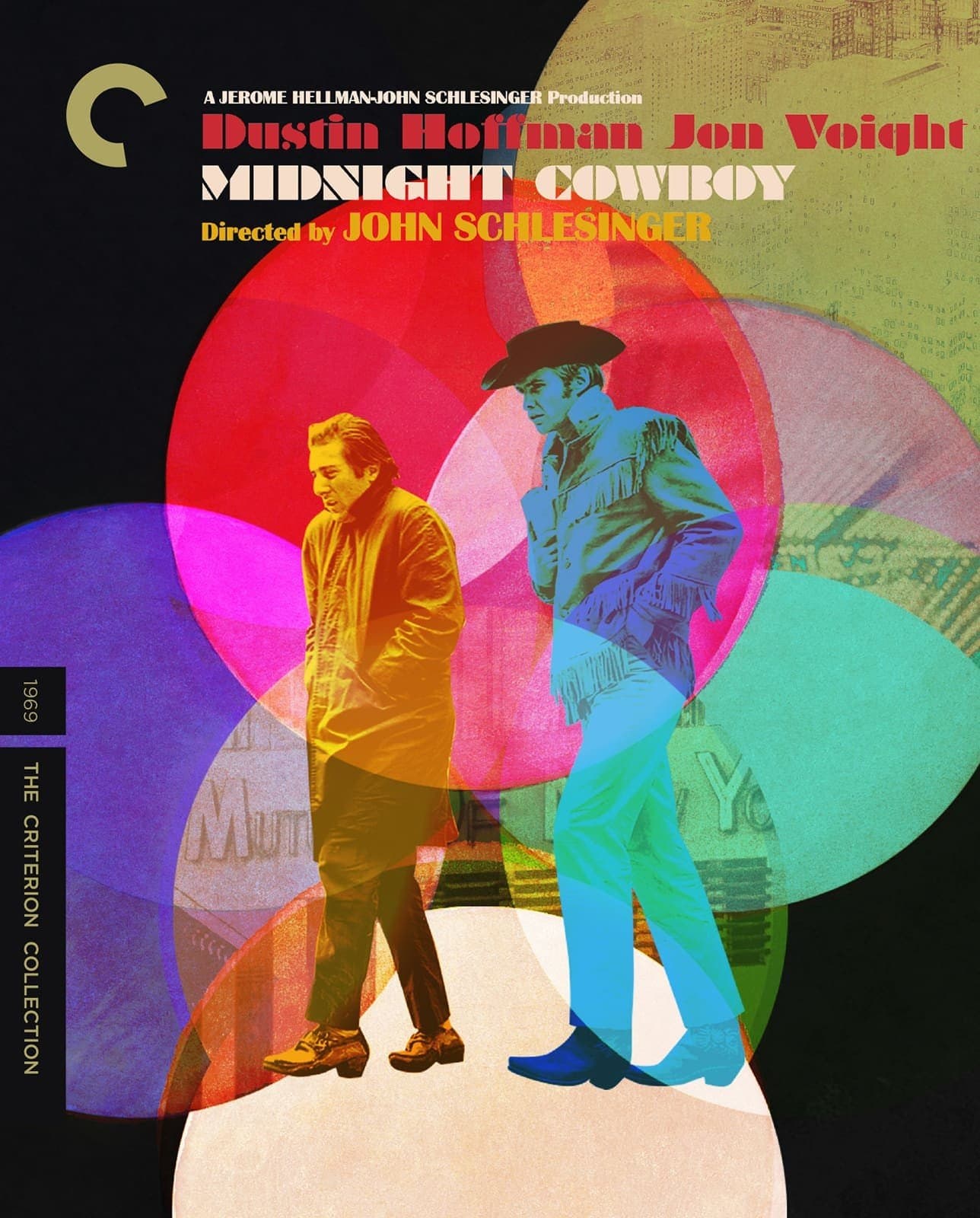 John Schlesinger's Midnight Cowboy opens with a clamor of yelping and gunfire that we associate with the western genre, before then pulling back from what's revealed to be the screen of a dilapidated drive-in movie theater. When the film was released in 1969, such an image perfectly expressed the crumbling state of classic Hollywood, as old studio heads were passing away and a melancholically reflexive band of mavericks were making their mark in the movie industry. It's no coincidence, then, that Midnight Cowboy's hero, the aspiring gigolo Joe Buck (Jon Voight), pursues the American dream in bygone western garb, like some New Hollywood answer to Don Quixote.
No less tragically anachronistic and delusional than Don Quixote, Joe also achieves greatness by way of his kinship to a man who's his apparent opposite. His Sancho Panza—that is to say, the earthier and jaded counterpart with whom the idealist hero establishes a deep and complex relationship through dialogue—is Enrico "Ratso" Rizzo (Dustin Hoffman), a miscreant con artist. Set against a landscape that engenders isolation, this pairing makes for one of moviedom's most unlikely representations of human connectivity.
With only his radio in tow, Joe sallies forth from rural Texas to New York hoping to make a living giving women of the city the pleasure they long for. When asked at one point why he's pursuing this unique line of work, Joe replies, "The only thing I've ever been good for is lovin'." It's as if he regards hustling more as a spiritual vocation than a profession. In the city, everything and everyone is a commodity, and instead of finding any clients, Joe is swindled by more streetwise hustlers, among them Ratso, who takes Joe's money under the pretense of setting the cowboy up with a pimp.
After he finds Ratso, Joe doesn't exact vengeance. Instead, he ends up following him to a condemned building in which Ratso lives and sleeps by himself. Adam Holender's camera picks up Joe's conspicuous attire as he walks down Fifth Avenue; though he's surrounded by throngs of people, Joe appears almost unspeakably lonely. Ratso's duplicity deserves whatever Joe could dish out in retaliation, but the con man's pleading gift of gab—and evident vulnerabilities—endears him to Joe. The simplicity of just finding one person to talk to becomes as nourishing as food. That we should unexpectedly feel so close to Joe and Ratso testifies to the potency of cinema's formal dynamics. Schlesinger envelops viewers into the meta-textual "movieness" of Joe's world, Midnight Cowboy's lenses and film stocks changing as if the film was as desperate as its embattled characters to stay alert and alive.
The developing closeness between Joe and Ratso has almost nothing to do with the sordid details of their pasts, and almost everything to do with their dreams. These men rarely speak of the people they are. Joe carries the burdens of mysterious traumas from his past, which we glimpse in flashbacks, just as Ratso's gait shows how he's hampered by some injury or illness. Instead, they express who they aspire to be and where they want to go. Ratso's fantasies of Florida are conveyed in images that Schlesinger constructs like an advertisement, replete with the music from an orange juice commercial we hear on Joe's radio. In this sequence, dreamt by Ratso, both men's fantasies are conjoined, as Joe is surrounded by fawning, wealthy women, and Ratso's limping gait is gone and as he runs on the beach.
Joe and Ratso resolve to become a hustling team, working together toward the bankrolling of their goals, and Midnight Cowboy follow the misadventures that ensue when Ratso acts as Joe's pimp but to no propitious end. Soon, a bitter winter cold closes in and authorities seal off Ratso's condemned hideout. Joe resorts to selling his blood and pawning his radio to keep afloat. The men would appear to be at the end of their rope when a pair of bohemian artists unexpectedly invites them to a party full of Warhol-esque personalities. It's here where Joe, under the influence of marijuana, finally makes some professional headway. He establishes the interest of a socialite, Shirley (Brenda Vaccaro), who takes him home and gives him a referral to one of her bored friends. In sharp contrast to Joe's blooming prospects, the party is where Ratso's misfit hopelessness feels inexorable. Even though he's told the food on hand is free, he has the compulsion to steal it. What's more, his mysterious physical ailments are amplified by a trip down the stairs.
Screenwriter Waldo Salt spent years before Midnight Cowboy trying—and failing—to adapt Don Quixote. It's through talking that Don Quixote and Sancho Panza find meaning in life, transcending the chivalric literature they're dually emulating and parodying. It's a theme that's perfectly appropriated in Midnight Cowboy. Philosopher György Lukács said that Cervantes set his action in a world that's been "abandoned by God," and what better way to describe this film's vision of America? "Everyone's talkin'," sings Harry Nilsson on the soundtrack during the opening credits, but no one's really listening. And yet, human sympathy, however fleeting, finds a place within the film's frames in the end, as the reflection of Ratso's Florida paradise is superimposed over a fraught Joe holding his dead friend's body. It's as if Joe is looking beyond the material world for the first time in his life.
Image/Sound
The Criterion Collection's presentation of Midnight Cowboy is a profound improvement over MGM's 2012 Blu-ray. The skin tones here are more natural, and while the greens and blues of the image are dialed up in ways that may come as a distraction to anyone who's only seen the film on home video, the move is in allegiance to cinematographer Adam Holender's vision, namely his use of deliberate underexposure. The level of the depth and crispness to the image is incredible throughout, especially in closeups of the actors' faces. On the audio front, the LPCM 1.0 mono mix, which was sourced from the original 35mm magnetic track, may not be more dynamic than the DTS-HD Master Audio 5.1 mix, but it's the winner for coming down on the side of fidelity.
Extras
There are two insightful new extras that were produced for this edition of Midnight Cowboy: a video essay with cinematographer Adam Holender, who discusses how he and John Schlesinger visually approached the material using more mobile cameras that, at the time of the film's making, were most often used by the military; and a poignant photo gallery narrated by Michael Childers, Schlesinger's life partner and assistant director on the film. But the richest extra in this set is the Oscar-nominated documentary Waldo Salt: A Screenwriter's Journey, which chronicles all the highs and lows of the screenwriter's career, from his blacklisting to his two Oscar victories. Though it would have been nice to see more recent interviews with Jon Voight and Dustin Hoffman, the best we get are two by-the-books commemorative documentaries pulled from the 2004 DVD. On the other hand, David Frost is never boring, so an old 1970 interview between the television host and Voight is a plus. An articulate storyteller with a mellifluous voice, Schlesinger, who died in 2003, is featured in a 2000 interview and 2002 tribute, both courtesy of BAFTA Los Angeles, and the 1991 laserdisc commentary with producer Jerome Hellman. Schlesinger's reminiscences make for good listening, and it's most interesting to hear how he, as a queer director, approached Midnight Cowboy's darker and more closeted gay themes in contrast with his more affirming and open approach to them in his subsequent Sunday Bloody Sunday. Finally, Mark Harris, whose Pictures at a Revolution is one of the best books ever written about the end of "old Hollywood," lucidly distills the film's production, themes, and legacy in the disc's accompanying essay.
Overall
Peter Biskind once wrote that John Schelesinger's classic marked "a symbolic transfer of power from Old Hollywood to New," and this definitive package from the Criterion Collection will be essential for both fans of the film and scholars interested in that transition in moviemaking.
Score:
Cast:
Dustin Hoffman, Jon Voight, Sylvia Miles, John McGiver, Brenda Vaccaro, Barnard Hughes, Ruth White, Jennifer Salt, Bob Balaban
Director:
John Schlesinger
Screenwriter:
Waldo Salt
Distributor:
The Criterion Collection
Running Time:
113 min
Rating:
R
Year:
1969
Release Date:
May 29, 2018
Buy:
Video
,
Soundtrack
If you can, please consider supporting Slant Magazine.
Since 2001, we've brought you uncompromising, candid takes on the world of film, music, television, video games, theater, and more. Independently owned and operated publications like
Slant
have been hit hard in recent years, but we're committed to keeping our content free and accessible—meaning no paywalls or fees.
If you like what we do, please consider subscribing to our
Patreon
or making a
donation
.