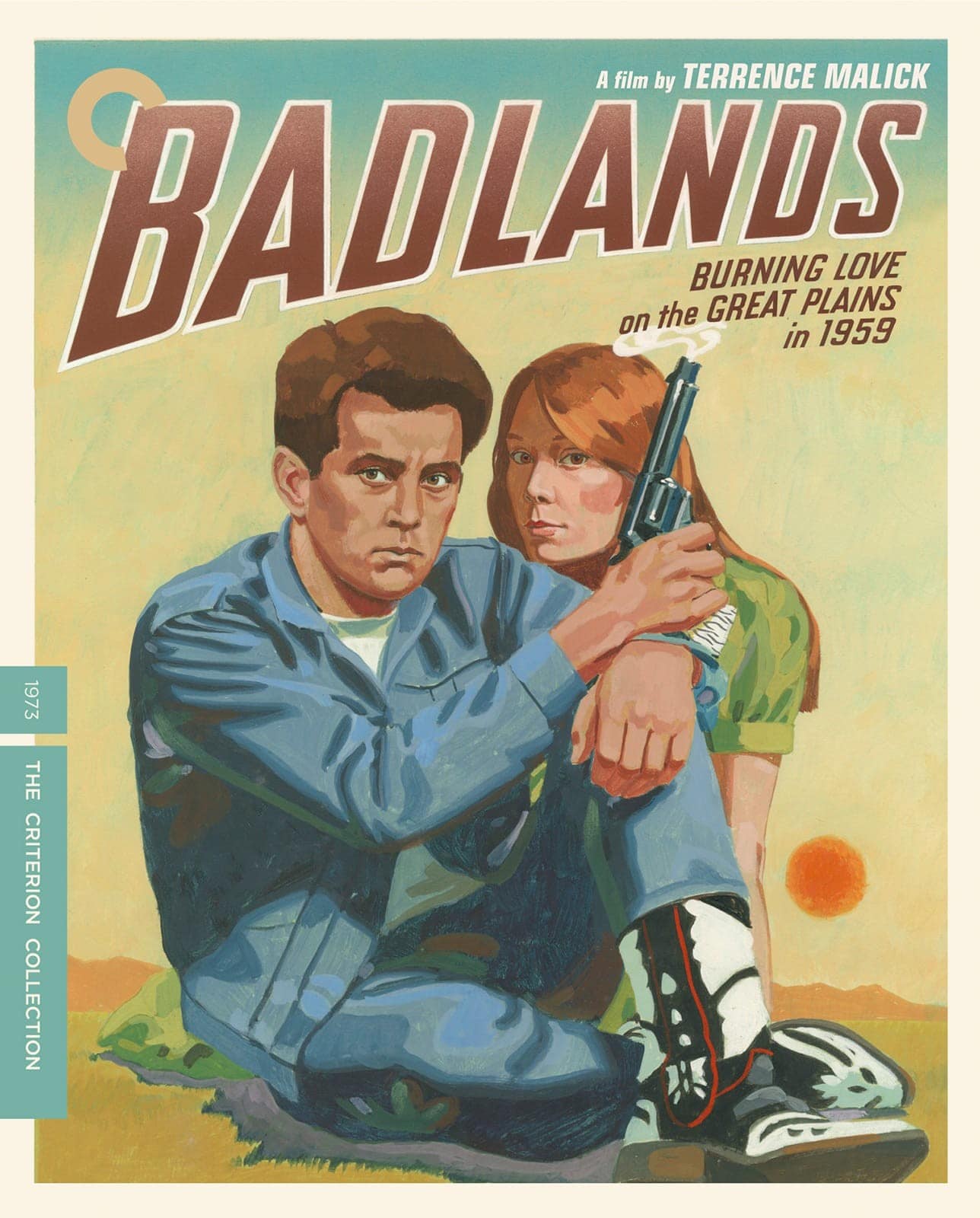 "Suppose I shot you. How'd that be?" That challenge, by Kit Carruthers (Martin Sheen) to the father of his underage lover, Holly (Sissy Spacek), is a trademark purr, oscillating between candor and impassivity, his words bouncing off the shabby walls of Holly's quiet South Dakota home like a hypothetical thought experiment instead of a real threat. The revolver dangles around his thumb as precariously as the father's life, and the verbal articulation of the fatal act is deadly not only for Holly's father, but for Kit's own eventual fate once captured and sentenced. That lingering question forces the viewer into contemplating the randomness of life, the arbitrary introduction of this juvenile delinquent into an impressionable girl's life, doors that open, doors that close, every action turning into a reaction. These are the imaginings of a young man who desperately lacks and yearns for an identity, who speculates about the possibility of achieving one through murder and addresses it to his very first victim, and whose only means are to carve out an existence through notoriety as a killer. Kit's decision after uttering those words, polite as he is ("I've got a gun here, sir"), comes to define him more than anything else in his brief life. More than the James Dean comparisons, his pleasant banter, the series of trinkets he hoards and gives away throughout the film, more than the pile of rocks he builds with wild-eyed frenzy before forever losing his physical union with earthly matter in the badlands of Montana.
What is Badlands if not a meditation on the scarcity of identity of a notorious murderous couple mythologized for his charisma and her alleged innocence, and who better to pose such questions than a philosopher? Malick's first feature film, written after a brief career in academia and a stint at the American Film Institute, is frequently touted as part and parcel of the 1970s New American Cinema (on the surface, it contains the post-western mythos of road movies and on-the-run-romance flicks like Easy Rider and Bonnie and Clyde), but it's also distinct from those films insofar as it presents a new form of storytelling that's more interesting than its subjects.
Based loosely on the nine-day, 10-victim killing spree carried out by the 18-year-old Charles Starkweather and his 14-year-old girlfriend, Caril Fugate, Badlands charts less a glorified fugitive sexual chemistry than two kids playing house in a tree with grandiose visions of escape and normality. Yet the film is understated, underwhelming, its jarring violence always a necessary force in delaying the inevitable and propping up the grand illusion of their continuous existence in the barren landscapes that reflect back at them the inertia of their own essence.
Holly's romanticized voiceover—one of many Malickisms to appear in nascent form here—is used as a means of subtle irony, demonstrating the tragedy of young naïveté transmuting into complacent amorality upon the introduction of a charming fellow. Malick's decision during production to employ voiceover wasn't so much frowned upon as it was simply unusual for the 1970s, deemed unnecessary and a mark of lazy filmmaking, but of course, that was only because the world had yet to see its epodic implementation in Malick's cinema. Badlands was too early for the elegiac eloquence seen years later in The Thin Red Line or the prescient, contradictory world-weary innocence of Linda in Days of Heaven, but Holly's voiceover is an essential key in attempting to decode the capricious torpidity of an impenetrable mind. In saying, "The world was like a faraway planet to which I could never return," Holly demonstrates both her harmlessness and her indifference to both life and death, and despite Spacek's dulcet nonchalance (or perhaps in spite of it), the sentiment is somehow more chilling than Kit's trigger-happy violence or the wantonness of similar archetypal young female killers or apprentices. Her deferential agape for and girly chattiness with the teenage female companion of a couple Kit is compelled to kill in a storm cellar is equally disturbing: After having explored her destiny with Kit, "for better or worse," she's eager to compare notes on having a boyfriend with her new companion, though of course the subtext is that she won't help the girl if Kit wants to kill her.
Badlands is perhaps most different from the rest of Malick's oeuvre in its straightforward narrative continuity and reliance on scenes that play out in real time. With the exception of the ambiguous elliptical nature of the montage-like establishment of Kit and Holly's budding romance, the rest of the film clearly plays out over the course of a week, not unlike the real-life affair between Starkweather and Fugate. Such linear protraction for a filmmaker renowned for lyrical, elliptical filmmaking is perhaps the fledgling of a young film writer discovering his own cinematic framework, and this is sometimes used as an argument against the supposed lack of poeticism and refinement in Malick's first work. But such assumptions about the so-called creative "progression" of an auteur typically denigrates the actual beauty of the film in question. Badlands may not be Malick's best film, but it's certainly his most anomalous, and, therefore, distinct—though The Tree of Life now offers a worthy competitor. Where it's not refined in form, Badlands is so by virtue of the specificity of its material (the then-topical sensationalism of teenage sociopaths and their glamorization in popular culture), a fact that has been buried by the dense literature published on Malick. Yet the film never once feels like the faded photos Holly examines under her father's stereopticon. Badlands can't be classified a historical document awaiting some kind of cultural preservation or renewed interest. It's the beloved little sister in a family teeming with geniuses, yet it's unfortunate that so few critics are compelled to call to attention to her sheer timelessness and sublime character.
Image/Sound
As with its previous Terrence Malick releases, Criterion worked fastidiously in remastering the film to obtain approval from the director himself (though unlike previous Malick Criterion releases, he's missing from the thanks section), and the results are absolutely resplendent. Perhaps more noticeable and enjoyable than the care employed in the preservation of grain here—though tidied, this 4K transfer retains the filmic fuzzy texture—is the focus on color. Badlands is by no means visually chromatic, but it does have a highly definitive tone and accompanying palette that emphasizes hue muting without ever making the film look grey or too dark. Malick's tenebrous coloring is beautifully transferred on Blu-ray and is especially radiant in every scene that was shot during magic hour. Shots like the striking short one of Kit as straight and still as a scarecrow, relaxing his elbows over his rifle in the fields beneath an azure horizon, are especially catching. The monoaural soundtrack has also been refined here on an LPCM 1.0 track that perfectly distinguishes between the portentous music of Carl Orff's Schulwerk, Sissy Spacek's phlegmatic, lucid voiceover, and the frequently quiescent, occasionally spasmodic dialogue.
Extras
Given Malick's resistance to media appearances, Criterion has frequently called on his collaborators in the creation of supplemental material. There's strangely no commentary track on the Badlands Blu-ray, but its omission is perfectly acceptable in place of a supplement from an obliging cast and crew forced to provide enough anecdotes for a 90-minute film. In its place is a 40-minute made-in-house documentary with new interviews with Spacek, Martin Sheen, and art director Jack Fisk that explicates the significance of Badlands in their early careers, and much of it is fascinating insofar as it reveals the burgeoning, "anything-goes" production ideas emerging from the chaos of New Hollywood. That and a shorter interview with associate editor Billy Weber are the most interesting media supplements on this markedly modest package from a company that usually does more than its fair share of homework (indeed, the inclusion of an episode of American Justice about Starkweather and Fugate is more than a tad strange). Naturally, the physical supplements of any Criterion release are equally important, and they don't disappoint here: An essay by filmmaker Michael Almereyda is as astute as it is informative, and that pulp-art cover is one of the boldest cover decisions in Criterion's history; though it may seem ill-suited for Malick, the crude composition strangely grows on you over time, not quite unlike Kit Carruthers.
Overall
Terrence Malick's beloved first film gets a somewhat light, though reverent, treatment from Criterion, with a breathtaking transfer, brazen pulp-art cover and mostly respectable supplements.
Score:
Cast:
Martin Sheen, Sissy Spacek, Warren Oates, Ramon Bieri, Alan Vint, Gary Littlejohn, John Carter, Bryan Montgomery, Gail Threlkeld, Charles Fitzpatrick
Director:
Terrence Malick
Screenwriter:
Terrence Malick
Distributor:
The Criterion Collection
Running Time:
94 min
Rating:
PG
Year:
1973
Release Date:
March 18, 2013
Buy:
Video
If you can, please consider supporting Slant Magazine.
Since 2001, we've brought you uncompromising, candid takes on the world of film, music, television, video games, theater, and more. Independently owned and operated publications like
Slant
have been hit hard in recent years, but we're committed to keeping our content free and accessible—meaning no paywalls or fees.
If you like what we do, please consider subscribing to our
Patreon
or making a
donation
.