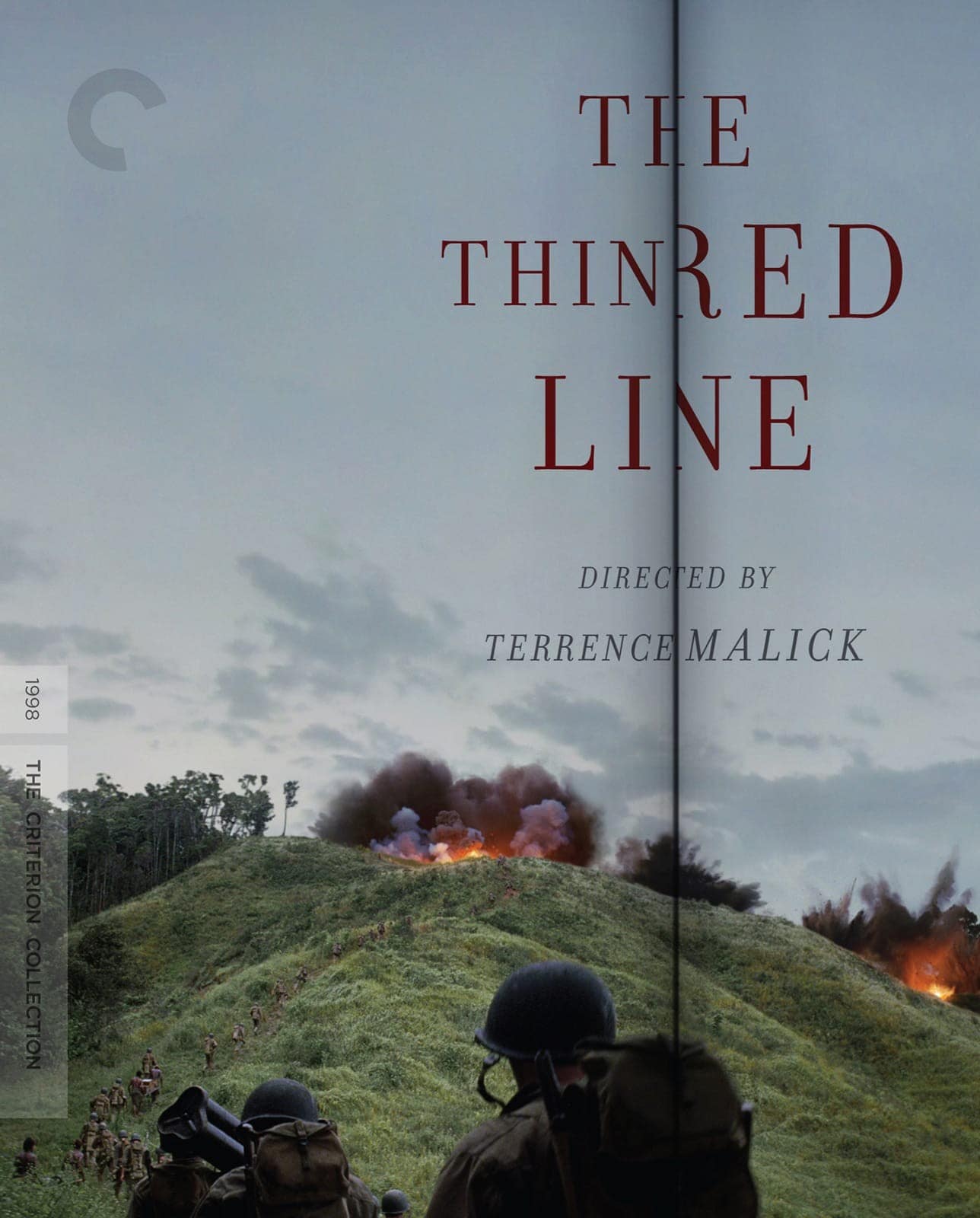 Can any war film rival the dual spiritual uplift and ethereal horror of The Thin Red Line? Adapted from the novel of the same name by WWII veteran James Jones and itself based on his own wartime experiences at the Battle of Guadalcanal, Terrence Malick's 1998 epic is many things: a tone poem, an action film, a philosophical statement, a religiously attuned wartime rumination on the very fabric of existence. "What's this war in the heart of nature?" So goes Jim Caviezel's opening pontification, speaking of cycles of life and death, but so too is the torch of thought passed from character on to character for the course of the film, encompassing what feels like a complete rainbow of life paths. Through image, sound, and words, Malick's third feature (his first in 20 years after the groundbreaking one-two punch of 1973's Badlands and 1978's Days of Heaven) fuses a complex spiritual inquiry to its narrative arc, the resulting thematic/dramatic path among the most fully realized philosophical contributions yet afforded by the cinema.
Among 1998's WWII offerings, Steven Spielberg's more widely seen Saving Private Ryan enjoyed the greater initial praise, but in terms of pure artistry, The Thin Red Line continues to dwarf all but a handful of other war films, including Spielberg's overrated epic. For a film with so broad a reach of subject matter and character, a running time just short of three hours seems almost compact when you step away from the sheer force of Malick's emotional avalanche (a six-hour rough cut is rumored to exist), a tsunami-like torrent equal parts heartbreaking and healing. Perhaps more than any other living filmmaker (only David Lynch comes to mind as competition), Malick's work functions as a labyrinthine web of visual triggers; shots and sequences serve as the words and sentences of his ravishing visual essays, which in turn are loaded with tangents, suggesting a perpetual longing for an elusive, intangible truth. From the numerous asides of birds and beasts indifferent to mankind's squabbling to the swoon-worthy flashbacks featuring Miranda Otto (shot like a goddess on Earth), The Thin Red Line's hallucinatory blend of images defines the very essence of cinema.
Malick's most performance-heavy film stands as one of the finest ensemble achievements of the medium (recently, only Glengarry Glen Ross matches it for male star-power utilization). John Savage's wildman existentialism is a personal favorite, but there's no shortage here of master-class acting: John Travolta's chameleon, Nick Nolte's pitbull snarl, Jared Leto's naïve determination, John C. Reilly's calm indifference, Sean Penn's brooding angst, Jim Caviezel's superior resolution (no wonder a certain Catholic would cast him as Jesus), Elias Koteas's moral probing, John Cusack's everyman righteousness, and Adrien Brody's saucer-eyed seclusion, among others. Malick's film is full-on religious in its humanism, and his kino eye—often found staring up at the light pouring through the jungle canopy, if not suffering the same animalistic torture as the men it shares ground space with—suggests a presence among people, rather than a removed overseer. Only briefly does the camera ascend up and away from the action—as American troops first haul ass up a heavily defended hill occupied by Japanese forces, death instantly thick in the air—suggesting an unseen figure fleeing for sorrow.
The Thin Red Line's centerpiece battle plays closer to Nosferatu's nature-bound symphony of death than anything typical to visceral filmmaking, a tone not to sneeze at given the battle's location: lush, green hillsides surrounded by dense jungle, a fertile pasture upon which man wages his petty battles of dominance and possession. Malick finds equal parts beauty in both life and death, but he casts the whole in anger at the senseless acceleration of the latter. "Whole fucking thing's about property," scoffs Penn's Sgt. Edward Wilson, refusing recognition for his actions in battle, while Col. Gordon Tall (Nolte) rationalizes the number of deaths it will take to earn his next promotion. Drama notwithstanding, there aren't protagonists and antagonists here so much as people hurting and being hurt, the two rarely being mutually exclusive. Jones's clear-eyed, ideology-free perceptions on human suffering find a calm assurance in Malick's images, any one of which could suffice as inspiration for a thousand words. Eternal questions and universal truths are hoisted up on the shoulders of timeless poetry, be it that which is thought, spoken or seen. A greater world is out there if we human beings can ever give up our selfish ways and make it come about. The primal spirit behind The Thin Red Line believes that to be within grasp, even if the only thing standing in the way is our ability to believe it, too.
Image/Sound
Considering both Criterion's high standards and the enveloping nature of Terrence Malick's organic sound palette, audio comes off as predictably excellent. Levels are expertly maintained between soft and loud scenes; whether it's the Japanese hilltop catching hell or the Melanesian singing procession, the mix can hardly be matched for sheer clarity and sonic fullness. Image is similarly prodigious in rendering Malick's wandering, peripatetic images; colors are mind-blowing, although blacks could be deeper and some edge enhancement is noticeable during the credits.
Extras
A bunch of documentaries on disc two are the quantitative majority of this lush set. While it's nice to hear from many of the voices that contributed to the film (by category: actors, casting, editors, and composer), they come off as basically fatuous. The feature-length commentary by producer Grant Hill and production designer Jack Fisk functions similarly and doubles as an epic patience tester; these two are frustratingly content with describing the basics of Malick's creative process ad nauseam (it's old hat well before the hour mark comes around) and simply describing what's on screen (I detected a whiff of defensiveness throughout), offering only sporadic insights along the way. Here, the best things are in the tiniest packages: an outtake reel (really a bunch of rough scenes trimmed from the final cut), an interview with James Jones's daughter Kaylie Jones, propagandistic newsreels produced during and about the Guadalcanal invasion, and an audio clip of Melanesian chants. Collectively, these offerings serve as an enriching contextual platter to compliment the film. Inside the exquisitely designed liner notes are two essays: the gushing "This Side of Paradise" by film critic and professor David Sterritt, and "Phony War Films," a critical piece on the immaturity of American war films from the 1940s through the 1960s by James Jones himself.
Overall
Director Terrence Malick recommends that The Thin Red Line be played loud.
Score:
Cast:
Sean Penn, Adrien Brody, Jim Caviezel, Ben Chaplin, George Clooney, John Cusack, Woody Harrelson, Elias Koteas, Jared Leto, Dash Mihok, Tim Blake Nelson, Nick Nolte, John C. Reilly, Larry Romano, John Savage, John Travolta, Miranda Otto, Nick Stahl
Director:
Terrence Malick
Screenwriter:
Terrence Malick
Distributor:
The Criterion Collection
Running Time:
171 min
Rating:
R
Year:
1998
Release Date:
September 28, 2010
Buy:
Video
If you can, please consider supporting Slant Magazine.
Since 2001, we've brought you uncompromising, candid takes on the world of film, music, television, video games, theater, and more. Independently owned and operated publications like
Slant
have been hit hard in recent years, but we're committed to keeping our content free and accessible—meaning no paywalls or fees.
If you like what we do, please consider subscribing to our
Patreon
or making a
donation
.