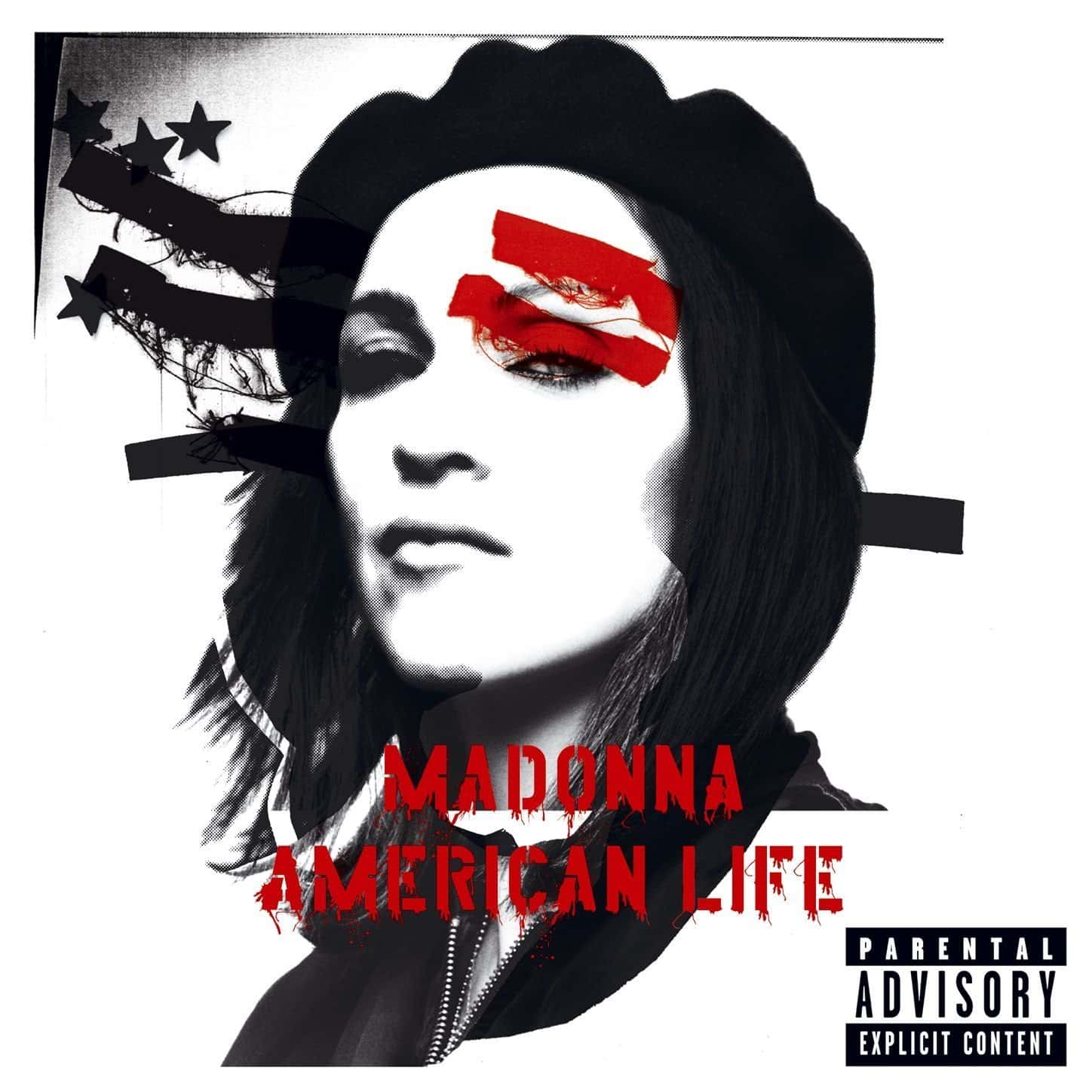 When Entertainment Weekly inexplicably placed Madonna's debut LP at number five on its list of modern classics, aptly calling the eight post-disco, post-punk dance songs that comprise the album "scrappy," it failed to acknowledge that Madonna (and Madonna) would likely have been forgotten along with jelly bracelets and headbands fashioned out of torn scarves had the album not been followed by at least a decade's worth of some of the most captivating pop music ever recorded. Madonna herself even likened the album to music for aerobics classes and was eager to shack up with Chic's Nile Rodgers and flex her creative muscle for her career-defining follow-up, Like a Virgin.
This summer, Madonna turns 25, but 2008 also marks the fifth anniversary of a wholly different Madonna album, one that couldn't possibly be any further removed from that scrappy debut: American Life. You'd never even know the same artist made both albums. Aside from "Holiday," a song she didn't write, Madonna seemed more interested in ruling the world than saving it back in 1983; two decades later, American Life found the pop singer at her most political, confrontational, and to many, abrasive. It was her first and, to date, only flop, scanning less than a million copies despite its platinum certification and sporting no hits besides the forward-thinking Bond theme "Die Another Day," which cracked the Top 10 the previous fall and was—dubiously, at least it seemed at the time—tacked onto the tracklist in a move that ultimately insured that American Life wouldn't be Madonna's only hitless album.
As with almost every Madonna album, save for the first one, it's nearly impossible to talk about the music without addressing the cultural and social context that produced it. Some have claimed that's why the singer's image and marketing has always been the focus of her career, at the cost of fairly assessing the actual music, but this fact only strengthens the case for Madonna as a true artist. Art without cultural context is like war without a political one. And this time around, politics and war itself played a pivotal role in the construction, marketing, and ultimate perception and consumption (or lack thereof) of American Life—despite there being very little in the way of political commentary throughout the album.
More so than any other artist who emerged in the video era, Madonna's songs can't (and shouldn't) be divorced from the images she assigns to them, and American Life's failure can be traced directly to the video for its title track (we'll ignore, for a moment, the actual song). "American Life" may have been the first time in Madonna's career where she voluntarily censored herself; moreover, it may have been the first time she made a creative choice out of fear.
In the original unreleased version of the video, directed by Jonas Akerlund, Madonna and a band of unconventional beauties storm a fashion show that includes models dressed in military garb and gas masks, Middle Eastern children modestly strutting their stuff, video screens depicting scenes from war, and limbless soldiers trailing blood down the catwalk. Madonna and her fashion terrorists pummel the paparazzi with water from an industrial-size hose while the audience continues to hoot and holler at the spectacle.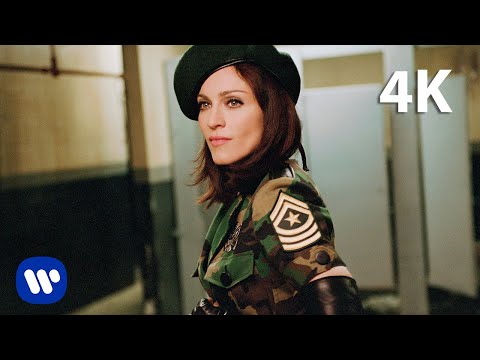 The backlash Madonna likely would have suffered from an already-emboldened and not-so-far-anymore far right would have made the whipping she endured following Sex seem like harmless roleplay. But the video turned a trite, self-aggrandizing, and often awkward song about privilege into a startling comment on the obscenity of war and materialism—one that would have undoubtedly been looked back on as brave.
Following up "American Life" with "Hollywood" was nearly as ballsy: "Music stations always play the same songs/I'm bored with the concept of right and wrong," Madge sings during the bridge before declaring that "this bird has flown" and instructing her audience to "flip the station, change the channel." Likewise, she rejects tabloid culture's "social disease" on "Nobody Knows Me," denouncing both TV and magazines. These weren't the kinds of statements you expected to hear from the biggest pop star in the world—especially one whose most recent hits, "Music" and "Don't Tell Me," were being played ad nauseam on pop radio and MTV just 24 months earlier. (Incidentally, "Hollywood" became Madonna's first single in 20 years not to crack the Billboard Hot 100.)
That "American Life" and "Hollywood" were made with a half-Afghan Frenchman probably only further aggravated American patriots. Most of American Life was co-written and produced by Mirwais Ahmadzaï, who lent the album an often ugly, lo-fi demo quality and, following his superior work on 2000's Music, made Madonna's ever-evolving sound seem suddenly stunted. Subsequent remixes highlighted (and in some cases, revealed) the strength of the songs on American Life: the dull "Love Profusion" was reinvented into a vibrant piece of guitar-driven pop-rock by Ray Carroll, while the title track and "Hollywood" were turned into entirely different songs by Felix da Housecat and Stuart Price, respectively.
But the original album's ugliness has been vastly misunderstood and unappreciated. Its stripped down, deconstructed aesthetic perfectly complements Madonna's subversive messages. Beats abruptly stop and start. Guitars stutter. Synths drop in and out. The late Michel Colombier's gorgeous string arrangements are sliced and diced. Madonna's voice is left bare and unaffected—that is, when it's not twisted and deformed until it sounds unrecognizable, even inhuman, like a Stepford wife on the fritz.
Madonna couldn't possibly have intended to make a pop album. American Life is a folk album in the purest definition of the term—and it's reflected right in the title. Though it owes plenty to the protest folk of the 1960s, the album's anti-capitalist bent presented a dichotomy that's been endemic in Madonna's work since she co-opted "Diamonds Are a Girl's Best Friend" and transformed it into an anthem for self-empowerment back in the '80s. "What I want is to work for it," she sings nakedly on "Easy Ride," "feel the blood and sweat on my fingertips." It's the complete antithesis of what it means to be a Material Girl.
American Life is deeply personal (Madonna writes candidly about her relationships with her husband, children, and God) but only immediately relatable if you just so happen to be grappling with what it means to be one of the most famous people in the world. In other words, it's profoundly truthful, but its audience is limited by design.
On the hymnal folk ballad "X-Static Process," Madonna sounds almost childlike when she begs: "Jesus Christ, won't you look at me/I don't know who I'm supposed to be." Mortality is a key issue on American Life, an inevitable existential crisis for an artist who reached godlike levels of idolatry and fame and stayed there longer than anyone else in modern pop-culture history without self-destructing. Questions like "Why am I here?" and "What is the purpose of all of this?" were inescapable. Madonna's vocals are reminiscent of her pre-fame days on the guitar-driven "I'm So Stupid," a track with a decidedly punk-rock sensibility on which she reassesses the value of the material world: "Please don't try to tempt me/It was just greed/And it won't protect me," a sentiment she reprises on the wall of a bathroom stall in the "American Life" video.
Rap music is, in a sense, an inner-city adaptation of the folk tradition, serving the same purpose in the 1980s and today as the political folk of Bob Dylan, Joan Baez, and Joni Mitchell in the 1960s, but it doesn't make Madonna's use of the form any less gawky or grating, nor does it make its cheekiness seem any less out of place on a track as dour and robotic as "American Life." It does, however, work on the inventive, electro-folk/rap hybrid "Mother and Father," in which Madonna employs a schoolyard-style chant to recount the isolation she felt as a child in the wake of her mother's death. It's a demon she's famously attempted to exorcise before (and more successfully), but one that continues to haunt her into midlife, and it illuminates the motivation behind her abiding drive to remain relevant in a youth-obsessed industry.
In hindsight, American Life isn't the masterpiece that Erotica so quickly revealed itself to be. It's frequently self-indulgent, misguided, unpleasant, difficult to listen to, silly yet somehow humorless, but it's also consistent, uncompromising, and unapologetic. The album is a testament to the artist's willingness to take risks and her refusal to stay inside her comfort zone.
In the grand scheme of things, the album might rank as one of the weakest in Madonna's extensive catalog, and the ones that followed have been as good, if not better, but American Life stands as the last time Madonna seemed to make music without the primary objective of scoring a hit. It's interesting to imagine what Madonna's career would look like today had American Life been a success: For better or worse, that pink leotard and Justin duet might never have existed.
Score:
Label:
Maverick
Release Date:
April 21, 2003
Buy:
Amazon
If you can, please consider supporting Slant Magazine.
Since 2001, we've brought you uncompromising, candid takes on the world of film, music, television, video games, theater, and more. Independently owned and operated publications like
Slant
have been hit hard in recent years, but we're committed to keeping our content free and accessible—meaning no paywalls or fees.
If you like what we do, please consider subscribing to our
Patreon
or making a
donation
.