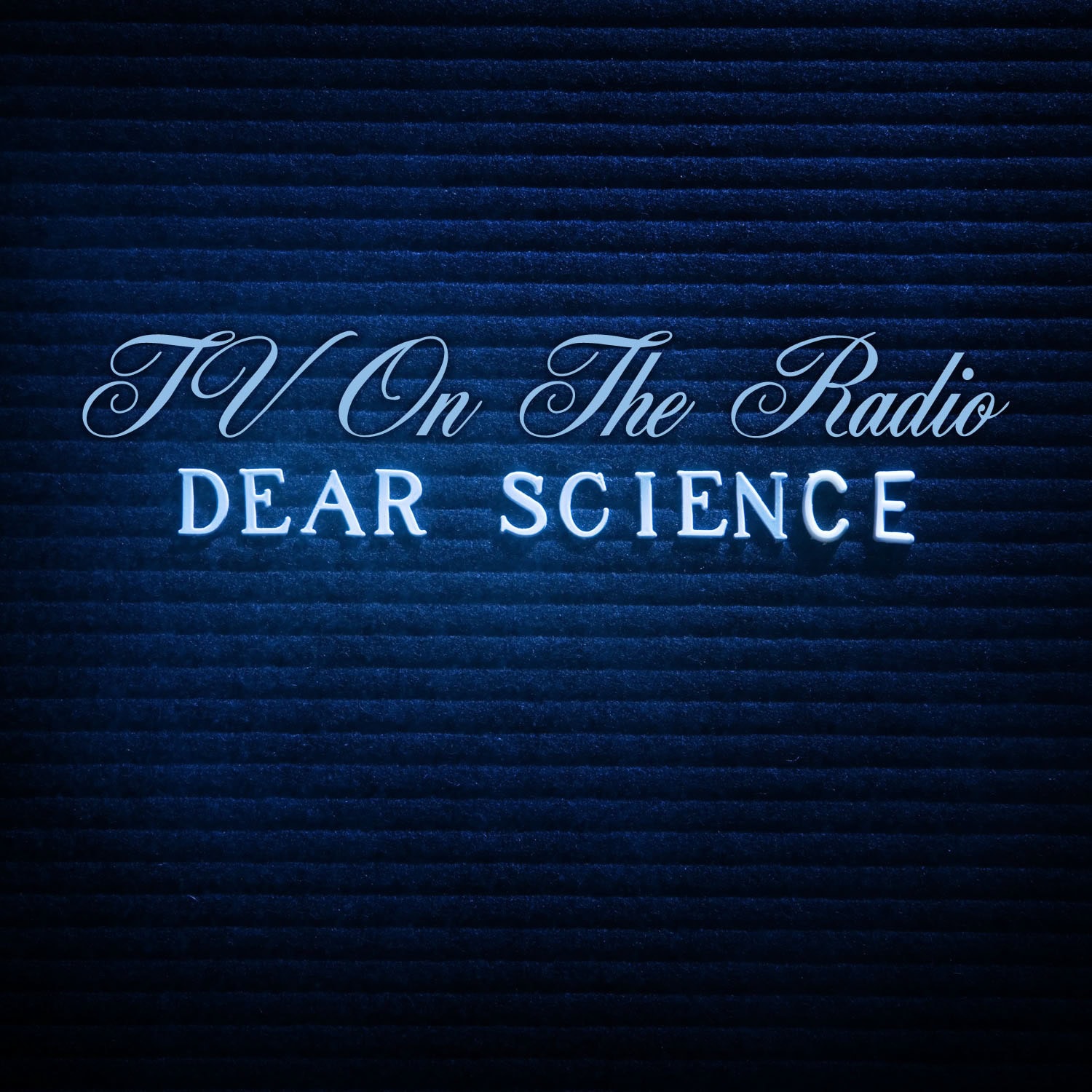 Staying true to the deeply disturbing calculus that plots an inverse relationship between the quality of the geopolitical climate and the quality of the music, TV on the Radio's Dear Science, a marked improvement on 2006's plenty extraordinary Return to Cookie Mountain, is heralded by a potentially catastrophic economic crisis that has overshadowed countless troubling developments abroad and a high-stakes election increasingly characterized by brazen stunt performances that even David Blaine would deem excessive and tacky. In other words Shit's gotten real, real stupid, so along comes TV on the Radio, writing an open letter to science and reason, asking if they'll ever be able to pull their act together long enough to make an impact on a batshit-insane culture that's currently smitten by a Young Earth Creationist and her Tina Fey glasses.
The band fires off more than a few invectives that make it clear where their allegiances lie—"Dancing Choose" takes the consumer-based news media to task with barbs like, "He's a newspaper man/And he gets his best ideas from a newspaper stand…Though he expresses some confusion/'Bout his part in the plan/And he can't understand/That he's not in command"—but the finest moments on Dear Science are those that erase any distinctions between the political and the personal. Perhaps the most pointed of these moments comes on "Red Dress," which opens with the seething lines, "Fuck your war/'Cause I'm fat and in love/And no bombs are fallin' on me for sure/But I'm scared to death/That I'm livin' a life not worth dying for."
What makes dual frontmen's Tunde Adebimpe and Kyp Malone's lyrics so heady here is the complexity and depth of their disquiet: The outrage and the urgency of their previous work is tempered by the sobering question that, if informed, reasoned passion is all for naught, what's left? Exceptional lead single "Golden Age" perfectly captures the resulting disquiet, couching what outwardly sounds like a rallying cry for even the most twitchy, paranoid cynics to embrace optimism in language of destruction. "Well, there's a Golden Age comin' round," Adebimpe sings, "Here it comes like a natural disaster." The song perfectly captures the tone of the album in that it holds firmly to its fundamental hope even as it scans the horizon for FEMA helicopters.
Dear Science is something of a structural marvel, then, in the way that its music reflects that tone: From the Beach Boys-inspired "bah-bah-bah" chant on opener "Halfway Home" to the deconstructed funk bassline of "Crying" to the brilliantly arranged horns on "Red Dress," each song contains a particular motif or repeating musical figure that imposes a sense of reason on the swirling, multi-tracked chaos. Producer and multi-instrumentalist David Andrew Sitek often gave the band's previous efforts an airless quality, with a fussiness to the production that could be a bit suffocating. That isn't the case here: Whatever elements the band has recycled from bygone eras of rock n' roll and from modern urban noise are given both a clarity of purpose and room to breathe.
There's an accessibility to tracks like "Golden Age" and standout "Family Tree" that in no way compromises what has made TV on the Radio one of the most critically revered acts of the decade. While there's no shortage of material to unpack on Dear Science, both in terms of the way their lyrics can be approached as text and of the sheer variety of styles they incorporate into a brand of contemporary rock music that is nearly without peer, TV on the Radio have finally made an album that someone other than hyper-analytical music critics might actually enjoy. That may be cause for celebration if only their greatness didn't seem like a harbinger of impending doom.
Score:
Label:
Interscope
Release Date:
September 23, 2008
Buy:
Amazon
If you can, please consider supporting Slant Magazine.
Since 2001, we've brought you uncompromising, candid takes on the world of film, music, television, video games, theater, and more. Independently owned and operated publications like
Slant
have been hit hard in recent years, but we're committed to keeping our content free and accessible—meaning no paywalls or fees.
If you like what we do, please consider subscribing to our
Patreon
or making a
donation
.