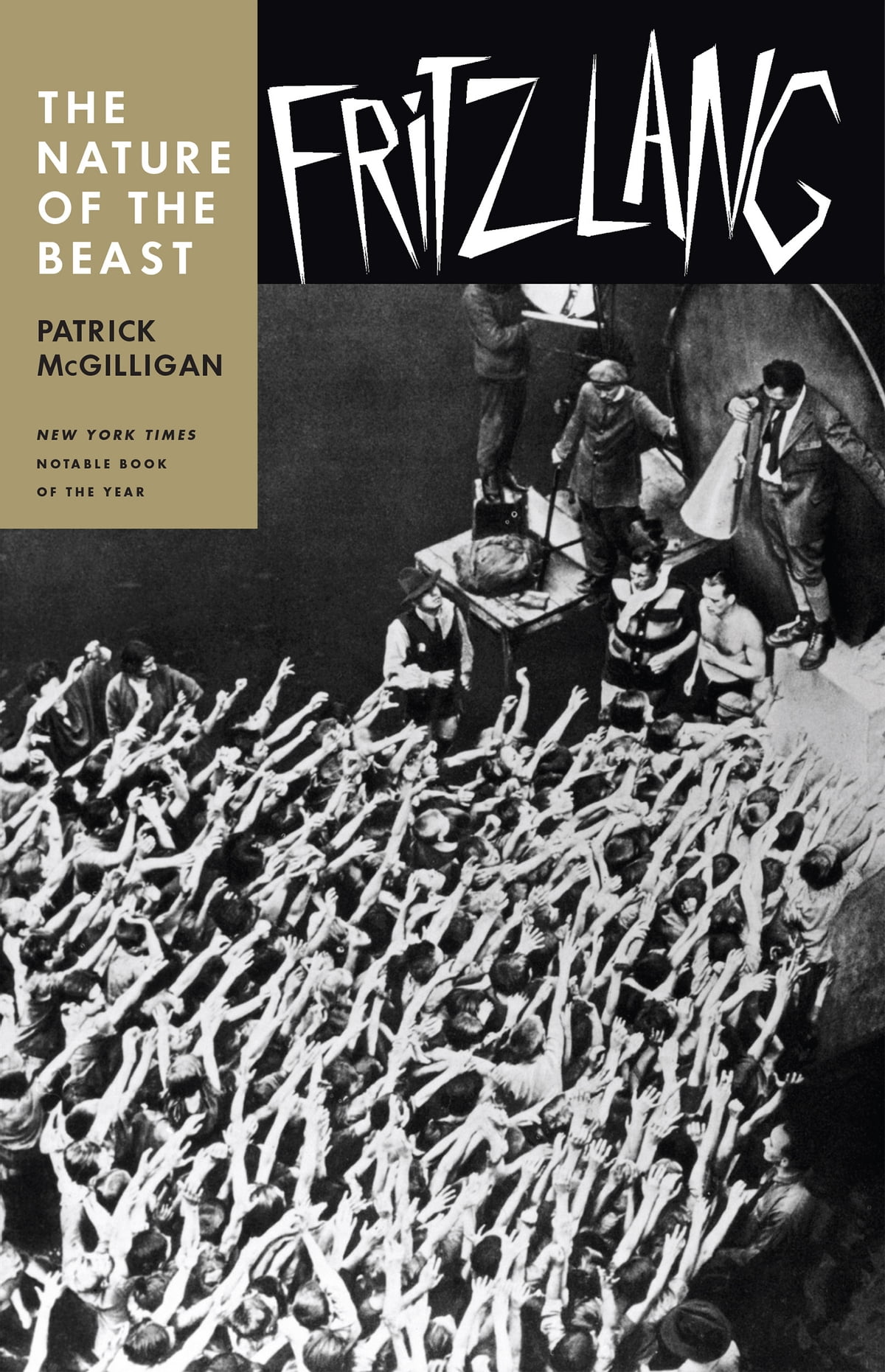 In 1997, St. Martin's Griffin Press published Fritz Lang: The Nature of the Beast to widespread critical acclaim. Now, after several years of remaining out of print, the University of Minnesota Press has released a beautiful new paperback edition of the biography which Stanley Kauffmann called a "permanent resource" upon its initial release. Indeed, Patrick McGilligan's nearly 500-page treatment of the elusive, demonstrative German director seemingly spares no detail, chronicling Lang's entire life with a precision that transcends merely ticking off facts in chronological fashion and, more interestingly, revels in the director's off-screen faults just as frequently as he applauds the on-screen brilliance. Such jarring juxtaposition is epitomized by the books epigraph, spoken by Lang himself: "My private life has nothing to do with my films." McGilligan looks to test this claim throughout, detailing the life of a man dedicated to artistic integrity and meticulous detail while working, yet also capable of rampant adultery, giving numerous tongue-lashings to cast and crew, and, even, murder.
The final possibility is contained in the book's most startling chapter; in 1921, Lisa Rosenthal, Lang's wife, died from a single gunshot wound. According to Lang and Thea von Harbou (Lang's writing partner and soon-to-be wife), Rosenthal surprised the pair while having sex in Lang's office. Then, she went into the bathroom and shot herself. However, editor Hans Feld and cinematographer Karl Freund believed something far worse: that Lang had shot Rosenthal, incidental or not, and refused to take any blame for it. McGilligan treats this debate somewhat objectively, though his explanation of logical inconsistencies with Lang's story suggests, like Feld and Freund, that there remains a reasonable doubt. With this passage, one must remember McGilligan's opening words, that "Fritz Lang lived his life with the glinted eyes of a maniac." These tensions drive McGilligan's prose just as strongly as facts: the possibility that he might be discussing the films of a murderer.
McGilligan emphasizes such uncertainties and undercuts them in equal measure by offering countless interviews with casts, crews, and friends that describe the director's fervid, even abusive on-set manner, yet parallels these stories with Lang's raconteur demeanor and exceedingly specific facts about Lang's social life, such as Lang's insistence that "a properly made martini was made with Tanqueray gin—exceptionally dry, perfectly chilled, with just a small olive." Whether martinis or murder, McGilligan's proclivity for synthesizing deftly rendered details is convincing, if not towering, in its subtleties.
Perhaps the weakest points of the biography are McGilligan's basic treatment of the films proper, which receive little by way of his own analysis, instead framing each film's initial critical reception. More amusing are Lang's own responses to critics and audiences, which range from diplomatic ("If I don't accept a bad critique, I can't accept a good one either") to cheeky (when asked about Beyond a Reasonable Doubt, Lang said: "I hate it, but it was a great success. I don't know why"). Such responses to outside forces speak to McGilligan's overall contention that Lang had a brilliant career marred by "unhappiness, obstacles, setbacks, and disasters." For McGilligan, the only true happiness Lang achieved was in his art, as his distant, promiscuous behaviors elsewhere only beget regret.
Of course, there's the matter of Lang having to flee Nazi-occupied Germany and leaving Von Harbou behind because she was "an ardent Nazi." Although Lang refused participation in the German film industry once Joseph Goebbels made such an interest explicit, Lang's filmmaking in Hollywood would remain consistent; McGilligan writes that Lang liked to "bleed" his actors, most notably on the high-stakes production of Metropolis, and would often became contentious on set. Lang would say in the 1960s that he disliked Metropolis because it lacked a political mindedness—that the problem was social, not moral, a point which Lang realized not too long after Metropolis with Fury, his first (and, perhaps, best) American film, made for MGM. McGilligan explains Lang's taste for "taking long automobile trips" with the same interest that he explains Lang's introduction (and interest) to the horrors of American slavery and how Fury was initially intended to feature a black protagonist. The possibilities of American past and present appear to have interested Lang considerably—to the extent that he would never leave, remaining until his death in 1976.
McGilligan gives much time to Lang's relationships with actresses, whether strictly professional in the case of Sylvia Sidney, who was the only one to come to Lang's defense and agreed to make another film with him following his tyrannical behavior on Fury, or Lang's affair with Joan Bennett, which allegedly happened right under producer Walter Wanger's nose (Wanger was married to Bennett at the time). Priceless anecdotes abound here, such as Edward G. Robinson recounting of how "obsessed" Lang became on the set of Scarlet Street in his attempt to light Bennett in just the right manner. Or, how Marlene Dietrich would later say that, of all the directors she worked with, that "Fritz Lang was the director I detested most."
Finally, McGilligan ends with this question: Was Lang redeemed by his films? Redemption, for Lang, ultimately came by way of reaching out to those he had either angered or treated poorly in the past. Particularly noteworthy is Lang's admission that "I miss talking to Peter [Lorre]," though McGilligan is quick to point out that, when Lorre was alive, Lang rarely reached out to him. The pangs of sadness exuded by Lang later in his life found outlets in other filmmakers, such as his role in Jean-Luc Godard's Contempt or a meeting with Luis Buñuel while Lang was in poor health. Yet, beyond these noteworthy moments and encounters, McGilligan digs deeper into Lang's mortality, finding a man whose claim about himself—that his private life has nothing to do with his films—could only be true if he hadn't been so helplessly and inextricably tied to the very people who made his films redemptive in the first place.
Patrick McGilligan's Fritz Lang: The Nature of the Beast is available now from the University of Minnesota Press.
If you can, please consider supporting Slant Magazine.
Since 2001, we've brought you uncompromising, candid takes on the world of film, music, television, video games, theater, and more. Independently owned and operated publications like
Slant
have been hit hard in recent years, but we're committed to keeping our content free and accessible—meaning no paywalls or fees.
If you like what we do, please consider subscribing to our
Patreon
or making a
donation
.