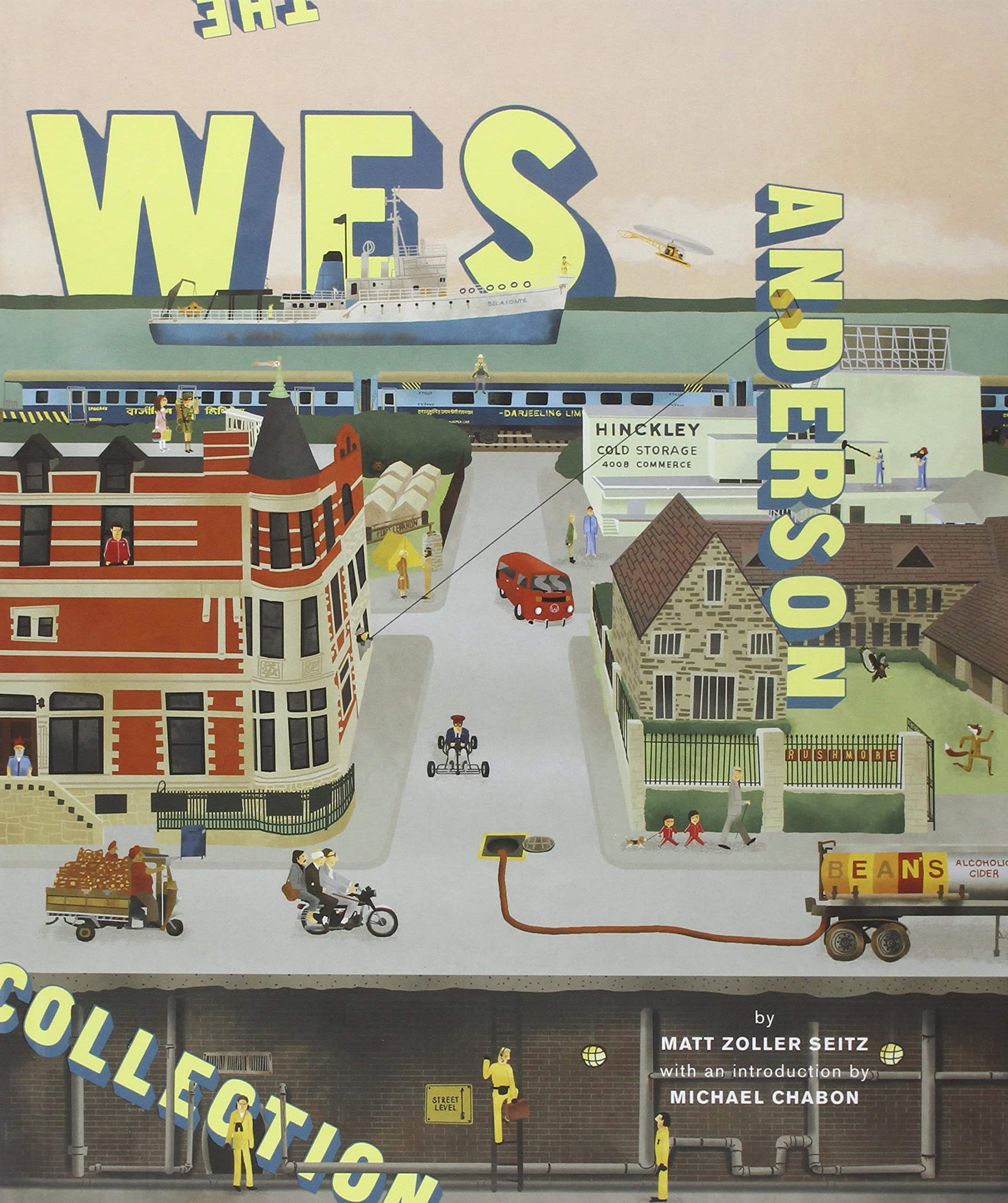 Reading and flipping through The Wes Anderson Collection, which is one of the most purely beautiful films books to be released in recent memory, one is immediately struck by the rightness of the subject/author pairing of director Wes Anderson with critic and House Next Door founder Matt Zoller Seitz. Both have misleadingly delicate sensibilities as artists, as they both produce work that's characterized by a guiding benevolence that's bracing, but dangerously prone to distracting the inattentive eye away from the underlying toughness of their respective worldviews. In Anderson's films, as well as Seitz's writing, human life is a great bruising, relentless, terrifying entity, and all the more precious for it.
The Wes Anderson Collection is organized in a fashion that's as rigorously and deceptively straightforward as either artist's work. A poignant introduction by author Michael Chabon kicks things off, with Seitz then proceeding to address each of Anderson's seven films in chronological order. Each film merits its own section of the book, all of which are more or less of equal length, and each of those sections opens with an essay by Seitz that follows with a long interview in which he and Anderson discuss the director's working methods as well as a few tellingly stray personal anecdotes that provide social and practical context. Interspersed throughout is an exhaustive collection of pictures, footnotes, annotations, asides, illustrations, and storyboards that collectively capture the intricate personal obsessiveness of the world as offered in Anderson's films.
Though they rarely say this directly, Seitz and Anderson have clearly intended this book as the first round in what will probably amount to a prolonged effort to combat the notion that Anderson's films are anal-retentive exercises in set design that almost offensively ignore the life as actually lived by everyday folks cornered by recognizably quotidian issues of keeping a job, paying rent, etc. At one point in the Rushmore section, Seitz works his way up to directly announcing what's always struck me as Anderson's great theme: the impossibility of controlling life, which doesn't lend itself to any sense of containment, even as offered by the most uncomfortable works of art, which ultimately add up to silly diversions meant to help us get through life rather than truly explain it—a notion Chabon addresses in his intro. Anderson, as is his wont, sort of half-agrees, probably subtly allowing that Seitz might be on to something.
As the personal essays confirm, Seitz is clearly a huge admirer of Anderson's films, and he has unapologetically personally digested them in a fashion that's generally frowned upon in circles that seem to regard criticism as an unimpeachably holy realm (talk about detached from life as actually lived). So it stands to reason that Seitz's talks with Anderson aren't contentious or challenging in a conventionally "hard-hitting" sense. In tone, The West Anderson Collection undeniably resembles Cameron Crowe's Conversations with Wilder, a book that can be legitimately accused of sycophancy. Crowe's book was passionate and engaging, but he didn't challenge the long-established persona that director Billy Wilder was determined to offer. Seitz accomplishes something trickier: He coaxes revealing and, at times, perception-altering sentiments out of Anderson by pointedly playing right into his persona of the wounded naïf intellectual, thus revealing a fuller portrait of a sensitive gifted man who's putting far more into his films than some are willing to concede.
With this technique, Seitz displays an understanding of yet another of Anderson's great subtleties as a director: All of his films feature moments in which characters are miraculously afforded the cleansing ability to cut through all of their carefully erected emotional subterfuge and say what they actually mean. (The most startling example of this tendency can be found in The Darjeeling Limited, Anderson's best film, in the roundabout moment when the Owen Wilson character finally confesses that his motorcycle accident was a suicide attempt.) Seitz extends Anderson that same authorial courtesy: The Wes Anderson Collection elaborates on America's most distinctive and misunderstood contemporary filmmaker while preserving a sense of mystery about him that reflects an understanding of the existential mystery of everyone, which is yet another Anderson theme. There is the suggestion of worlds within worlds within dreams within this fabulous book.
Matt Zoller Seitz's The Wes Anderson Collection is now available from Harry N. Abrams; to purchase it, click here.
If you can, please consider supporting Slant Magazine.
Since 2001, we've brought you uncompromising, candid takes on the world of film, music, television, video games, theater, and more. Independently owned and operated publications like
Slant
have been hit hard in recent years, but we're committed to keeping our content free and accessible—meaning no paywalls or fees.
If you like what we do, please consider subscribing to our
Patreon
or making a
donation
.