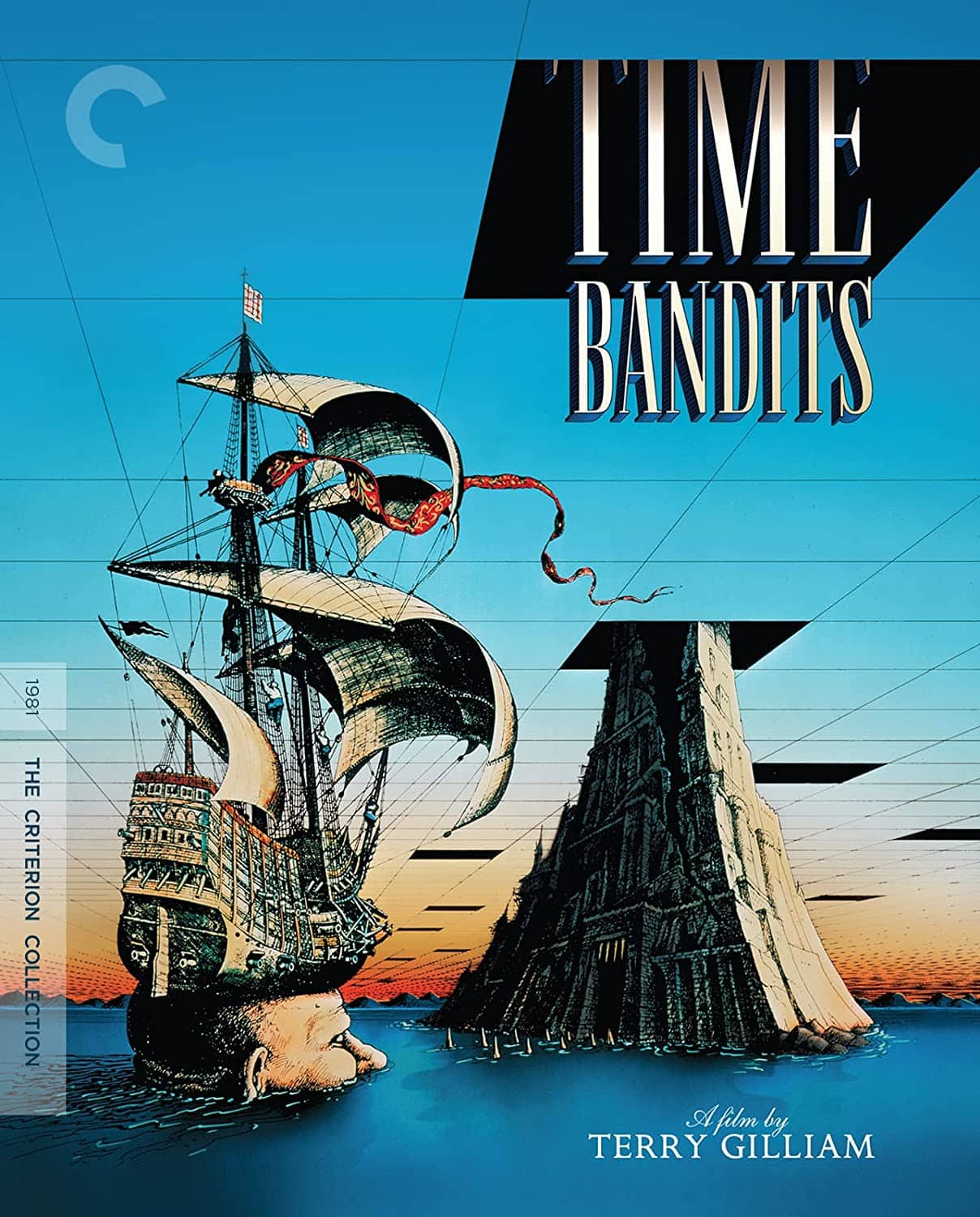 The satire that would pervade Terry Gilliam's subsequent Brazil is largely confined to the first few minutes of 1981's Time Bandits. The film opens in a modern, English household where a boy, Kevin (Craig Warnock), pores over a book on ancient Greek history while his parents (David Daker and Sheila Fearn) both watch and read advertisements, discussing the relative merits of their various gadgets and appliances compared to those of their neighbors. The living room is lit with harsh artificial light and decorated like a showroom, a place designed as a boast, not to be lived in. Only Kevin's room, naturally lit via a window and adorned with self-taken photographs and childlike drawings, betrays any humanity.
Soon, the cozy retreat of Kevin's room is invaded, though not by his parents, but by a medieval knight on horseback, and then a sextet of time-traveling dwarves who recruit the boy into their misadventures of hopping around time to rob famous historical and mythic figures. Like any good children's adventure story, the setup is brief, not particularly sensible, and largely irrelevant to the trek to come. Here, it takes an avid reader and historically minded child and lets him visit the times he fantasizes about, even if it's just to nick some spoons from Napoleon.
Warnock is winsome throughout, innocent without being obnoxiously precious, but the most engaging performances in Time Bandits belong to the heavy-hitting talent culled to portray the larger-than-life characters who the bandits meet. John Cleese plays Robin Hood like a dimwit politician, emptily shaking hands and marveling "Jolly good!" before suddenly stripping his lulled new acquaintances of their possessions. Shelley Duvall and Michael Palin play a repressed English couple who, in one of the film's sliest jokes, suggest that such a stereotype can exist across the ages. Sean Connery turns in a surprisingly poignant turn as Agamemnon, who takes in Kevin with a good-natured paternalism that intoxicates the boy, while Ian Holm steals the film as an intimidating yet insecure Napoleon, a man who's conquered a continent, but can only think about his height. Holm's gleeful appreciation of a Punch and Judy show, or his drunken listing of great world leaders who were also short, are the film's comic highlights.
But the lasting draw of the film is its exceptional aesthetic. Gilliam keeps his camera low in a child's perspective, and wide-angle lenses only exacerbate the magnified sense of scale that everything has. Minutely detailed miniature work makes epic set pieces of an ogre's ship, or the labyrinthine chasm that's the fortress of Evil (David Warner). That the film only cost $5 million is scarcely comprehensible given how massive it looks, but Gilliam doesn't simply work big for the sake of it. The tricks of perspective first illustrate, then corrupt, the wonder that young adventure stories are meant to impart, initially enrapturing Kevin with new realms to explore before swallowing him whole to confront the boy with his basic powerlessness.
It's here, then, that Gilliam stakes one of the key principles of his filmography, the notion that fairy tales must regain the sense of danger that's been erased from them by modern entertainment makers who treat their audiences, regardless of age or maturity, with kid gloves. Even the coda viciously refuses to play by convention, denying the story a resolution back in the normal present and abandoning Kevin to his own devices. That conclusion, which ends with a shot of the film's god figure (Ralph Richardson), hammers home an especially dark moral: that while Time Bandits has an antagonist literally named Evil, its true villain may be the deity who willfully, inquisitively created that figure in the first place.
Image/Sound
The Criterion Collection's already-strong 2014 Blu-ray was sourced from a 2K master, but this UHD disc comes from a brand new 4K master, supervised by Terry Gilliam, that's further enhanced by Dolby Vision. The result is a significant video upgrade that brings out even more of the film's vibrant colors and improves even the handful of inconsistent visual flickers on the Blu-ray that at the time seemed endemic to Time Bandits. Fine detail and black levels are also deeper and bring out more striking contrasts between objects. The audio track is the same 2.0 stereo from the Blu-ray, a well-balanced and deep mix that keeps all elements clear.
Extras
Criterion carries over all the extras from its earlier Blu-ray, including a 2001 composite commentary track. Gilliam is front and center, but the track branches out to gather thoughts from co-writer and actor Michael Palin and actors Craig Warnock, John Cleese, and David Warner. The sudden transitions between speakers result in a certain erraticism, but Gilliam especially reveals a great deal of information about the film's themes and making.
In a clip from Tom Snyder's Tomorrow show from 1981, Shelley Duvall briefly discusses the film, while a program on the film's art direction features fascinating insights from production designer Milly Burns and costume designer James Acheson. There are also still photographs, a trailer, and a booklet containing a loving essay by David Sterritt, but the best extra on this release is by far the captivating and relaxed 80-minute conversation between Gilliam and film scholar Peter von Bagh that was recorded at the 1998 Midnight Sun Film Festival. It's a far-ranging conversation that trawls through Gilliam's personal and professional life to that point, and it's all the more engaging for Gilliam keeping his customary irascibility in check.
Overall
Criterion gives Terry Gilliam's dark children's tale a jolly good UHD upgrade.
Score:
Cast:
John Cleese, Sean Connery, Shelley Duvall, Katherine Helmond, Ian Holm, Michael Palin, Ralph Richardson, Peter Vaughan, David Warner, David Rappaport, Kenny Baker, Malcolm Dixon, Mike Edmonds, Jack Purvis, Tiny Ross, Craig Warnock
Director:
Terry Gilliam
Screenwriter:
Terry Gilliam, Michael Palin
Distributor:
The Criterion Collection
Running Time:
116 min
Rating:
PG
Year:
1981
Buy:
Video
If you can, please consider supporting Slant Magazine.
Since 2001, we've brought you uncompromising, candid takes on the world of film, music, television, video games, theater, and more. Independently owned and operated publications like
Slant
have been hit hard in recent years, but we're committed to keeping our content free and accessible—meaning no paywalls or fees.
If you like what we do, please consider subscribing to our
Patreon
or making a
donation
.