Franz Kafka's The Trial seems straightforward enough as you read it, and yet the words don't quite seem to take you anywhere. There's an effect in the novel of dense nothingness: Kafka's brilliance was for a pared-down prose with complex resonances that deliberately strand the reader. In a 1998 English translation issued by Schocken Books Inc., the translator in his preface discusses the thorniness of recreating in English from German how the word "assault" is used in various tenses to link the protagonist's slander, his arrest, and his relationship to a typist. One could spend years attempting to parse the bottomless intricacies of The Trial, and people have. Kafka achieved a prose that deconstructs the convoluted legalese that societies adapt in an effort to divorce situations from common sense and decency via labyrinths of language, and thus controlling the populace.
Orson Welles is a counterintuitive fit for The Trial, then, as its insidiously plain poetry is at odds with his bold and voracious lyricism as a filmmaker. Kafka spent years honing sentences, and The Trial was first published in 1925 posthumously. Welles, on the other hand, has been described as being remarkably adaptable, reshaping scenes on the fly as circumstances demanded and often improving them in the process, which film scholar Joseph McBride discusses in his audio commentary for this Criterion Collection edition of Welles's adaptation.
Unsurprisingly, Welles doesn't efface his artistic personality for The Trial. In fact, his 1962 film is among his most sensual and confident works, an astonishing display of Welles's insatiable formal appetite. And yet, Kafka isn't lost in Welles's carnival, but subsumed into a cultural fabric to allow for all that Kafka anticipated. Namely, the use of legalese toward legitimizing the exertions of totalitarian regimes. Welles folds the blacklist and the Holocaust into Kafka's prescient allegory, as well as his own adventures as an artist for hire in Europe.
The story is still about the efforts of Josef K. (Anthony Perkins) to free himself from the grip of a trial that's to be held for unspecified crimes. Many scenes from the book make it to the screen, though the order and emphases are often different. Welles turns the faceless cogs hounding K. into G-men out of a noir, a device that allows the filmmaker to rib on cinematic conventions while alluding to his own cinematic prison: his own blacklist from Hollywood in the 1940s, and constant struggle with the industry since the financial disappointment of Citizen Kane.
Welles turns the Advocate, an attorney vaguely advising K., into a darkly funny riff on his own legend, playing him himself as a massive king of no kingdom who speaks grandiloquently about, well, the meanings blur. With Welles, poetry is the meaning, and the bass of his voice eclipses the effect of whatever he's actually saying—a familiar Wellesian irony that differs from Kafka's irony while serving it. And that's how Welles connects to Kafka's material: They both circle the notion of there being no "there" there, yet Welles renders futility into a party.
Throughout, Welles also turns up the sex. Indeed, The Trial was Welles's horniest film to date at the time of its release, though it would be eclipsed by The Immortal Story and The Other Side of the Wind, both of which seem to be swimming around in this production years before their own emerging. Every woman in The Trial, played by a murderer's row of European legends, is trying to get into K.'s pants. Most vividly, there's Romy Schneider's Leni, who works for the Advocate, her appetite suppressed by his overwhelming and embittered power. Welles uses sex to symbolize how systemic corruption divorces people from themselves.
As in the novel, everyone here is relentlessly aware of being surveyed, guarding every impulse that could distinguish them—a sensation of paranoia that's physicalized by the sudden transition between settings and appearances of people. Every building, brought to life via a variety of expressionist techniques, seems to be connected to one another, giving the film a compact, claustrophobic power that's very much in sync with Kafka's novel.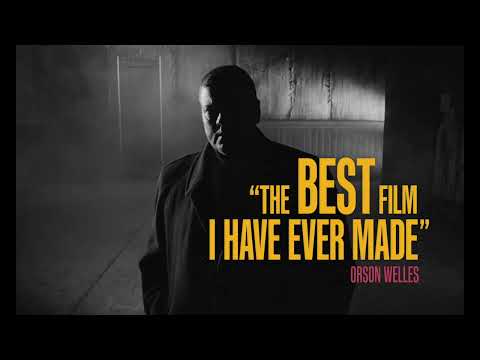 Those transitions are among Welles's greatest accomplishments across the film, as they're terrifyingly fluid, rendered in brief, jarring movement that either alludes to or directly expresses violence. Balling on a budget, as always, Welles ingeniously uses moving lights to suggest chaos and deep shadows to unify sets and afford them grandeur and scope.
As K. wanders free-associatively from one expressionistic setting to another, with women casting themselves at him before self-correcting, Welles springs images that abound in an irony that's typical of his work: They're intensely sexual, and erotic, while communicating sexual repression. Alfred Hitchcock's images have a similar double meaning. For these two artists, the filmmaking is the sex, the prismatic shadows and febrile close-ups of hands and faces both fulfilling a drive and communicating its dwarfing in the literal world.
If Welles preserves the theme of the novel, that little of what Josef K. does matters, and particularly the suffocating impression of performance and surveillance, he departs radically from the source material in terms of tone and style. Kafka's The Trial is at once brilliant and unpleasant, expressing the petty tyrannies of our lives so viscerally that it feels like tyranny itself. On the other hand, Welles's film is an aural-visual party, a catalogue of a number of the most amazing images and sequences of his career, as well as a master's playing of "the hits."
When K. and Leni contemplate sex on the attorney's mountains of overturned books, it's as if Kane's warehouse has been recontextualized for a masturbatory fantasy. When K. encounters Leni among a hall of mirrors, we're back in the mirrored hallways of Citizen Kane and The Lady from Shanghai, fantasy worlds that project the characters' longings to us and back themselves. Many other references abound, and one can't overemphasize the power of those compositions: Welles doubles down on the expressionistic sets of his early work, fashioning cityscapes of prismatic light and shadow, of brutalist symmetrical through lines that tickle the eye while underscoring a society of nightmares that exists to feed our neuroses. Every set is its own world, and yet they belong together within a wail of anguish, though tongue is held in ghoulish cheek.
Tripping the light orgiastic through a master's prose, Welles utilizes his ongoing artistic repression as the fuel for his artistic expression, and at the end he even rebels against Kafka, redeeming K. and Kafka from submissive lambs to enraged dissenters. Under Welles's hot and impassioned lens, K. goes out with a bang rather than a whimper.
Image/Sound
Criterion makes StudioCanal's recent 4K transfer available to U.S. audiences for the first time, and it may stun even Orson Welles's acolytes. The visual marvels of The Trial were apparent even in faded film prints, but the depth and scope of the imagery here is a revelation. Sharp whites and rich, deep blacks emphasize the sophistication of the film's chiaroscuro lighting, and the crisp clarity of the images allow one to pour over the intricacy of compositions that can rival those of the masterworks of the silent era. Given the famously patchwork nature of Welles's audio tracks, the English monaural track here is particularly impressive, avoiding the tinny quality of certain dubbed mixes to offer an immersive and robustly detailed soundstage.
Extras
The "get" here is a new audio commentary by film scholar Joseph McBride, who knew Welles personally and has written several books about him. As he has in other commentaries, such as his contribution to the KL Studio Classics release of Billy Wilder's The Lost Weekend a few years earlier, McBride mixes personal reflection and insight in a manner that's instructive and empathetic. Most valuable is how McBride weaves Welles's life, particularly his difficulties with Hollywood and blacklisting, into the making of The Trial.
Similar stories also surface in a Q&A session with Welles after a screening of The Trial at the University of Southern California in 1981, which he was intending to use as the backbone of the never-completed Filming The Trial. That 83-minute session is included here, and it's striking for Welles's vulnerability and for his appreciation and engagement of an audience that takes his work seriously. Welles repays the audience's compliment by offering remarks that are occasionally profound, such as his reason for using mirrors so often in his films.
"Orson Welles, Architect of Light" is an archive featurette with DP Edmund Richard that elaborates further on the filmmaker's working methods, while the less essential but amusing "Vive le cinema!" finds the maestro playing his rogue renaissance-man credentials up the hilt while flirting with friend and frequent collaborator Jeanne Moreau over lunch. Author Jonathan Lethem's essay, featured in an illustrated leaflet, rounds out the package with an astute appraisal of Welles as being far more perceptive of Kafka's novel than many allowed at the time.
Overall
A superb transfer, stocked reasonably well with supplements, offers a boon to the cultural rehabilitation of one of Orson Welles's most neglected and misunderstood masterworks.
Score:
Cast:
Anthony Perkins, Jeanne Moreau, Elsa Martinelli, Suzanne Flon, Madeleine Robinson, Romy Schneider, Orson Welles, Max Buchsbaum, Arnoldo Foà, Jess Hahn, Thomas Holtzmann, Fernand Ledoux, Wolfgang Reichmann, Akim Tamiroff, Maurice Teynac, Max Haufler, Paola Mori, William Chappell, Michael Lonsdale
Director:
Orson Welles
Screenwriter:
Orson Welles
Distributor:
The Criterion Collection
Running Time:
118 min
Rating:
NR
Year:
1962
Release Date:
September 19, 2023
Buy:
Video
If you can, please consider supporting Slant Magazine.
Since 2001, we've brought you uncompromising, candid takes on the world of film, music, television, video games, theater, and more. Independently owned and operated publications like
Slant
have been hit hard in recent years, but we're committed to keeping our content free and accessible—meaning no paywalls or fees.
If you like what we do, please consider subscribing to our
Patreon
or making a
donation
.