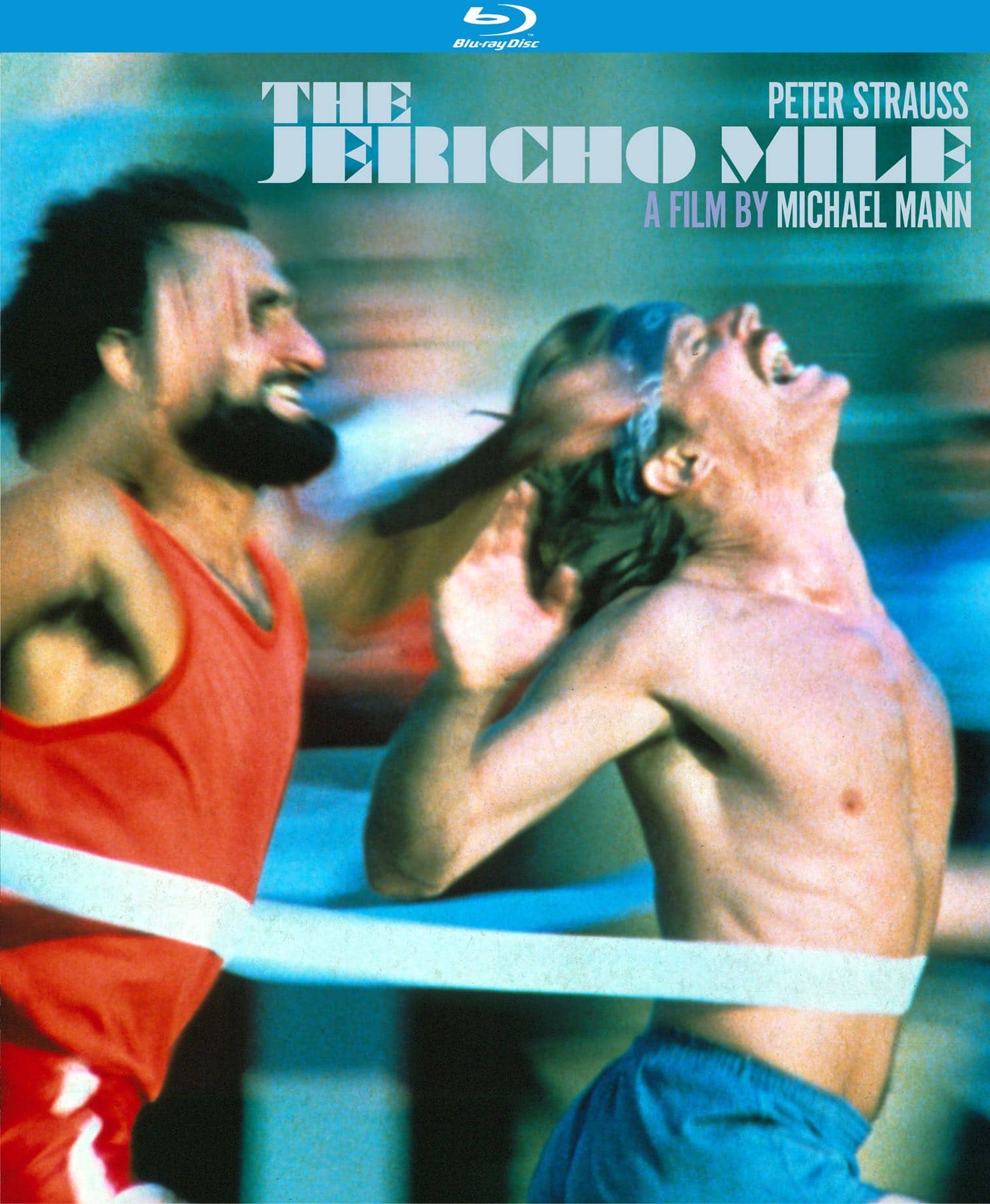 Michael Mann's innate sense of style is evident from the start of The Jericho Mile, a 1979 TV movie set and shot in Folsom State Prison. The camera moves in wide motions, circling around inmates as they work out in the prison yard. It's a miniature study of how men deprived of all other avenues of recreation focus on maintaining their bodies. At the same time, Mann vividly explores other aspects of prison life. Close-ups capture cash and contraband sneaking around people's backs under the watching eyes of armed guards in prison towers, while the camera also picks up on the casual segregation of inmates—groups of men staring at each other with obvious wariness.
This opening's tacit emphasis on prison race relations provides such a clear portrait of segregation among the inmates that the subsequent view of the symbiotic friendship between two cell neighbors, the white Larry Murphy (Peter Strauss) and the black R.C. Stiles (Richard Lawson), is immediately jarring. The taciturn Murphy and wisecracking Stiles make for good foils, each one helping to diminish the other's flaws as to help them achieve a measure of comfort—and much to the disapproval of the prison's gangs.
Murphy and Stiles's storylines follow their respective attempts to cope with their sentences. Stiles thinks chiefly of his wife and newborn child, going so far as to contact a white gang in order to move up his conjugal visit so that he might see his new baby. The gang's leader, Dr. D (Brian Dennehy), agrees, only to try and force Stiles into becoming a contraband smuggler; Stiles's outrage gets the guards' attention, blowing D's plan and placing Stiles in the white gang's crosshairs. Meanwhile, Larry's exercise-yard sprints gradually attract the attentions of prison staff, who realize that he runs so fast that he could qualify for the Olympics, prompting a PR push by the warden (Billy Green Bush) to get the inmate into the games. This necessitates corralling the other prisoners to build an Olympic-standard running track, a feat that itself runs into pushback from the prison's gangs, who block the track's construction as punishment for Murphy's perceived transgressions against them.
Mann was originally attached to the project only as a writer, and his teleplay—co-written with Patrick J. Nolan—offers an early insight into the level of research he would bring to his later projects. Much of The Jericho Mile's dialogue consists of inmate jargon delivered in rapid-fire bursts, anticipating the detailed sense of language that would bring such realism to Mann's big-budget films. The filmmaker's conception of Murphy likewise serves as a prototype of the defining Mann archetype: the hardened professional whose self-imposed isolation is exceeded only by his sense of inchoate longing. Talking to a prison counselor (Geoffrey Lewis), Murphy insists, "I'm doing my time, I'm not doing anybody else's." It's a line that summarizes the ethos of Mann characters all the way through to the protagonist of Blackhat.
But as solid as The Jericho Mile's teleplay may be, it's Mann's direction that especially dazzles. The filmmaker's style here is concise, but it bears the same keen eye for movement and mood that he's brought to his theatrical productions over the years. Scenes of Murphy running around the yard circle so fast after the man that all of the inmates watching him turn into blurs before our eyes. Scenes of prison violence manage to be visceral while remaining tasteful enough to meet network standards. When the white gang sets a trap for Stiles, Mann choreographs the action to emphasize the tension of the lead-up to violence rather than its execution, intercutting between Stiles approaching the gang and close-ups of the white-power tattoos.
Yet perhaps the best display of Mann's visual gifts lies in the unexpected poignancy of certain quieter moments. Early in The Jericho Mile, a long shot of Stiles and Murphy's cells next to each other works to immediately and neatly delineate the two inmates' personalities and outlooks on life. Stiles, a proud new father, plasters his walls with photos of his wife and infant, a means for him to not lose sight of what's waiting for him outside of prison. Murphy, who comes from a shattered home, lives under considerably more spartan conditions, with nothing in his cell save for a sink pipe he regularly unscrews simply to make an ad-hoc pullup bar. Murphy's cold, impersonal surroundings undercut the intensity of his athletic training, bringing an unsettling insight into the emptiness at the heart of his ostensibly optimistic narrative.
Image/Sound
Kino's transfer emphasizes the harsh natural lighting of the film's exterior scenes without ever looking washed out. The drab, dusty prison yard and faded blues of prison uniforms are rendered with tactile clarity, and flesh tones are consistent throughout. Darker interior scenes boast strong black levels with no noticeable crushing artifacts. The soundtrack is also clean; dialogue is always crystal clear in the front of the mix while the frequent music cues are more evenly spread across the stereo channels.
Extras
An audio commentary with film historian Lee Gambin provides ample information about the film's production but is a bit dry on analysis. The disc also comes with the telefilm's original trailer.
Overall
A worthwhile curio in Michael Mann's filmography receives an excellent A/V transfer from Kino Lorber.
Score:
Cast:
Peter Strauss, Richard Lawson, Brian Dennehy, Geoffrey Lewis, Roger E. Mosley, Billy Green Bush, Burton Gilliam
Director:
Michael Mann
Screenwriter:
Michael Mann, Patrick J. Nolan
Distributor:
Kino Lorber
Running Time:
97 min
Rating:
NR
Year:
1979
Release Date:
July 3, 2018
Buy:
Video
If you can, please consider supporting Slant Magazine.
Since 2001, we've brought you uncompromising, candid takes on the world of film, music, television, video games, theater, and more. Independently owned and operated publications like
Slant
have been hit hard in recent years, but we're committed to keeping our content free and accessible—meaning no paywalls or fees.
If you like what we do, please consider subscribing to our
Patreon
or making a
donation
.