It doesn't feel like hyperbole to say that there's little separating Gunna's A Gift & a Curse from 2Pac's Me Against the World. Outside of a few notable historical differences, both albums find their creators defending their honor against a "world" (read: media apparatus) that allegedly longs for their downfall. They also equally embrace martyrdom narratives, where the rappers present themselves as utterly bewildered as to how anyone could take issue with their past actions, and that any animosity aimed their way stems from bitter jealousy.
On A Gift & a Curse, though, the only figure treated with more reverence than Gunna is Young Thug, whom the former may or may not have "snitched" on and who's spoken of here with an almost Christ-like holiness. Across the album's 15 tracks, Gunna's repeated line of defense against naysayers is that his unwavering love for Thug is proof that he could have never betrayed him. It's not the most convincing of arguments, but the Atlanta rapper understands that in the court of opinion, facts don't matter all that much.
The album's first section is filled with electric guitar-filled clap backs at Gunna's critics, while the back half embraces a softer-sounding instrumental palette and songs about redemption. "I made a few mistakes, but I'm still a star," he lithely admits on "Paybach," but what exactly any of those "mistakes" might be is anyone's guess. Elsewhere, this same level of vagueness undercuts the introspective "Bread & Butter," where Gunna employs a litany of ambiguous excuses for cooperating with the law: "Lawyers and the DA did some sneaky shit," he quickly muses.
Perhaps more notably, A Gift & a Curse finds Gunna operating with a bit more of a pep in his step, at least compared to his last few releases. Last year's big-budget DS4Ever further solidified his credentials when it came to crafting smooth hooks with some of the biggest names in modern hip-hop, but there was an undeniable complacency that was beginning to settle in.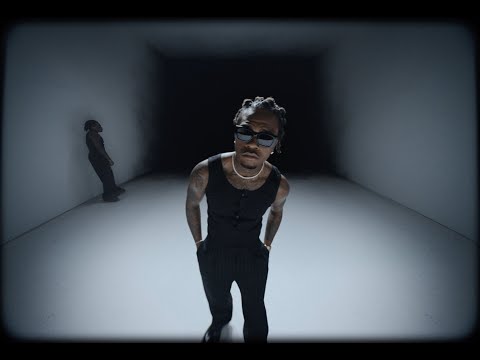 Now, with his dignity and commercial viability on the line, it feels like a fire has been lit under Gunna, resulting in some of the most laser-focused rapping of his career. The alluring "Back at It" and "Rodeo Dr"—the latter of which finds him claiming, with a sense of urgency seldom heard in his voice these days, that he's "been pullin' up pressin' these n*ggas who claimin' I ratted"—are rhetorical mini-masterclasses in verbal self-defense.
Remarkably absent from A Gift & a Curse are any guest features or even most of Gunna's most frequent producers, likely due to his usual collaborative go-tos having allegedly denounced him. Considering that many of Gunna's past projects have been largely defined by their star power, their total absence here results in a back-to-basics album with a healthy amount of breathing room, one that's able to showcase Gunna's own talents with an unusual amount of clarity.
The inebriating "FukUMean," which features a hypnotic interpolation of Sho Madjozi's "Huku" (specifically the South African rapper's "e-yeah" ad-lib weaved into the chorus and bridge), might just be the sleekest Gunna has sounded in a hot minute, and serves a nice reprieve from the album's prevailingly bleak operatics. Here and elsewhere on A Gift & a Curse, Gunna gives us more of himself than he ever has before, and even if much of the lyrical substance of the album is undermined in a few weeks' time, that in and of itself is worth celebrating.
Score:
Label:
300 Entertainment
Release Date:
June 16, 2023
Buy:
Amazon
If you can, please consider supporting Slant Magazine.
Since 2001, we've brought you uncompromising, candid takes on the world of film, music, television, video games, theater, and more. Independently owned and operated publications like
Slant
have been hit hard in recent years, but we're committed to keeping our content free and accessible—meaning no paywalls or fees.
If you like what we do, please consider subscribing to our
Patreon
or making a
donation
.