War movies largely condition us to look at warfare from a top-down perspective. Rarely do they keep us totally locked out of the commander's map room, the bunker where the top brass exposit backstory, outline goals, or lay out geography for the viewer. Both characters and audience tend to know what's at stake at all times. Not so in Elem Klimov's 1985 film Come and See, in which relentless bombings and frenetic camerawork shatter the Belarusian countryside into an incoherent, fabulistic geography, and the invading Germans appear to coalesce out of the fog on the horizon like menacing apparitions.
We experience the German invasion of Belarus through Flyora (Aleksey Kravchenko), a teenager who joins the local partisan militia after discovering a rifle buried in the sand. The early scene in which he departs from his mother and sisters presents a disconcerting, even alienating complex of emotions: the histrionic panic of his mother (Tatyana Shestakova), who alternately embraces and rails against him; the hardened indifference of the soldiers who've come to retrieve him; and the jejune oblviousness of Floyria himself, who mugs at his younger siblings to mock his mother's concerns. Eager to participate alongside the unit of considerably more weathered men, Flyora feels emasculated when he's forced to remain behind in the partisans' forest encampment with Glasha (Olga Mironova), a local girl implicitly attached to the militia unit because she's sleeping with its commander, Kosach (Liubomiras Laucevicius).
Glasha first takes on nymph-like qualities in Flyora's adolescent imagination, appearing in hazy close-ups that emphasize her blue eyes and the verdant wooded backdrop. This deceptive idyllic disintegrates, however, when the Germans bomb and storm the empty camp, kicking up clouds of dirt and smoke that never seem to fully leave the screen for the rest of Come and See's duration. The two teenagers flee, pushing through the muck of the now-fatal landscape, only to discover more horrors waiting for them back in Flyora's village.
The horrors lurking in the mists of a muggy Eastern European spring may not be what Carl von Clausewitz had in mind when he coined the phrase "the fog of war," but Klimov's masterpiece suggests a redefinition of the term, the evocative phrase signifying the incomprehensible terror of war rather than its tactical incalculables. Come and See's frames are often choked with this fog—watching the film, one almost expects to see condensation on the screen's surface—and Klimov fills the soundtrack with a kind of audio fog: the droning of bombers and surveillance planes, the whine of prolonged eardrum-ringing, an ambient and sparse score by Oleg Yanchenko. It's a cinematic simulacrum of the overwhelming, discombobulating sensory experience of war that would have an influence on virtually every war movie made after it.
And yet, in a crucial sense, there's hardly a more clear-sighted or realistic fiction film about World War II. Klimov refuses to sanitize or sentimentalize the conflict that in his native language is known as the Great Patriotic War. While fleeing back into the woods with Flyora, Glasha momentarily glimpses a heap of bodies, Flyora's family and neighbors, piled on the edge of the village where tendrils of smoke still waft from their chimneys. Despite the fleeting nature of her glance, the image sticks with the viewer, its horror reverberating throughout the film because Klimov doesn't give it redemptive or revelatory power. There's no transcendent truth, no noble human dignity to be dug up from the mass graves of the Holocaust.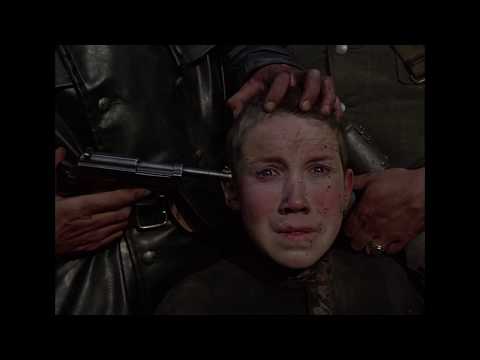 Florya and Glasha eventually separate, Flyora joining the surviving men to scour the countryside for food, only to find himself the survivor of a series of atrocities perpetrated by the Germans. A full third of the Nazis' innocent victims were killed in mass executions on the Eastern Front—both by specially assigned SS troops and the regular Wehrmacht (though the myth of a "clean Wehrmacht" lives on to this day). As the end titles of Come and See inform the audience, 628 Belarusian villages were extinguished in the Nazis' genocidal quest for Lebensraum, so-called "living space" for the German Volk. As wide-eyed witness to a portion of this monstrous deed, Flyora's face often fills the film's narrow 4:3 frame—scorched, bloodied, and sooty, trembling with horror at the inhumanity he's seen.
Like his forbears of Soviet montage, Klimov uses a cast stocked with nonprofessionals like Kravchenko, and he doesn't shirk from having them address the camera directly with their gaze. In Klimov's hands, as in Eisenstein's, such shots feel like a call to action, a demand to recognize the humanity at stake in the struggle against fascism. Klimov counterbalances his film's apocalyptic hopelessness with a righteous rage on behalf of the Holocaust's real victims. The film, whose original title was Kill Hitler, takes as its heart-shattering climax a hallucinatory montage of documentary footage that imagines a world without the Nazi leader.
Come and See bears comparison to Andrei Tarkovsky's Ivan's Childhood, which likewise narrates a young boy's conscription into the irregular Russian resistance to German invasion. But whereas Tarkovsky embellishes his vision of a war-torn fairy-tale forest in the direction of moody expressionism, Klimov goes surreal. Attempting to make off with a stolen cow across an open field—in order to feed starving survivors hidden in the woods—Flyoria is blindsided by a German machine-gun attack. Pink tracers dart across the fog-saturated frame, a dreamlike image at once unreal and deadly. Taking cover behind his felled cow, Flyoria awakes in the empty field, now absolutely still, with the mangled animal corpse as his pillow.
As an art form, surrealism was fascinated by the capacity for violence and disorder lurking in the psyche. Without betraying the real—by, in fact, remaining more faithful to it than most fictional remembrances of WWI have been—Come and See suggests that the war's horrors were the ultimate unassimilable experience of the shadowy depths of the human mind. For Klimov, the dreamscapes of war realized surrealism's oneiric brutality.
Score:
Cast:
Aleksey Kravchenko, Olga Mironova, Liubomiras Laucevicius, Vladas Bagdonas, Jüri Lumiste, Viktors Lorencs, Evgeniy Tilicheev
Director:
Elem Klimov
Screenwriter:
Ales Adamovich, Elem Klimov
Distributor:
Janus Films
Running Time:
142 min
Rating:
NR
Year:
1985
Buy:
Video
If you can, please consider supporting Slant Magazine.
Since 2001, we've brought you uncompromising, candid takes on the world of film, music, television, video games, theater, and more. Independently owned and operated publications like
Slant
have been hit hard in recent years, but we're committed to keeping our content free and accessible—meaning no paywalls or fees.
If you like what we do, please consider subscribing to our
Patreon
or making a
donation
.