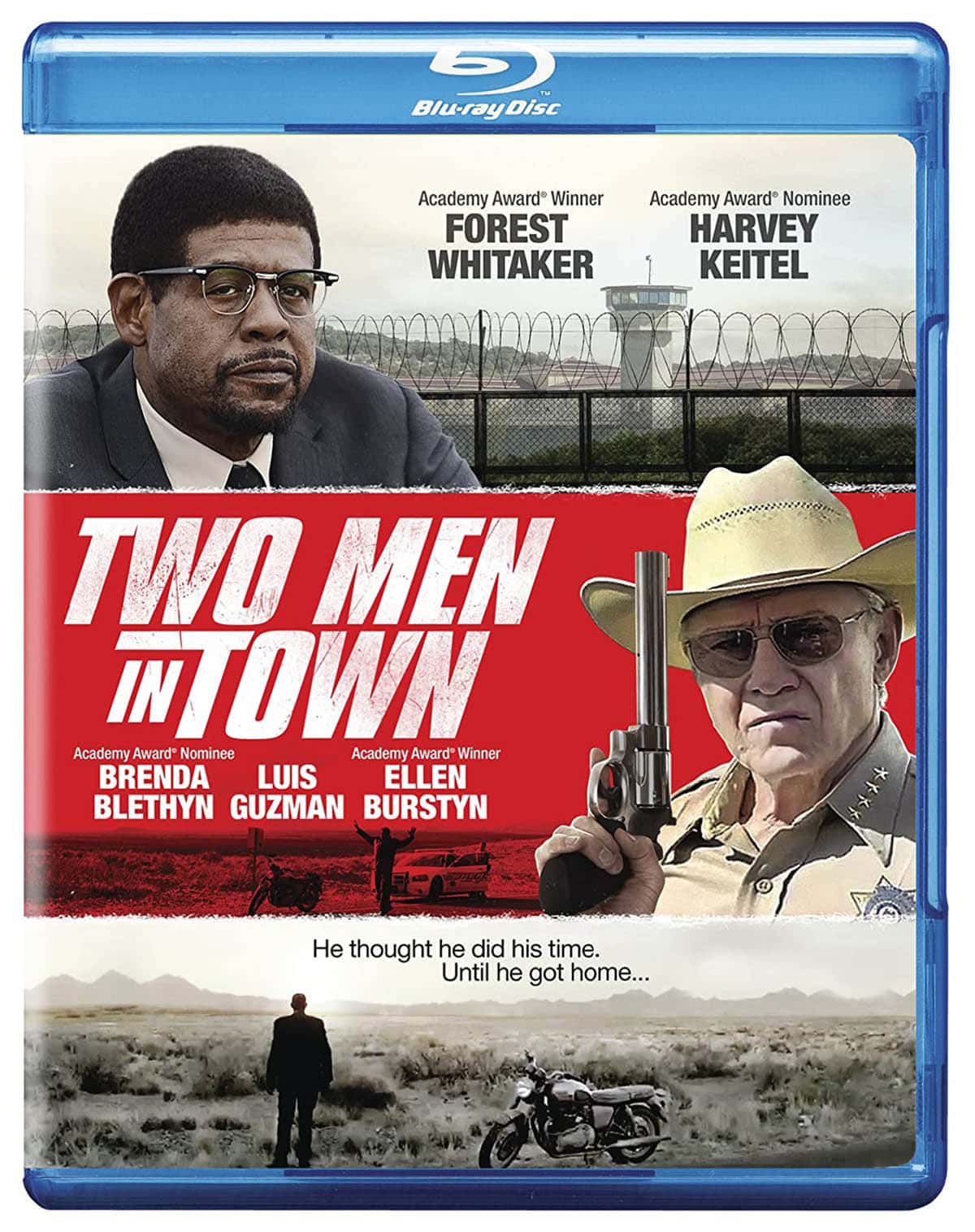 Rachid Bouchareb's Two Men in Town is a study of silence and landscapes. The film's characters usually speak less than one expects them to, and what they eventually say frequently serves as a quiet punchline that's understood to pitifully fail to encapsulate the emotions rolling under their stilted exteriors. When Bill Agati (Harvey Keitel), the aging, still-active sheriff of a New Mexico county, approaches William Garnett (Forest Whitaker), who was recently released from an 18-year stretch in prison for killing one of Agati's deputies, the two don't have the explosively masculine confrontation that one's primed to expect from even a self-consciously arty crime picture. Agati expresses his resentment of William directly, succinctly, and William responds in kind, and this pureness of expression fosters an unusual kind of suspense. Rather than anticipating how two enemies might say the unsayable, we're shown immediately what they say and are allowed to understand that these words are meaningless. Instead, the meaning resides in that void of those subsequent awkward moments in which the men drink one another in, trying to somehow take stock of the deadening energy of their respective emotional carriages.
In a later scene, William tells Teresa (Dolores Heredia), a woman he recently met, that he's been away most of his life and can't afford to waste any more time. He wants to build a family and have a variation of the typical middle-class arrangement, and he wants to build it with her. This subplot is under-tended, essentially playing as an ex-con's dream of an attractive, tolerant savior, but the silence with which Teresa greets William's proposition briefly transcends the contrivance. A tear rolling down her eye is allowed to beautifully illustrate how Teresa's story, as a Mexican immigrant trying to make a life in the United States, parallels William's. They're both resented by their present homeland, feeling adrift and alien, and this understanding informs their relationship with a desperation that undercuts wish-fulfillment.
There are other moments to savor as well, but Two Men in Town grows oppressively overdetermined. Bouchareb remakes José Giovanni's 1973 film of the same name into an opaquely self-pleased parable of the border hostilities that exist between the United States and Mexico, larding a promisingly elemental story of two men with obvious political talking points. Whenever the border is evoked, it's with studied subtlety. With the exception of a few of the scenes between William and Teresa, the border subtext and the revenge narrative rarely successfully cohabitate, existing instead in different dimensions, fostering within the film an unseemly "either/or" alternation of timely misery. These affectations are most glaring in the frequent shots of the punishing desert landscape, which include gorgeous but reductive images of men committing atrocious acts in unforgiving terrain that dwarves them, rendering them puny and insect-like. These images, which also incorporate the quotation of The Searchers that's apparently required of every contemporary western, never feel spontaneous or even particularly personal, especially when compared to the visionary formal qualities of the similarly themed Jauja. Two Men in Town is agonized, uneven, wonderfully performed by the superb cast, and ultimately understood as an act of inadvertent self-sabotage that strains for a "higher" global meaning at the expense of behavioral portraiture.
Image/Sound
The colors sing in this image transfer, particularly the various shades in the skylines. Background details, which are of paramount importance to a film this concerned with harsh desert landscapes, are memorably crisp, and the heat of the white lighting has been superbly rendered without any noticeable glare. Both soundtracks are understated yet nuanced. Note the minute rustling of footsteps or the sonic depth of a scene in a local club, for instance, or the various other sounds that are subtly accentuated to call one's attention to the characters' pregnant pauses.
Extras
Despite what the packaging says, "The Fence" is less concerned with the making of Two Men in Town than with the tensions that exist on the American/Mexican border. Taken on its own, the documentary contains chilling, memorable interview footage that offers context on the panic that causes some Americans to believe that they should bare as many arms as possible for the domestic war that's just up ahead. Most of the participants air opinions traditional to their respective political belief systems, though they occasionally surprise one with their willingness to empathize with other parties (particularly a gun-shop owner who ironically attempts to talk people out of buying guns). It's an interesting feature and a notable fashion with which to try something new for a Blu-ray supplement, but it's also a pompous attempt to opportunistically tether a genre film to contemporary geopolitics. Several TV spots are also included.
Overall
Evocative performances and sporadically astute direction enliven a film that's too often overstuffed with plodding, literal-minded humanism.
Score:
Cast:
Forest Whitaker, Harvey Keitel, Brenda Blethyn, Luis Guzmán, Ellen Burstyn, Dolores Heredia
Director:
Rachid Bouchareb
Screenwriter:
Olivier Lorelle, Yasmina Khadra, Rachid Bouchareb
Distributor:
Cohen Media Group
Running Time:
118 min
Rating:
R
Year:
2014
Release Date:
May 13, 2015
Buy:
Video
If you can, please consider supporting Slant Magazine.
Since 2001, we've brought you uncompromising, candid takes on the world of film, music, television, video games, theater, and more. Independently owned and operated publications like
Slant
have been hit hard in recent years, but we're committed to keeping our content free and accessible—meaning no paywalls or fees.
If you like what we do, please consider subscribing to our
Patreon
or making a
donation
.