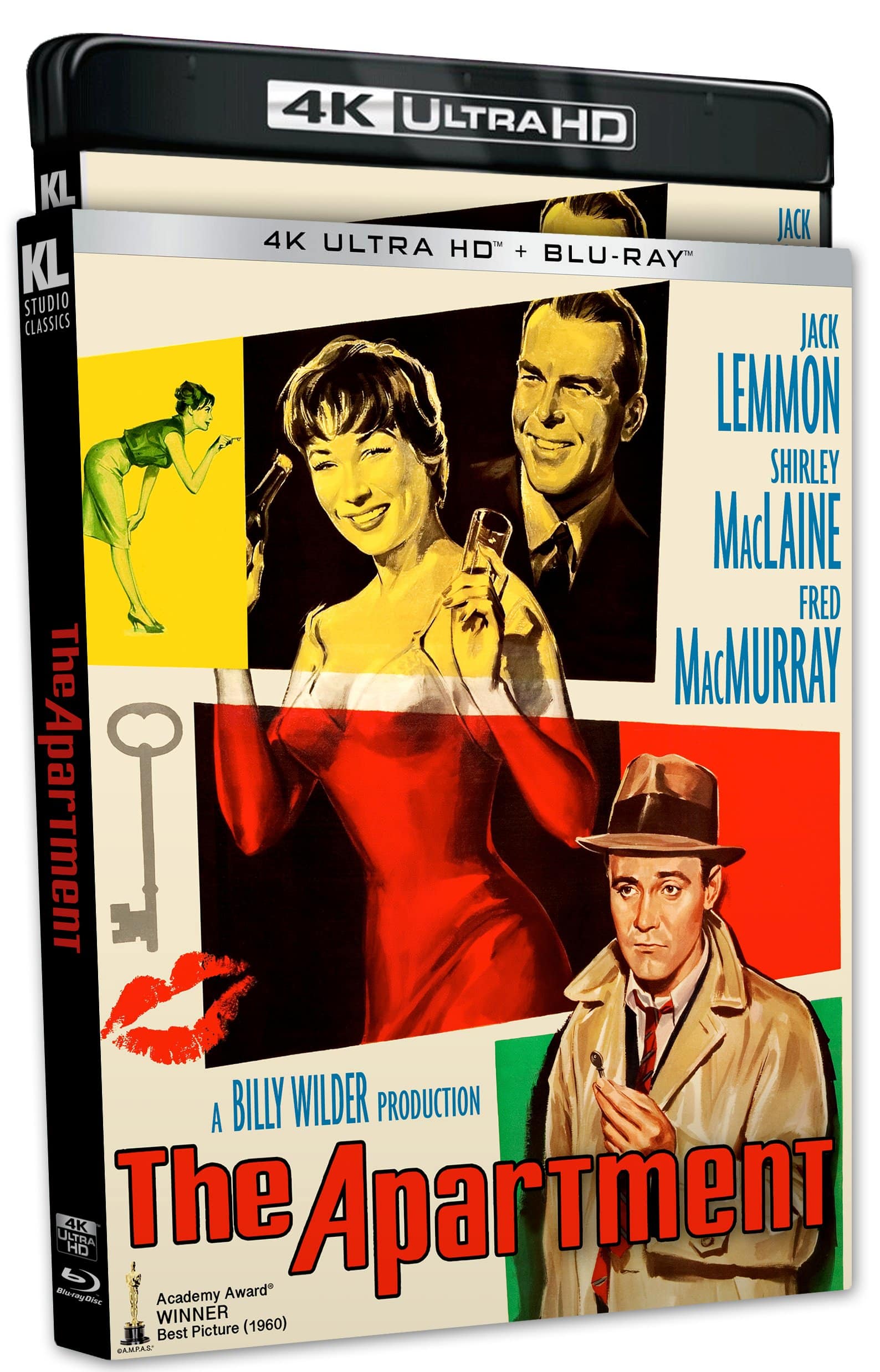 The title of director Billy Wilder's 1960 film The Apartment refers to the one-bedroom flat of C.C. "Bud" Baxter (Jack Lemmon), a ladder-climber who works at a New York City life insurance firm with so many employees that everyone's desks appear to stretch into the vanishing point. To stand out among the crowd of colleagues angling for promotions, Bud allows four of the firm's managers to use his apartment to carry out extramarital affairs, frequently standing out of sight beneath his apartment building's stoop while waiting for the men to finish their business.
Images of Bud obscured by the shadow of the building, hunched behind its stairs in the cold and rain as he waits to go into his own home, speak volumes about the man's cowardice, as do the scenes of him attempting to reclaim his living space from his superiors in a tone of voice that gives away his foreknowledge of defeat. Eventually, this debasement pays off but only when Bud finds himself promoted for the sole purpose of his bosses' boss, Jeff D. Sheldrake (Fred MacMurray), gaining exclusive access to the apartment.
Where Bud's managers all came across as comic grotesques of horny old men, Sheldrake is more composed. He speaks with a calm confidence that masks his manipulations as suggestions, letting Bud think that he's volunteering to conditions that he's in no position to refuse. Already flexible and sycophantic around his lesser bosses, Bud is practically putty in Sheldrake's hands, with only the faintest trace of misery crossing his face when he realizes that the man wants to add himself to Bud's hapless arrangement. Throughout the film, Wilder and co-screenwriter I.A.L. Diamond sketch a bleak vision of corporate servitude where a work-life balance hasn't been upended so much as irrevocably perverted.
The Apartment's cynicism is only exacerbated, not mollified, by the promise of romance, which comes in the form of Bud's secret crush on Fran Kubelik (Shirley MacLaine), an elevator operator in his office building. If Bud's neuroses manifest in full-body spasms that erupt out of him like solar flares, Fran vents her own hang-ups and desperation about her miserable experiences through sarcasm. Fran's stoicism is seemingly at odds with Bud's nebbishness, and the half-frictious, half-affectionate rapport between the two is further complicated by Bud's discovery that Fran is the woman with whom Sheldrake is having an affair.
We learn of these entanglements before Fran and Bud do, casting a pall of dramatic irony over the film that's redolent of Wilder's noir-driven work, such as Double Indemnity and Sunset Boulevard. Yet the tone of The Apartment differs from both those darkly moral movies and the filmmaker's farces, like One, Two, Three and Irma la Douce, finding a middle ground of somber tragedy that undercuts the awkward comedy of manners between the characters.
Scenes of Bud haplessly attempting to flirt with Fran mine ahead-of-the-curve black comedy from his "nice guy" passive-aggressiveness. In one of these scenes, Bud learns of the relationship between Fran, who's stewing over a brutally taunting conversation with Sheldrake's jealous secretary (Edie Adams), and his employer, and both sink into misery without understanding what's upsetting the other. If anything, their shared despair and desire to transcend it brings the pair together. That desire culminates in the best of Wilder's legendary last lines, a simple sentence hinting at reconciliation but also enough lingering caution to show that the characters aren't fully cured of their reflexive cynicism.
Image/Sound
Sourced from the same 4K restoration that Arrow Video used for their 2018 release, Kino's UHD upgrade only magnifies that disc's strengths. Despite lacking HDR or Dolby Vision, the disc's exceptional contrast reveals even more details and fine nuances, in everything from faces to the background elements. In the audio department, the lossless mono never sounds tinny, ably balancing the modest blend of dialogue and bustling crowd sounds. A new 5.1 track expands the ambient noise of busier scenes, but the original mono doesn't lack for dynamism in the first place—and, of course, is more faithful to the film's intended presentation.
Extras
Kino wisely ports over the audio commentary with film producer and historian Bruce Block that was recorded for the Arrow release of The Apartment. Block delves deep into the film's themes and tone, as well as the general minutiae of every scene, right down to noting which shots were filmed on location. Kino also includes a new commentary recorded by film historian Joseph McBride, whose thoughts are expectedly cogent and well-researched. The track is also noteworthy for his anecdotes about his personal relationship with Billy Wilder. Two documentaries from a prior DVD release explore the film and Jack Lemmon's career, respectively.
Overall
Though lighter than Arrow's 2018 release on the extras front, Kino's 4K of The Apartment provides the definitive home-video presentation of one of Billy Wilder's greatest films.
Score:
Cast:
Jack Lemmon, Shirley MacLaine, Fred MacMurray, Ray Walston, Hop Holiday, Jack Kruschen, Davis Lewis
Director:
Billy Wilder
Screenwriter:
Billy Wilder, I.A.L. Diamond
Distributor:
Kino Lorber
Running Time:
125 min
Rating:
NR
Year:
1960
Release Date:
March 8, 2022
Buy:
Video
If you can, please consider supporting Slant Magazine.
Since 2001, we've brought you uncompromising, candid takes on the world of film, music, television, video games, theater, and more. Independently owned and operated publications like
Slant
have been hit hard in recent years, but we're committed to keeping our content free and accessible—meaning no paywalls or fees.
If you like what we do, please consider subscribing to our
Patreon
or making a
donation
.