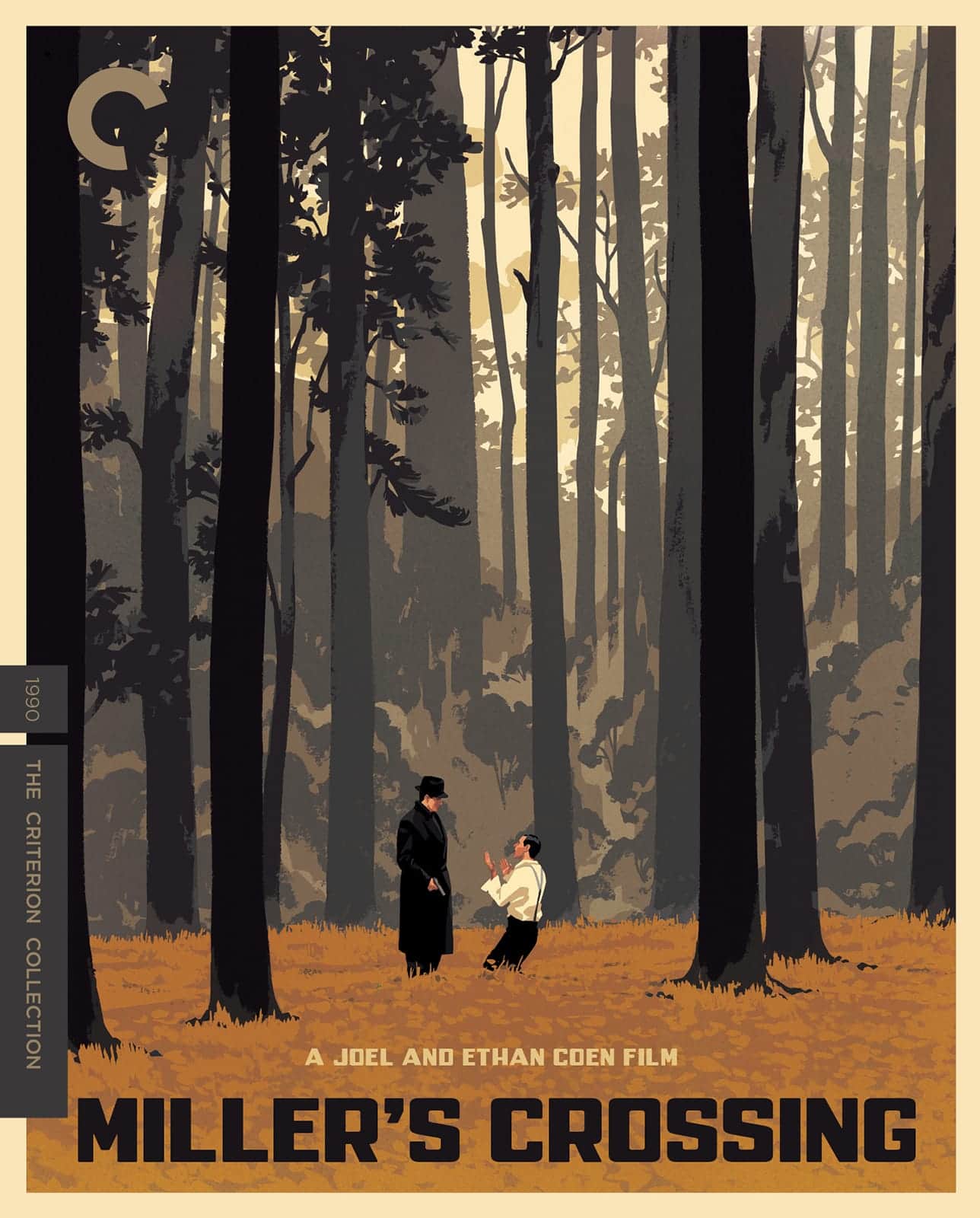 Joel and Ethan Coen have long proved adept at assimilating literary and cinematic influences into their work. Obviously indebted to the look and tone of Warner Bros.'s 1930s gangster films, Miller's Crossing is also a canny mashup of two Dashiell Hammett novels: The relationship between city boss Leo O'Bannon (Albert Finney) and right-hand man Tom Reagan (Gabriel Byrne) mirrors the one between Ned Beaumont and Paul Madvig in The Glass Key, while the idea of turning rival mob factions against each other comes from Red Harvest, the same source material, incidentally, that inspired Kurosawa Akira's Yojimbo.
This isn't to say that Miller's Crossing is mere hard-boiled pastiche. From its opening lines to its enigmatic final shot, the film dwells on the same kind of hard-nosed philosophical conundrums that often plague other Coen characters. Questions of ethics—a moral code that imposes order on otherwise inchoate existence—arise frequently.
Such matters unsettle rival mob boss Johnny Caspar (John Polito), aptly and quizzically summarized by his own inquiry: "If you can't trust the fix, what can you trust?" In a larger sense, every character in Miller's Crossing reveals the limits to their own code by who they align themselves with and who they're willing to betray. This is nowhere more evident than in Tom, played so close to vest by Byrne that we're never really certain about his allegiances until near the end of the film, if even then, as that nearly unreadable final shot attests.
Matters of the heart—that is, the ethics of love—crop up throughout. When Tom's squeeze, Verna (Marcia Gay Harden), contentedly states that what he really desires is her, his response ("What did I want?") leaves us none too sure. Tom clearly loves Leo, on some level, but he's prompted to spurn his friendship over Leo's emotional gullibility toward Verna. When Tom is forced to take low-level chiseler, Bernie (John Turturro), out to Miller's Crossing and put one in his brain, Bernie appeals to Tom's emotions: "Look into your heart!" That they're both human beings capable of real feeling underlies his beseeching Tom not to let him die "like some dumb animal." Their exchange receives a reprise late in the film that's laden with deadly irony.
Dreams abound in the films of the Coen brothers, from dream sequences (Blood Simple) to dreams recounted after the fact (as in No Country for Old Men's famous coda). In Miller's Crossing, Tom relates a dream to Verna in which he loses his hat. Throughout the film, this hat has featured as symbol, metaphor, objective correlative, but for what is anyone's guess. Verna assumes that in the dream he chases after it, and that in the end it changes into "something wonderful." "Nah," he retorts, "it stayed a hat." Dreams are supposed to provide access into the inner self, but here nothing is exposed. If the hat represents Tom's sense of self, then he's sure to remain closed off and inscrutable to viewers and other characters alike.
Image/Sound
The version of Miller's Crossing on Criterion's release is effectively a director's cut, though it's nowhere stated as such on the packaging. The film comes in a new 2K restoration from the original camera negative that outdoes the earlier Blu-ray from 20th Century Fox, most noticeably in terms of overall clarity and depth of detail. Joel and Ethan and cinematographer Barry Sonnenfeld have gone on record saying that they were going for a "handsome" period film, and that's certainly on display, from the luxe textures of costume and décor to the atmospheric shadow-play that lends the proceedings their noir vibe. The Master Audio surround track sounds great, with some able support coming from the subwoofer, and a workout for the peripheral channels when it comes to dialogue, ambient effects (Tommy gunfire in particular) and Carter Burwell's lilting score.
Extras
The most illuminating extras are a pair of interviews conducted by critic Megan Abbott, the first with the Coen brothers and the second with actors Gabriel Byrne and John Turturro. The former is a feast for the noir aficionado, as the Coens really dig deep into their love for Dashiell Hammett, Raymond Chandler, and James M. Cain and how they've made films that were influenced by each: Miller's Crossing, The Big Lebowski, and The Man Who Wasn't There, respectively. They also discuss noir tropes across a variety of films and novels, the necessity for a clear storyline (or the lack thereof), and the merits of leaving the film's ending open to interpretation. For their part, Byrne and Turturro discuss their early involvement in the project, adjusting to the rhythms of the Coens' dialogue, working with Albert Finney, shooting on location in New Orleans, and reactions to the film both immediate and over the years.
Overall
Bullet-riddled and crackling with quotable dialogue, Miller's Crossing gets a handsome new 2K transfer and a handful of insightful extras.
Score:
Cast:
Gabriel Byrne, Marcia Gay Harden, John Turturro, Jon Polito, J.E. Freeman, Albert Finney, Mike Starr, Al Mancini, Richard Woods, Thomas Toner, Steve Buscemi, William Preston Robertson
Director:
Joel Coen, Ethan Coen
Screenwriter:
Joel Coen, Ethan Coen
Distributor:
The Criterion Collection
Running Time:
113 min
Rating:
R
Year:
1990
Release Date:
February 8, 2022
Buy:
Video
,
Soundtrack
If you can, please consider supporting Slant Magazine.
Since 2001, we've brought you uncompromising, candid takes on the world of film, music, television, video games, theater, and more. Independently owned and operated publications like
Slant
have been hit hard in recent years, but we're committed to keeping our content free and accessible—meaning no paywalls or fees.
If you like what we do, please consider subscribing to our
Patreon
or making a
donation
.