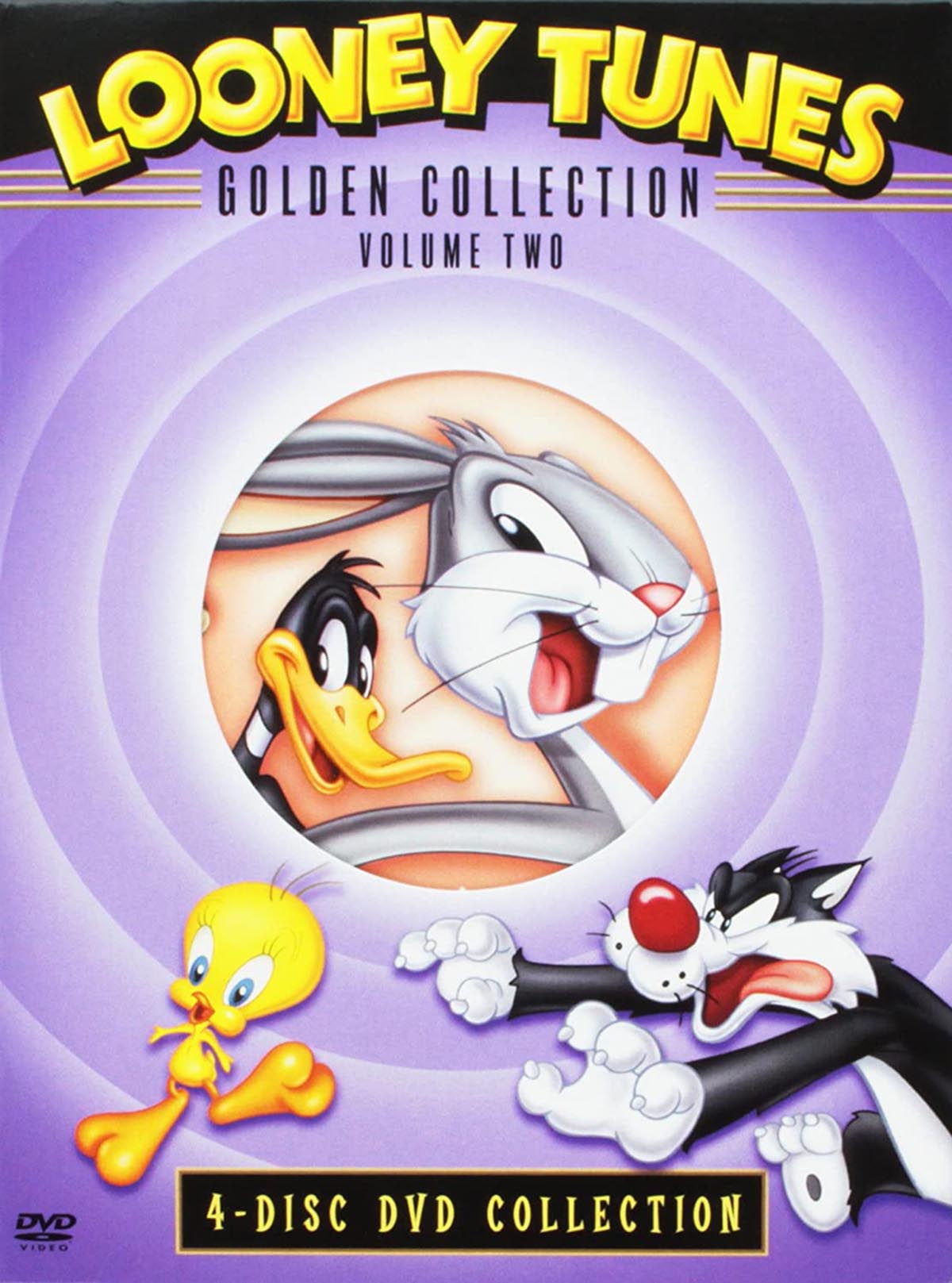 This second edition of Warner Home Video's Looney Tunes: Golden Collection follows the same winning formula as last year's Volume One set by allotting space on each disc to a different anarchic character or characters. The first disc collects 15 Bugs Bunny masterpieces, among them "The Hare-Brained Hypnotist," "Tortoise Beats Hare," and my personal favorite, "Little Red Riding Rabbit," in which Bugs discovers that a Bobby Soxer Red is a more formidable foe than the hungry Big Bad Wolf. Wile E. Coyote's exhausting if somewhat redundant existential quest to capture the Road Runner is celebrated on the collection's second disc, which features some of Chuck Jones's best work, including two Hubie and Bertie classics, "Cheese Chaser" and "Mouse Wreckers." Disc three pays homage to Sylvester and his similarly redundant attempts to capture the scene-stealing Tweety (if a third Golden Collection is in the works, let's hope misguided characters like Speedy Gonzales, and to a lesser extent Pepe Le Pew, do not get their own discs). Disc four is devoted to "Looney Tunes All Stars: On Stage and Screen," which features some of the more memorable shorts in the collection, namely "What's Opera, Doc?" and "A Corny Concerto," which may boast the single funniest moment in Looney Tunes history: When Bugs Bunny is seemingly shot, Dog begins to cry along to "A Tale of Vienna Woods," but after peeling his hands away from his chest, Bugs reveals to Dog and Elmer Fudd that his wound is really a brassiere. And for those who can't afford this latest Golden Collection, Warner Home Video makes 28 out of the 60 shorts collected here available on a separate, two-disc set, the Spotlight Collection, which follows (in spirit, not in name), last year's streamlined version of the Golden Collection's volume one set, the Premiere Collection.
Image/Sound
Not surprisingly, what I said last year about the Golden Collection Volume One set similarly applies here: "Fully restored and completely remastered. Don't believe me? Pop in any second-rate bootleg with Looney Tunes shorts on it (say, Front Row Features's 'Cartoon Explosion' series) and you'll see that these Warner Bros. animated toons never looked and sounded as good as they do here. Well, the audio is still mono, but I don't ever remember any of these shorts sounding this crystal clear."
Extras
Again, all commentary tracks, music-only audio tracks, and featurettes are accessible in two ways: by clicking on the icons next to the titles of the shorts or going directly to the special features sections. Since most bases were covered on last year's Golden Collection edition, the supplemental materials on this Volume Two edition are scarce. Cher kick-starts the strange but enjoyable "Bugs Bunny's Looney Tunes All-Star 50th Anniversary" featurette, which begins on disc one and ends on disc three. More highlights from disc one: "A Conversation with Tex Avery" and "Do or Diet" from the Warner Bros. vault. Disc two boasts the single best featurette in the collection, "Crash! Bang! Boom!: The Wild Sounds of Treg Brown," which honors the comic impact of Academy Award-winning Brown's sound work on the Looney Tunes shorts. Also memorable from disc two is the TV pilot for "The Adventures of the Road Runner." Disc three's standout extra is the tender "Man from Wackyland: The Art of Bob Clampett," which just makes the all-new bonus short "Daffy Duck for President" seem all the more unfortunate. And in addition to a series of featurettes pertaining to "One Froggy Evening" and "What's Opera, Doc?," disc four's highlights include vault rarities "Orange Blossoms for Violet" and "So Much for So Little."
Overall
On November 2nd, vote this Looney Tunes Golden Collection set into your permanent DVD collection.
Score:
Cast:
Mel Blanc
Director:
Friz Freleng, Chuck Jones, Robert Clampett, Robert McKimson, Cal Howard, Cal Dalton, Tex Avery
Distributor:
Warner Home Video
Running Time:
320 min
Rating:
NR
Year:
2004
Release Date:
November 2, 2004
Buy:
Video
If you can, please consider supporting Slant Magazine.
Since 2001, we've brought you uncompromising, candid takes on the world of film, music, television, video games, theater, and more. Independently owned and operated publications like
Slant
have been hit hard in recent years, but we're committed to keeping our content free and accessible—meaning no paywalls or fees.
If you like what we do, please consider subscribing to our
Patreon
or making a
donation
.