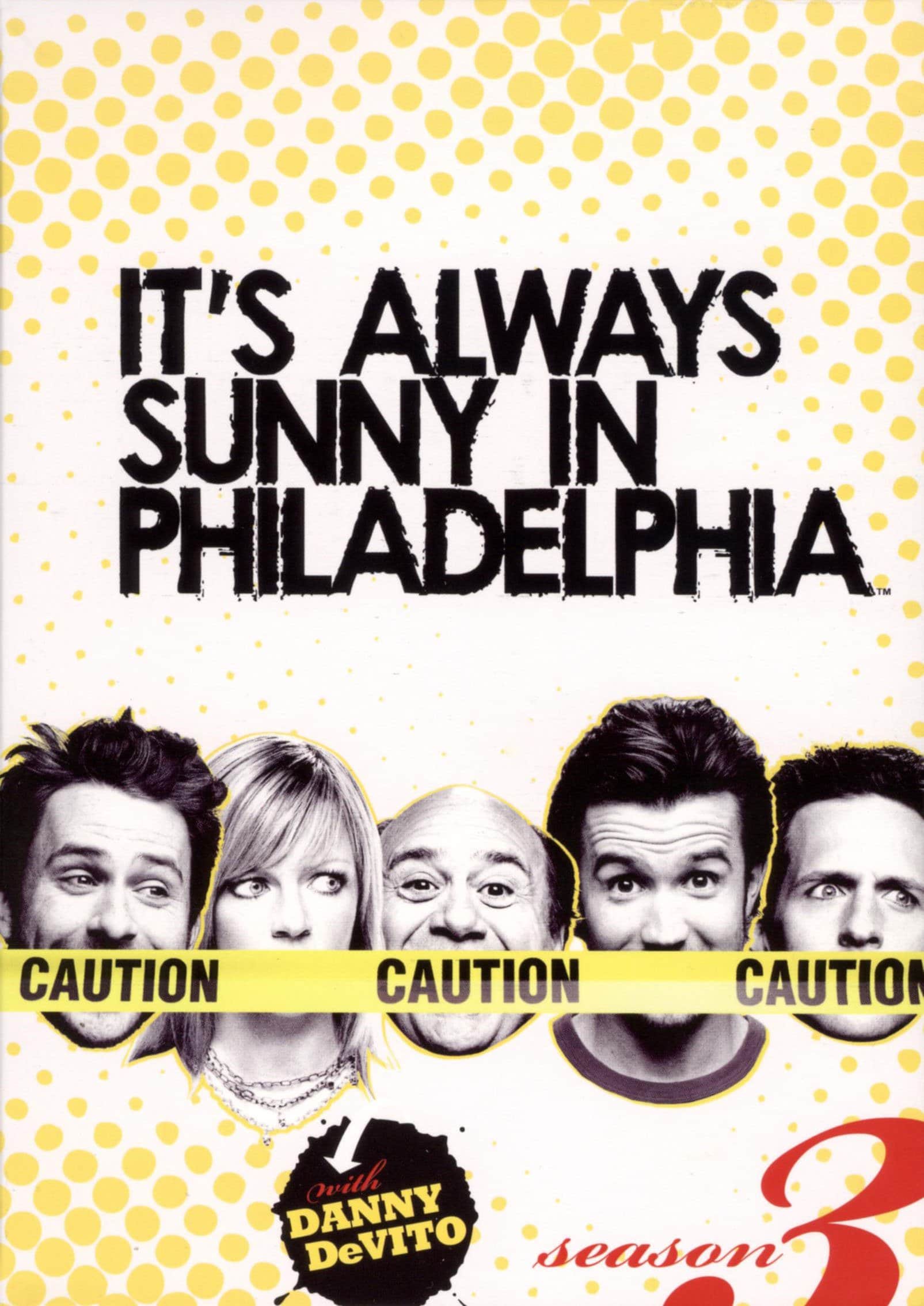 There's something inspiring about the story behind It's Always Sunny in Philadelphia, which came into being when three film-school friends—writers Rob McElhenney, Glenn Howerton and Charlie Day—pitched a TV show based around a short that they had made years earlier for just a few hundred dollars. The pitch worked, and three seasons later It's Always Sunny is one of the most popular shows on the FX network. Focused on four lazy twentysomething Philly bar owners, the show has gained equal amounts of popularity and notoriety for its irreverent approach to taboo subject matter and for the fact that its protagonists—the vain, manipulative Dennis (Howerton); the power-hungry and illiterate Charlie (Day); the idiotic Mac (McElhenney); Dennis's insecure sister Dee (Kaitlin Olson); and Dennis and Dee's father Frank (Danny DeVito)—are, as is reiterated on several occasions throughout the show's third season, the worst people in the world. It's like Seinfeld, but with more abortion jokes.
It's hard to describe It's Always Sunny without making it sound like something even Kevin Smith would reject as being too self-consciously outrageous, and though the show occasionally crosses this line—a few episodes like "Sweet Dee's Dating a Retarded Person" seem to be more concerned with being offensive than funny—its humor comes more from its characters than its scenarios, which are little more than the means by which the show can expose its protagonists' idiotic self-involvement. Dennis, Mac, Charlie, Dee and Frank act as the extremes of the human id in all its solipsism and impulsiveness, which allows McElhenney, Howerton and Day to both indulge in and poke good-natured fun at their audience's prejudices. Racism, sexism and especially homophobia are frequent subjects, exposing the idiocy of such beliefs (most notably in "Dennis and Dee's Mom is Dead," perhaps the funniest episode of the season, in which the gang's desire to appear masculine results in their circulation of a penis-shaped flyer inviting "strong men" to their newly-acquired "party mansion"). Adolescent frat boys may laugh at the characters' gay behavior, never realizing that the real target is the oblivious stupidity that leads to thinking that homosexuality is in itself a joke.
All that, however, is tangential to the point that It's Always Sunny is ultimately just really goddamn funny. There's a savvy comedic rhythm to the show's dialogue and a hilariously goofy absurdity to its frequent, batshit screaming matches. Unlike recent episodes of South Park, It's Always Sunny never uses its subject matter to mount preachy moral sermons. There's a seriousness to It's Always Sunny's clowning, but it's tied up not in messages—just in its sharp writing and its cast's delirious, brilliantly committed performances.
Image/Sound
As befitting such a low-budget show, the transfer suffers from occasional image definition issues, but overall this is as good as It's Always Sunny in Philadelphia is ever likely to look. Colors are vibrant throughout, and black levels are deep and clean. The audio track has been remixed in 5.1 surround sound, which doesn't do a lot for the dialogue-heavy program but is a nice gesture toward DVD buyers.
Extras
The "Sunny Side Up Volume 2" featurette is a somewhat brief behind-the-scenes look into the show's creation (and its creators' wresting skills). "Meet the McPoyles," about It's Always Sunny's clan of inbred creeps, is amusing but quickly wears out its welcome. More entertaining are the episode commentaries, but there are only two of them, suggesting that McElhenney, Howerton and Day might just be as lazy as the characters they play. Rounding out the package are a short gag reel and a collection of ads for the show.
Overall
Fans of a cult show like It's Always Sunny in Philadelphia deserve more robust extras than what's offered here.
Score:
Cast:
Glenn Howerton, Charlie Day, Rob McElhenney, Kaitlin Olson, Danny DeVito, Mary Elizabeth Ellis, Jimmi Simpson, Nate Mooney, Lynne Marie Stewart, Thesy Surface, David Hornsby, Sandy Martin, Stephen Collins, Brittany Daniel
Director:
Fred Savage, Jerry Levine, Matt Shakman
Screenwriter:
Rob McElhenney, Glenn Howerton, Charlie Day, David Hornsby, Scott Marder, Rob Rosell
Distributor:
20th Century Fox Home Entertainment
Running Time:
332 min
Rating:
NR
Year:
2007
Release Date:
September 9, 2008
Buy:
Video
If you can, please consider supporting Slant Magazine.
Since 2001, we've brought you uncompromising, candid takes on the world of film, music, television, video games, theater, and more. Independently owned and operated publications like
Slant
have been hit hard in recent years, but we're committed to keeping our content free and accessible—meaning no paywalls or fees.
If you like what we do, please consider subscribing to our
Patreon
or making a
donation
.