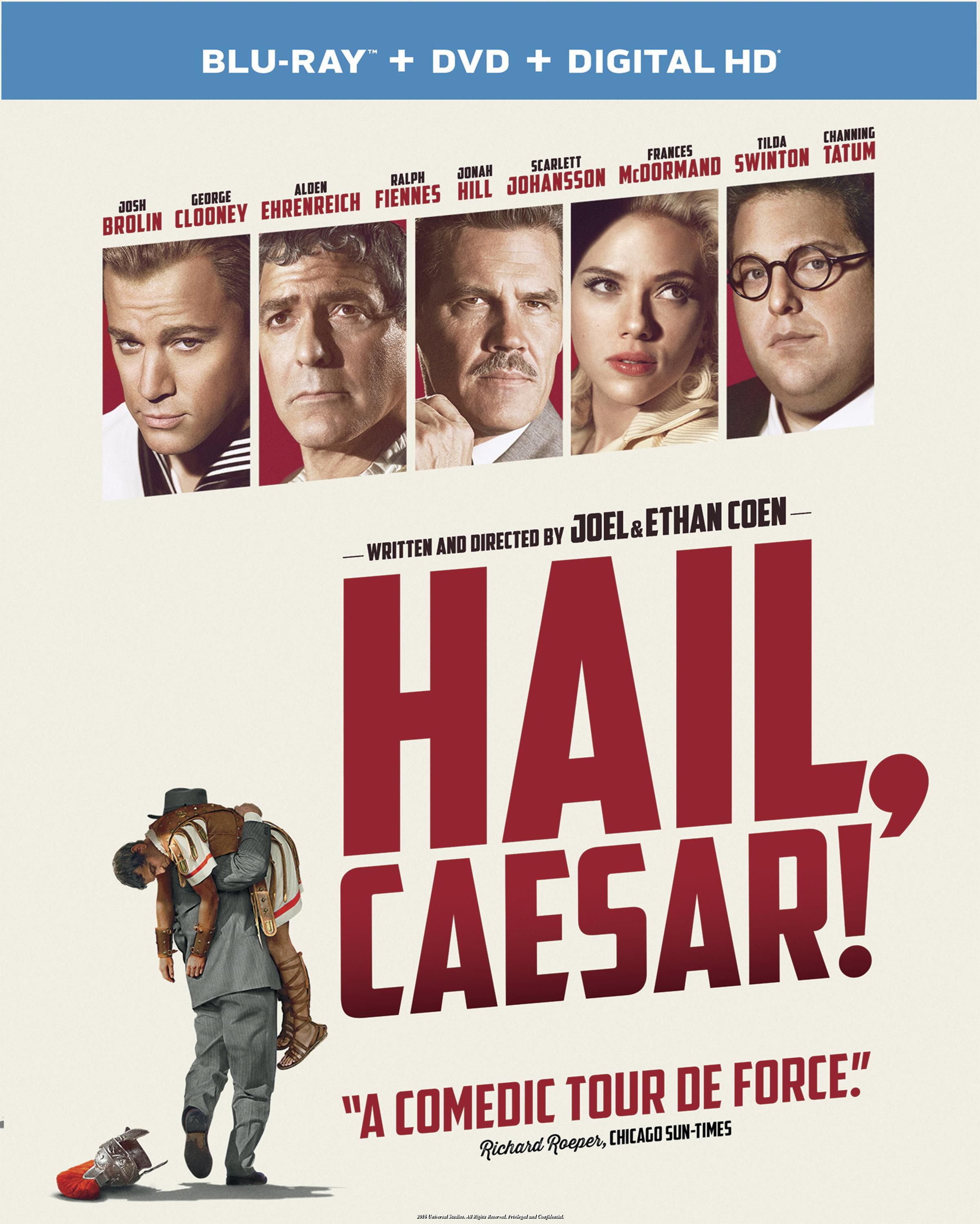 A retreat from the ruminative, dramatic comedies that have marked Joel and Ethan Coen's last few films, Hail, Caesar! is their most manic work since Burn After Reading. Where the 2008 film farcically took aim at the organized chaos of the Bush administration, the Coen brothers' latest occurs on a Hollywood studio lot beset by internal and external pressures. So many scattered scenes and plotlines intertwine that metatextual layers start to break down, to the point that the narrator for the fictional Bible epic that gives the film its name regularly comments upon the "real" world as well.
The only constant amid the film's collapsing and expanding narrative bubbles is Eddie Mannix (Josh Brolin), a "fixer" who walks with the stiff gait of a gumshoe, but acts largely as a babysitter for stars under contract at Capitol Pictures. A man who seems to never sleep, he travels from one potential fire to the next, covering up a starlet's (Scarlett Johansson) out-of-wedlock pregnancy by concocting a scheme for her to adopt her own child, or keeping cast and crew in line at the behest of the studio's unseen chief executive.
Brolin brings his granite poker face to the role, but his first and last scenes in the film take place in confession booths, where he travels each day to unload all the misery of a life spent propping up an industry with deceit and family neglect. In one of the more amusing side plots, Eddie is courted by Lockheed Martin to come manage their hydrogen bomb program, a job that all parties agree would come with infinitely less stress.
Hail, Caesar!'s structure is shaped by the films made by Capitol Pictures. The tonal shifts only become more erratic as the studio shuffles its stars between lots, as when Hobie Doyle (Alden Ehrenreich), the pretty but dense lead of a singing-cowboy western, gets placed in a costume drama where he wades into a parlor gathering dressed in a tux, but walking as if he just leapt off a horse, all bowlegged and stiff-jointed. His line deliveries earn him a private lesson with a despairing director, Laurence Lorenz (Ralph Fiennes), who tries to coach Hobie on a single sentence for so long that the scene recalls the Simpsons bit featuring Sideshow Bob getting smashed in the face with a rake, wearing out its welcome only to become increasingly funnier.
The film allows the Coens to broaden out and poke fun at the various aspects that influence a production. Early on, Eddie decides to get out ahead of any controversy surrounding Hail, Caesar! and its depiction of Jesus by inviting a multi-denominational group of priests and preachers to give their thoughts on the central Bible epic. Also present is a rabbi, who regards the whole thing as entertainment in and of itself and butts in only to trample over competing Catholic and Protestant interpretations of Jesus with offhanded dismissals like "God is a bachelor, and he's very angry."
On the flipside is a cell of communist screenwriters who abduct mega star Baird Whitlock (George Clooney) to bleed the studios, only to let slip that their ideals of upending the means of production stem from bitterness over not getting the back-end points they think they deserve. In perhaps the only subtle joke in the entire film, the warped prosperity politics that Hollywood communists bring to the cause is tacitly positioned as a precursor to Scientology, another faddish, extreme cause that the Hollywood faithful would frame in terms of making more bank.
Hail, Caesar!'s diffuse momentum doesn't always work to its favor, often resulting in plots, characters, and performances that are partially etched; Clooney, for one, displays only in flashes the self-effacing buffoonery he brought to his prior collaborations with the Coens. Nonetheless, the omnidirectional assembly permits strange but wonderful sights that could not easily have been shoehorned into a more focused feature: a tap dance from a sailor musical that slowly foregrounds the homoeroticism of a films such as Anchors Aweigh; a Soviet submarine docking offshore near a house whose space-age design suggests the work of John Latuner.
The overall subject of the film, of the bricolage of complexes and manias that keeps Hollywood running, has been covered one too many times for even the Coens to make truly fresh again. Nevertheless, their idiosyncrasies elevate the film above the level of a mere creative exercise, and the obvious giddiness that pervades their pastiche of forgotten fads goes a long way toward countering the reductive view of the filmmakers as snide pessimists.
Image/Sound
Shot on film, Hail, Caesar! has a natural warmth befitting the film's warped nostalgia for Hollywood's golden age. Shots taken on soundstages have the same golden tinge as the movies being shot there. Facial textures are deliberately flat, reflecting the heavy makeup the actors wear while shooting, and colors ape the vivid shades of three-strip Technicolor. As classically indebted as the imagery is, however, the sound is thoroughly modern, with a rich 5.1 mix that further blurs the lines between the film's depiction of the movie industry and its products. Dialogue remains in the front channel and clear, while the other speakers balance out an immersive Foley effect field and Carter Burwell's alternately epic and jazzy score.
Extras
With the exception of the recent Criterion edition of Inside Llewyn Davis, the Coen brothers' films tend to come without much supplemental material when released on home video, and Hail, Caesar! is no exception. The Blu-ray comes with a mere four features, each a brief, frothy account of a broad aspect of the production, that largely features the actors gushing about getting to work with the filmmakers. The only real tidbit of note is George Clooney's confession that he basically forced the brothers into making the film by announcing it at press conferences and interviews for years before they had even written a script.
Overall
The Coen brothers' sardonic revisionism of Hollywood's golden era is, ironically, their most earnest feature, and Universal's Blu-ray retains all of its reimagined classical aesthetic.
Score:
Cast:
Josh Brolin, George Clooney, Alden Ehrenreich, Ralph Fiennes, Scarlett Johansson, Jonah Hill, Channing Tatum, Tilda Swinton, Frances McDormand
Director:
Joel Coen, Ethan Coen
Screenwriter:
Joel Coen, Ethan Coen
Distributor:
Universal Studios Home Entertainment
Running Time:
106 min
Rating:
R
Year:
2016
Release Date:
June 7, 2016
Buy:
Video
If you can, please consider supporting Slant Magazine.
Since 2001, we've brought you uncompromising, candid takes on the world of film, music, television, video games, theater, and more. Independently owned and operated publications like
Slant
have been hit hard in recent years, but we're committed to keeping our content free and accessible—meaning no paywalls or fees.
If you like what we do, please consider subscribing to our
Patreon
or making a
donation
.