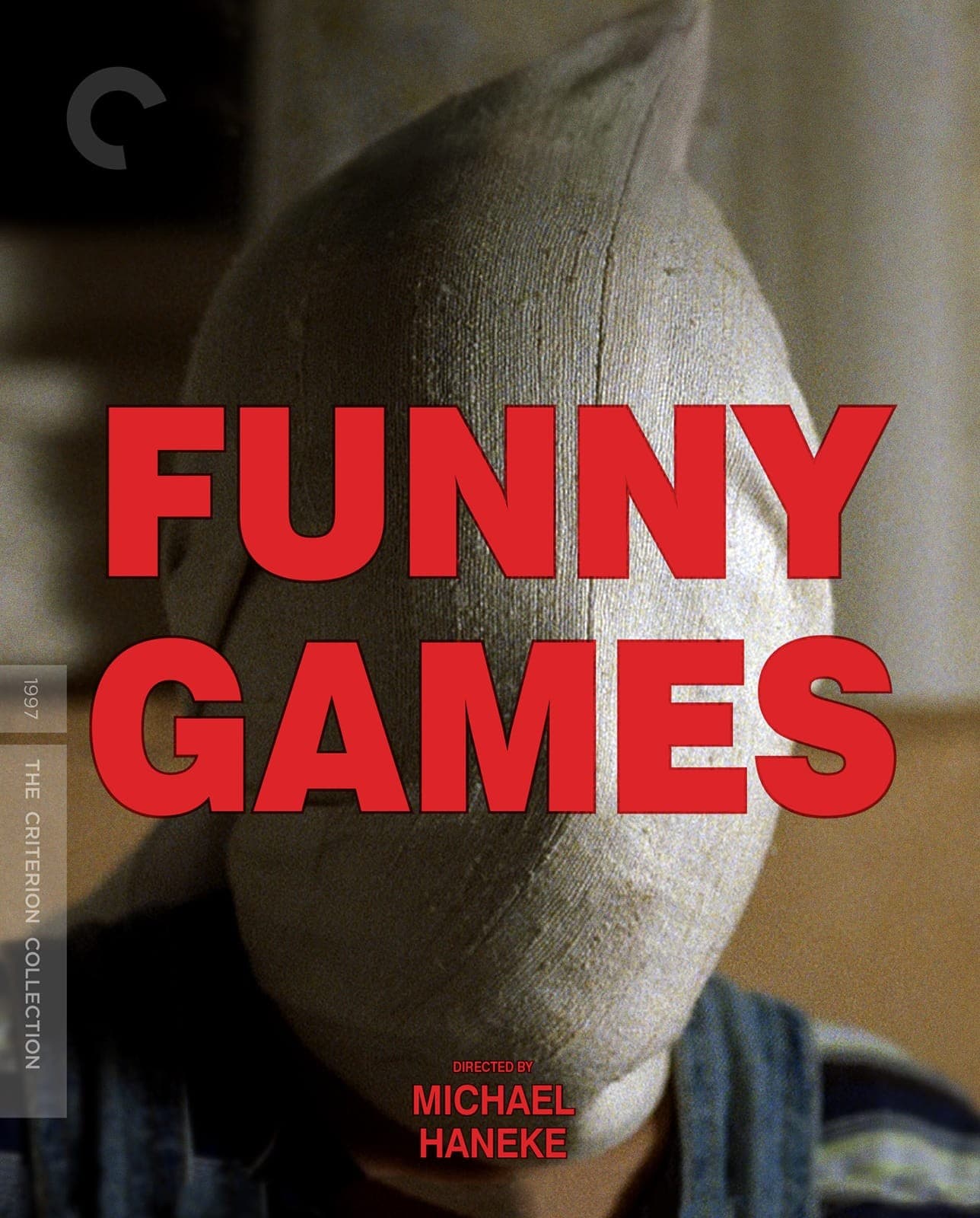 In a recent interview recorded for this Blu-ray release of Funny Games, Michael Haneke describes the self-reflexive tactics he deploys throughout his 1997 film as a means of scolding audiences for, among other things, falling prey to the tropes of the thriller genre. With a smirk and twinkle in his eyes, the Austrian auteur proclaims, "I can tear people away from the story, but in five minutes, they're at my mercy again." The smug sense of superiority behind this sentiment is ultimately the dominant ethos at work throughout Funny Games, a film that delights in goading us into pre-conditioned responses to disturbing emotional and physical violence, only to slap us on the wrist time and again for getting sucked into the machinations of this twisted drama.
Haneke goes on to say later in the interview, "I rubbed their noses in it again and again: This is a film." Like a child gleefully using a magnifying glass to burn helpless ants, Haneke plays the part of a vengeful god from behind the camera, torturing a vacationing bourgeois family via two teenage sociopaths, Peter (Frank Giering) and Paul (Arno Frisch). But this isn't an ordinary thriller, and Peter and Paul are certainly no ordinary villains.
These two assailants—whose purpose as constructs is underlined by their various pop culture-related nicknames, from Tom and Jerry to Beavis and Butthead—are virtual tabula rasa, a comedic odd couple clad in matching white shirts and gloves. Their unsettling air of politesse, however, barely conceals their utter lack of emotions, discernible objectives, or endgame to explain their heinous actions. Their existence is, in essence, purely pedagogical, as, unlike the family they torture, they operate outside the realm of psychological or cinematic realism.
Haneke amplifies our disgust at Peter and Paul's lack of empathy by pitting them against a fully humanized married couple, Georg (Ulrich Mühe) and Anna (Susanne Lothar), and their young son, Georgie (Stefan Clapczynski). But this stark contrast between the extreme artificiality of the attackers and the realism of the family is only used to continually bait viewers—to toy with our innate desire for victims to ultimately get their bloody vengeance while delaying our gratification at every turn. We may spurn Peter and Paul's ruthless methods, but we're made aware that they're giving us the sort of titillation we crave through an array of postmodern techniques that stress our complicity in their continued violence, from Paul winking into the camera as he taunts Anna to him using a remote control to rewind the film itself and undo an event that may have led to his victims' salvation.
By luring us into an emotional connection with the victimized family only to repeatedly pull us out of the fiction with metatextual hijinks, Haneke deigns to force viewers to confront their motives for craving on-screen violence. But while the filmmaker is undoubtedly skilled in replicating the tense, unsettling experience of a thriller, his film is an unnecessarily dour, grueling experience that's akin to being taught how to box by someone who only wants to see you punch yourself in the face. As such, Funny Games ends up less like a film than a bullying thesis statement whose sense of suspense is mostly a show of condescendingly relentless sadism, and not least of which because of Haneke's hypocritical refusal to implicate himself in the perpetuation of the very violence he condemns us for enjoying.
Image/Sound
The clarity and depth of this transfer, sourced from a new 2K restoration, is impressive, taking advantage of the disc's high bitrate to ensure that none of the inconsistencies apparent in earlier home-video releases of Funny Games, such as pasty skin tones, are reproduced. The earthy tones of the film's numerous interiors have a certain drabness that plays nicely against the infrequent but crucial intrusions of bright colors, from the yellow of broken eggs and Peter and Paul's raincoats to the splatter of blood. The nighttime sequences exhibit a strong contrast between the deep blacks and characters as the move in and out of shadows. The 5.1 soundtrack is nicely mixed, with clean dialogue and a subtle layering that's particularly appreciable during scenes where off-screen sounds play a larger role in the narrative.
Extras
The extras here are surprisingly scant by Criterion's standards, but what's worse is that only the interview with film historian Alexander Horwath approaches Funny Games with a critical approach that isn't already embedded in the film. Horwath establishes Funny Games not only as a response to the violent postmodern films of Quentin Tarantino and Oliver Stone, in vogue in the early to mid-'90s, but as a forebearer to popular Hollywood films that tackle the nature of cinematic reality and reality itself. The most intriguing of Horwath's insights, however, are the parallels he draws between Haneke's film and today's video games and gaming culture. In the interview with Haneke, the director comes off as self-satisfied and didactic as his film, while actor Arno Frisch's interview offers little insight beyond his genuine love of Funny Games. The press conference from Cannes doesn't disappoint in terms of controversy, but much of Haneke's defense of the film, such as the inanity of approaching it from a psychological or sociological level, is amply covered in his other interview. Film critic Bilge Ebiri's essay elaborates on the seeming contradictions underlying the cinematic violence in Funny Games as well as the film's use of opposing styles of performance.
Overall
Criterion's release features a strong 2K digital restoration, but the dearth of substantial extras leaves Funny Games, perhaps appropriately, to mostly speak for itself.
Score:
Cast:
Susanne Lothar, Ulrich Mühe, Arno Frisch, Frank Giering, Stefan Clapczynski, Doris Kunstmann, Christoph Bantzer, Wolfgang Glück, Susanne Meneghel, Monika Zallinger
Director:
Michael Haneke
Screenwriter:
Michael Haneke
Distributor:
The Criterion Collection
Running Time:
109 min
Rating:
R
Year:
1997
Release Date:
May 14, 2019
Buy:
Video
If you can, please consider supporting Slant Magazine.
Since 2001, we've brought you uncompromising, candid takes on the world of film, music, television, video games, theater, and more. Independently owned and operated publications like
Slant
have been hit hard in recent years, but we're committed to keeping our content free and accessible—meaning no paywalls or fees.
If you like what we do, please consider subscribing to our
Patreon
or making a
donation
.