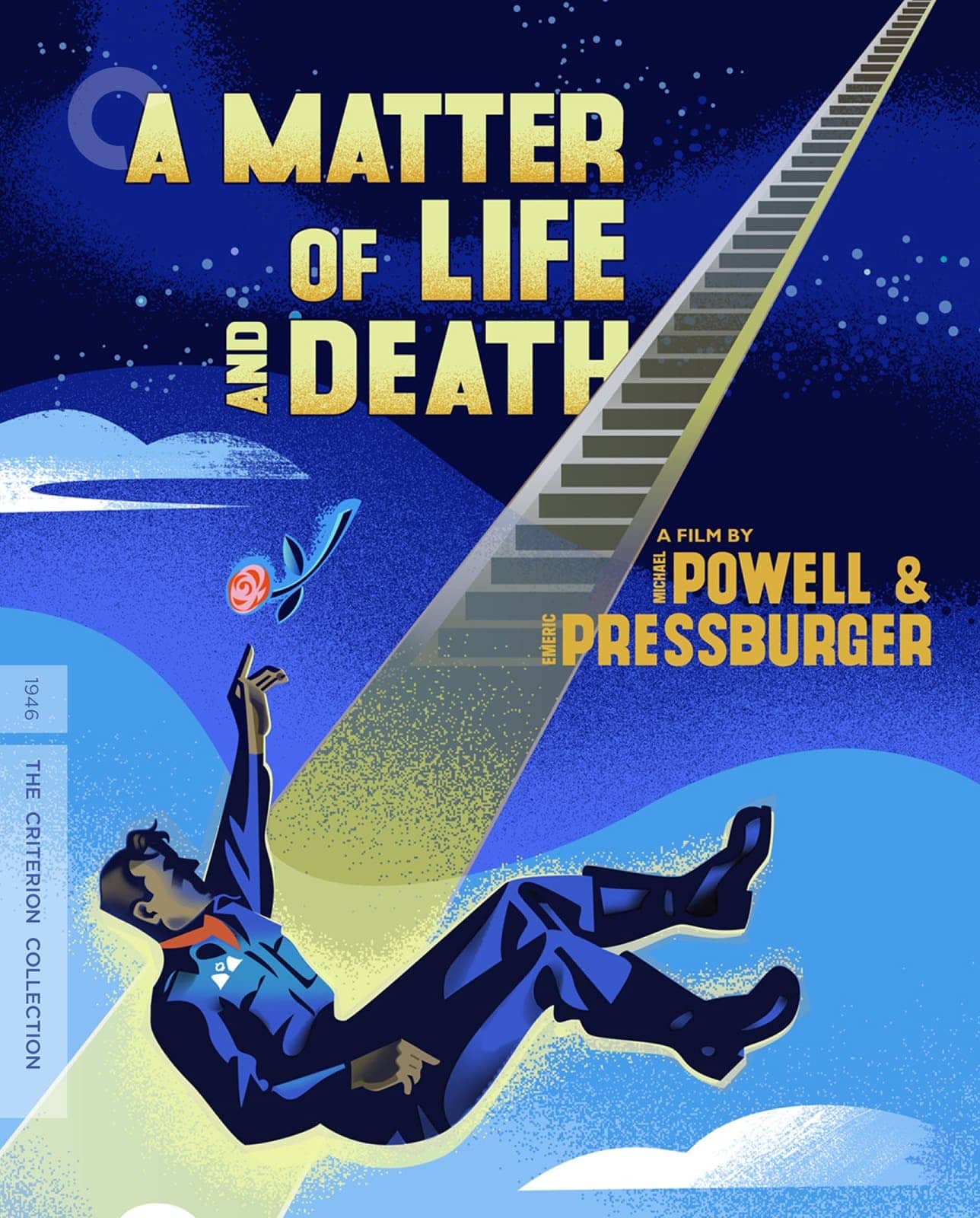 Initially, it doesn't seem right that the earthbound scenes from Michael Powell and Emeric Pressburger's A Matter of Life and Death get the luxe Technicolor treatment and the sequences that take place in heaven are presented in stark, Art Deco-infused black and white. From The Wizard of Oz's sepia-toned Kansas blossoming into the candied sheen of Munchkin Land, to The Women's bitchy monochrome catfights taking a breather for a dreamily extended catwalk interlude with costume designer Adrian's eye-popping haute couture, juxtapositions between color and the lack thereof have usually served to stress the interruption of stasis by flights of fancy. Powell and Pressburger's post-WWII ode to the brotherhood of mankind and the enduring goodness of love seems at first to be putting that formula to the test in inverse. But, as anyone who's wrestled with A Canterbury Tale or The Tales of Hoffman or The Red Shoes knows, the truth is so much slipperier than that.
Indeed, the line dividing the fantastic from the factual scarcely exists from the outset, as A Matter of Life and Death opens with a cosmos-eye view of the universe that brings to mind the opening of It's a Wonderful Life, which is this film's spiritual American counterpart, as both are tales of men who are granted a glimpse at the afterlife and end up choosing the material world. From there, the film zooms into the last stretch of combat in Europe, with Royal Air Force pilot Peter D. Carter (David Niven) returning to Britain after flying a bombing mission over Axis territory. His plane is hit, his parachute is beyond repair, and he has ordered the rest of the crew that weren't killed in the attack to bail out. He establishes contact with a Yank radio operator, June (Kim Hunter), who tearfully spends what Peter ensures will be his last few minutes alive. So when he washes ashore the next morning, fully alive, neither June nor anyone else in the service can account for how his life was spared, and he's compelled to undergo psychological observation.
Meanwhile, in a serene but strictly bureaucratic Great Beyond, one of Peter's deceased mates alerts the powers that be that they should recheck their books, because someone slipped their ranks. Marius Goring's aggressively French Renaissance "Conductor 71" follows up, visiting Peter on Earth, now hopelessly in love with June and, despite having cheerily jumped from his burning plane earlier in the film, far less willing to ascend the infinite, escalating stairway to the sky. Every time Peter's otherworldly arbiter pit stops back on Earth to provide an update on the state of the impending trial to determine the fate of his soul, time itself stops around him, further fueling Jane's and academic acquaintance Dr. Reeves's notion that the trauma of his descent may have caused hallucination-fueling lesions.
Powell and Pressburger's reportedly expensive choice to frame Earth by its florid hues, in order to contrast against a black-and-white heaven (and to stage most of the physical transgressions on ground level as well), underpins what becomes Peter's basic legal argument, that the most miraculous element in the universe is love. (Conductor 71 himself, having temporarily stepped away from the milky vistas of office space above the clouds, privately muses, "Ah, how one is starved for Technicolor up there.") The film was conceived as part of an effort to ensure a sense of camaraderie between Americans and Brits in the aftermath of the war, and it's telling that Peter's inamorata comes from the other side of the pond, and of course even more telling that their divine right to be together is tested on the highest level of scrutiny imaginable, in a galaxy-sized amphitheater courtroom with human history's entire populace of spirits spectating, as the chief prosecutor Abraham Farlan (Raymond Massey), the embittered first American killed in the Revolutionary War, just barely keeps his anti-Brit prejudices in check.
To modern eyes, Powell and Pressburger's scenarios can occasionally feel like trial balloons for just how much genre-transcending hokum the Archers can juggle without the entire proceedings tumbling into parody—though, bull's-eye-piercing arrow title cards aside, they almost always made their mark. But in the immediate wake of what even still stands as mankind's bloodiest descent into an inferno of self-destruction, can you blame them for erring, as Frank Capra did, on the side of cautiously blind optimism?
Image/Sound
A stellar year for Criterion arguably reaches a climax with the absolutely flawless image quality featured on this disc. There are still months left for things to change, but it would be far from surprising to be able to categorize this as the year's most gasp-inducingly gorgeous image transfer. Skin tones look perfectly balanced, and the contrast in each frame of the opening pre-crash sequence alone looks worth of framing. Process shots are luminous, and pops of color (such as the pink orchid) leap from the screen. The mono sound is only the predictably baby step behind the image in terms of its demo-quality worthiness, but even that's almost entirely free of any telltale hissing and popping. If you were to present this to someone who was none the wiser about film history and when Powell and Pressburger were crafting their masterpieces, they'd be just as apt to call it a remarkable pastiche from this year. Criterion's presentation gets our highest recommendation.
Extras
For a standalone single-disc entry in the Criterion Collection, it's hard to imagine doing much better than this to earn the distributor's old advertising slogan "film school in a box." Already it gets off on a decided good foot with interview footage of Martin Scorsese, ever the Archer acolyte, and Powell's widow and editor, Thelma Schoonmaker. The latter gets a full half-hour to go on about A Matter of Life and Death's production and place in British film history, but Scorsese predictably packs nearly as much punch in his scant 10 minutes' worth (and, in any case, his enthusiasm is half the show).
British critic Ian Christie's 2009 audio commentary track gets recycled for this release, and if one wishes his even-tempered demeanor could've been served up a contrasting Scorsese commentary track, Christie is clearly as qualified to speak at length on the film as anyone. Another bonus feature, a 1986 episode of The South Bank Show centered around Powell, puts his career in contemporary perspective even as it gives Powell himself the opportunity to look back; at one point, he talks about Conductor 71's Technicolor line, and the uproarious response it received, and how at that point he realized that realism was of no consequence in filmmaking, only surrealism.
Rounding things out are a 1998 short documentary featuring cinematographer Jack Cardiff, a study on the film's visual effects, and a restoration demonstration, along with a sturdy written essay on the film by critic Stephanie Zacharek. Short of an alternative credit sequence with the American title, Stairway to Heaven, one could scarcely want more.
Overall
Honestly, it's nearly a matter of life or death whether true cinephiles add this disc to their home libraries.
Score:
Cast:
David Niven, Roger Livesey, Raymond Massey, Kim Hunter, Marius Goring, Abraham Sofaer, Robert Coote, Joan Maude, Kathleen Byron, Bonor Colleano, Richard Attenborough, Robert Atkins, Bob Roberts, Edwin Max, Betty Potter
Director:
Michael Powell, Emeric Pressburger
Screenwriter:
Michael Powell, Emeric Pressburger
Distributor:
The Criterion Collection
Running Time:
104 min
Rating:
NR
Year:
1946
Release Date:
July 24, 2018
Buy:
Video
If you can, please consider supporting Slant Magazine.
Since 2001, we've brought you uncompromising, candid takes on the world of film, music, television, video games, theater, and more. Independently owned and operated publications like
Slant
have been hit hard in recent years, but we're committed to keeping our content free and accessible—meaning no paywalls or fees.
If you like what we do, please consider subscribing to our
Patreon
or making a
donation
.