The annals of pop history are littered with artists who have valiantly gone to battle with their record labels. In the 1990s, Prince and George Michael became the poster boys for emancipation from the shackles of the industry's often one-sided recording deals, but their grievances were largely financial in nature. More often than not, when female pop singers go toe to toe with the music industry, it's a more existential pursuit: to wrestle creative control back from the sticky fingers of their (usually male) handlers.
The most recent and high-profile of these cases, of course, is the artist formerly known as Ke$ha, whose bid to be released from her contract with Kemosabe Records is inextricably entangled with her accusation that producer and then-label head Lukasz Gottwald emotionally and sexually abused her. The Kesha v. Dr. Luke lawsuit is still tied up in the courts, but Kesha at least seems to have won a symbolic victory, as she claims that Rainbow, her first album in nearly five years, is the one she's always wanted to make.
Divorcing Rainbow from its context, then, in order to assess the album on its merits is a dicey proposition, as one risks either trivializing Kesha's personal and artistic journey or inflating its importance. The definitive criterion of an album's objective quality, however, might be the answer to one simple question: If a new, unknown artist released it, would anybody care?
Back when Kesha herself was still a new, unknown artist (or close to it), I mused, perhaps foolishly, that putting a dollar sign in your moniker is a great way to guarantee that you'll never be taken seriously. In my defense, it was no coincidence that Kesha replaced the symbol with a regular old "s" around the same time that she started to get serious about remaking her career.
An ostensible result of the internal tug of war between the singer and her label, Kesha's last album, 2012's Warrior, was dominated by inferior rehashes of the Auto-Tuned techno-pop that made her famous. The few songs where Kesha was allowed to venture outside that template—most notably on the Phil Collins-aping "Love Into the Light" and the Flaming Lips collaboration "Past Lives"—suggested an interest not just in a more organic aesthetic, but philosophical introspection. What's new on Rainbow is the abundance of roots and country influences replacing the psychedelic rock sound hinted at on songs like "Past Lives" and "Animal."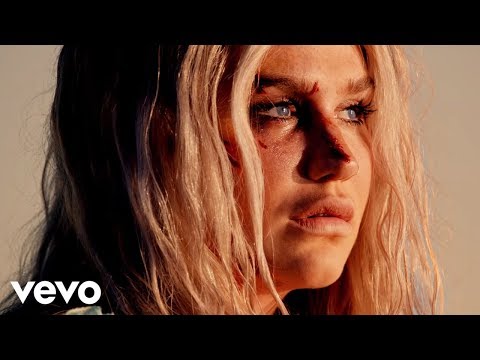 The album opens with the pointedly titled "Bastards," which starts off as a yawning country ballad before erupting into a bright "Hey Jude"-style coda dirtied up by some fuzzy electric guitars. The track serves as a statement of purpose—"Been underestimated my entire life/I know people gon' talk shit, and darlin' that's fine"— and if it feels like a stylistically jarring reintroduction to Kesha the artist, that's probably by design. She wastes no time, however, reminding us that she's still capable of sneering irreverence. Like "Bastards," the rowdy "Let 'em Talk" takes on Kesha's (apparently myriad) "haters" but does so with an acerbic sense of humor: When she sings, "Suck my dick," it's in an angelic head voice.
With her legal case against Dr. Luke still unresolved, Kesha walks a delicate line throughout Rainbow, unafraid to get personal but keenly aware of the universal properties of a good pop song. The album's lead single, "Praying," doubles as both a breakup song in the key of Adele and a deposition of abuse: "Well, you almost had me fooled/Told me that I was nothing without you." As she delivers her testimony, the track slowly builds—strings, drums, and finally a choir—before climaxing with a chilling wail from the singer that sounds like it was more than half a decade in the making.
Elsewhere, "Learn to Let Go" aims to inspire without veering into mawkishness, Kesha's words of wisdom tempered with a healthy dose of skepticism: "I know I'm always, like, telling everybody you don't gotta be a victim." For all the album's genuine pathos and heartfelt self-help directives, she never takes herself too seriously. Despite the album's dearth of binge-drinking anthems, Kesha's boisterous personality remains in tact on songs like "Boots," quashing any suspicion that her aggro party-girl image was a studio creation: "If you can't handle these claws, you don't get this kitty," she quips.
Raised in Nashville, Kesha first dipped her toes into country-inflected pop on Warrior's "Wonderland," but she dives in headlong here on songs like the honky-tonk jukebox joint "Hunt You Down" and the charming acoustic trifle "Godzilla." She even cuts a cover of "Old Flames (Can't Hold a Candle to You)," a song co-written by her mother, Pebe Sebert, in the late '70s and made popular by Dolly Parton, who's also featured here. This rendition is unnecessarily raucous compared to both Parton's chart-topper and Kesha's previous, more ghostly version from 2013, but Rainbow boasts an authenticity—and a sense of unbridled fun—that pal Lady Gaga's recent Joanne lacks.
Like that album, Rainbow probably wouldn't pass the rhetorical test of critical objectivity: If this weren't a Kesha album, it's unlikely anyone would notice it. But while it might not be the discovery of a new talent, it's certainly the deepening of an existing one—another in a long line of female pop stars initially given limited creative and professional agency now intent on exploding the patriarchy.
Score:
Label:
RCA
Release Date:
August 11, 2017
Buy:
Amazon
If you can, please consider supporting Slant Magazine.
Since 2001, we've brought you uncompromising, candid takes on the world of film, music, television, video games, theater, and more. Independently owned and operated publications like
Slant
have been hit hard in recent years, but we're committed to keeping our content free and accessible—meaning no paywalls or fees.
If you like what we do, please consider subscribing to our
Patreon
or making a
donation
.