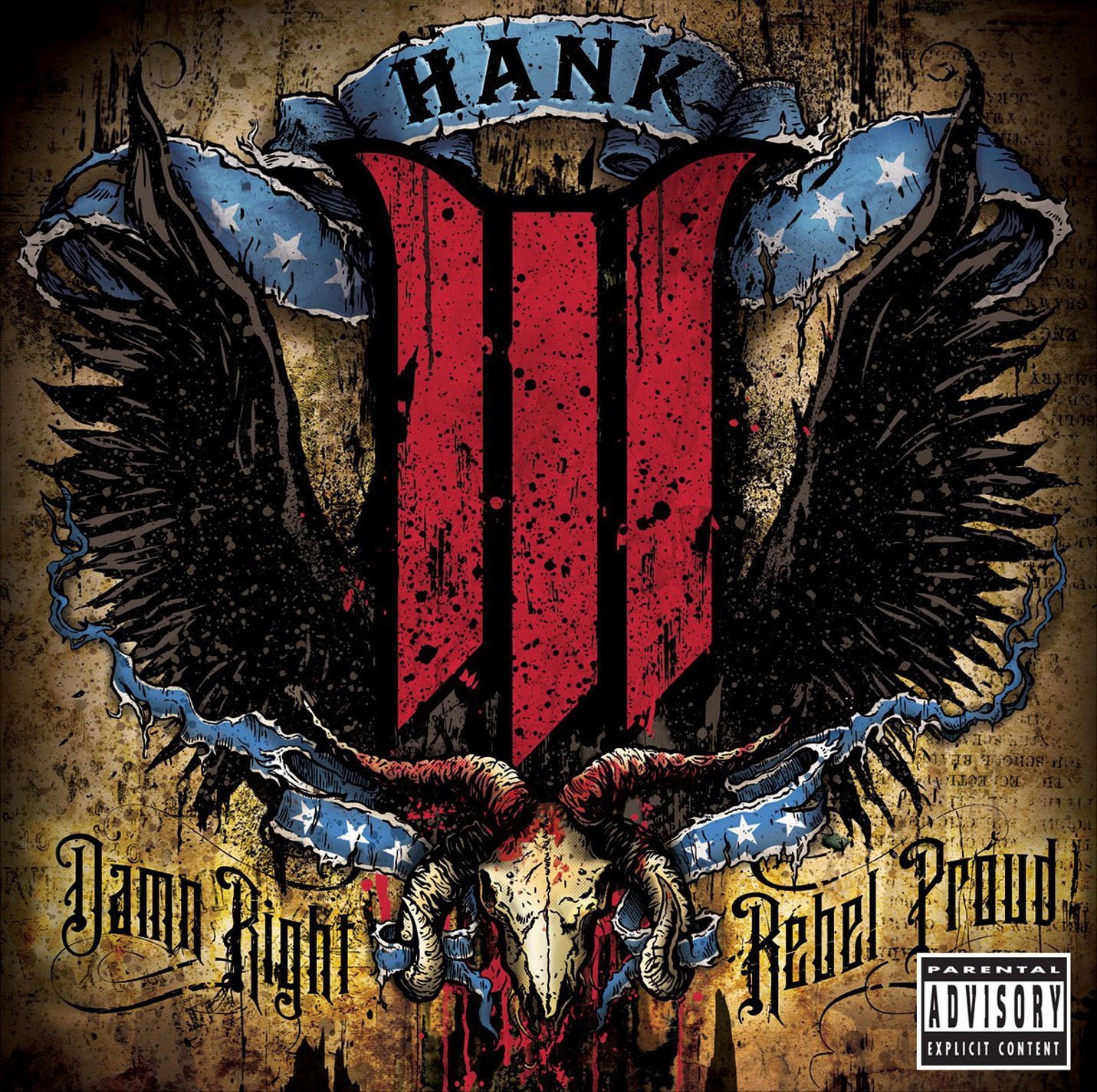 What made Hank Williams III's Straight to Hell such a powerful statement of artistic purpose was his palpable sense of rage—against God, women, Music Row politics, his own legacy, and damn near anything else that he felt stood in his unstoppable, id-driven need to raise hell and self-destruct—and how he channeled that into an immediately distinctive sound that suggested the music his grandfather might have made had he lived to hear the Sex Pistols. Backed by his phenomenal Damn Band, Williams made existing genre tags like "cow punk" and "hellbilly" seem too polite and refined for what he set out to accomplish. His fourth country album, Damn Right Rebel Proud, continues in this same needle-punctured vein. Though it loses some of its predecessor's excitement of a self-aware, fearless artist coming into his own, it loses little of its ferocity or vision.
That's clear from the opening bars of "The Grand Ole Opry (Ain't So Grand Any More)," on which Williams takes the venerable country music institution to task for its hypocritical use of his grandfather's image and music for decades after they revoked his membership. One of the things that's so compelling about Williams, as songs like "I Wish I Knew" and lead single "Long Hauls and Close Calls" make irrefutably clear, is that he doesn't claim his legacy on the basis of his name: He has a keen understanding of how his grandfather established many of the songwriting conventions and themes that have come to define modern country music, and he is able to implement those same conventions with precision and swagger. But what elevates Williams above many other retro-minded acts in the alt-country/Americana scene is that he uses these genre conventions—the economy of language, the deceptively simple melodies that often function as hooks, the use of first-person detail that brings a degree of authenticity to songs of misfortune—within the unique context of a set of metal and art-punk influences that are aesthetically opposed to the country genre's conservatism because they value the destruction, rather than the preservation, of tradition.
That results in songs like "Candidate for Suicide" and "P.F.F. (Punch, Fight, Fuck)," which embrace the spirit of outlaw country but often greatly surpass it in terms of its unflinching portraits of hard living and depravity. As if the frequent citations of drugs and violence didn't establish a sufficiently unpleasant point of view, he makes a reference to G.G. Allin here that is disturbing in its apparent sincerity and reverence. Where Damn falters is in its repetition of this image: While Hell covered similar thematic territory, there was considerable variety to its stories. Here, the construction of the hell-raising image occasionally comes across as an end unto itself (as on "P.F.F." and "3 Shades of Black") rather than a means to a greater end, which can make the album a bit one-note. It's on the songs that use that image within an actual narrative, such as "I Wish I Knew," "If You Can't Help Your Own" and closer "Working Man," that demonstrate the real scope of what Williams does so well.
Even when the album does come across as posturing—and it's worth noting that he is perhaps more entitled to a "Don't you know who I am?" attitude than anyone else in the genre—the enthusiasm, the skill and the forcefulness of Williams and the Damn Band's performances carry the record. There are few contemporary country songwriters who can structure a song like "Me and My Friends" and even fewer acts that can match the virtuosity of the fast-picking "Six Pack of Beer." Whether or not one buys into his image—what works about it is its consistency and how it is perfectly matched to the style of his music to create a self-contained aesthetic, not its ostensible "truth"—is incidental to the fact that Williams is a phenomenal talent. And even at its most strident, Damn Right Rebel Proud seethes with an energy and a perspective that's too often lacking today, and it reaffirms that it's far more than just his name that makes Williams one of the genre's most vital artists.
Score:
Label:
Curb
Release Date:
October 21, 2008
Buy:
Amazon
If you can, please consider supporting Slant Magazine.
Since 2001, we've brought you uncompromising, candid takes on the world of film, music, television, video games, theater, and more. Independently owned and operated publications like
Slant
have been hit hard in recent years, but we're committed to keeping our content free and accessible—meaning no paywalls or fees.
If you like what we do, please consider subscribing to our
Patreon
or making a
donation
.