Dramatizing the tough road toward reconciliation that four Irish women embark on during a pilgrimage to Lourdes, France, The Miracle Club seeks nothing more than to be easily digestible. Between the vibrantly colored costume pieces and the sweeping aerial shots of the Irish and French countrysides, the film tries quite hard to keep its story in the placid realm of the feel-good. Yet those elements belie an extremely dark and tragic center, which the filmmakers are far too keen to wash their hands of almost as soon as it's revealed.
Set in 1967, Thaddeus O'Sullivan's film begins in Ballygar, a working-class seaside neighborhood in the outskirts of Dublin that's reliant on the guidance of Father Dermot Byrne (Mark O'Halloran), whose church is something of a community center. Chrissie (Laura Linney) is returning to the area for her mother's funeral, some 40 years after leaving Ballygar for Boston, and old wounds quickly resurface when she comes face to face with her childhood best friend, Eileen (Kathy Bates), and her late mother's own bestie, Lily (Maggie Smith).
Father Byrne has bewilderingly decided to combine Chrissie's mother's funeral with the church fundraiser in the form of a talent show whose first-place prize is a trip to Lourdes. Eileen, Lily, and the much younger Dolly (Agnes O'Casey) are charming as a singing trio, but they can only muster second place, for which the prize is a hilarious joint of bacon. Lucky for them, the winner is moved by their desperate desire to go to Lourdes and sweetly offers his prize to the women, who are joined by Chrissie on their trip in place of her mother.
If the screenplay takes a perversely inordinate amount of time spelling out the reasons behind the shared bad blood between the women that's hinted at by all their passive-aggressive, sometimes snide comments, it's in part because it's more interested in detailing why the women are drawn to Lourdes, the most famous healing shrine in the world. Eileen harbors the secret of a potentially cancerous lump in her breast, Lily wants absolution for interfering in her deceased son's life, and Dolly wishes for her mute son, Daniel (Eric D. Smith), to speak.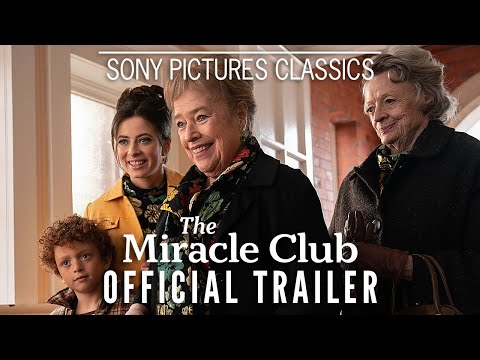 As for Chrissie, she seems motivated less by the need for absolution than some kind of reconciliation with her dead mother. There's resonance in that lack of clarity, but The Miracle Club is tight-lipped in other ways that are only frustrating. For one, we never learn if Daniel has an affliction or if he's just supremely shy, nor do we find out why Eileen is constantly bitter toward everyone around her. The woman even hints on more than one occasion that Chrissie is responsible for the death of Lily's son, but whether or not that's true remains under wraps. And by the time that some of the sources of the characters' long-standing, bitter grudges are eventually revealed, the whole thing is resolved in a remarkably offhand way.
Worse yet is the way that the film veers discordantly between the gravitas of the trip to Lourdes and the comedy that marks the scenes back at home, in which men try to get on with the domestic labor without the help of their wives. Across the board, the comedy is painful, given the airy depiction of what can be fairly considered abuse. Eileen's husband (Stephen Rea) threatens her when she announces her intention to travel abroad, while Dolly's (Mark McKenna) tells her that she better not return. This and more, like Chrissie's gripes about the cruelty that Lily and Eileen have subjected her to, is treated with shocking frivolity.
In no small part due to its performances of its leads, The Miracle Club boasts one beautifully realized scene in which the main characters reconcile and bond over the difficulty of abortion care. By then, though, the film is too busy trying to put a conspicuously tidy and cloying bow on the narrative to worry about how regressive patriarchy can also be weaponized by women, and how beautiful the power of solidarity can be. In the end, The Miracle Club is splintered at the seams between its desire to tell an uplifting story of forgiveness and a cheeky tale of patriarchal floundering, all the while doing both a tremendous disservice.
Score:
Cast:
Laura Linney, Kathy Bates, Maggie Smith, Agnes O'Casey, Mark O'Halloran, Mark McKenna, Niall Buggy, Hazel Doupe, Stephen Rea
Director:
Thaddeus O'Sullivan
Screenwriter:
Joshua D. Maurer, Timothy Prager, Jimmy Smallhorne
Distributor:
Sony Pictures Classics
Running Time:
91 min
Rating:
PG-13
Year:
2023
If you can, please consider supporting Slant Magazine.
Since 2001, we've brought you uncompromising, candid takes on the world of film, music, television, video games, theater, and more. Independently owned and operated publications like
Slant
have been hit hard in recent years, but we're committed to keeping our content free and accessible—meaning no paywalls or fees.
If you like what we do, please consider subscribing to our
Patreon
or making a
donation
.