Audiences may feel a sense of déjà vu while watching Bassam Tariq's Mogul Mowgli, which stars Riz Ahmed as a musician suffering from a degenerative autoimmune disease that results in muscle deterioration. The film is the actor's first since Darius Marder's Sound of Metal, in which he played a drummer slowly losing his hearing. The two films even start on a similarly raucous note, so to speak, in this case with Ahmed's Zed holding an audience in his thrall with one of his intricate and propulsive raps. But Mogul Mowgli soon reveals itself to be an entirely different beast from Sound of Metal, pulling as it does from Ahmed's own experience of being a Pakistani Muslim as well as a rapper.
Zed receives the diagnosis of his disorder just at the point that the New York-based musician is on the brink of breakthrough success. As a first-generation Briton born to tradition-bound Pakistani immigrants, Zed is charting a course in an industry with very few people like him. It's the complex nature of his identity that the film takes careful pains to convey, and with no shortage of aesthetic liveliness. Mogul Mowgli loops in and out of flashbacks, hallucinations, and dream sequences, in part to underline the autobiographical connection between character and star (Ahmed's actual childhood home videos are used throughout the film). In Tariq's assured hands, Mogul Mowgli never comes off as muddled or unwieldy, what with the many cinematic idiosyncrasies that mark the film effectively reflecting Zed's multifaceted identity.
Mogul Mowgli doesn't shy away from the cultural conflicts that arise from Zed being both British and Pakistani. It's in everything from the young man wanting to chart his own professional course rather than take the traditional route of settling down and having children, to the combination of Western and Eastern medical treatments that he receives for his disorder, including the cupping therapy that's recommended to him by his father, Bashir (Alyy Khan). In a notable scene, right before Zed receives his diagnosis, he's approached by an over-eager fan outside of a mosque who calls him a "coconut" for refusing to take a selfie with him, and just as the pair get into a skirmish, Zed suffers his first collapse.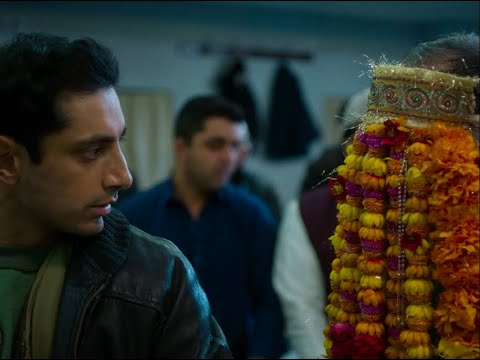 The near-oppressive quality of Zed being stuck between two different cultures is rendered palpable through Tariq's conspicuous aesthetic choice of shooting Mogul Mowgli in the full-frame aspect ratio. The constricted framing not only reflects the world's tight grip on Zed, but also the seeming unshakability of that grip. And if Zed's raps are so electric, it's because there's a sense that he comes closest to being free when he's on stage. Throughout, Zed routinely fails to articulate his feelings clearly or earnestly to anyone who isn't standing before him at a venue, as in his awkward attempt to reconcile with his ex-girlfriend, Bina (Aiysha Hart), over the phone, using the likelihood of him becoming infertile from an experimental medical procedure as the pretext to tell her about his condition.
Mogul Mowgli's poignancy derives from its profound understanding of Zed's identity crisis and how the history he's trying to reconcile is what enables his professional success even as it carries him further from his roots. In a crucial scene, after Zed returns to London after a considerable time away, he and a cousin (Hussain Manawer) take alternately playful and heated jabs at one another over the matter of why Zed still chooses to go by a shortened version of his full name. You feel in this moment, without ever being told, that Zed has been effectively running away all his life from everyone who's ever called him a "coconut," and that to go by Zaheer is to force himself to have to really grapple with all of that pain.
Mogul Mowgli celebrates artistic expression as a means of communication, but Tariq suggests that Zed, even if he isn't forever struck down by his disease, will never truly find success unless he stops using his words as a shield against his past. The nature of Zed's condition may be an obvious device, as it allows for a few conspicuous scenes of emotional and literal nakedness. But however hopeful these moments are, they never feel naïve, thanks in no small part to the haunted specificity that Ahmed and Khan bring to their characters. In a late scene, as Zed is indisposed in the bathroom, a concerned Bashir barges in to check on his son, and the actors chart a moving journey as embarrassment gives way to confidence, longing, and finally love. Father and son exuberantly rap and dance together to one of Zed's songs, and for a moment you see more than just Mogul Mowgli's protagonist take a small step toward healing.
Score:
Cast:
Riz Ahmed, Alyy Khan, Anjana Vasan, Sudha Bhuchar, Nabhaan Rizwan, Aiysha Hart, Hussain Manawer, Jeff Mirza
Director:
Bassam Tariq
Screenwriter:
Bassam Tariq, Riz Ahmed
Distributor:
Strand Releasing
Running Time:
89 min
Rating:
NR
Year:
2020
Buy:
Video
If you can, please consider supporting Slant Magazine.
Since 2001, we've brought you uncompromising, candid takes on the world of film, music, television, video games, theater, and more. Independently owned and operated publications like
Slant
have been hit hard in recent years, but we're committed to keeping our content free and accessible—meaning no paywalls or fees.
If you like what we do, please consider subscribing to our
Patreon
or making a
donation
.