Anyone who's followed, even in passing, the Russian invasion of Ukraine has come across footage captured by Ukrainian photojournalist and war correspondent Mstyslav Chernov. Where his on-the-ground video dispatches have provided crucial snapshots of the damage being done to civilian sites in the Ukrainian border city of Mariupol, Chernov's feature-length documentary 20 Days in Mariupol provides something closer to the whole picture.
During the first few weeks of the Russian invasion, Mariupol took the brunt of the damage in Ukraine, and Chernov's film unflinchingly documents the sudden and rapid escalation of the bombing campaign. His footage documents everyday reality in the city throughout the first 20 days of the invasion, during which time the lack of electricity, phone and internet service, and critical hospital supplies left those who didn't leave Mariupol and survived the sustained Russian attacks completely isolated, trapped, and helpless in their crumbling home city.
With 20 Days in Mariupol, Chernov highlights the fact that civilian homes and public buildings were being deliberately targeted and destroyed—something that Vladimir Putin's regime and Russian media outlets continue to deny—as well as goes out of his way to put a human face on the crisis. Interviewing random people on the streets of Mariupol, even as enemy planes fly overhead and bombs and gunfire can be heard nearby, he elicits an array of pained responses about the terror inflicted on the city and what it feels like to be filmed by him.
During one of the first days of the invasion, Chernov attempts to engage with one man, who eventually responds to his inquiries with a brief, harsh rebuff—"Fuck you, prostitute"—before swiftly moving on. It's the kind of throwaway moment that most documentarians would leave on the cutting room floor. Chernov, though, uses it as a catalyst for self-reflection across his sobering voiceover, acknowledging the innately exploitive nature of filming the "sadistic virus of destruction" that plagues the city but that his "camera will not let him forget."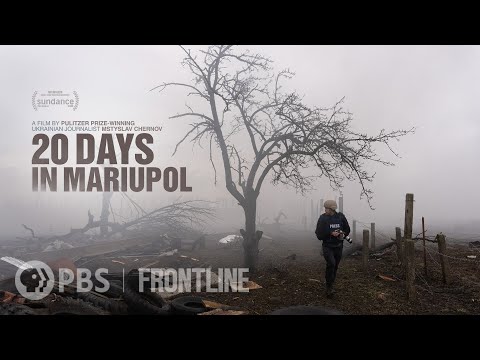 Much of the footage of the ongoing destruction imbues 20 Days in Mariupol with an urgency and immediacy that makes its value as, if nothing else, a documentation of Russian war crimes, above reproach. In a late sequence where a Mariupol hospital—already in a state of complete disrepair—is attacked, Chernov doesn't shy away from depicting the collateral damage involving the deaths of children. And those images are harrowing and disturbing.
At its core, 20 Days in Mariupol is a testament to the citizens of Mariupol. It both mourns the loss of tens of thousands of lives and champions the struggle of those still trying to survive in Mariupol and help their neighbors to do the same. Late in the film, Chernov encounters a now homeless man who's been pushing a wheelbarrow full of his personal possessions for hours. Amid gunfire, Chernov asks the man how he finds the strength to keep going, to which he blankly answers, "What are you going to do? They're shooting and I'm walking."
Chernov contextualizes the events of 20 Days of Mariupol as just the most recent Russian assault on Ukraine, following the annexation of Crimea and the war in Donbass. Indeed, the man with the wheelbarrow's blunt answer speaks to a country that's been hit repeatedly for years and whose people almost miraculously continue to tap deep wells of resilience. With a brief note of defeatism, Chernov himself remarks that "we keep filming and things stay the same." Yet the images that he captures are in themselves a rebuff of that attitude, as they reveal cold, hard, and above all undeniable truths that, as excruciating as they are, could stop this invasion if the world upholds its duty to bear witness to them.
Score:
Director:
Mstyslav Chernov
Screenwriter:
Mstyslav Chernov
Running Time:
94 min
Rating:
NR
Year:
2023
If you can, please consider supporting Slant Magazine.
Since 2001, we've brought you uncompromising, candid takes on the world of film, music, television, video games, theater, and more. Independently owned and operated publications like
Slant
have been hit hard in recent years, but we're committed to keeping our content free and accessible—meaning no paywalls or fees.
If you like what we do, please consider subscribing to our
Patreon
or making a
donation
.