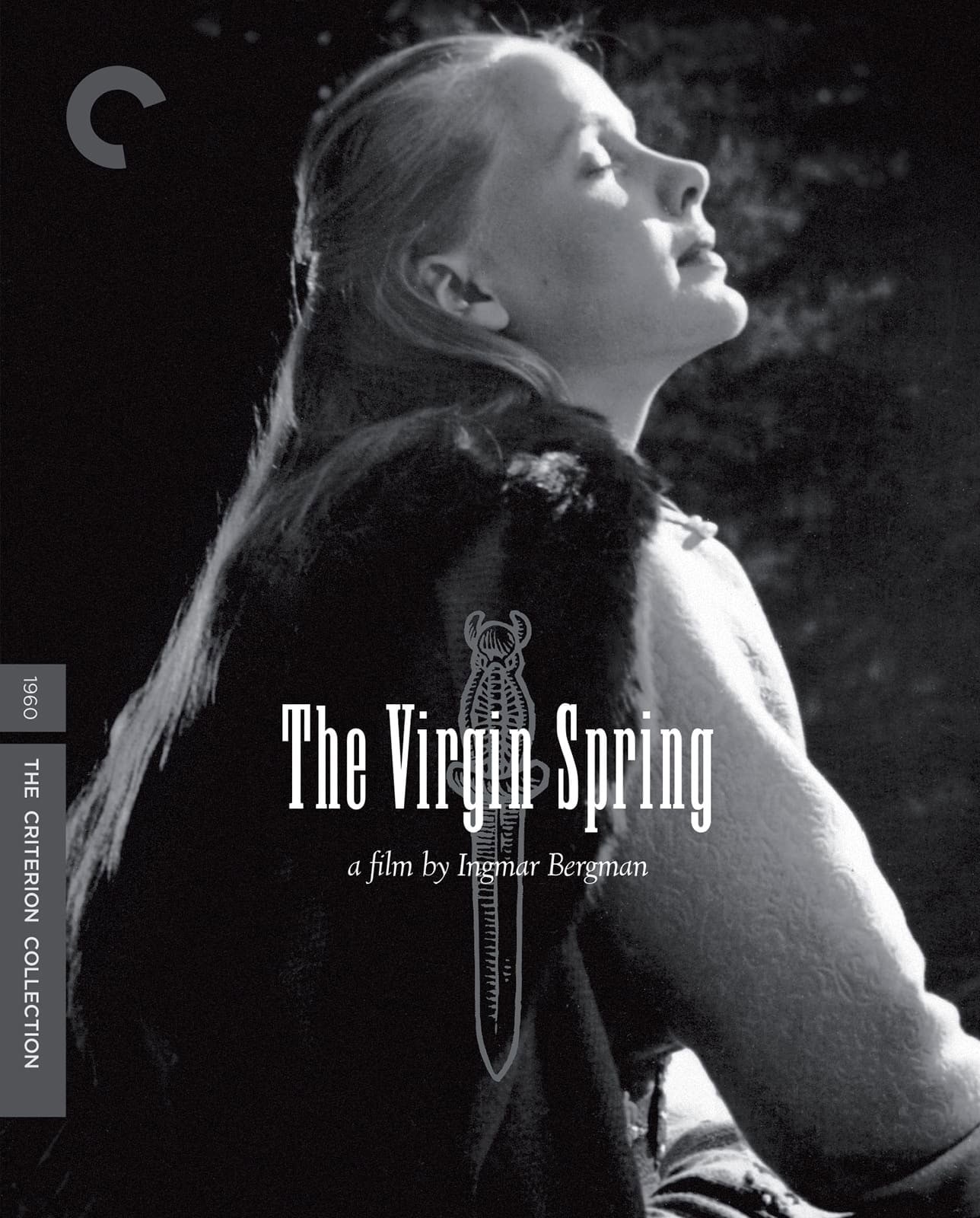 Even a film as punishingly austere and theoretical as Ingmar Bergman's The Virgin Spring, a litmus test even for those on the Swedish auteur's parable-minded wavelength, is informed with breathtaking and supple poetry. The 1960 film opens on Ingeri (Gunnel Lindbloom), a pregnant young woman in a 13th-century manor house who's preparing a morning fire. Bergman and cinematographer Sven Nykvist frame the manor head on, causing it to resemble a theater in which Ingeri puts on a daily performance.
Not long afterward, a high-contrast close-up of Ingeri sees her looking up through the manor's roof and toward the sky, praying for Odin's intervention. This shot is intensely sexual, suggesting a woman who's attempting to trade one form of subservience (to her masters at the farm) for another (to the class-unbound rule of paganism). Bergman and Nykvist drink in Lindbloom's angular visage, which conveys a deep-seated mixture of anger and yearning. This yin and yang rhymes with the contrasting modes of performance we've just witnessed: the rituals of daily quotidian and of prayer, which frequently overlap in this society. As Inger grasps at a pole in the manor leading to the sky, Bergman balances religious inquiry with phallic neuroticism.
Bergman is a master of dramatizing the differences between conjecture and physical behavior, recognizing the latter as reality. A wild child who's scorned at the manor for a pregnancy that may have been conceived by rape, Ingeri is the character in the film who's most in touch with her own wants and with the world as it is. The prosperous family of the manor—Töre (Max von Sydow); his wife, Märeta (Birgitta Valberg); and their beautiful daughter, Karin (Birgitta Pettersson)—are wracked with guilt over the gulf between their desires and the principles of Christianity. Töre and Märeta judge Ingeri for her feral-ness while engaging in a sexualized power struggle for Karin's affections. When Töre scoops his impudent daughter up in his arms and affectionately threatens to lock her up in a mountain, you may wonder just what else he might be imagining to take place in a realm free of the prying eyes of religious society. Ingeri is at least forthright in her sexual and class-centric resentment of Karin.
The film's intense and mysterious physical tactility contrasts with the mercilessly explicit symbolism of the dialogue, which is rich in allusions to beauty being destroyed by evil. Even those unaware of the narrative beforehand will be primed to expect an atrocity that explodes the physical and intellectual tensions of the manor, revealing the limitations of Töre and Märeta's fragile and sheltered piety. On her way to church to deliver candles, Karin is raped and murdered by two herdsmen (Axel Düberg and Tor Isedal) as their young brother (Ove Porath) watches, but not before Ingeri is taken to a mountain shanty, a place of pagan worship, where an old man sees a vision of three dead men riding north. Dark and gleaming with the light of the river running through it, this shanty is terrifying and oddly beautiful. Ingeri wished for Karin's death, but Töre and Märeta are perhaps even more culpable, as their pride and self-involvement effectively set a lamb up for the slaughter.
Yet Bergman refuses to castigate Töre and Märeta as hypocrites, as the filmmaker's imagination is too mighty for such reductions. The husband and wife's faith has stature, particularly in their pitiless willingness to indict themselves in the face of Karin's brutal death. When Töre prepares to kill the herdsmen, who camp out in his manor unaware of his identity, Bergman lingers on von Sydow's rigid and incredibly lean body as Töre beats himself with birch branches. Even this sequence is complicated by the sensuality of texture—by the charge that's emitted from the sober, magnetic purity of Töre's rage and despair. (Subtextually, we're driven to suspect that Karin's death and defilement perversely complete Töre, providing him the atrocity that his religion has accustomed to expect, and allowing him to exact a biblical wrath.) Similarly, the satanic omens that appear throughout The Virgin Spring—a raven, a toad—are shot with a docudramatic rapture that eclipses their literal function in the narrative. Bergman's formal perfection fosters a sense of the sexual and emotional uncanny, offering a clear-eyed view of murky human will that's understood to be a paradox.
Image/Sound
The restoration offers vivid testament to the sensorial brilliance of The Virgin Spring. Close-ups of visages are detailed, with blacks and whites that are so sharp as to lend the images a three-dimensional tactility. Notably improved in this edition, from Criterion's 2005 DVD release, is the clarity of the image backgrounds, which intensify the film's fairy-tale atmosphere. The soundtrack has also been considerably improved, most notably the diegetic elements, such as the croaking of toads and the babbling of brooks. And one sound effect is visceral to the point of profundity: the scratching and snapping of Töre's self-flagellation as he prepares for vengeance.
Extras
The audio commentary from 2005 by Ingmar Bergman scholar Birgitta Steene and the essay (included in the disc's accompanying booklet) by screenwriter Ulla Isaksson offer valuable context for modern audiences concerning Sweden's religious evolution and how it informed The Virgin Spring. The film is driven by a conflict between Christianity and paganism, and Steene notes individual symbols in the film as well as explicitly religious images such as a dinner scene that brings to mind the Last Supper. Steene also covers Bergman's working methods and how his theatrical roots informed his filmmaking and particularly his collaborations with actors.
Steene's line of inquiry is complemented by the interviews from 2005 with actors Gunnel Lindblom and Birgitta Pettersson. Lindblom says that Bergman wanted her to lose weight for The Virgin Spring, which she did, though she wondered why such a detail would matter if her character was pregnant. Of course, the disparity between Ingeri's round belly and gaunt face is memorable and revealing, which attests to Bergman's talent for texture.
Ang Lee's poignant introduction has also been ported over from the prior disc, and he celebrates the wonderful faraway shot of Töre's body as the latter contemplates the building of a church on the site of Karin's murder. Meanwhile, an audio recording of Bergman's 1975 seminar at the American Film Institute is notable for the auteur's humor. Also included in the booklet is the original 13th-century medieval ballad that inspired the film and a superb essay by film critic Peter Cowie, who praises "the sheer, sculpted purity" of The Virgin Spring, contextualizing it as a transitory work for Bergman. The only problem with this package is the notable lack of updated material.
Overall
Criterion offers a vital and macabrely beautiful rendering of an underrated and pivotal film in Ingmar Bergman's career.
Score:
Cast:
Max von Sydow, Birgitta Valberg, Gunnel Lindblom, Birgitta Pettersson, Axel Düberg, Tor Isedal, Ove Porath, Axel Slangus
Director:
Ingmar Bergman
Screenwriter:
Ulla Isaksson
Distributor:
The Criterion Collection
Running Time:
90 min
Rating:
NR
Year:
1960
Release Date:
June 26, 2018
Buy:
Video
If you can, please consider supporting Slant Magazine.
Since 2001, we've brought you uncompromising, candid takes on the world of film, music, television, video games, theater, and more. Independently owned and operated publications like
Slant
have been hit hard in recent years, but we're committed to keeping our content free and accessible—meaning no paywalls or fees.
If you like what we do, please consider subscribing to our
Patreon
or making a
donation
.