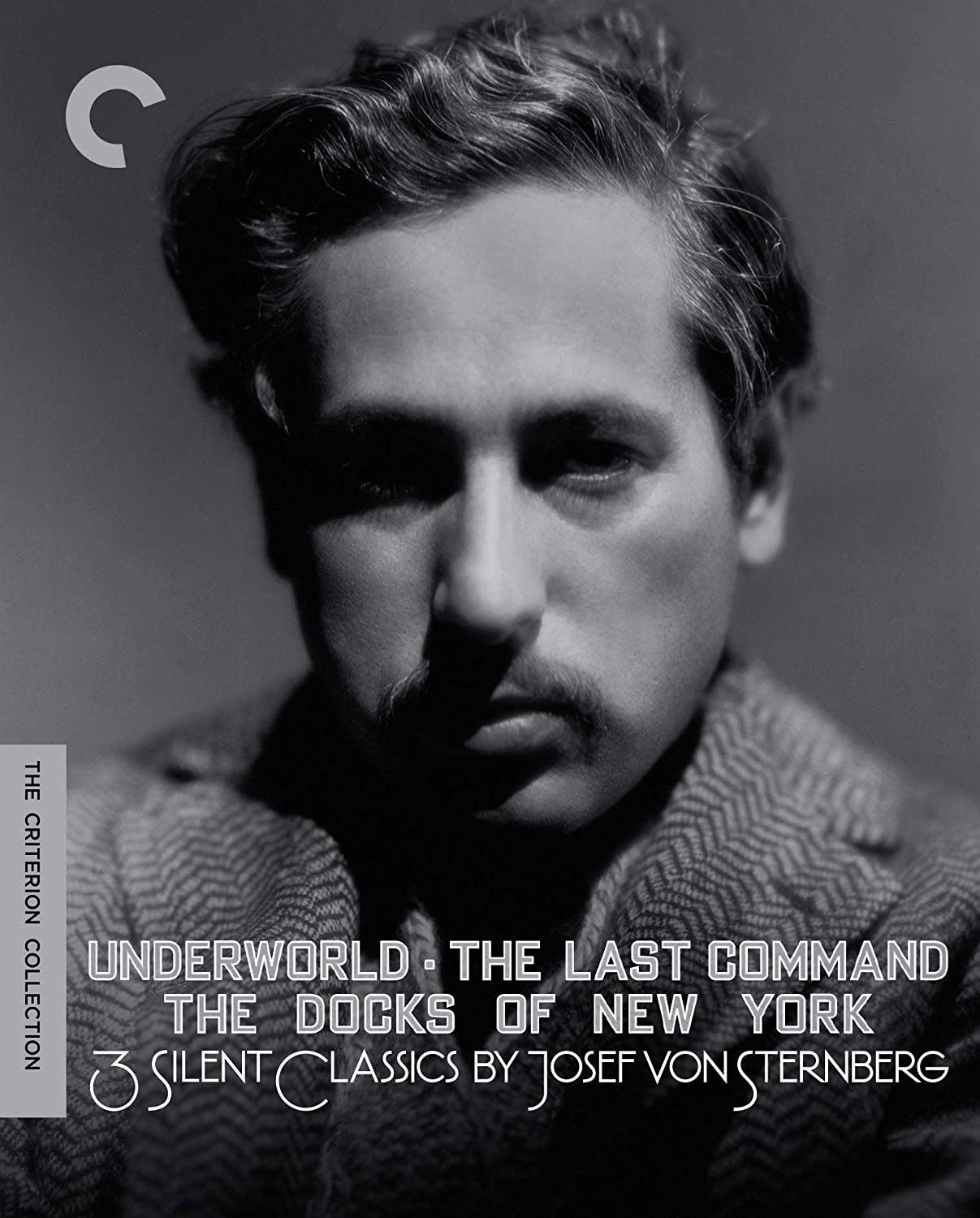 Jonas Sternberg was raised by his impoverished Orthodox Jewish family in both his native Vienna and New York before he began his film career repairing damaged reels. He acquired his "von"-enhanced moniker in the early 1920s shortly before he was first acclaimed as a genius of the medium for producing an arty independent feature, The Salvation Hunters, for less than $5,000. Soon set back by having an MGM project reshot by another director and another completed film suppressed by its producer, Charlie Chaplin, von Sternberg landed at Paramount, where he made a string of technically dazzling, often enigmatic melodramas that cemented his reputation as a supreme stylist of lighting and montage. The three surviving productions of this period, packaged by the Criterion Collection here, now seem both confident, maverick not-quite-genre pictures and worthy precursors of von Sternberg's signature collaboration that followed, the seven early sound movies he made with his superstar "creation," Marlene Dietrich.
Von Sternberg opened Underworld, often cited as the template for the succeeding dozen years of urban gangster films, with a bang. Burly felon Bull Weed (a larger-than-life George Bancroft) dynamites a bank and single-handedly flees with the loot, before the admiring eyes of a drunken ex-lawyer (Clive Brook) whom the thug adopts as an advisor and mascot, christening him "Rolls Royce." Playing out a triangle of loyalty and love with Bull's sassy moll, the aptly named Feathers (a plumage-and-fringe-swathed Evelyn Brent), the protagonists are drawn with a mix of verve and melancholy, but the director is the dominant personality, with his fluid cutting among a raucous basement bar, cold-water flats, and gun battles, matched by the florid frame-filling of an adroit entertainer. The humor aggressively tilts toward the later lampoonery of Billy Wilder than Cagney-style street wit; of a gangsters' annual ball, a title card proclaims, "Everyone with a police record will be there," and jug-eared comedian Larry Semon brings vaudevillian mirth to all his scenes as a clownish gang underling.
If Underworld falls a little short in its third act because it was surpassed by its descendants (both the climax and a neon sign flashing "The City Is Yours" anticipate scenarist Ben Hecht's script five years later for Scarface), it retains a flavor all its own; it's entirely of von Sternberg's aestheticized world, not Capone's Chicago. Brook and Brent's softhearted and dubiously motivated fealty to the crude, swaggering Bancroft was among the elements that prompted Hecht to ask for his name to be taken off the film—until it became a hit and won him an Oscar). But from an abortive prison break via hearse to an attempted rape in a confetti-strewn recess of a ballroom bacchanal, it's the assured, surprising visual landscape that makes the 81 minutes fly, with broad emotion and archetypes preferred over complex plotting and nuanced characterization. Von Sternberg made limited but memorable use of technical flamboyance: the POV camera rocking back from a punch to the gut, a montage of grotesque partygoers' mugs, the holdup of a jewelry store announced by a bullet hole bursting open on a clockface. Perhaps most crucially lacking a powerful foe for Bull, whose seething rival (Fred Kohler) has a flower shop for a front, the film nonetheless announced the presence of a crackling new artist on the Paramount lot when it became an unexpected smash.
In the following year, von Sternberg helmed the ambitiously structured melodrama The Last Command, the most epic-scaled entry in this trilogy, starring the German actor Emil Jannings as a Hollywood extra cunningly cast by a Russian immigrant director, Lev Andreyev (William Powell), in a war drama set at the 1917 revolution—because Lev recognizes him as Sergius Alexander, the former commander in chief of the czarist army. In a remarkable, witty sequence, the glassy-eyed, elderly ex-general lines up with a chaotic swarm of bit players to collect their costumes and prop rifles from a surly crew of studio grunts. Von Sternberg takes a jaundiced view of mobs, whether they're backlot extras or the Bolshevik rebels seen in The Last Command's principal time frame, a lengthy flashback to the fall of imperial Russia and Jannings's grand duke, who's undone by the tides of history and his tragic dalliance with proletarian actress Natalie (Evelyn Brent again), "the most dangerous revolutionist in Russia!"
Jannings's doomed, whip-wielding Sergius is the fulcrum of the first of von Sternberg's "stories of male mortification leading to self-destruction," as the critic Tag Gallagher terms them. When during an assignation at the grand duke's headquarters, Natalie finds herself unable to shoot him like a good Red would, it merely leads to a torturous, drawn-out demise for the general, whose train is waylaid by revolutionaries in a spectacular 20-minute sequence, big in scope but intimately sadistic. As throngs of Bolshies mock, beat, and spit at Sergius (with Natalie joining in to stall his hanging and effect his escape), Jannings suffers like the lead in a passion play, in an equally intense but more physical humiliation than the one inflicted on the actor's Immanuel Rath by Dietrich's Lola Lola two years later in von Sternberg's The Blue Angel. After the mob's smoky, hellishly lit assault on the military train, Sergius is coerced to stoke the locomotive engine, its fiery maw promising an infernal destiny. The segment, bridging the return to the Hollywood Sergius with his lateral head tremor and salvaged imperial medal pinned to his military costume, is held together by Jannings's face in close-up—bleeding, astonished, betrayed, and transforming itself into a mask of trauma.
With his bravura handling of the spectacle and action of the film's revolutionary bulk, von Sternberg's satirical touch when The Last Command returns to the 1928 film studio is balanced by the pathos of Sergius's delusions, vividly summoning Red hordes behind the barbed wire as he stands in a trench, restored to leading an army under spotlight and wind machine. (Alas, Powell's émigré director is frustratingly characterized as an avenger bent on the general's destruction who sentimentally turns into a eulogist when it comes to pass.) Winning Jannings an Oscar—along with his performance that year in Victor Fleming's The Way of All Flesh—The Last Command was its maker's most ambitious and accomplished vision to date of a pitiable life derailed by fate and circumstance.
Coal-stoking on any ship that will have him is the full-time work of hardass Bill Roberts (George Bancroft) in The Docks of New York, released later in 1928 and, on its knockabout surface, an about-face in tone from the Jannings vehicle. Though the nighttime waterfront sets are shrouded in fog and shadow, occasionally pierced with expressionistic shafts of light, aggressive character comedy and hardscrabble romance dominate. Writer Jules Furthman, later a creator of Howard Hawks's tough-talking, tight-knit communities, and von Sternberg make Bancroft's two-fisted, pre-WWI sailor a near-caricature of machismo and give him a memorable roost in the Sandbar tavern, where he drinks from beer barrels hoisted over his head and fends off brawlers, surly bartenders and a pistol-waving proprietress.
This sawdust and testosterone is augmented by the best-drawn female characters across these three silent films. Suicidal kewpie Mae (Betty Compson) is plucked from the river by Bill, but though she falls hard for him, you know she's not to be messed with when she casually strikes matches on the cracked walls of a flophouse. Elsewhere, the slouchy engineer's wife, Lou (Olga Baclanova), treads the floor of the Sandbar with promiscuous dancing and withering cynicism. Both eclipse the largely decorative Brent in presence and nerve.
Bancroft's hard-living seaman Bill isn't as blustery as his Underworld goon, but the way the fate of his improvisatory marriage to Mae rests on whether he can transcend his self-image as "just a dirty stoker" sneaks up on the audience, and von Sternberg knows not to push his hero's valiant stand in a closing night-court scene into bathos. The crowded scenes of revelers in the Sandbar, hooting and shouting sympathetically as Bill and Mae are married by a reluctant parson, linger in memory just as the wiseguys and molls from the gangsters' ball in the first Paramount film do. Before he secured his immortality by training his lens on the face and form of Dietrich, von Sternberg showed particular flair in these three late silents for locating the joy, anguish, and doubts to be found in the man who's set apart from, or absorbed into, his tribe or society. It's a semi-forgotten legacy that this collection valuably restates.
Image/Sound
While it's a welcome treat to have this set back in print, it can't help but suffer in comparison to last year's mammoth Dietrich & von Sternberg in Hollywood release. And that would've held true even had Criterion given the three older films collected here a 4K restoration, which by all indications they haven't. Outside of the fact that these Blu-rays don't feature the unfortunate window-boxing that was Criterion's standard practice when the DVD set was originally released, the improvements here are minor indeed. As true as it may be that this is about as good as one can expect 90-plus-year-old studio movies to look, one can't help but wonder what a little extra effort might have yielded. Especially since The Docks of New York in particular frequently looks about as good as any silent movie I've ever seen on home video, despite some ghastly hatch-marking at reel-change points. This set also retains the DVD edition's two music score options for each film, one by Robert Israel, and the other by Alloy Orchestra. Israel's compositions are more lushly produced, if also easier to tune out, whereas Alloy Orchestra take more chances (such as vocals on The Docks of New York) without ever threatening to break the mold. Again, as with the video transfers, with a little extra effort, Criterion could've offered up something unexpected, as when their Passion of Joan of Arc upgrade threw in a new score from Goldfrapp's Will Gregory and Portishead's Adrian Utley.
Extras
Same goes for the extra features, which are fine enough but far outclassed by the offerings on Dietrich & von Sternberg in Hollywood. More unfortunately, the first of the set's two video essays—one by UCLA professor Janet Bergstrom, the other by film historian and critic Tag Gallagher—spends enough time on von Sternberg's The Salvation Hunters to make you long for its inclusion alongside the three Paramount films featured here. Bergstrom's thoroughly researched half-hour history lesson primarily explains the backstory behind Underworld's unexpected, instant success; you could almost call it one of the first midnight movies, as audience demand had theaters adding screenings whenever they could get away with it. She delves into von Sternberg's unique imagery, and reveals how he was at first supposed to be one of two "directors" on the film, focusing on artistic innovation, until the entire project became his. And she recounts superstar screenwriter Ben Hecht's dissatisfaction with the film product, hard feelings that thawed somewhat after Hecht won the first Oscar for original writing.
It's Gallagher, though, who really slips into von Sternberg drag to explore the relationship between artifice, performance, and cinematic effect, staying true to both the director who told actresses to count to three before blinking, and the artist who may have used light and the textures it grabs better than any silent-trained director in Hollywood. Von Sternberg himself appears in a thrashingly edited Swedish TV documentary from the late '60s, in which he claims, "I don't imbue films with messages." Anyone who's read his brief chapter in Peter Bogdanovich's Who the Devil Made It knows that von Sternberg gets off on taunting his interviewers, and in this set's extensive booklet (which also features essays for each film along with Hecht's original Underworld treatment) you find that his games apparently extended to his actors as well. A lengthy excerpt from the autobiography Fun in a Chinese Laundry showcases von Sternberg almost dazzlingly alternating between complimenting his The Last Command star Emil Jannings and excoriating him: "To direct a child is one thing, but when the youngster weighs close to three-hundred pounds it is not easy to laugh at all his pranks."
Overall
By the measure of the films it includes alone, standing on the precipice of silent cinema's apotheosis and a legendary visualist's coming of age, this set is a must-own. But forgive us for wishing that Criterion would've pushed it to the next level it deserved, instead of merely hoisting the existing package over to Blu-ray sans improvement.
Score:
Cast:
George Bancroft, Evelyn Brent, Emil Jannings, Clive Brook, Clyde Cook, Betty Compson, William Powell, Fred Kohler, Olga Baclanova, Mitchell Lewis, Helen Lynch, Larry Semon, Jack Raymond, Nicholas Soussanin, Fritz Feld
Director:
Josef von Sternberg
Screenwriter:
Robert N. Lee, John F. Goodrich, Jules Furthman, Ben Hecht, Lajos Biró
Distributor:
The Criterion Collection
Running Time:
244 min
Rating:
NR
Year:
1927 – 1928
Release Date:
October 8, 2019
Buy:
Video
If you can, please consider supporting Slant Magazine.
Since 2001, we've brought you uncompromising, candid takes on the world of film, music, television, video games, theater, and more. Independently owned and operated publications like
Slant
have been hit hard in recent years, but we're committed to keeping our content free and accessible—meaning no paywalls or fees.
If you like what we do, please consider subscribing to our
Patreon
or making a
donation
.