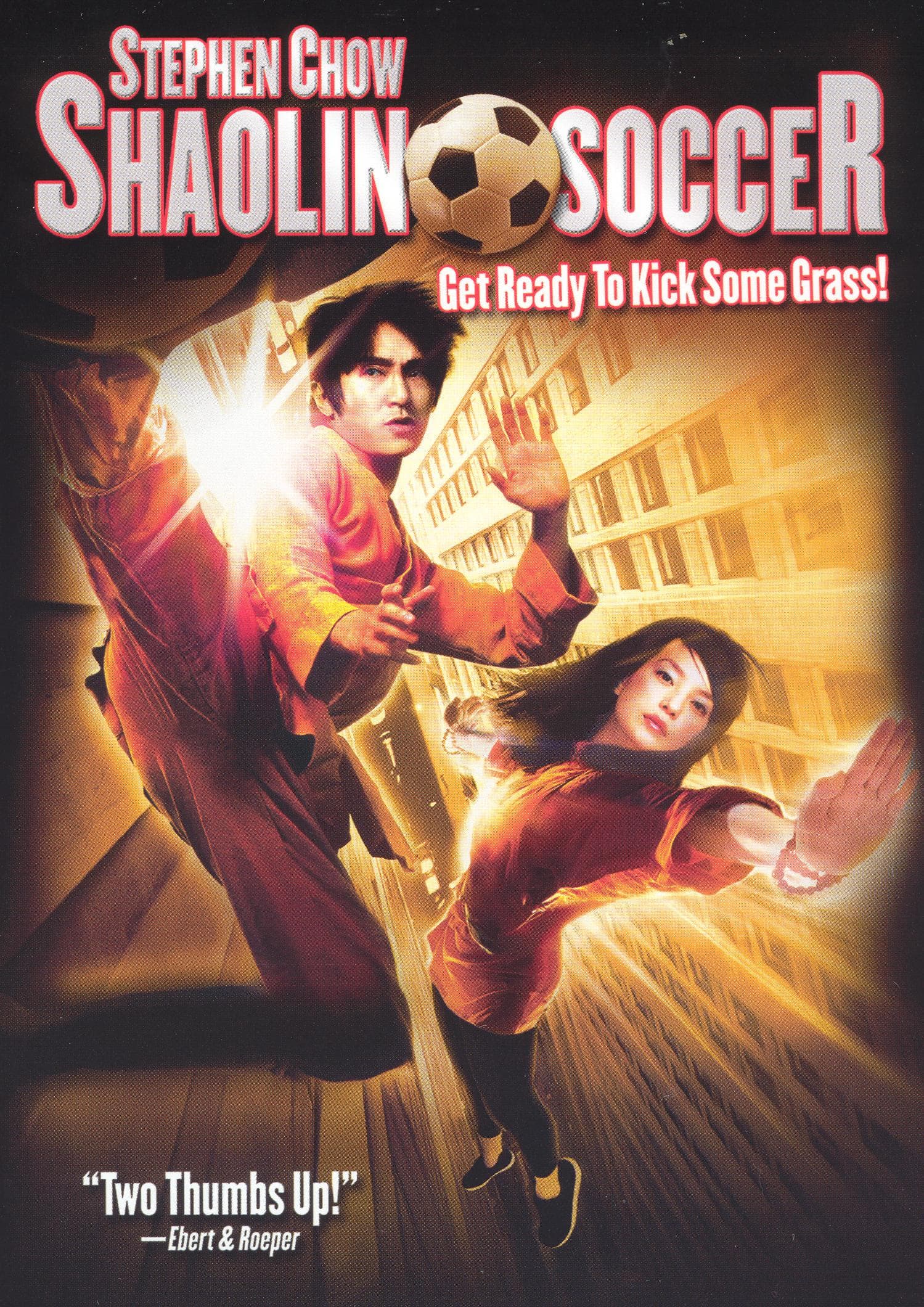 After a hokey flashback sequence that sets up the rivalry between ex-soccer-players-turned-coaches Hung (Patrick Tse) and Golden Leg Fung (Ng Man Tat), Stephen Chow's Shaolin Soccer quickly, umm, kicks into high gear. Hung befriends Shaolin kung fu expert Sing (Chow), and together they create a soccer team composed of Sing's motley gang of outsider friends. Though prone to dead-serious melodrama, Shaolin Soccer remains, for the most part, a delirious and hysterical genre fusion: the sure-footed Clint Eastwood western, the WWII battlefield drama, and the Jerry Lewis comedy of the grotesque.
In Sing's relationship with Mui (Vicki Zhao), a local market girl with severe acne who makes steamed bread using Tai Chi kung fu moves, Chow conjures a meet-cute predicated on all sorts of absurdities and mutual embarrassments. He calls her E.T. when she shaves her head and slaps her repeatedly on her scarred face in order to shoo a fly away, while she laughs along with Sing's friends when they ridicule her for her Dynasty-style couture.
Shaolin Soccer's multimedia madness is so excusable because most of its antics are more crude than seamless. A box office phenomenon in its native Hong Kong, the film was picked up for U.S. distribution by Miramax way back in October 2001. Not surprisingly (not to mention ironic, considering this zippy film's fascination with marketing truth), the studio trimmed the film by a whole 30 minutes for its domestic release. To the studio's credit, Shaolin Soccer may still hit screens with its original dialogue in tact, but either way, you're best suited checking out the film's import DVD for the full effect of its madness.
The film essentially comes down to an elaborate Chinese ad campaign modeled after—but nonetheless critical of—soulless Hollywood films (the Shaolin team's rivals inject themselves with a nameless "American medication" before taking to the field in the film's final Olympic free-for-all). The film wears its self-consciousness on its sleeve and, unlike most Hollywood productions, has no problems acknowledging that it wants your money.
Image/Sound
Considering the amount of time Miramax allowed Shaolin Soccer to sit on the shelf before releasing it into theaters, it shouldn't come as a surprise that the video and sound quality on this DVD edition is less than superior. Then again, because the film is such a whacky multimedia experiment, the considerable amount of grain and dirt visible throughout actually plays into that zaniness. The flaws are certainly nothing to get worked up about. On the other hand, it's a pity that Buena Vista Home Entertainment has decided to include both the U.S. version and the original Chinese version of the film on the same disc-the former should have been burned a long time ago.
Extras
None.
Overall
For fans of David Beckham and The Matrix and everyone in between.
Score:
Cast:
Stephen Chow, Vicki Zhao, Ng Man Tat, Patrick Tse, Li Hui, Yut Fei Wong, Law Kar-Ying, Kwok Kuen Chan, Ming Ming Cheung, Lam Chi Chung, Vincent Kok, Lam Chi-Sing, Tin Kai-Man
Director:
Stephen Chow
Screenwriter:
Stephen Chow, Tsang Kan-Cheung
Distributor:
Miramax Home Entertainment
Running Time:
112 min
Rating:
PG-13
Year:
2001
Release Date:
August 24, 2004
Buy:
Video
If you can, please consider supporting Slant Magazine.
Since 2001, we've brought you uncompromising, candid takes on the world of film, music, television, video games, theater, and more. Independently owned and operated publications like
Slant
have been hit hard in recent years, but we're committed to keeping our content free and accessible—meaning no paywalls or fees.
If you like what we do, please consider subscribing to our
Patreon
or making a
donation
.