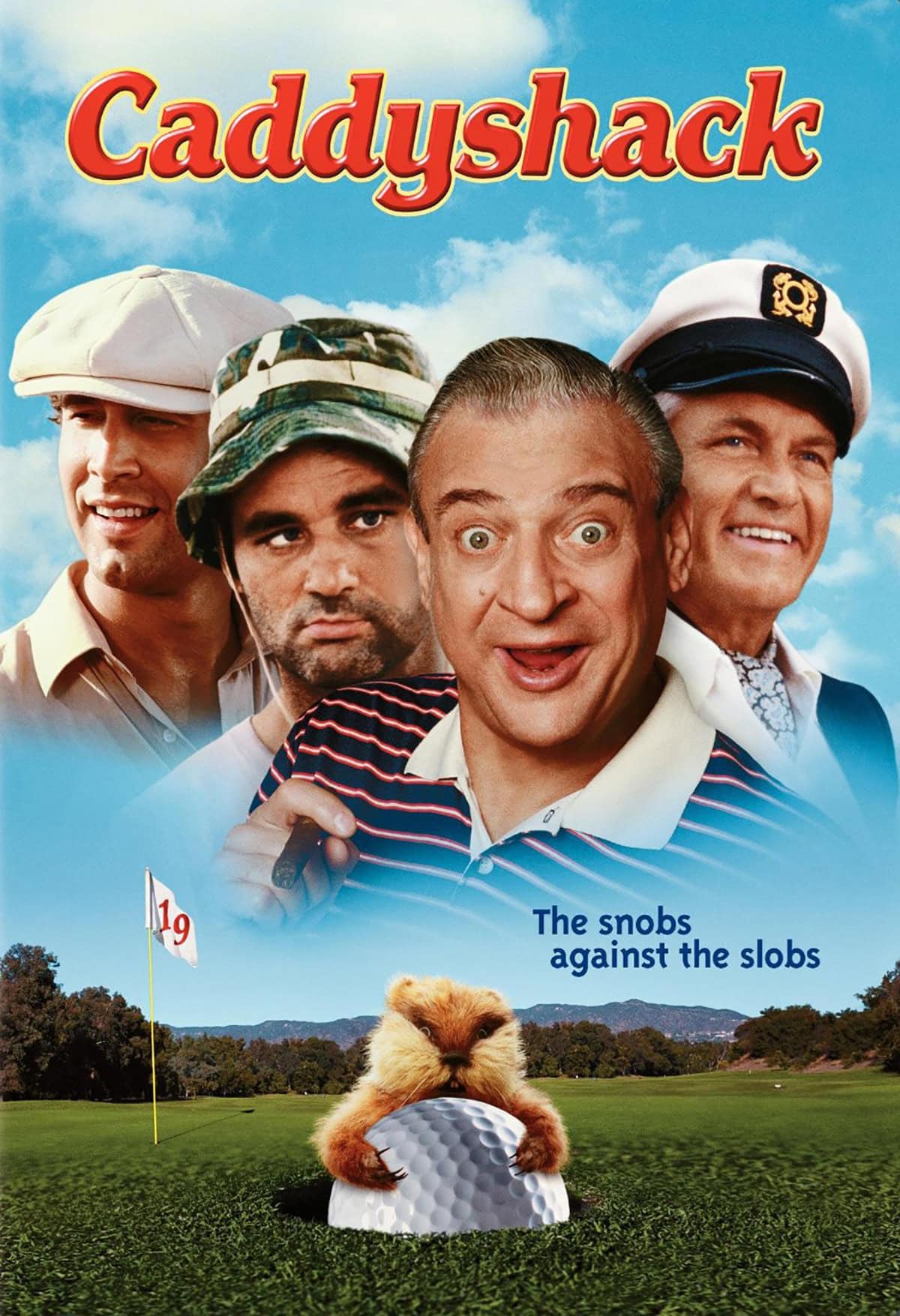 As the story goes, the three most memorable performances in Caddyshack, Harold Ramis's directorial debut, were originally meant to be nothing more than flash-in-the-pan cameos. The film's chaotic production led Ramis to embrace lunacy: Rather than bowing to flanks of impatient producers and bitter performers, the SCTV and National Lampoon alum shepherded the on-set improvisational vibe and expanded the roles inhabited by close friend Bill Murray, Chevy Chase, and Rodney Dangerfield. As it turned out, Caddyshack went on to become as massively influential as it was massively successful, having since become a (rightful) fixture of any list involving great comedic moments on film and securing Ramis already-white-hot reputation as a humorist of the highest order.
It seems fitting, then, that Ted Knight, who reportedly was quite vocal in his resentment toward Ramis'a free-wheeling attitude, would play Judge Elihu Smails, a pitiless elitist of the highest order and the film's ultimate heavy. Smails was originally meant to be something of a second lead to Danny Noonan (Michael O'Keefe), a lower-middle-class high school graduate who spends the summer caddying and trying to find a way to get into college. A last-ditch possibility arrives in the form of a "caddy scholarship" which entails Danny winning the Caddy Tournament and transforming himself into a class-A brown-noser; a simple task if Noonan could disregard Lacey Underall (Cindy Morgan), Smails's lovely and proudly loose Manhattanite of a niece.
That was the central conflicts of the screenplay, written by Brian Doyle-Murray with Ramis and Douglas Kenney, but of course, that's not what anyone who has seen the film remembers. The true guffaws lie in those long, ridiculous lectures Noonan receives from Ty Webb (Chase), a wealthy heir with nothing to do but golf and seduce women, or in any single scene that features Carl Spackler (Murray) or Al Czervik (Dangerfield) opening their mouths. But despite several superfluous dramatic turns, including a pregnancy scare involving Noonan and lady friend Maggie (Sarah Holcomb), the story supports these flights of fancy with a sturdy, watchable background, making room for Spackler's brilliant series of failed assassination attempts on an animatronic gopher and Czervic starting a dance party on the seventh hole or simply exclaiming, "Hey everyone! We're all gonna get laid!"
This is not to say that Knight, O'Keefe or any other member of the cast don't hold up their end. In fact, if Dangerfield, Chase, and Murray offer the film's most memorable moments, Knight is undoubtedly the film's clutch player: Channeling ferocious indignation and near-hyperbolic elitism, Knight turns out this stock character (the snooty, upper-class conservative) with focused physicality and a brilliant sense of delivery, both of which he perfected during his series-long run as Ted Baxter on The Mary Tyler Moore Show. The fact that Smails was his first and last big-screen leading role as a comedian—he died of cancer in 1986—is nothing less than tragic.
If Knight's displeasure with Ramis, and indeed all the performers who seemed more interested in improvisation than the placid narrative, partially fueled his comic fire, it never negligibly disrupts the film's flow; a testament to both the performer and Ramis, still several steps away from the genuine craftsmanship of Groundhog Day and the absurdly underrated Ice Harvest. Doyle-Murray's script was based on his summers caddying along with his brother and Ramis, but Caddyshack offers no generous doses of nostalgia nor is it in any way romantic. And to be honest, in terms of filmmaking, Caddyshack is merely competent, formed with about the same precision as Spackler molds the plastic explosive "friends" for the gopher. In a way, Ramis may have laid the ground that has led to scatterbrained clunkers like Get Him to the Greek, but the good vibes and ample humor survive also led to many triumphs (Forgetting Sarah Marshall, Talladega Nights: The Ballad of Ricky Bobby, and Step Brothers, just to name a few). The film's level of respectability, like Animal House or, to a far lesser extent, Meatballs, is based almost solely on its ability to make people laugh and in this respect, it succeeds without exception.
Image/Sound
The graininess of the original photography remains, but otherwise, Caddyshack's 1080p transfer to DVD is completely serviceable, especially for a film that rarely focuses on composition. Scratches and dust marks are nearly nonexistent; black levels and balances are par for the course. The English 5.1 Plus Dolby Digital also does it job (dialogue is perfectly integrated and clear), but this isn't a film in which atmosphere or effects play a large part.
Extras
The sole extra here is actually perfectly fitting: "The 19th Hole," a retrospective doc on the making of Caddyshack, including bloopers, outtakes, and some fun stories about the production. It's relatively short, but it's very funny, keeping with the film's vibe. The theatrical trailer is also included.
Overall
Long since considered a comedy landmark, Caddyshack returns again to DVD with its generous dose of comedic lunacy. To be more frank: "Hey everybody! We're all gonna get laid!"
Score:
Cast:
Michael O'Keefe, Ted Knight, Chevy Chase, Rodney Dangerfield, Bill Murray, Cindy Morgan, Sarah Holcomb
Director:
Harold Ramis
Screenwriter:
Brian Doyle-Murray, Harold Ramis, Doug Kenney
Distributor:
Warner Home Video
Running Time:
99 min
Rating:
R
Year:
1980
Release Date:
June 8, 2010
Buy:
Video
If you can, please consider supporting Slant Magazine.
Since 2001, we've brought you uncompromising, candid takes on the world of film, music, television, video games, theater, and more. Independently owned and operated publications like
Slant
have been hit hard in recent years, but we're committed to keeping our content free and accessible—meaning no paywalls or fees.
If you like what we do, please consider subscribing to our
Patreon
or making a
donation
.