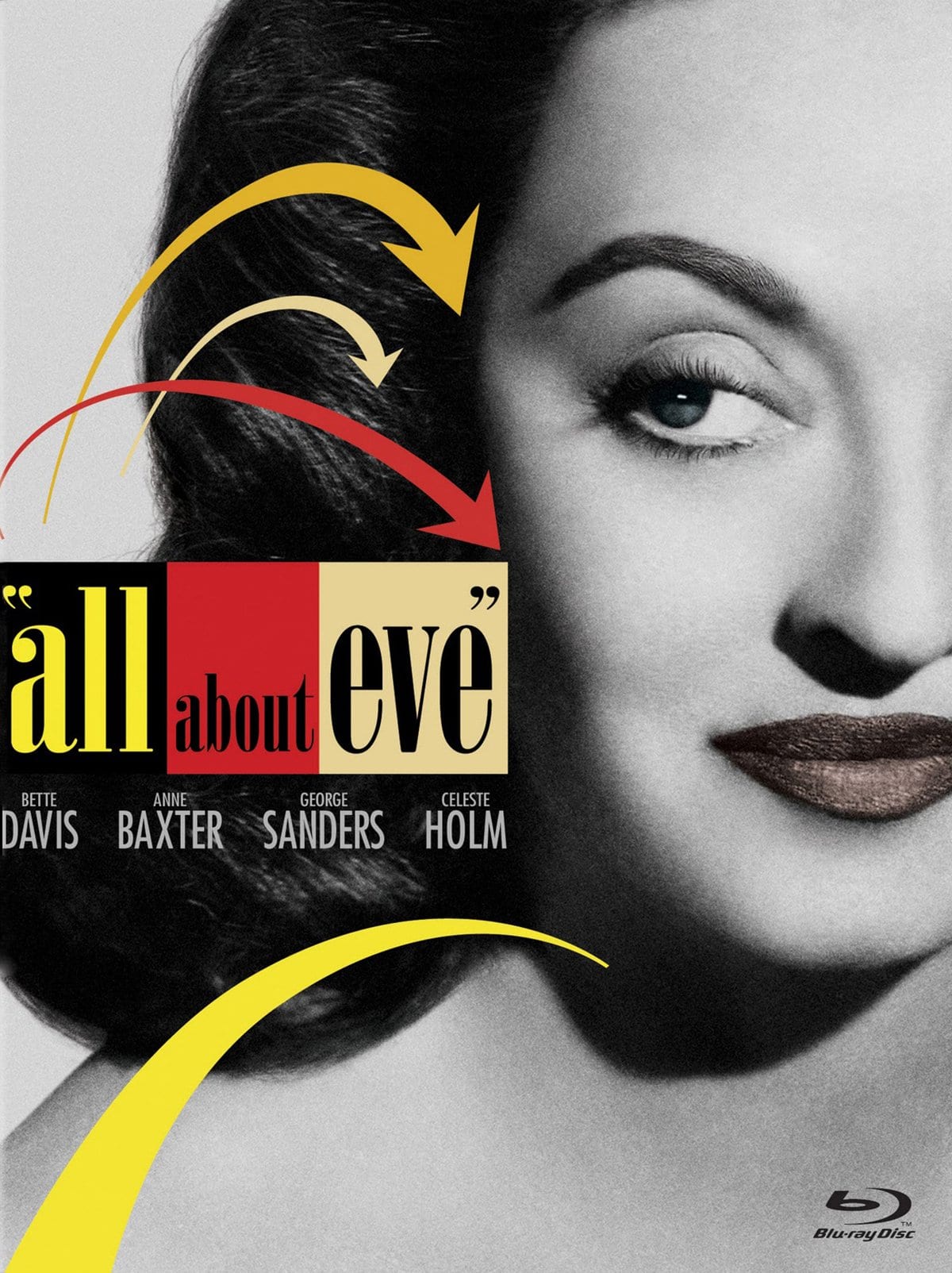 Pauline Kael may have unwittingly nailed Writer-director Joseph L. Mankiewicz's All About Eve to the wall when she dubbed it "ersatz art" instead of camp. Indeed, the film's reputation, built on the sultry menopausal jaundice of Margo Channing (Bette Davis, in a famous comeback role) and the icy effeteness of critic Addison DeWitt (George Sanders) and rising star Eve Harrington (Anne Baxter), fails to prepare us for the script's odd lack of earnestness. When I saw the film for the first time nearly a decade ago, it seemed almost too witty; there's no room to breathe between the fusillades of bon mots. The characters now appear to me interchangeably incisive, as in the "best" of Oscar Wilde or Samuel Johnson. (Even Marilyn Monroe's airheaded stage-hopeful gets an unlikely zinger about producers resembling "unhappy rabbits.")
Mankiewicz adapted the film from a short story by Mary Orr, "The Wisdom of Eve," and the dilution is evident; far too often the plot seems awkwardly structured around the best lines, and many scenes fizzle out on their way to greatness, sacrificing drama for punctual cleverness. (Even the most famous utterance, regarding the predicted bumpiness of a soiree Channing throws upon her beau-cum-director's return from Los Angeles, is followed by inebriated self-pity instead of the anticipated bitch-out.) An entire character is even dropped without notice (Thelma Ritter's hardened Birdie) after she speaks her blatantly foreshadowing mind. Rather than an exemplar of Hollywood's former intelligence, All About Eve frequently feels like the work of a tease artist who hopes we won't notice that he never quite brings us off.
There is, though, still artistry to be unpacked. All About Eve may at times sound like a collage of monotone epigrams, but the depth of its social rancor is virtually unparalleled in classic film. Mankiewicz's effervescent cynicism is as observant as Billy Wilder's, but while the latter views human nature as a set of perpetually losing odds one must wager against regardless, the former understands the essence of relationships as a constantly shifting compromise of ego. A Letter to Three Wives, released in 1949, cavalierly touted the benefits of connubial doubt; All About Eve is a similarly sour exploration of the raw deal offered to both sexes by gender roles, and how we strive to regain that lost ground through interpersonal viciousness. They are among the most violently anti-woman's films ever made—not misogynistic, but, rather, disillusioned with the (false) distaff worship of George Stevens and others.
A poster from the film's 1967 re-release reads: "It's all about women…and their men!" Despite the central meteoric rise by way of vulpine stage ambitions, All About Eve is essentially the story of three couples, and a handful of bystanders that peer—with scorn or envy—into the cold, closed circuit through which they claw their way. Overripe leading lady Margo and her fed-up director (Gary Merrill) see their love threatened by the former's career frustrations but lack the confidence to abandon Broadway; playwright Lloyd Richards (Hugh Marlowe) appears near-castrated next to his dutiful but easily duped wife, Karen (Celeste Holm); and Margo's protégé and Electra, Eve, finds herself humbled by Addison's superior malice.
The narrative's flashback structure is ironically instigated by Karen rather than Addison, who introduces—or perhaps judges—each main player in the film's legendary prologue. (The voiceover transfers with Virginia Woolf-like capriciousness before this exordium's close.) Mankiewicz allows Addison and Karen to pick up the story at various intervals, ensuring that both ends of his (a)sexuality spectrum are covered perspective-wise: Addison is monstrously predatory and anti-erotic, while Karen is the meek housewife.
But since we're never sure whose memories are being dramatized, this approach arguably floats, and pokes fun at, the tyranny of the male gaze. When Margo is introduced, for example, Milton Krasner's camera follows her slinky arm, reaching for a cigarette; she inserts one end into her mouth and lights it, slumping into the first sucking drag as if it were a chore. (This is the phallic symbol as it's seldom seen: as a lifeless instrument of ovarian weariness.) Later in the film, when Margo grieves for her wrinkling femininity, she states that a woman isn't a woman unless they've a man to gaze at lovingly from across the bedroom, and it's a curiously sexless assertion. The sole place women don't age, she seems to argue, is at the head of the household, where they no longer need to be desired to have power.
Such axioms today feel blithely sexist, but the Margo/Eve binary is prescriptive of an earlier era's values, and what makes Mankiewicz's approach gently revolutionary is the female leads' reluctance to sit back and passively transform from objects of desire into (bluntly) mothers and/or wives. Even Eve, whose transparent deception is still All About Eve's least interesting aspect, sees her attractiveness as means to an end: It's power, not sex, that she wants. The film's climax, where Eve's web unravels around her throat, and its cyclical epilogue may put both ladies back in their place with far-fetched ferocity. But Mankiewicz grants them their dreams with surprisingly little patriarchal compromise: Margo escapes the stage's unforgiving clutches, and Eve wins success at what is, really, a nominal social fee. The refreshing implication in this moment isn't that women need men to succeed, but that both sexes may need one another to keep their respective evils in check.
Image/Sound
Fox may not worship film grain with the same ardor of Criterion, but they've left little to complain about with this 1080p restoration. The added resolution exposes cinematographer Milton R. Krasner's sly and frequent use of shadow: Margot Channing's environment, at least for the first two acts, is a Park Avenue citadel infested with clashing angles of dark gray. Other interesting cracks in the mise-en-scène of Joseph L. Mankiewicz's tightly wound enterprise are brought to light as well; for example, the hesitant herky-jerkiness of the opening dolly-out, or the manner that the camera awkwardly curves up the crowded stairwell where Addison DeWitt acknowledges "abnormality" as his community's common denominator. All About Eve is often praised for the sturdiness of its script and performances; this reliability has, it seems, distracted from a great deal of visual uncertainty. The DTS surround mix is also quite clean, and there's a glut of foreign language and subtitle tracks.
Extras
This All About Eve Blu-ray comes in a lavish, book-bound package, featuring copious, if obvious, liner notes about the stars and crew. There's unfortunately nothing here, however, that hasn't been on prior releases, and none of the supplements have been boosted up to 1080p. That said, the featurettes are still stubbornly auteurist in their Mankiewicz focus (his descendants relish every chance they get to highlight the on-set friction between the director and Bette Davis), and the two commentaries, which don't run through the entirety of the film, are inessential. (Of them, All About "All About Eve" author Sam Staggs's scene-specific observations are at least grounded more firmly in what we're seeing and hearing.) Along with some production stills, the set also comes with a brief but tasty documentary about the inspiration for the film's source material (Mary Orr's short story "The Wisdom of Eve"): A strained relationship between German actress Elisabeth Bergner and one of her devotees. The 20-minute segment tracks down the rabid fan and stages a hilariously heated discussion between her and writer Orr. As it's readily available online, however, and the feature isn't in high definition, it's debatable whether its inclusion here adds anything.
Overall
All About Eve looks into Broadway's artichoke heart to ring an early death knell for classic Hollywood.
Score:
Cast:
Bette Davis, Anne Baxter, George Sanders, Celeste Holm, Gary Merrill, Hugh Marlowe, Gregory Ratoff, Thelma Ritter, Marilyn Monroe, Barbara Bates, Walter Hampden
Director:
Joseph L. Mankiewicz
Screenwriter:
Joseph L. Mankiewicz
Distributor:
20th Century Fox Home Entertainment
Running Time:
138 min
Rating:
NR
Year:
1950
Release Date:
February 1, 2011
Buy:
Video
,
Soundtrack
If you can, please consider supporting Slant Magazine.
Since 2001, we've brought you uncompromising, candid takes on the world of film, music, television, video games, theater, and more. Independently owned and operated publications like
Slant
have been hit hard in recent years, but we're committed to keeping our content free and accessible—meaning no paywalls or fees.
If you like what we do, please consider subscribing to our
Patreon
or making a
donation
.