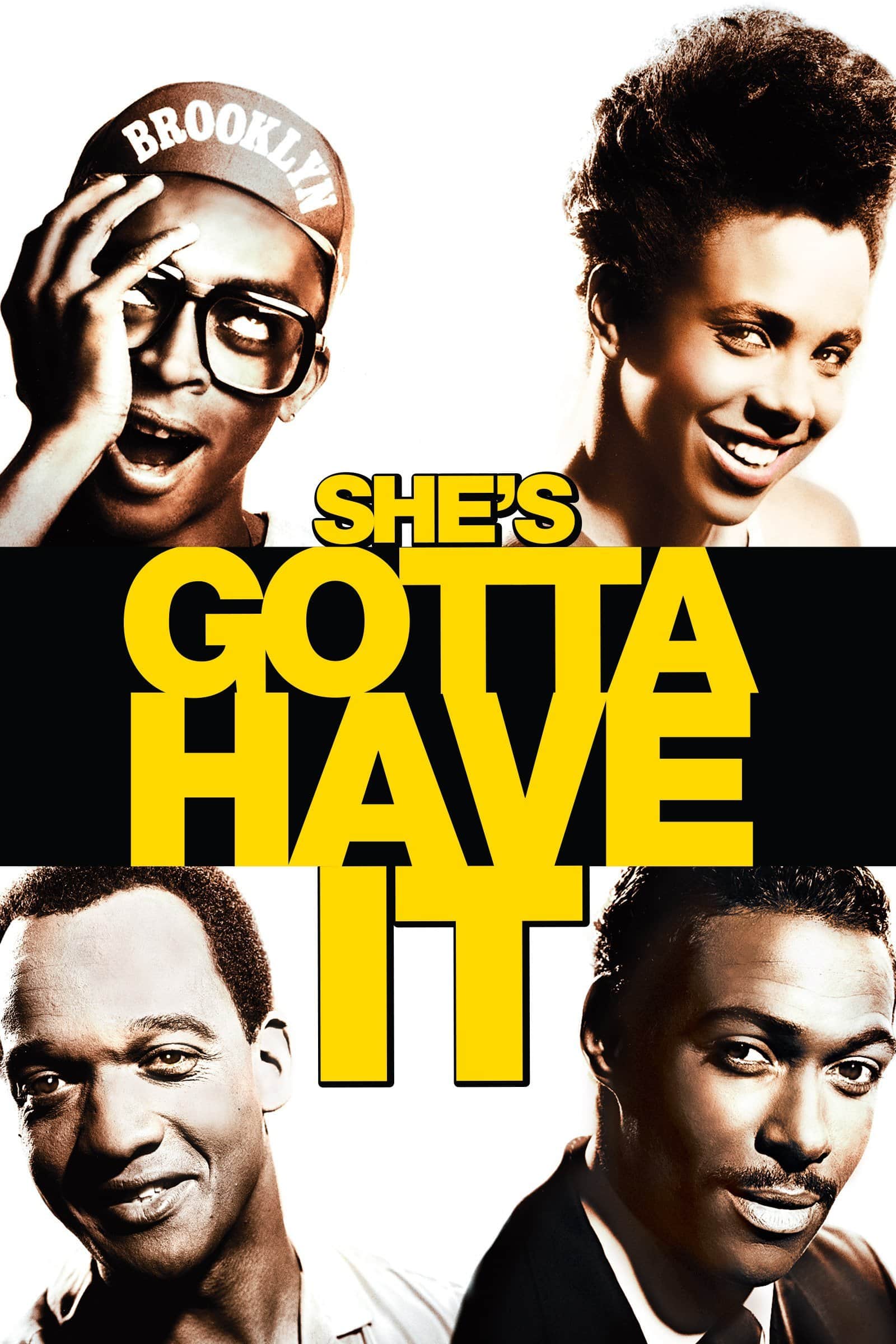 Spike Lee's first feature-length film, She's Gotta Have It, was one of the lynchpins of the burgeoning American indie movement of the 1980s, but don't hold that against it. Unlike the seemingly endless torrent of films tailor-made to cater to specialty divisions, Lee's early work spoke on behalf of the black experience without just speaking to blacks alone. Or to the filmmaker alone. Contrast this with She Hate Me, if you dare.
Stylistically, Lee's work was as cheekily dialectical from the get go as would later be celebrated in his Bed-Stuy-set passion play Do the Right Thing. As in that particular masterpiece, She's Gotta Have It's characters talk into the camera, but they do so in service of a Rashomon-tinged postmortem on how an artistic young woman couldn't make polyamory work in her favor.
Nola Darling (Tracy Camilla Johns) is the independent woman in question, and the entire black-and-white film is a multi-P.O.V. flashback to when she spent Thanksgiving time-sharing her vagina between Jaime (Redmond Hicks), a sweet-natured but oppressively traditional-minded monogamist; Greer (John Canada Terrell), a hard-bodied, soft-headed male model on the cusp of taking his bikini briefs onto the cover of GQ; and Mars (Lee), a runty bike messenger who hasn't delivered a package in two years but knows how to make Nola laugh.
Nola acts as though none of her suitors—to say nothing of Opal (Raye Dowell), the predatory lesbian friend who heralds sexual fluidity—are good enough for her exclusivity, but Lee the director certainly stacks the decks in favor of Jaime. At least, that is, until a rude character development in She's Gotta Have It's third act puts his gallant image in doubt.
The answer seems so clear to everyone but Nola, and just as her suitors' insistence that she make a choice capitulates to her strident independence, the film's raucous free-form scene sketches and improvisations (and one stylized full-color interlude) put conventional narrative execution secondary to the characters' shared sensation. Even if Nola's urban enclave ends up too close for comfort, She's Gotta Have It conveys the communal experience that would elevate even some of Lee's sketchier efforts like Get on the Bus and 25th Hour.
Image/Sound
After a long wait and unfulfilled rumors of a Criterion disc in the pipeline, She's Gotta Have It finally settles down and shacks up with DVD. For a shoestring-budgeted production, it looks downright fantastic here, with perfect black levels and a wide range of grayscale tones. The color sequence, when it hits, is absolutely jaw dropping. The sound mix, however, struck me as shrill, especially when dealing with the score by Spike's jazz musician father Bill Lee. The music sounds overmodulated and full of echo, as though simulating a surround sound environment using one speaker. The jams by Strafe (of "Set It Off" fame) are solid though.
Extras
Now here's where those hoping for a Criterion set can shed a tear. Not even so much as a trailer graces this disc.
Overall
It's finally on DVD, so now fans can stop pleading, "Please, baby, please, baby, please, baby baby baby."
Score:
Cast:
Tracy Camilla Johns, Redmond Hicks, John Canada Terrell, Spike Lee, Raye Dowell, Joie Lee, S. Epatha Merkerson
Director:
Spike Lee
Screenwriter:
Spike Lee
Distributor:
MGM Home Entertainment
Running Time:
85 min
Rating:
R
Year:
1986
Release Date:
January 15, 2008
Buy:
Video
,
Soundtrack
If you can, please consider supporting Slant Magazine.
Since 2001, we've brought you uncompromising, candid takes on the world of film, music, television, video games, theater, and more. Independently owned and operated publications like
Slant
have been hit hard in recent years, but we're committed to keeping our content free and accessible—meaning no paywalls or fees.
If you like what we do, please consider subscribing to our
Patreon
or making a
donation
.