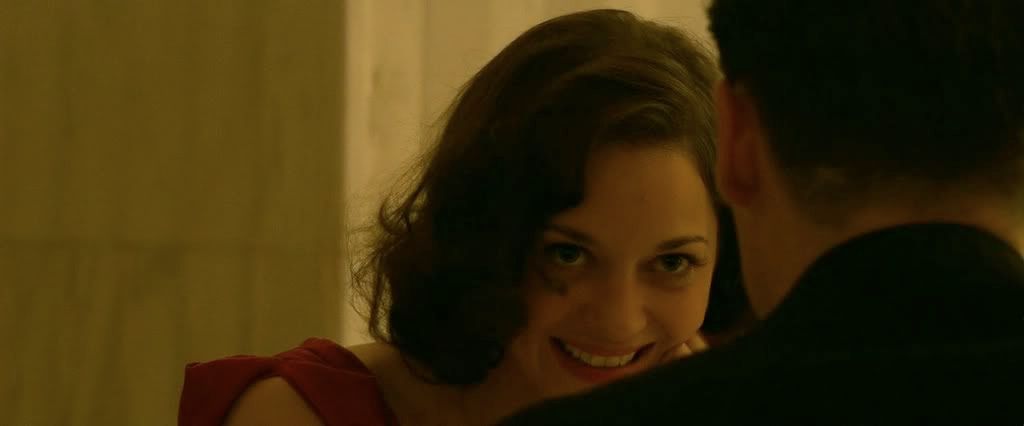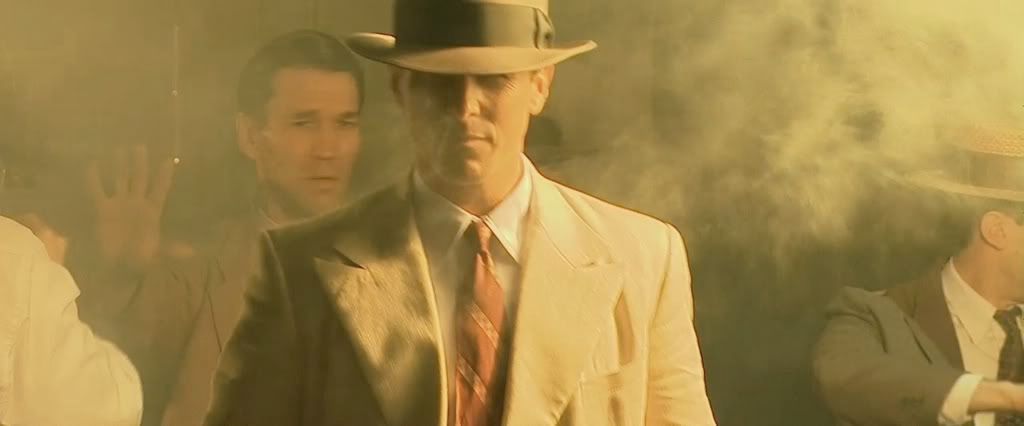 [In jail, in love, in law.]
1.
After Malick, we turn to Mann. Yup:
Public Enemies has a Hi-Def trailer to watch
. And I'm sold. Where you at on that?
***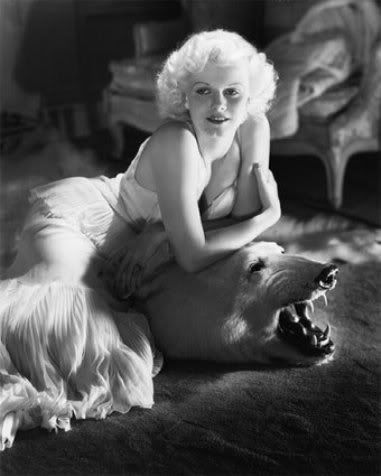 2. Three Obsessions: White Light, White Heat. Kim Morgan talks "white" for her home base blog—and she dances, too!
["For some reason I am obsessed with white. I guess my life is messy and I want it to sparkle. Or I'm sick to death of earth tones. Or I yearn for a white Dodge Challenger or another white Datsun 240 Z. Or I want an Andy Warhol wig. Or one of Robin Zander's pantsuits. Or one of Nico's. Or that fantastic Tony Montana suit which I'm certain would fit me. I'd love to walk around spitting: "Say goodnight to the bad guy" with that slinky, ominous Giorgio Moroder soundtrack following me wherever I go. I'd feel love for sure."]
***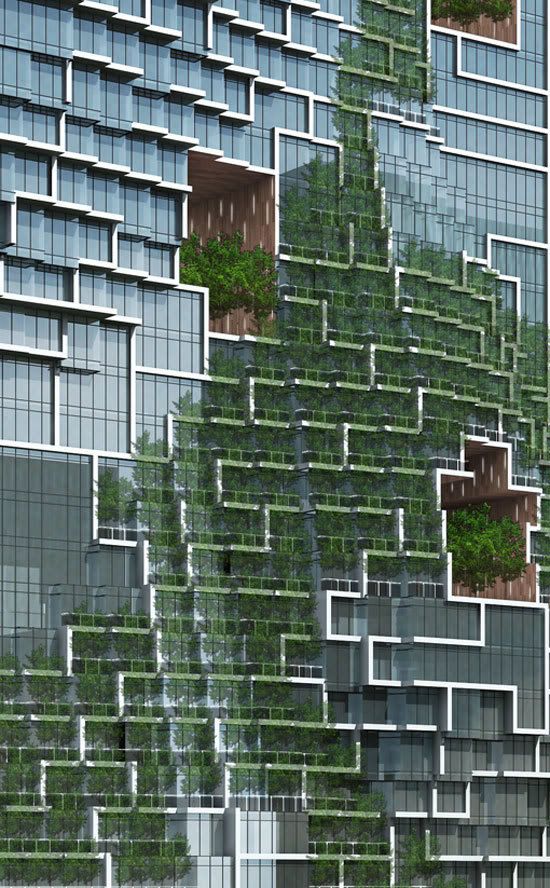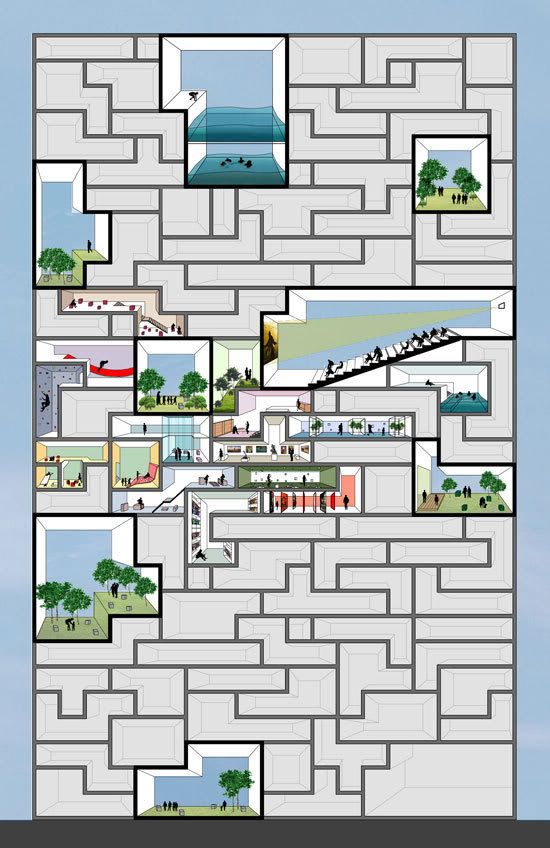 3. Buildings dance, too, apparently, according to some Korean architects. Have a look at designboom.
["the building consists of various community spaces which include parks, leisure facilities, event space, a library, media space and performance space."]
***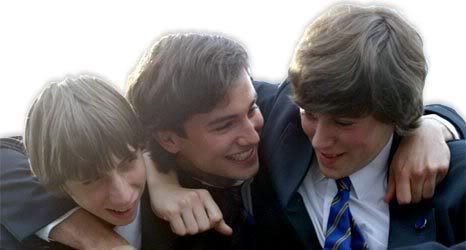 4. What's the ideal number of friends? Tom Geoghegan has some kind of answer for BBC News Magazine. My friends all love to dance.
["Friendships help us develop as people, says Mark Vernon, author of The Philosophy of Friendship, but the very term "friend" covers a whole range of relationships. You have a very close friendship with your partner but with others it may just be a common interest or history or simply children the same age. "Aristotle said friends must have eaten salt together and what he meant is there's a sense that people have lived a significant part of their life together. They've sat down and shared meals and the ups and downs of life. You really have to have mulled over things with them to become really good friends and there's only so many people you can do that with. You can have friends because of what you do together or enjoy something together like football or shopping, but they're not as profound friends as those who you love for themselves because of something in their character. And it doesn't matter what you're doing with them, even sitting alone in a room." "]
***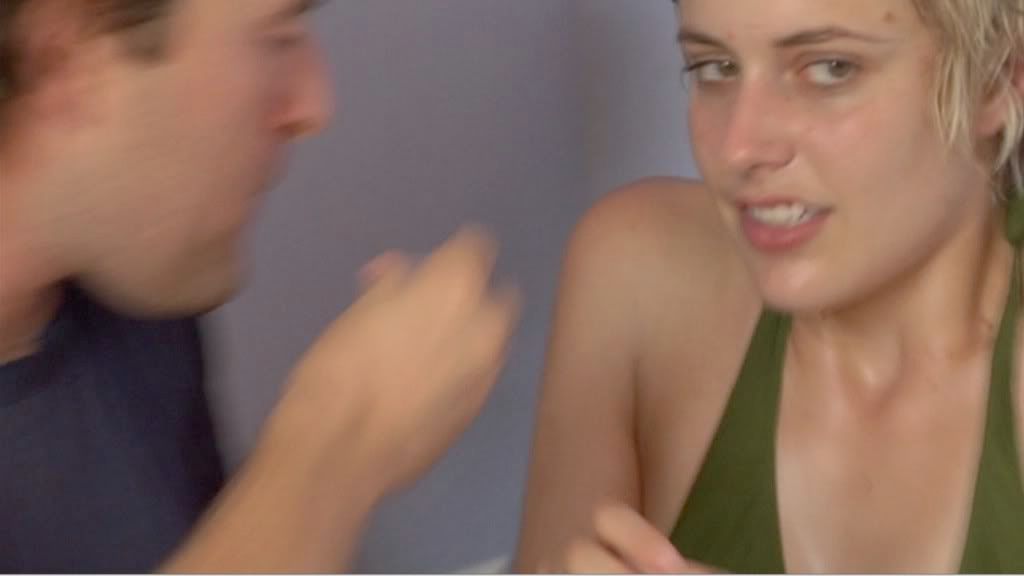 5. On Realism, Beauty, and "Exposure Crisis", by Dan Salitt at his Hall, offers a number of big thinks on said subjects. Our quote below is a quote Dan quotes from his two cents at the comments section of that big, contentious post at GK's place a while back, from which I stole the image hovering above this text.
["...on the subject of the beauty or ugliness of compositions, I'd like to point out that "beauty" and "realism" are opposed concepts, that they will always be defined by their relationship to each other. Realism is always relative to prevailing practices, and the energy and newness that it aspires to, the ability to revivify the mystery of the photographic image, is totally dependent upon tearing down or neglecting or violating something that we've come to expect. When Rossellini or de Toth decided to let the camera shake, they were a) consciously or unconsciously evoking the newsreel footage that came out of WWII; and b) inviting criticism for undermining the beauty of the composed image. Ditto Cassavetes finding inspiration in cutting that evoked the tension of live TV when the control room punches up the wrong camera for a second; ditto Kubrick shining lights at the camera as if he were a street photographer unable to control light sources; ditto countless other attempts to make the image seem alive again. In each case something nice-looking was destroyed; in each case a new generation of filmgoers learned to find the innovation nice-looking."]
***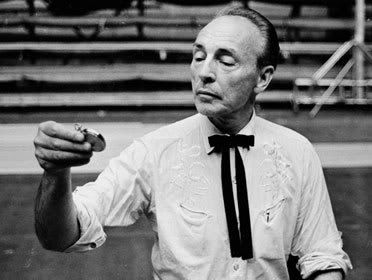 Quote of the Day:
"I don't want people who want to dance, I want people who have to dance."
— George Balanchine
***


Image of the Day: Stimulate with style.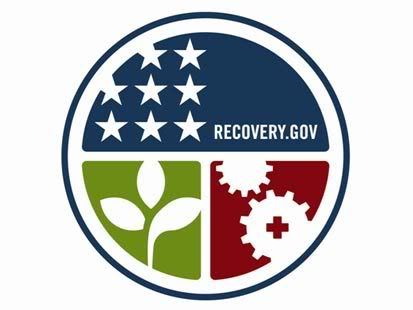 ***
Clip of the Day:
Trailer Addict has that trailer, too...


_____________________________________________________
"Links for the Day": A selection of Links that will hopefully spark discussion. Comments encouraged. Suggestions for links are also welcome. Please send to ryknight at gmail dot com.