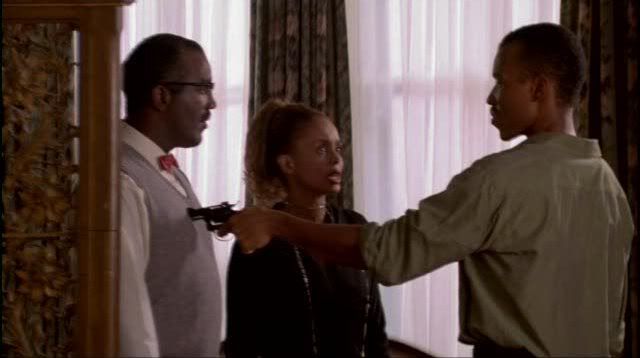 1.
Y'all been reading
Black History Mumf 09
? If not, get on it. Otherwise? He shoots. Here's Odie's latest full post,
Holding Out For A Hero: Eve's Bayou
.
["Black folks are a superstitious lot, probably due to our ties to the South. I've written off much of the things we believe in, but I cling to a few of them simply because I don't want to tempt the powers that be. We, like Latin American readers, may have an easier time accepting these paranormal phenomena simply because we've heard stories like these passed down from generation to generation; they become one of those accepted things. Lemmons uses Mozelle's skill as less of an ironic plot point than it may seem, and I was grateful that a film about the past didn't skirt some of the more colorful aspects of the oral tradition of Black history being passed down. We were always told the reader could never read her own future."]
***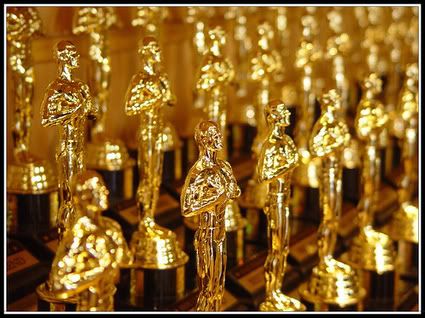 2. The Film Experience's 4th Annual Oscar Symposium, if you want some smarties to look to for your Sunday evening scorecard.
["First things first, please welcome this year's Symposium guests (in alpha order just like Oscar do): Timothy Brayton (Antagony & Ecstasy), Ed Gonzalez (Slant), Karina Longworth (Spout), Erik Lundegaard (ErikLundegaard) and Kris Tapley (In Contention). They were chosen through an elaborate and painstaking ranked balloting system. Only Price Waterhouse employees know who was snubbed for the 4th annual Film Experience event. Pundits suggest that they were invited on the basis of their mad skills with dramaturgy and accents. I'm happy to have these five in my virtual house to discuss the 81st annual Oscars. But where to begin in a year when the Academy is feeling so passive aggressive? It's almost as if they took a look at the semi daring and pleasingly rangey shortlist of 2007 and thought: 'we simply can't have that again!' , beating a hastry retreat back into their bios, Holocausts pictures, and vaguely ambitious epics a good portion of which will be forgotten about in five years time. I'm still unsure, given the ranked balloting system of the Academy, how at least 60% of them managed to get a sufficient number of #1 votes to compete. Who is passionate about them?"]
***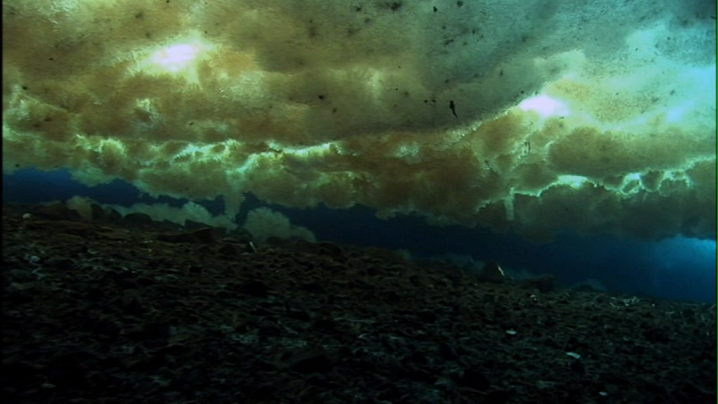 3. The Conquistador of the Useless at the End of the World. Ben Simington at The Auteurs' Notebook on what has to be the coolest movie nominated for any awards at this year's Oscars.
["Herzog's (I am tempted to say 'inevitable') documenting of this ultimate corner of the globe also conveniently provides a timely summation of his oeuvre for a variety of more obvious reasons. Primarily, he has regularly showcased extreme locales, and in this tradition, Encounters thrives on creative depictions of the exotic landscapes both above and below Antarctica's ice. Secondly, Herzog has exhibited a long-term interest in scientists and the particular formulaic and visual languages they develop to translate the physical universe into models controllable for their studies. Filmed in and around the McMurdo Station research center, Encounters devotes much of its screen time to a broader cast of scientists than any other Herzog title, each illuminating a distinct and interesting field of study. The viewer gets glimpses into research about iceberg migration, climate change, penguin insanity, violent volcanoes, and vampiric underwater microorganisms. Finally, Encounters' recognizably Herzogian imagery (sometimes recognizably staged) is a treat for long-time fans and is well-balanced with the signature deadpan humor of Herzog's voice-over, in exceptional form here, which makes the film one hell of an amusing 100 minutes that are sure to inspire newcomers to explore more films by the director."]
***


4. At smart is dead, Hugo offers some images from Raul Ruiz's Ville Des Pirates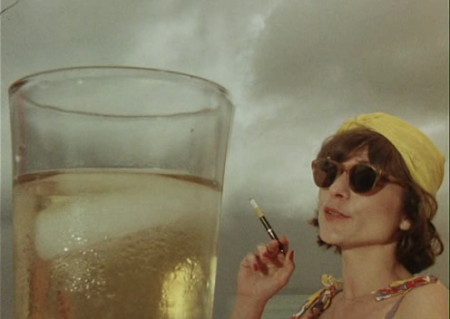 [
"This guy is Welles meets Coltrane. When Godard talks about 'unseeable sights' or the 'blind man's gaze', it probably looks like Ruiz."
]
***

5. House contributor Kevin Lee gets some words of encouragement from a UC Berkeley professor on how his video essays are a helpful teaching tool. Excerpt below.
["I just taught a senior seminar called "Modern Horror" (19 students) for UC Berkeley's English Department, and we spent one week on "Zodiac." I asked a student to hook her laptop to the classroom projector (Berkeley classrooms have wireless access), so that we could watch your YouTube video essay on "The Vanishing"/"Zodiac". It was probably the most effective illustration of film criticism the students saw all semester, because students could see the shots and scenes simultaneously with your commentary, rather than just reading descriptions of the scenes like they do with conventional film criticism. I used your essay in conjunction with Manohla Dargis's review of Zodiac, to show how different viewers could do close readings of scenes from the same film to support their own interpretations. What I think students really liked about your video essay was its accessibility; it's a rich, complex reading of Fincher's work but presented in a personal, sometimes informal (the line "fuck-it-all" for Fight Club got a big laugh) way. After reading lots of academic film essays, the students seemed to find this refreshing. One of my students said it inspired her to want to make her own short video essays about her own reactions to films. I think it also made some students want to see "The Vanishing," because they asked me about it afterwards (and I made sure to tell them to see the original, not the remake)."]
***


Quote of the Day:
"It is the nature of every advance, that it appears much greater than it actually is."
— Johann Nepomuk Nestroy
***


Image of the Day (click to enlarge): A little advice for the ladies... from Lawrence, Kansas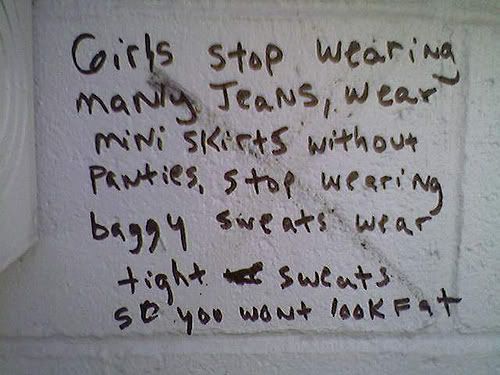 ***


Clip of the Day: House contributor Steven Boone is trying his hand at this video essay thing, too, and as we shared on VINYL IS HEAVY and Jim Emerson so graciously nodded to at his scanners blog, here's the first installment of... *drumroll* ... LOW BUDGET EYE CANDY!
_____________________________________________________
"Links for the Day": A selection of Links that will hopefully spark discussion. Comments encouraged. Suggestions for links are also welcome. Please send to keithuhlich@gmail.com.