1. GreenCine gathers first reactions to Abbas Kiarostami's latest, Shirin.
["From Variety: Though his name continues to pop up regularly as writer or story man on a good chunk of Iranian cinema, Abbas Kiarostami himself has not filmed anything even vaguely commercial since 2002's "Ten." The maestro has disappeared into making more abstract, experimental installations, theater pieces and films ("Five"). His latest, "Shirin," wherein 112 Iranian actresses and Juliette Binoche are shot watching a 12th-century Persian play, with the play's performance itself kept entirely offscreen, is unlikely to pack 'em in. Yet "Shirin" offers a feast for the bedazzled eye and a crash course in narrative obsession for the benumbed mind."]
***



2. "Letter from Patricia Patterson to John Powers": Jonathan Rosenbaum highlights a letter from Manny Farber's wife and collaborator to NPR contributor John Powers, setting a few things straight. (I'd also be remiss to not include this Rosenbaum post from a few weeks ago, which captions the wonderful picture above.)
["Manny was not a "Conservative," a "Libertarian," a "Republican," an anything. In his early twenties he tried to join the Communist Party but they didn't want him. During WWII he tried to enlist in the army but they rejected him. After inviting him to join, it took just one meeting for the New York Film Critics Circle to ask him to leave. He came home that night saying, "They fired me." He also told me that even a therapist in Washington had "fired him" for not working hard enough. Manny was not a Republican because he never knew any. He didn't quarrel with them because he was never around them. He quarreled with the people he knew: artists, writers, teachers, carpenters. When he saw smugness, complacency, and superiority—and often those qualities went together—then he would get going, and separate himself from them. He did not vote for Bush twice. I know, because for ten years I was the family driver, and he didn't want to go to the polls. (His license had been taken away for reckless driving.) I don't know about Bush once because I was in another booth. But I do know how much he revered FDR, that he voted for Jimmy Carter, for Bill Clinton twice, even had a Jesse Jackson moment, and loved Mario Cuomo and Barack Obama."]
***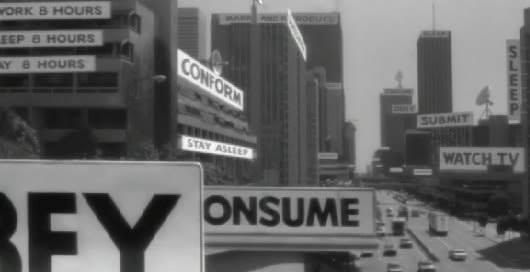 3. At Time Out New York, Joshua Rothkopf talks with John Carpenter on occasion of his four-film BAM retrospective.
["I got into movies because of a passion for cinema. But after finishing my last film [2001's Ghosts of Mars], I found myself as having no passion whatsoever: total burnout. By the time I got to the scoring stage, I looked like a zombie. Who knows why? I didn't take enough of a rest. Also, the country was attacked—and I watched. My eyes were opened; I hadn't observed anything for years. I needed to get away from the moviemaking process for a while. I'm slowly putting my feet in the water again, with a new perspective. Is there room for more movies like Escape from New York? I don't know. You have to be subtle about that stuff, because people don't like to be preached to. But there may be. We'll see."]
***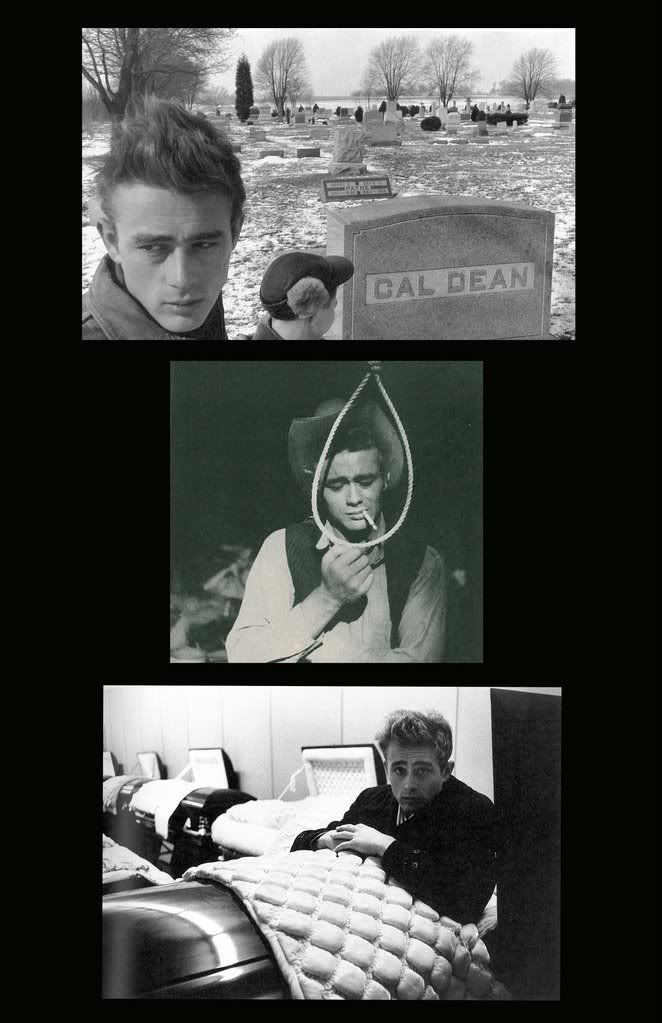 4. "Warners and The James Dean Cult --- Part One": Tons of pictures and history at Greenbriar Picture Shows, where John McElwee explores the cult of James Dean.
["Two-thirds of James Dean's starring work in films was yet to be released when he died on September 30, 1955. The only evidence of his stardom was East Of Eden, and the success of that led to one-sheets prepared for Rebel Without A Cause in which Dean was tagged Overnight Sensation with a future assured playing leads. Never before had a star departed so prematurely. Rudolph Valentino rose, peaked, and began his decline before death intervened and conferred immortality. Son Of The Sheik followed and became rallying point for fans bereaved. Youth snuffed out was (is and always will be) the stuff of morbid fascination for the young surviving. They'll not be denied a last glimpse."]
***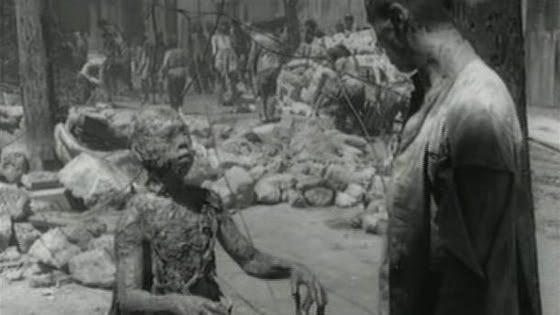 5. "Some highlights of the Kawakita Series": The Film Society of Lincoln Center Kawakita series as seen by David Phelps at The Auteurs' Notebook.
["Violence at Noon (Oshima Nagisa, 1966)—A film of trashy dialogue (nearly starting with "I still remember how you tasted—that's why I risked coming here") and a methodical series of collapsed thematic binaries: two transgressive couples; love and hate; love and death; the mistress and the schoolmistress (mother); stable reality and fluctuating memory; society and nature; reason and instinct. All of which just adds up to the stereotypically Japanese (or Catholic) sentiment that society's repressions make us want to lash out, which in turn makes us feel guilty, which in turn makes us want to lash in; the prototypically pornographic story has to do with a guy only capable of emotion—love and hate—when he rapes and murders or tries to kill himself, and women only capable of emotion—love and hate—when raped. But what is sado-masochism but the greatest binary of them all?"]
***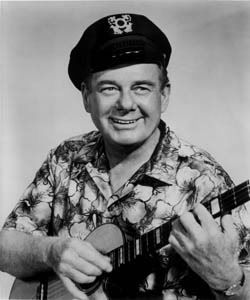 Quote of the Day: Arthur Godfrey
"I'm proud of paying taxes. The only thing is--I could be just as proud for half the money."
***


Image of the Day (click to enlarge): NOAA image of Hurricane Gustav as it moves through Cuba. Landfall predicted in the states on Monday afternoon.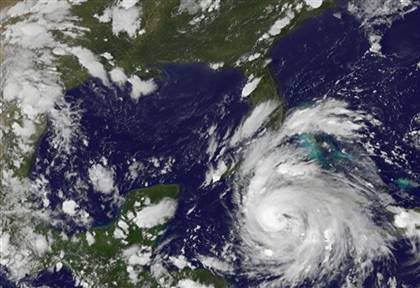 ***


Clip of the Day: How come I'm the last to know about Spaghetti Cat?
_____________________________________________________
"Links for the Day": Each morning, the House editors post a series of weblinks that we think will spark discussion. Comments encouraged. Suggestions for links are also welcome. Please send to keithuhlich@gmail.com.