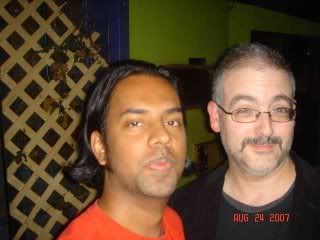 1. News of Editor Emeritus Seitz's move to filmmaking has sparked a good number of web responses: David Hudson wishes him well from GreenCine; Jim Emerson offers some thoughts and a retrospective post at Scanners; Ross Douthat of The Atlantic says farewell and adieu; Sujewa Ekanayake (author of the picture above) offers a memory; Robert Cashill wishes best of luck; Norm Wilner is bummed (chin up, my friend!); Ted Pigeon feels happiness for Matt; Craig of The Man From Porlock gives grateful thanks; Dennis Cozzalio walks 'round the block; and Jeffrey Wells, well, Jeffrey Wells inspires dear, dear "Glenngarry Glen Ross" Kenny to defend Matt's brass balls (comment #15, and excerpted below). If I've missed anyone, please feel free to link-through in the comments section.
["I think I can see what Jeff is working up to here: "Nice guy? I don't give a shit. Good father? Fuck you, go home and play with your kids. You know what it takes to write film criticism? It takes brass balls..." ...sigh... I believe Mr. Seitz is gonna make out just fine in any event..."]
***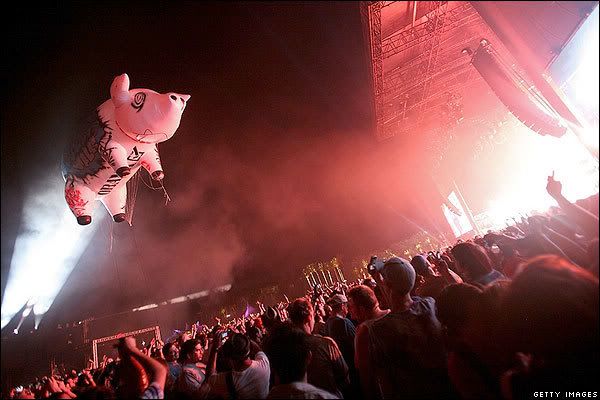 2. "Floyd inflatable pig is recovered": ...from the dark side of the moon (sorry, couldn't resist).
["A giant inflatable pig which floated away during a Roger Waters concert at the weekend has been recovered in tatters in California. The pig, which measured the width of two buses, was found by two families on their driveways in La Quinta. They will split the $10,000 (£5,090) reward offered by the Coachella music festival, from where the pig was lost. ... Former Pink Floyd star Waters said "that's my pig" as it drifted away during Sunday's gig."]
***



3. In a three part e-mail conversation, House contributors Ryland Walker Knight and Kevin B. Lee, with friend Jennifer Stewart reflect on a recent screening of In the City of Sylvia: Part 1 & Part 2 housed at Vinyl is Heavy, Part 3 at Shooting Down Pictures.
["RY: I think I may go ahead and deem the film "a masterpiece" because I do think it's about more (plot-wise and otherwise) than simply a dude stalking some pretty babes. We know dude is visiting this town after a six year absence, trying to recuperate a love/r (or better: a memory of a lover), and not just another passerby inhabitant of this city. And, of course, as you said, that's a thin plot. However, it's a pretty tight little argument about movies, and about watching movies. When we watch a movie we're a foreigner in a familiar terrain (or logic, or vocabulary) trying to piece together different strands that coalesce because we make them (pace Bordwell) into a kind of meaning. For instance, your monadic read incorporates Kiarostami, just as mine incorporates my (potentially wrong, easily vague) understanding of phenomenology. All dude does in this picture is look at things to try to make pictures, to put things together, through imagination and projection and, above all, looking."]
***



4. Full credit to House contributor Todd VanDerWerff for sending over the link to this story: "Worst Campaign Idea Ever?". Also via Todd, a link to Zirkle's website, which is all kinds of fun. Long live the "great porn dragon" (as Todd notes: "It's like he's writing this stuff with refrigerator poetry.").
["U.S. Congressional candidate Tony Zirkle is facing criticism from one of his primary opponents, and a host of people on the Internet, for speaking at an event over the weekend that celebrated Adolf Hitler's birthday. ... When asked if he was a Nazi or sympathized with Nazis or white supremacists, Zirkle replied he didn't know enough about the group to either favor it or oppose it. "This is just a great opportunity for me to witness," he said, referring to his message and his Christian belief. He also told WIMS radio in Michigan City that he didn't believe the event he attended included people necessarily of the Nazi mindset, pointing out the name isn't Nazi, but Nationalist Socialist Workers Party."]
***



5. Reader Jason Kottke sends along a link to this site, which Simpsonizes McNulty and Company.
["Here's one for the weekend: Old Face Andre's thoughtful analysis of terrorism and the global economy fails to reach a sympathetic audience. More next week."]
***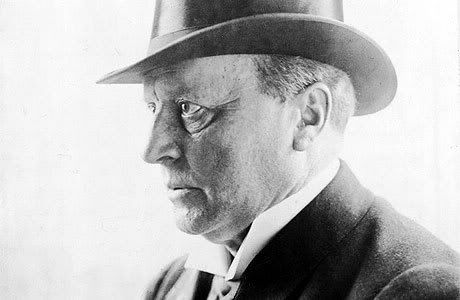 Quote of the Day: Henry James
"I think I don't regret a single 'excess' of my responsive youth--I only regret, in my chilled age, certain occasions and possibilities I didn't embrace."
***


Image of the Day (click to enlarge): When Hirschfeld met Borgnine/Merman
***


Clip of the Day: A drinking game must be invented for the "Tiddy Bear" infomercial.
_____________________________________________________
"Links for the Day": Each morning, the House editors post a series of weblinks that we think will spark discussion. Comments encouraged. Suggestions for links are also welcome. Please send to keithuhlich@gmail.com.