1. Hot off the virtual presses: "The New World: Reverse Shot Goes Digital". The link above will take you to the editors' introduction by Michael Koresky and Jeff Reichert. Here's the contents page, which includes essays from House contributors Kevin B. Lee (on Ingmar Bergman) and Ryland Walker Knight (on Michael Mann).
["In recent years, film trade magazines, blogs, panels, and the like have devoted themselves ad nauseam to discussing the implications of the digital on our beloved art form. Most obviously cinematography, but also editing, special effects, and even performances have been dissected under this new technological microscope, as filmmakers have lined up on both sides of the digital divide. Movies are now regularly either shot, or more often edited, digitally; digital projectors are becoming more commonplace; and in many cases films are bypassing traditional avenues of physical distribution altogether, existing only on hard drives and digital streams instead of prints and tapes. In 2008, we're far from being able to talk about just George Lucas and a few isolated DIY others; it's nearly impossible to find a filmmaker who hasn't succumbed in some form. So why has a journal born five years ago on the cusp of digital explosion, such as Reverse Shot, only treaded lightly here until now?"]
***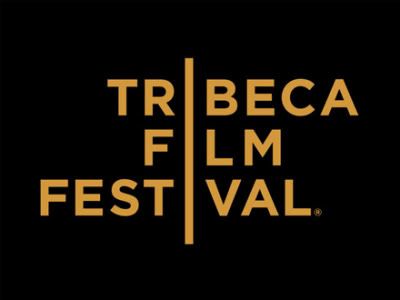 2. "Film Festival on Wire": Steve Erickson offers his Tribeca Film Festival picks in Gay City News.
["Alas, Tribeca's programming would benefit from being more selective. The festival has showcased major films—from James Benning's "13 Lakes" to Jia Zhang Ke's "Still Life"—but I'm not sure that it's been so successful at finding them an audience. Its closing night entry, "Speed Racer," is sure to be packed, but how many people will be paying $15 a ticket to see a documentary about Lyme disease?"]
***



3. Two from House contributor Fernando F. Croce: "Brand X: Stop-Loss, Street Kings, Smart People" & "Heartbreak Wong-Style, Heartbreak Apatow-Style"
[""I wonder how you will remember me. As the girl who likes blueberry pies... Or as the girl with the broken heart?" Would subtitles have improved this line? My Blueberry Nights is an invitation, if not a challenge, to forget the lyrics and listen to the music—after all, doesn't "Yumeji's Theme" move us as much played on a cello in In the Mood for Love as it does here, filtered through Ry Cooder's harmonica? The too-neat, three-paneled screenplay (co-written with novelist Lawrence Block) doesn't allow for nearly as much improvisation as Wong's earlier Hong Kong reveries, but this impressionistic canvas is still profoundly sensuous and floridly vulnerable: The camera gazes through scribbled windowpanes and beaded curtains, yet the characters feel so close you could reach into the screen and touch them. The actors aren't so much directed as they are molded into icons of lush romanticism. Norah Jones isn't an actress, but Wong doesn't need her to act, just her face and her lostness are enough; both Strathairn and Weisz show hitherto unexplored, wounded dimensions, and Portman is at her most affecting. Roadside America is viewed anew through outsider-eyes (Darius Khondji's cinematography is a few notches more saturated than that of Wong's usual wizard Christopher Doyle, but just as liquid and emotive), the editing is both fragmented and caressing. Wong offers a soulful banquet, and reviewers complain that it is much too rich. Let them stick to their diet, then, all I can say is I savored this to the last crumb and coffee drop."]
***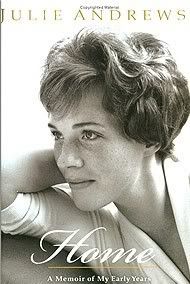 4. John Simon reviews Julie Andrews' memoir, Home. (Hattip: N.P. Thompson)
["Having finished reading Julie Andrews' Home: A Memoir of My Early Years, I feel there is no one in the world I'd rather meet than its author. Rarely have I read a memoir so charming, so wittily self-critical, so magnanimous to others, so full of funny but unmalicious anecdotes, so exquisitely balancing confession with discretion—so British at its best. Whether you are interested in show business or not, I recommend—no, I implore—that you read it."]
***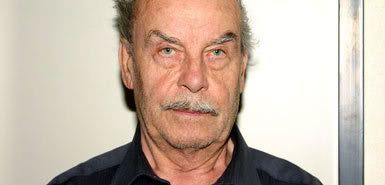 5. "Austrian engineer Josef F 'confesses to holding children in cellar'": Well here's a how-de-do.
["An Austrian engineer has confessed to fathering seven children by raping his own daughter and keeping them captive in the cellar, Austrian police said today. During the 24 years that Josef F kept his daughter Elisabeth locked up in a windowless cellar underneath the house where he lived an outwardly blameless life with his wife Rosemarie, the 73-year-old is said to have fathered and then acted as midwife at the birth of Kerstin, 19, Stefan, 18, Lisa, 16, Monica, 14, Alexander, 11, and Felix, 5, Austrian police have revealed."]
***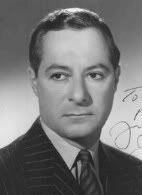 Quote of the Day: George Jessel
"The human brain starts working the moment you are born and never stops until you stand up to speak in public. "
***


Image of the Day (click to enlarge): An image of today's train crash in China.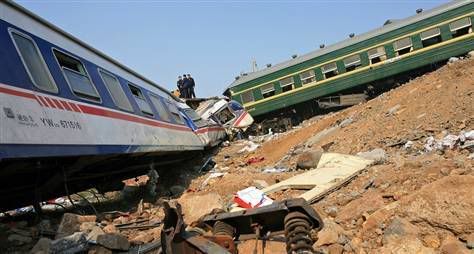 ***


Clip of the Day: What happens when bad Christopher Walken impersonations go too far?
_____________________________________________________
"Links for the Day": Each morning, the House editors post a series of weblinks that we think will spark discussion. Comments encouraged. Suggestions for links are also welcome. Please send to keithuhlich@gmail.com.