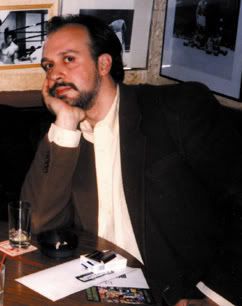 1. "Jones/Kael": The thread on Nathan Lee at The Reeler is visited by Kent Jones, offering a lengthy riposte to a commenter who took issue with several of his statements on criticism and Pauline Kael. Scroll down the page to see his entry.
["I never realized that I'd destroyed Pauline Kael's cultural authority, let alone intended to do so. And just think: it was pointed out to me in a post about a writer who was just fired from his job, and who you wasted no time in denigrating. Do you really believe that I, or anyone else for that matter, is capable of lessening Pauline Kael's cultural authority, let alone destroying it? Find me a film critic who is more widely cited in the mainstream press and I'll send you all the money in my pocket. There are no entries on Andrew Sarris or Manny Farber in A Biographical Dictionary of Film. Louis Menand would never dream of writing a New Yorker piece on Stanley Kauffman. No one is quoted more frequently, and apart from James Agee no one else's writings have been so lovingly and exhaustively collected. Almost seven years after her death, she remains a powerful cultural force."]
***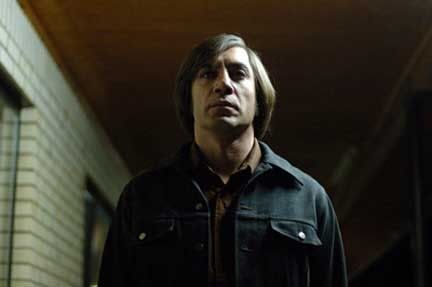 2. "No God for Anton Chigurh?": By Jim Emerson at Scanners.
["The "faith" that man had isn't in God, but in the future of his species right here on this earth. What do you think?"]
***



3. "Clinton Shouldn't Feel Forced to Quit Race, Obama Says": From The New York Times. Related, from the Washington Post: "Clinton Seeks to Cash In on 'Drop Out' Talk".
["There's a silver lining in every dark cloud, or at least that's the approach Hillary Rodham Clinton's campaign is taking when it comes to recent comments made by surrogates for Barack Obama that Clinton should drop from the Democratic presidential race. Just hours after Sen. Patrick Leahy (D-Vt.) told Vermont Public Radio that there was "no way" Clinton could win enough delegates to claim the nomination and, therefore, "she ought to withdraw and she ought to be backing Senator Obama," an e-mail entitled "The Pattern" arrived in The Fix's inbox. "Have you noticed the pattern?" Clinton asks in the message, adding: "Every time our campaign demonstrates its strength and resilience, people start to suggest we should end our pursuit of the Democratic nomination. "Those anxious to force us to the sidelines aren't doing it because they think we're going to lose the upcoming primaries. The fact is, they're reading the same polls we are, and they know we are in a position to win.""]
***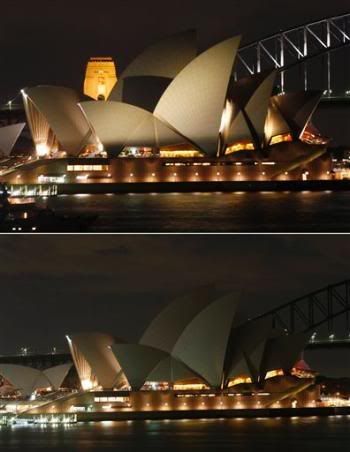 4. "Cities Switch Off Lights for Earth Hour": An Associated Press report.
["From the Sydney Opera House to Rome's Colosseum to the Sears Tower's famous antennas in Chicago, floodlit icons of civilization went dark Saturday for Earth Hour, a worldwide campaign to highlight the threat of climate change. The environmental group WWF urged governments, businesses and households to turn back to candle power for at least 60 minutes starting at 8 p.m. wherever they were. The campaign began last year in Australia, and traveled this year from the South Pacific to Europe to North America in cadence with the setting of the sun."]
***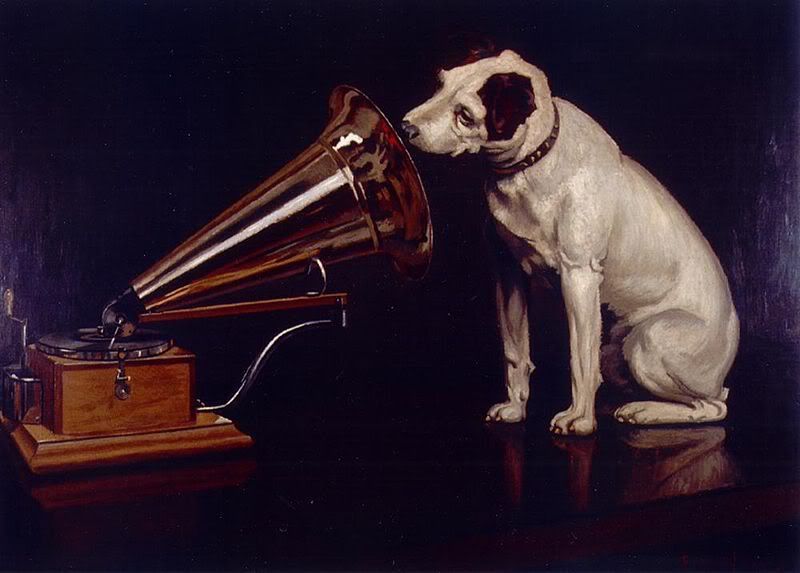 5. "Oldest Voice Recording, A French Folksong": From Information Week. Listen the audio here.
["A group of researchers has played what is thought to be the oldest recording of a human voice. The recording played Thursday predates Thomas Edison's invention of the phonograph (previously thought to have recorded the first sound) by 17 years. It captured about 10 seconds of the French folksong "Au Clair De La Lune" on April 9, 1860. Édouard-Léon Scott de Martinville recorded the voice by using a "phonautograph" to scratch sound waves onto a sheet of paper covered in black smoke from an oil lamp. He never intended to play the sounds. Instead, he archived the recording and patented a method for understanding sound. Researchers recently unearthed the recording at the Academy of Sciences (French) in Paris."]
***



Quote of the Day: Dr. Martin Henry Fischer
"Half of the modern drugs could well be thrown out of the window, except that the birds might eat them."
***


Image of the Day (click to enlarge): Lead image for the story "Japan recovers oldest animation films"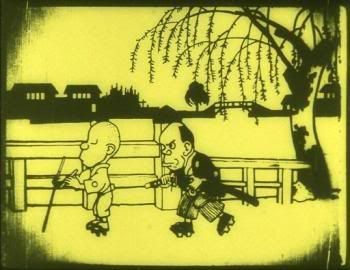 ***


Clip of the Day: Snow-covered windshield + telephone pole + rowdy teenagers =

_____________________________________________________
"Links for the Day": Each morning, the House editors post a series of weblinks that we think will spark discussion. Comments encouraged.