[Editor's Note: This is the latest entry in House contributor Kevin B. Lee's Shooting Down Pictures, a record of his ongoing quest to see every title on the list of the 1000 Greatest Films compiled by They Shoot Pictures, Don't They?]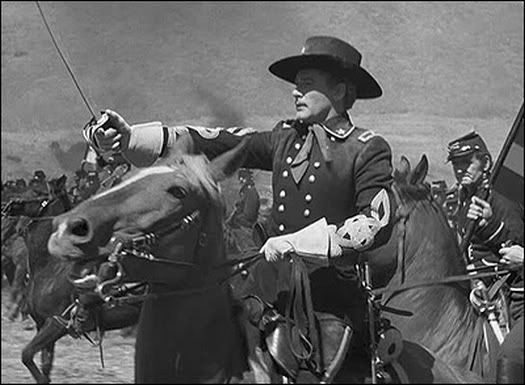 George Armstrong Custer: courageous Civil War hero, honorable friend to Native Americans, steadfast lover and martyr to the sins of American avarice. One doesn't have enough fingers and toes to count the inaccuracies and distortions presented by Raoul Walsh of one of the most dubious heroes of the American West. But if one is looking for the quintessential Walshian hero - rambunctious and goal-driven to the point of heedlessness, charmingly mischievous yet chivalrous and principled - one needn't look further than here. A rare stab by the crime and action master at the prestige biopic, the film sustains energy throughout its two and a half hours thanks to energetic acting (especially by Flynn, in one of his best roles), a masterful shifting of moods (schoolboy comedy, tender romance, social drama, and of course action Western) that would make the likes of John Ford envious, and an awesome array of dynamic blocking, framing, camera movement and editing, most famously in the climactic enactment of the Battle of Little Big Horn, one of the landmark action scenes in Hollywood history, where the frame plays like an open hand closing into a fist, crushing the soldiers trapped within. On purely cinematic terms, the film is a masterpiece both on macro and micro levels, each scene captivating with lively, almost musical exchanges of dialogue and mise-en-scene, building to a story amounting to one man's massive thrust into destiny.
To read the rest of the article at Shooting Down Pictures, click here. See after the break for two video essays on the film, featuring The House Next Door editor-in-chief Matt Zoller Seitz.
Introductory Video Essay, also accessible here.
Sequence Analysis, also accessible here.