[Editor's Note: This is the latest entry in House contributor Kevin B. Lee's Shooting Down Pictures, a record of his ongoing quest to see every title on the list of the 1000 Greatest Films compiled by They Shoot Pictures, Don't They?]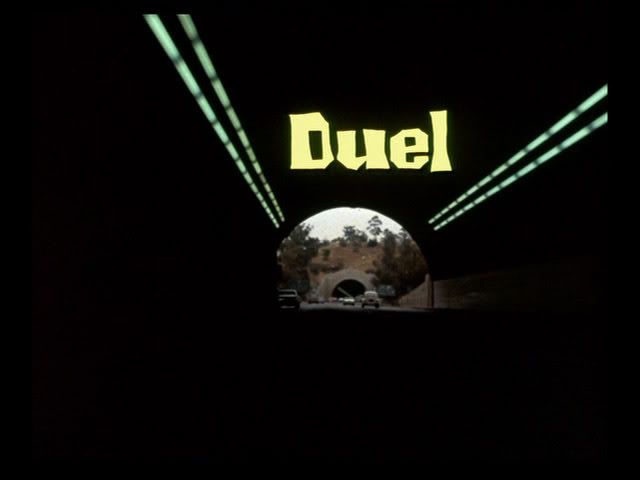 Steven Spielberg's first feature production, in which a seemingly driverless Peterbilt truck terrorizes Dennis Weaver's salesman on a California highway, is an object lesson in narrative efficiency and resourceful filmmaking, having been shot in only 16 days with a minuscule budget and edited in only three weeks for TV broadcast. The result was so wildly successful that the film was released theatrically in Europe with an additional 20 minutes of footage. The extra scenes, which include a telephone conversation with Weaver's wife and Weaver's internal monologue gratuitously expressing his anxieties, mostly detract from the brilliant simplicity of sci-fi legend Richard Matheson's script. While Weaver's David Mann fends for his life against several tons of metal on wheels, this machine is not nearly as relentless as the cinematic apparatus as employed by Spielberg, cutting across a panoply of angles and camera movements from which the truck is regarded every which way, such that its menace is amplified, even fetishized. To produce such claustrophobic suspense across miles of open road is no mean feat, a triumph of cinema applied to a minimal scenario. The visceral has always been Spielberg's primary domain, try as he has in recent years to apply it to lofty themes (Schindler's List, Saving Private Ryan) or even to subvert its immediacy (A.I., Munich). Here, for better or worse, it's as pure as it can be.

To read the rest of the article at Shooting Down Pictures, click here. See after the break for Kevin's video essay on the film, featuring Steven Boone, Andrew "Filmbrain" Grant, and Keith Uhlich.