1. "Stuff White People Like": Kevin Lee directs us to this blog of note. #74: Very true! And on that note, be sure to check out our illustrious Editor-in-Chief's participation in the Television Without Pity Oscar LiveBlog.
["One of the best places to gain a white person's trust is at an Oscar party. An invitation to one these parties is basically your "foot in the door"."]
***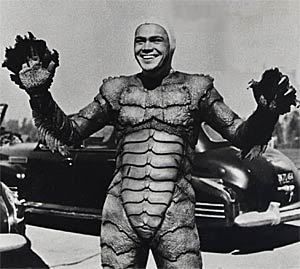 2. "Ben Chapman, 79; Gill Man in cult film 'Creature From the Black Lagoon'": Obituary from the Los Angeles Times. (Hattip: Edward Copeland.)
["As an actor, Ben Chapman never landed a star-making role. Far from it. He had small parts in only a few films, including an uncredited bit part in "Ma and Pa Kettle at Waikiki." But Chapman nevertheless achieved a degree of movie immortality—and he did it without uttering a word of dialogue or even showing his face. The 6-foot-5 ex-Marine played the title character in "Creature From the Black Lagoon," the classic 1954 3-D monster movie that quickly developed a cult following that has endured. Chapman, a retired Honolulu real estate salesman, died Thursday of congestive heart failure at Tripler Army Medical Center in Honolulu, said his longtime companion, Merrilee Kazarian. He was 79."]
***



3. "50 crime writers to read before you die": From the UK Telegraph.
["We present them in no particular order, and make no apology for our omissions. But we would like to know what you think. Should Ellery Queen have been two of the names on the list? Hate Highsmith? Log on, or write in, and say so. We wanted to compile a list of writers we had, jointly and severally, loved. We wanted to include writers like Dash Hammett, who brought something new and exciting to the genre; like Elmore Leonard, who turns an old trick in it with incomparable style; and like Poe, who invented it. We did not, except incidentally, take into account popularity. Who, we asked ourselves finally, are the crime writers who can actually write? We believe any serious reader will profit from acquaintance with any of the writers on this list. And, just because we love you, as a bonus 51st entry we interview Robert B Parker - an unrivalled pulp stylist who may be the best crime writer you've never read."]
***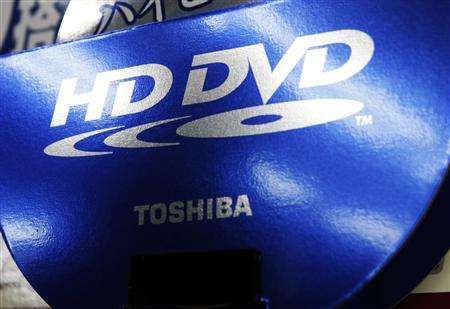 4. "Insanely Great: Japanese Electronic Store Letting Customers Trade HD DVD Players for Blu-ray": From Gizmodo.
["The Japanese electronics retailer Edion is deeply ashamed it sold its customers HD DVD gear. So ashamed they that they're allowing buyers to swap in Toshiba HD DVD boxes for Blu-ray players. A little more investigation reveals that the trade must occur during March, and consumers only need pay the price difference."]
***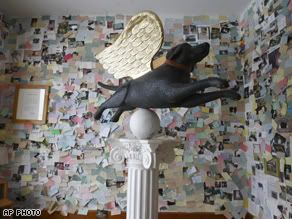 5. "Doggy Disneyland draws animals, owners by the pack": From CNN.
[" The eclectic Vermont folk artist, who started out whittling wooden sculptures of dogs and now specializes in dog-themed furniture, woodcut paintings and children's books, has carved out a unique niche with his whimsical reproductions of Labrador retrievers and other dogs. And his Dog Mountain studio and dog chapel—on a picturesque 175-acre hillside farm in rural northern Vermont—have evolved into a kind of doggy Disneyland, drawing animal lovers and their pets from all over, with some coming to mourn. To Huneck, dogs are more than man's best friend. "I really believe they're the great spirit's special gift to mankind," said Huneck, 59. "Dogs teach us more than we teach them.""]
***



Quote of the Day: Baltasar Gracian
"Attempt easy tasks as if they were difficult, and difficult as if they were easy; in the one case that confidence may not fall asleep, in the other that it may not be dismayed."
***


Image(s) of the Day (click to enlarge): The inimitable Jessica Alba as some horror heroines of note (Hattip: Rob Humanick)
***


Clip(s) of the Day: The bootleg X-Files 2 trailer from Wondercon 2008. Plus, Star Trek by way of Grace Slick.
_____________________________________________________
"Links for the Day": Each morning, the House editors post a series of weblinks that we think will spark discussion. Comments encouraged.